Vettel admits he 'got lucky' after crashing in FP1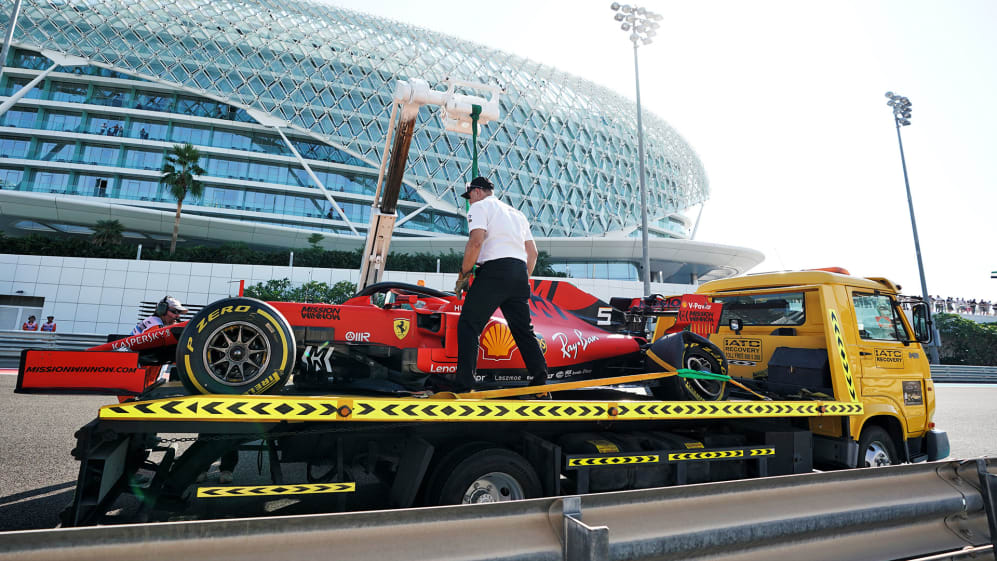 It's never a pretty sight when a Formula 1 car smashes into a barrier, but Sebastian Vettel's Ferrari SF90 escaped serious damage when he nudged it into the wall at Turn 19 near the end of FP1 in Abu Dhabi - much to the German's relief.
"Yeah it was a bit of a surprise!" said Vettel after a day of practice at Yas Marina where he finished fifth in FP1 and fourth in FP2 having only flown in late after the birth of his third child.
READ MORE: Bottas reprimanded for collision with Grosjean in FP2
"I didn't expect to actually spin. I knew going in, I'd have to catch the rear but it didn't quite work. It was a bit unfortunate but there was no damage other than the [wheel] rim – so we got lucky."
Although the damage was mainly superficial, Ferrari changed Vettel's gearbox as a precaution before FP2.
Sparing his blushes, a number of other drivers were caught out on the circuit's tightest corner, with Antonio Giovinazzi narrowly missing the Turn 19 barrier and Ferrari team mate Charles Leclerc melding carbon-fibre and Armco in FP2 with little consequence.
READ MORE: Hamilton struggling to find rhythm at Abu Dhabi season finale
Leclerc, who was third in FP2 and seventh in FP1, explained why he too spun at Turn 19: "Well yeah, first of all, the whole third sector is pretty difficult because [the tyres are] overheating in the rear, but yeah, especially this corner – as soon as you go a bit too wide you lose quite a lot of grip, so I was surprised by that."
With Mercedes' Valtteri Bottas having swept Friday's practice sessions, Vettel and Leclerc have their work cut out if they are to clinch a fourth win of the season – and disperse the clouds of their double-retirement in Brazil.