Leclerc says he and Vettel need to be 'less aggressive' to avoid Brazil crash repeat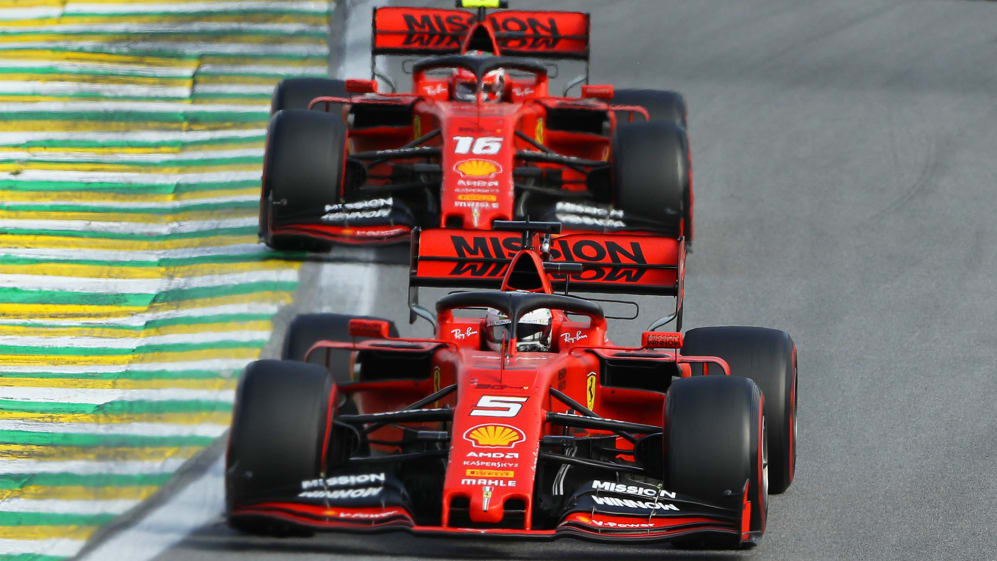 Tensions between Ferrari team mates Charles Leclerc and Sebastian Vettel looked set to be pushed to breaking point at the Brazilian Grand Prix, when contact between them forced both into retirement. And ahead of the 2019 season finale in Abu Dhabi, Leclerc revealed that the pair had agreed to dial down the aggression levels when going wheel-to-wheel from now on.
The Ferrari drivers were battling with each other five laps from the end in Brazil when Vettel was passed into Turn 1 by Leclerc. Vettel then managed to out-drag his team mate on the run down to Turn 4, but moved across Leclerc's line before they reached the corner, causing contact that ruled both drivers out of the race.
READ MORE: Leclerc and Vettel apologise for race-ending clash as Ferrari boss reserves judgement on blame
In the aftermath of Ferrari's first double-retirement since Singapore 2017, Leclerc confirmed that both he and Vettel had spoken about the incident subsequently, when Leclerc had visited Ferrari's Maranello HQ.
Seb shouldn't have gone to the left – and he knows it
"I was there for the simulator, so on this occasion, we also took the day to discuss a little bit and I'm pretty sure it won't happen again," he said in the Thursday drivers' press conference in Abu Dhabi.
"We called with Seb and we tried to understand both of our situations. I think Seb probably shouldn't have gone to the left, and he knows it. And I probably could have done a better job of avoiding him going to the left. So both of us have a bit of responsibility. But I think the most important is that everything is clear with Seb now and we move forward."
Leclerc revealed that the drivers had resolved to be less aggressive with one another when battling on track in future – but that no restrictions on their ability to race each other had been put in place by Team Principal Mattia Binotto.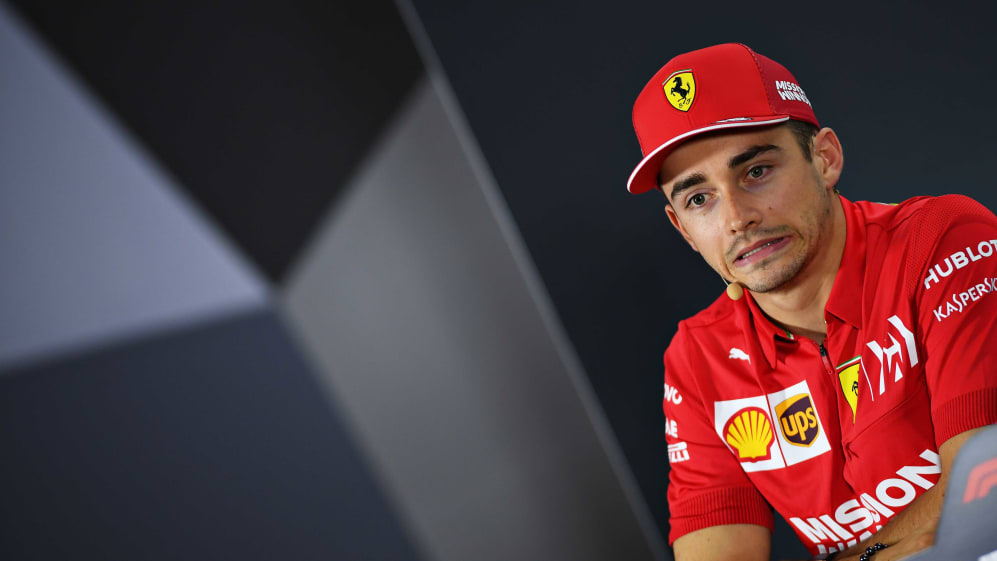 "I think this doesn't change – we'll be able to race together," said Leclerc. "Obviously Seb and myself are very competitive. We both want to win but we also need to find the right compromise.
"As a team, we probably should try and be a bit less aggressive [with] each other for these things to not happen again. For the team it's not good, for everyone that is supporting us, it's not good.
"The consequences were huge in the last race, but if you look back at the contact, it was very, very small. So it was unfortunate – but we'll make sure it doesn't happen again."
READ MORE: Bottas to start Abu Dhabi season finale from back of the grid
Vettel had been due to appear alongside Leclerc in the press conference, but his arrival at Yas Marina was delayed after the birth of his third child. Both drivers will now try and work together to give Ferrari their first ever win in Abu Dhabi, with the Scuderia having led just 11 laps of the Yas Marina Circuit since the first Abu Dhabi Grand Prix in 2009, while rivals Mercedes have won every race here since 2014.