Vettel confident for race chances despite 'grim' Suzuka qualifying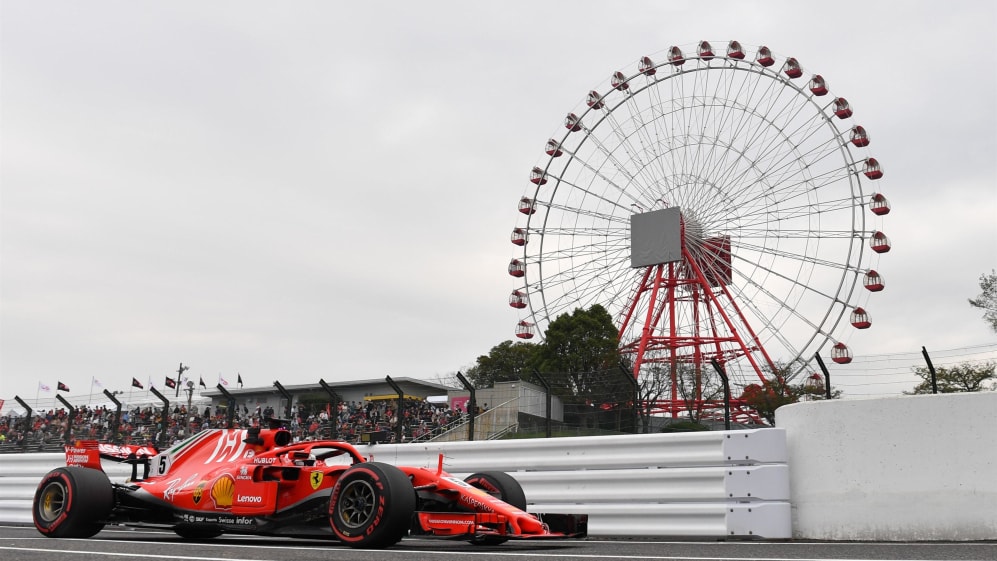 Ninth place in qualifying for the Japanese Grand Prix was not what Sebastian Vettel needed as he seeks to claw back the 50-point deficit to Lewis Hamilton in the title race. But despite the setback, the Ferrari driver was in no doubt that he's got the pace in his SF71H challenger to make his way through the field come race day.
With light drizzle having fallen intermittently throughout qualifying in Suzuka, Ferrari opted to send both Vettel and team mate Kimi Raikkonen out on intermediate tyres at the start of Q3. It proved to be the wrong call, with scant standing water on the track to justify the grooved rubber.
Both drivers had plenty of time to trade in their inters for the red-walled supersoft tyres that Mercedes had sent Hamilton and Valtteri Bottas out on. But while Raikkonen managed to claim fourth despite worsening conditions, Vettel made an error at Spoon corner on his first flying lap, before deteriorating weather wiped out the German's chance of improving. That saw him end the session in ninth place – although that will become eighth on Sunday, with Force India's Esteban Ocon receiving a three-place grid drop for failing to slow down sufficiently under red flag conditions in Free Practice 3.
"I think the first run was sort of okay," said Vettel afterwards. "I had a mistake in Spoon so lost most of the time there. But obviously the second run we didn't make it out on time because the rain came so we were too late."
Even without the mistake at Spoon, Vettel had looked to be an outside shot for pole position in Suzuka, having also spun at the hairpin in the first segment of qualifying, while Mercedes – and especially Lewis Hamilton – have looked in dominant form around the iconic Japanese circuit. And it was hard to argue with the assessment of Vettel's qualifying performance by Mercedes Team Principal Toto Wolff…
"That's pretty grim starting positon for him," said Wolff, having watched Hamilton romp to his 80th career pole position. "I mean, he has a fast car, but obviously fighting against Lewis, if everything runs well for us, is going to be difficult."
So a win for the number five Ferrari might be too much of an ask. But Vettel started in ninth back in 2014 before driving to third in the race. Did he have confidence he could make progress in Sunday's race, despite Suzuka's reputation as a difficult track to overtake on?
"Of course," he said. "It's not the position we deserve to be in. I think we had better speed than ninth but we start there and then see how it goes. Anything could happen tomorrow, tomorrow's a new day. Obviously it's not easy when you start further back but it's not impossible."