Vettel laments Lap 1 woes at Monza while Stroll says he achieved the 'maximum' with P7
Sebastian Vettel left the Italian Grand Prix without points for the third time in his last three appearances – while his Aston Martin team mate Lance Stroll made it a fourth points-score in five Italian GPs with P7 at Monza.
Vettel was forced wide at the start of the race and then had a wheel-to-wheel moment plus contact with Alpine's Esteban Ocon, which led to the Frenchman getting a five-second penalty. The four-time champion said that his race was jeopardised on Lap 1, his chances hurt by damage from the opening corner scuffles and a decision to pit just before the Lap 26 Safety Car emerged.
READ MORE: Aston Martin start work on new F1 factory and wind tunnel campus at Silverstone base
"It was not our day," he said. "My race was done on the first lap. I made a good start and managed to avoid the bottleneck through the first chicane, but I was pushed wide at Turn 6 and lost a lot of places, which was made worse by drivers cutting the chicane at Turns 4 and 5 before.
"The car was then damaged too, so it was impossible to really recover. We then pitted just before the Safety Car, which was also unlucky. It gave us hope that we could perhaps close up on the cars ahead, but there was just too much ground to make up," he said.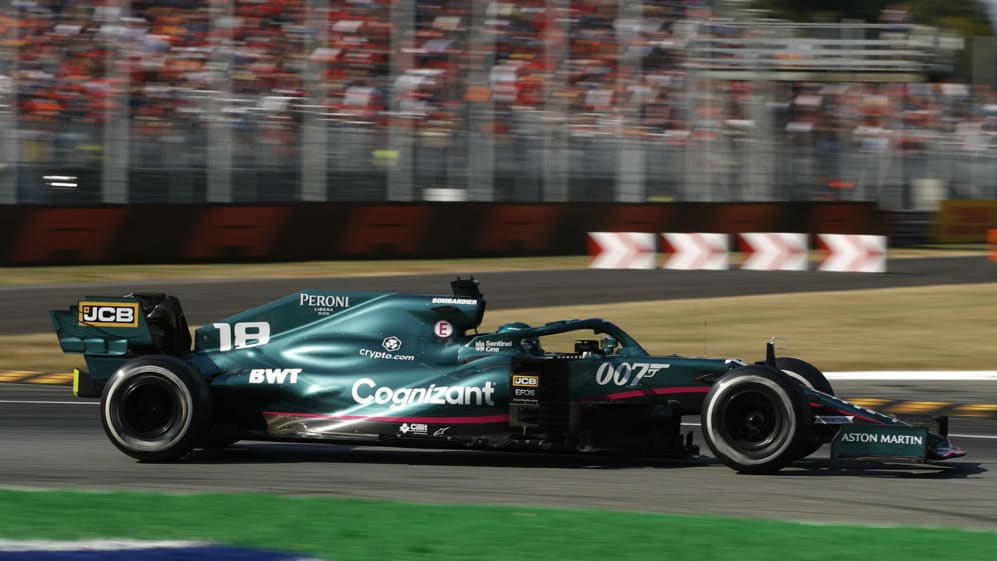 With a P12 finish, it turned out that Vettel could only take a battle with Alfa Romeo's Robert Kubica as a positive from the race: "Esteban [Ocon] and Mick [Schumacher] also made contact with me, which did not help. I enjoyed a good battle with Robert [Kubica] towards the end and we did all we could today. I also want to say congratulations to Daniel [Ricciardo] for winning the race today."
As for Stroll, he managed to keep out of trouble from P9 on the grid – thanks to his Sprint performance – and made up two places as Lewis Hamilton and Max Verstappen retired on Lap 25.
READ MORE: The Hamilton-Verstappen crash changed the face of the Italian GP – but would Ricciardo have won regardless?
"Finishing P7 is a good result and a great job by the team," said Stroll. "It was a case of pushing the entire race because the field was pretty close throughout. We managed to find a good spot with the car. While we were not quite as quick as some of the others on the straights, we were strong in the corners, and we were able to make that work for us.
"I think seventh was the maximum we could have achieved today considering our race pace. After three races in a row, it is nice to have a bit of a break before we head to Russia and I am looking forward to getting back in the car there," concluded Stroll – who picked up six points and ended a three-race drought in the process.