Vettel reveals he was 'screaming' for Schumacher to win race against Verstappen at Silverstone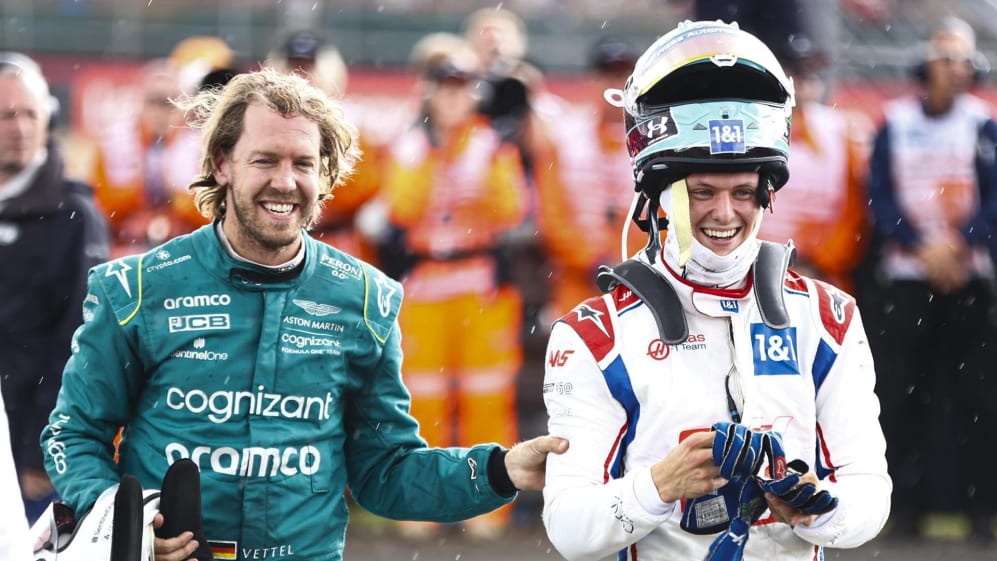 Sebastian Vettel was delighted to take points at Silverstone on his birthday – but perhaps even more elated to see his friend Mick Schumacher score his first points in Formula 1 after a late-race battle with Max Verstappen.
Aston Martin's Vettel has a solid friendship with Schumacher having acted as a mentor throughout his career and praised the Haas driver for his rookie season in 2021.
The British GP saw Schumacher make it up to eighth and challenge Verstappen – who was compromised by damage – in the final moments of the race, kicking off a sensational battle between the reigning champion and the then-yet-to-score Haas driver. It turned out that Vettel was keeping a close eye on that wheel-to-wheel scrap.
READ MORE: Ross Brawn on the 'fabulous racing' at Silverstone, his relief after Zhou's crash & why we're truly entering a new era of F1
"I was very happy for him," said Vettel to F1 TV's Post-Race Show. "I saw what happened, and I saw that he was closing in the gap, and I was actually screaming inside the car, like: 'Go Mick, Go Mick, go get him!'.
"So, I'm very happy for him; it's been a long time that he deserves the result, and it's great to get it. I thought maybe I'd get him at the end, but they were too quick. It was actually entertaining to see them going for it every time into Turn 15, it looked like [they] were side-by-side, also into Turn 6, down the Wellington straight… well done."
While Verstappen fended off Schumacher to finish seventh, the Haas driver took his first points of his F1 career in P8. As for Vettel, he enjoyed his birthday having demonstrated the ex-Nigel Mansell FW14B before finishing ninth from 18th in the Grand Prix.
"I think it was a great recovery. Obviously to score points, it's very important for us; you know, the factory is just across the road, for a lot of people this weekend here is a big weekend for us and at least we got some points. There is still a lot of work to do but it was a good recovery, I'm happy," said Vettel.
READ MORE: 6 Winners and 5 Losers from the British Grand Prix – Who shone at Silverstone?
The four-time champion also gave his thoughts on the high-speed start-line crash that saw him make contact with Williams' Alex Albon.
"The first start, with the red flag, was very chaotic. I had made a really good getaway and it launched me into a gap nearly alongside Alex [Albon]. Then I got squeezed and everything backed up as a reaction to the accident ahead. I braked but could not avoid making contact with Alex. The most important thing is that everybody involved is fine."
Aston Martin head to Austria with 18 points, two less than Haas, as they occupy P9 in the championship.