Vettel says he was 'a couple of laps' from fighting for P6, after extending points run in France
After failing to score at all in the first four races of 2021, Sebastian Vettel's ninth place at the French Grand Prix marked his third straight points finish for Aston Martin. But the four-time champion said that a few extra laps of the Paul Ricard race could have seen him challenging for even more points than the two he netted.
As they did at the Azerbaijan Grand Prix – where Vettel earned Aston Martin's first podium in F1 – Vettel ran long in the opening stint of the French Grand Prix, with Aston Martin waiting until Lap 37 of 53 before pulling their man – who'd qualified P12 – in for his stop.
READ MORE: Norris calls out Gasly over 'harsh' Turn 11 move after taking strong P5 finish in French Grand Prix
And it was a decision that paid dividends, with Vettel then able to slice his way past Yuki Tsunoda and Carlos Sainz to claim ninth place. But it could, felt Vettel, have been even better…
"It was a good race for us," said Vettel. "We tried something different and I think the pace was good; we were in the mix with the Alpines and also Pierre [Gasly] in terms of pace – maybe the McLarens were a little bit faster, but it was only a couple of laps that we were missing in the end, otherwise we could have had a battle on our hands for maybe more points… it was very close to catch that group up to P6 in the end."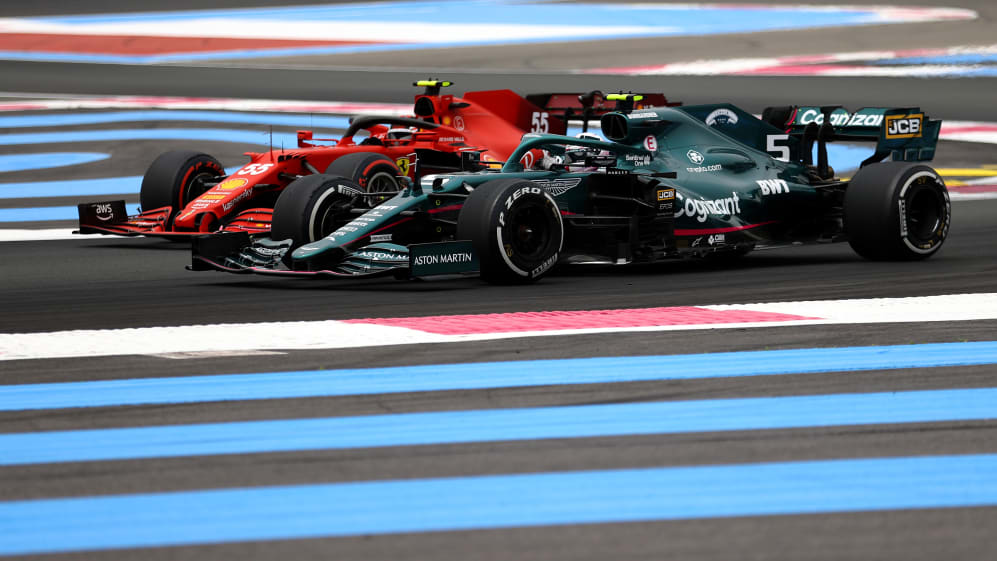 Showing the strong pace Aston Martin had had in France, Lance Stroll overcame failing to make it out of Q1 – after a red flag combined with a track limits infringement that saw his first flying lap get deleted – to finish behind Vettel in P10.
And with Aston Martin, in their Force India/Racing Point guise, having never previously scored a point at Paul Ricard, Stroll called the team's second double points finish of the year a "well-earned result".
READ MORE: Horner calls Verstappen win 'payback for Barcelona' after Red Bull defeat Mercedes in France
"I was comfortable in the car and we were able to extract some good pace today," said Stroll, who ran only three laps shorter than Vettel in the first stint. "Paul Ricard is normally a track with little overtaking, but I managed to make all of my passes on track. Conditions were a bit tricky out there because the wind was changing from lap to lap, and there was quite a bit of tyre degradation across the field.
"Towards the end of the race, a lot of drivers were struggling for grip and we were able to take advantage to finish P10. It was a well-earned result and a good strategy certainly helped."