Horner calls Verstappen win 'payback for Barcelona' after Red Bull defeat Mercedes in France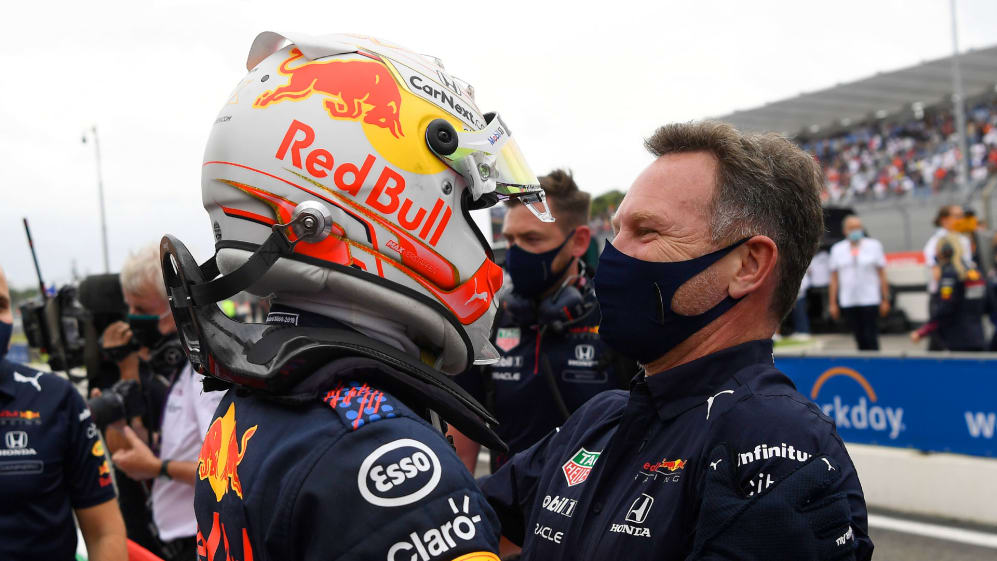 The memory of Max Verstappen's loss to Lewis Hamilton at the Spanish Grand Prix was still fresh in Red Bull's minds when they made the "ballsy call" – in Team Principal Christian Horner's words – to switch Verstappen onto a two-stop strategy in the French Grand Prix, a move that would ultimately secure him the win. And Horner called the result "payback" for Hamilton and Mercedes' triumph in Spain.
Having taken his second pole position of the year on Saturday at Paul Ricard, a Lap 1 error from Verstappen saw him run off track at Turn 2, allowing Hamilton into the lead.
But a storming out-lap after his first stop allowed Verstappen to undercut his way back in front, before Red Bull rolled the dice and pitted Verstappen again – the surprise two-stop strategy aping Mercedes' call from the Spanish Grand Prix, when Hamilton was able to pass Verstappen on fresher tyres six laps from the end after making a second stop.
READ MORE: How Perez was key to Red Bull's win in France – and why Mercedes couldn't respond to Verstappen's second stop
Verstappen emerged in P4, passing team mate Sergio Perez and Valtteri Bottas, before overtaking Hamilton for the win with just a lap and a half to go. And given the tense rivalry brewing up between Mercedes and Red Bull this year, Horner couldn't hide his pleasure at having put one over on Mercedes at the French Grand Prix.
"We didn't want to be in the same position as Barcelona," explained Horner of the move to a two-stop strategy. "It's always a difficult thing to pit from the lead with 21 laps to go, but that's what we did… and it worked out.
"Obviously Max had the pace to catch and pass the three cars ahead - it was crucial to get past Bottas quickly. And then it was great to get Lewis. It was a little bit of payback for Barcelona earlier in the year."
READ MORE: 'It was an easy pass' says Verstappen, after late move on Hamilton seals French GP victory
There was one crucial difference between the Spanish and French strategy calls from Mercedes and Red Bull, however, with Hamilton having been behind Verstappen in Spain when Mercedes opted to pit him a second time – while Verstappen was leading the race in his case.
And Horner admitted that that fact had made Red Bull's call harder to make.
"The feedback from the car was that [Max] didn't think he'd get to the end," said Horner. "So the strategist presented the options in front of me and said we've got nothing to lose. So, we pulled the trigger.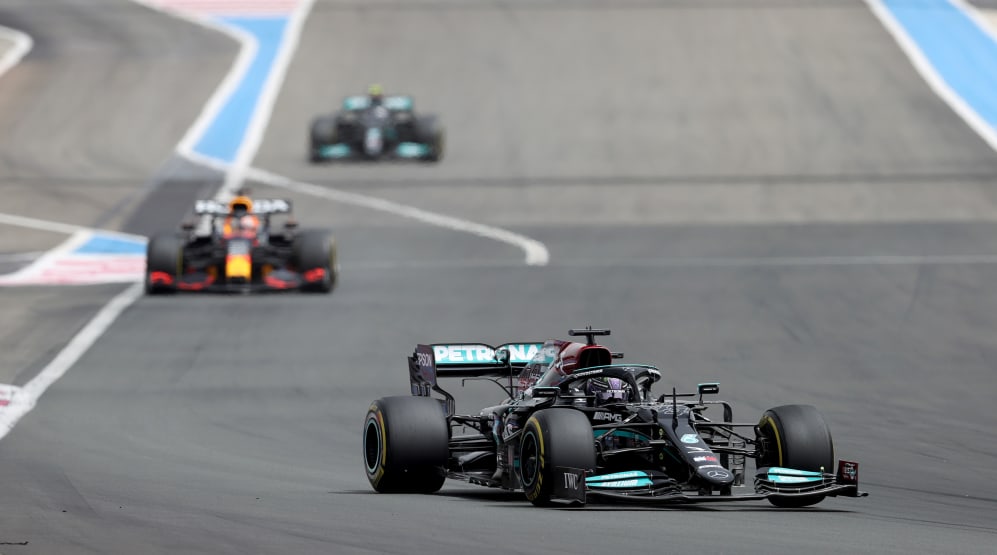 "It would have almost been easier if [the Mercedes had] maintained track position [ahead of us], because then we would have pulled the trigger anyway. It would have made our decision easier, but to make that call when you're in the lead and all the tyres are looking okay, it was quite a ballsy call. But it was the fastest way, we felt, at the end of the race."
READ MORE: 'Pointless' to have defended harder against Verstappen's Lap 52 move for the lead, insists Hamilton
Verstappen's win marked the third straight victory for Red Bull, a first for the team in the turbo-hybrid era. But despite that, and the satisfaction of beating Mercedes at a Paul Ricard track that the Silver Arrows dominated at in 2018 and 2019, Horner said it was "only a matter of time" before Mercedes struck back.
"I think strategically we were better in that race," said Horner. "I mean there's very, very little between the cars.
"When you look at the dominance that their car had last year – and let's not forget, 60% of the car is carryover, it's the same chassis that they were winning all those races last year – so I think that [we have] just done a phenomenal job.
"We've just got to keep that momentum going, because Mercedes are such a strong team. It's only a matter of time before they bounce back. We've just got to keep doing what we're doing."
READ MORE: Paul Ricard weekend 'wasn't as good as I hoped' says Perez, despite second straight Red Bull podium
Despite Horner's warning, his team at least have something of a buffer now over the Silver Arrows, having stretched their advantage over Mercedes to 37 points in France, as Formula 1 now heads to Horner's team's own Red Bull Ring track for the Styrian Grand Prix this weekend.