Vettel unable to capitalise on 'amazing' Jeddah start, as Tsunoda and Raikkonen contact leaves him outside the points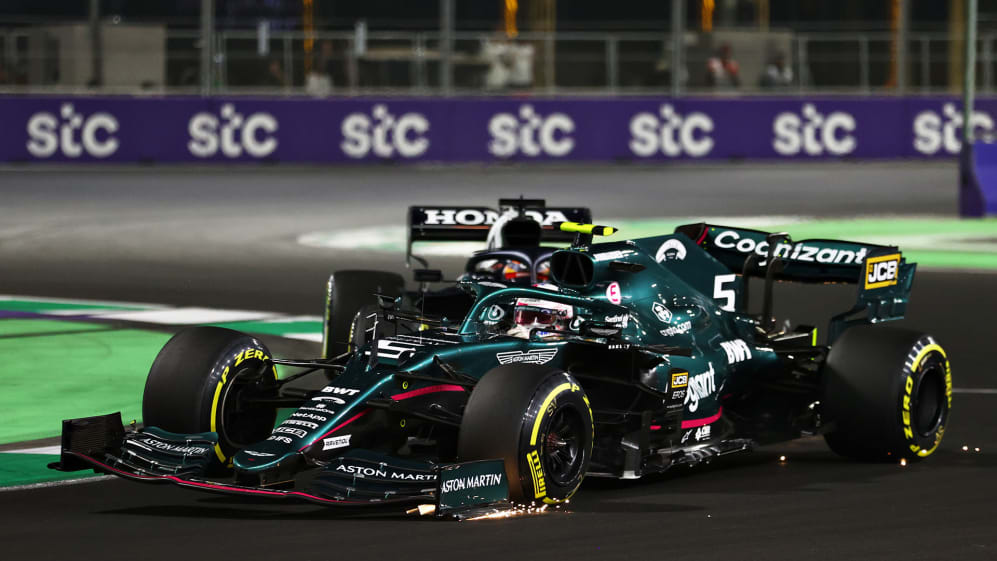 A pair of collisions with two drivers at different ends of their Formula 1 careers proved to be the undoing of Sebastian Vettel's fight for points in the inaugural Saudi Arabian Grand Prix.
Aston Martin were caught out by traffic at the end of Q1 and their two cars lined up on the penultimate row. But despite starting so far back, Vettel had climbed into the points and was running eighth after the second red flag. But contact with Yuki Tsunoda saw the four-time world champion tapped into a spin that ended his hopes of staying in the top 10.
READ MORE: Haas drivers reflect on dramatic pair of Jeddah crashes, as team record first double DNF of 2021
"I think we did what we could, I think we did amazing," Vettel said. "We started 17th and we were inside the top 10. I headed off, I think, both Ferraris and if you see where they started, obviously Carlos [Sainz] was more or less in the back of the train as well, but I think we did everything we could.
"Then it was clear in free air or in the race that we just did not have the pace, or the straightline speed, and we didn't belong there.
"So, Yuki was faster everywhere and I think he would have got past within the next 10 laps anyway. Obviously he locked up and I went back on the inside and was ahead, then we collided, so destroyed our races. Bitter, because I think we could have maybe saved a point."
It wasn't to be Vettel's last collision, however, after Kimi Raikkonen overtook him into Turn 1 but ran deep, allowing Vettel to regain the inside line on the approach to Turn 3. The pair then drifted wide, with Vettel's front right tyre becoming lodged on top of Raikkonen's front wing for a spell as both picked up damage.
READ MORE: Ocon distraught after Bottas denies him Saudi podium – but warns that Alpine becoming 'dangerous' for rivals
"I don't know where he wanted to go. So, I was surprised, because I had the inside of the corner last time I checked in the mirrors and the corner goes left, so I don't know where he wanted to go. I think we've seen in the starts that this corner is very tight and you can't fit two cars."
Asked if he had spoken to Raikkonen afterwards, Vettel replied: "Not much, Kimi doesn't talk much!"
While Vettel retired late on, team mate Lance Stroll saw the chequered flag in 11th place and couldn't hold on when in the top 10 himself.
"To come so close is always frustrating but we tried our best and couldn't get some points," Stroll said.
"There were a lot of restarts and I gained a lot of places. We were up to 10th and we had a five-second gap to [Lando] Norris, and he just closed up in two laps and passed me and pulled an eight-second gap. So I don't think we had the pace to finish in the points."
READ MORE: 6 Winners and 5 Losers from the Saudi Arabian Grand Prix – Who had a race to remember in Jeddah?