Feature
VOTE NOW: Round 1 - Who is the most influential driver in F1 history?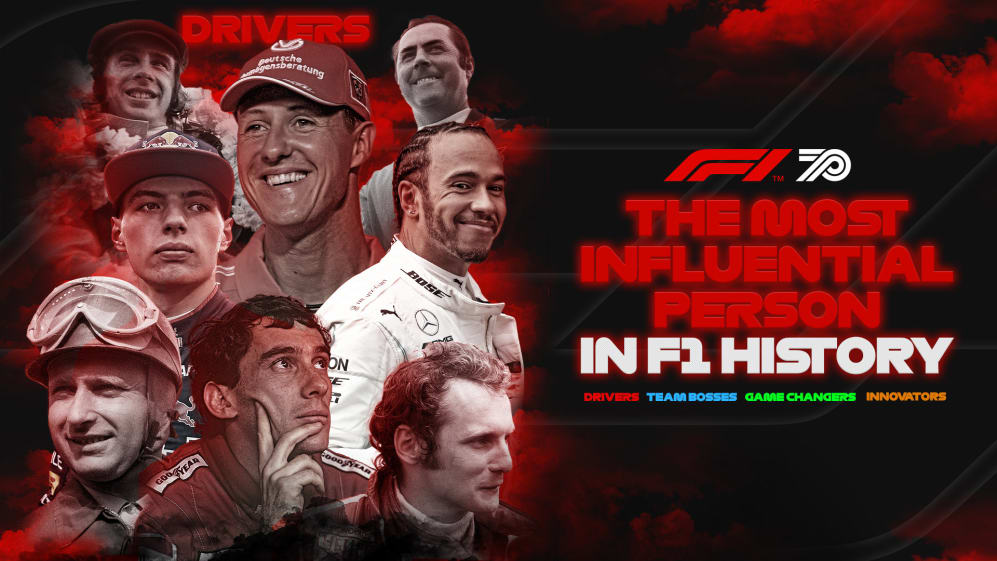 Who is the single most influential person in the history of Formula 1? In this, the sport's 70th year, we have set ourselves the challenge of finding out, and we need your help to do it.
We asked a panel of experts to come up with 32 names of the people they believe have had the biggest influence on F1 (see them all in the bracket below), and over the next 10 days we will have a series of head-to-head votes between those figures, until we have whittled the long list down to a single winner.
Click here for more info on how we decided on those 32, and how the tournament itself will work.
Today, the voting begins with our first category: the drivers. We have four votes for you below, all you have to do is vote for who you think deserves to win in each match-up. Remember: this is not about who you think was the best driver, but rather who had the biggest influence on the sport.
Let's get started...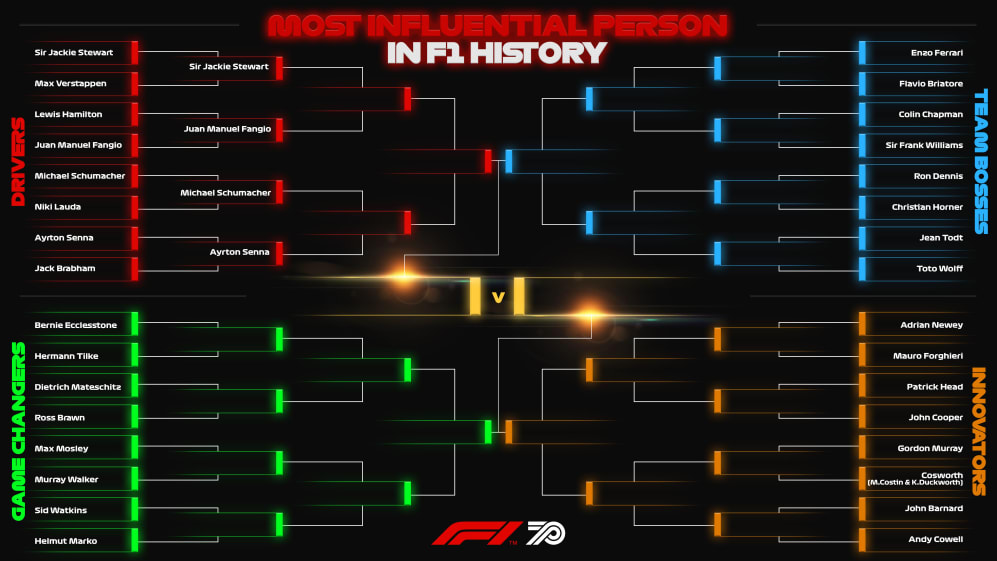 MATCH 1 - Sir Jackie Stewart (1) Vs Max Verstappen (8)
Our first head-to-head sees our three-time world champion top seed versus F1's young megastar. Here's why each deserves your vote...
The case for Sir Jackie Stewart
At the 1966 Belgian Grand Prix, Jackie Stewart was trapped beneath his crashed car for 25 minutes, fuel soaked and fearful for his life. He'd survive, but in the years that followed he'd see many friends and colleagues perish pursuing the same passion.
In a sport whose appeal was built so much around the ever present spectre of danger, it took a brave individual to stick his head above the parapet and demand action - but Stewart determined to be that man, using his influence as a champion driver to force through change.
Ridiculed by some in the old school for his unyielding stance, his tireless and often lonely campaign for proper barriers, run-off areas, advanced medical facilities and proper marshalling not only helped save lives at the time, it had a lasting impact.
That he also then set up his own Grand Prix-winning team (with son Paul) - a team that would eventually become Red Bull - only adds to his influential legacy.
The case for Max Verstappen
It's perhaps easy to forget just how incredible it was when Max Verstappen was handed a full-time F1 drive at just 17 years of age. That headline-grabbing move not only resulted in the super license rules being changed but, following the Dutch prodigy's rise, it also led to a re-writing of notion of 'ready for F1'.
16 years earlier, Kimi Raikkonen had reset the bar, entering F1 with just 23 car races under his belt. But at 21, he was a relative veteran compared to Max. In showing he had the tools at such a young age, Max helped usher in a new era where talented young drivers are now actively given a chance, rather than being forced to wait in the wings - a 180 from previous eras when age and experience were precious commodities. 'If you're good enough, you're old enough' was the new mantra.
And if that wasn't enough, he's also grown the largest travelling fanbase in F1 and been the impetus of the return of the Dutch GP for the first time since 1985.
But who has had the greater influence on F1?

MATCH 2 - Michael Schumacher (2) Vs Niki Lauda (7)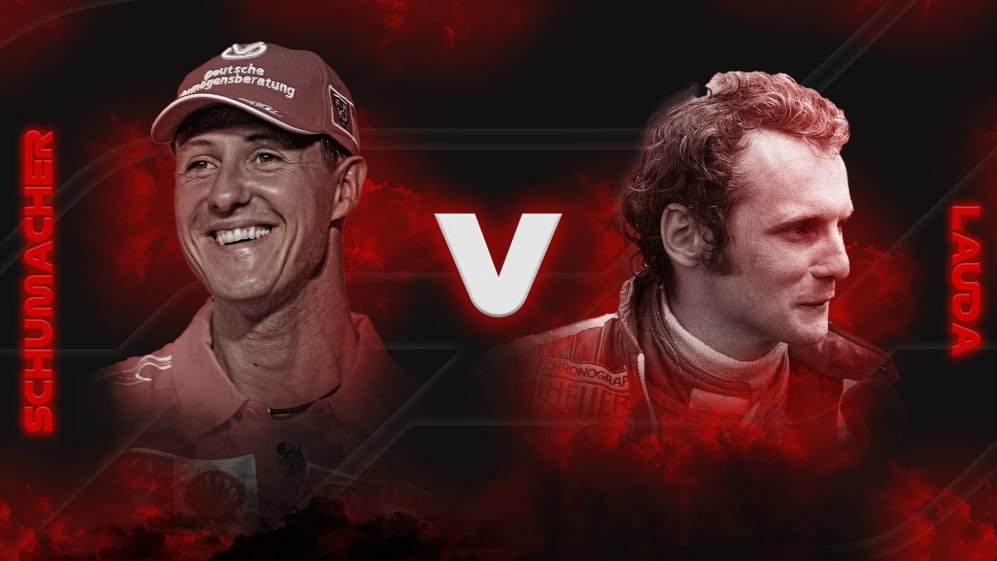 The statistical king of F1 takes on one of the most popular and charismatic drivers in our second head-to-head. Here's why each deserves your vote.
The case for Michael Schumacher
Ask any of the drivers on the current grid who inspired them in their formative years, and the chances are a large chunk will say Michael Schumacher.
Undoubtedly the German had an enormous influence on the sport whose record books he would completely re-write, changing the game by ensuring he wrung out every bit of the considerable natural talent he was blessed with. This, it could be said, raised the general level of professionalism amongst drivers to where it is today, as his rivals were forced to match his intensity to get near his level.
Preparation was everything, whether putting in the hours with engineers or taking his fitness to the levels that enabled him to drive races utterly flat-out without losing focus or seemingly breaking sweat.
This, allied to his team building strengths, helped him drag Ferrari out of 'sleeping giant' status and into a period of then unprecedented dominance, igniting passion and hero worship the world over.
The case for Niki Lauda
Niki Lauda's Formula 1 story is so compelling Hollywood made a movie about it. The Austrian's rivalry with James Hunt captivated a whole new audience for F1, just as live races were beginning to be shown regularly on television – a key time in the sport's global growth.
Lauda's accident also changed the way he – and every modern F1 driver – thought about their job. He redefined the role of the Grand Prix driver, focusing on every area of preparation including diet, mental strength and fitness in his search for performance.
After winning three titles as a driver, he then used his famed management and political skills in senior roles at Ferrari, Jaguar, and most importantly Mercedes, where he helped create the unstoppable winning machine they have become – and was key in luring Lewis Hamilton to join the team.
A hugely respected figure in the paddock, Niki was also one of the best connected – he was even one of Bernie Ecclestone's closest confidants – right up until his death last year.
But who has had the greater influence on F1?

MATCH 3 - Ayrton Senna (3) Vs Jack Brabham (6)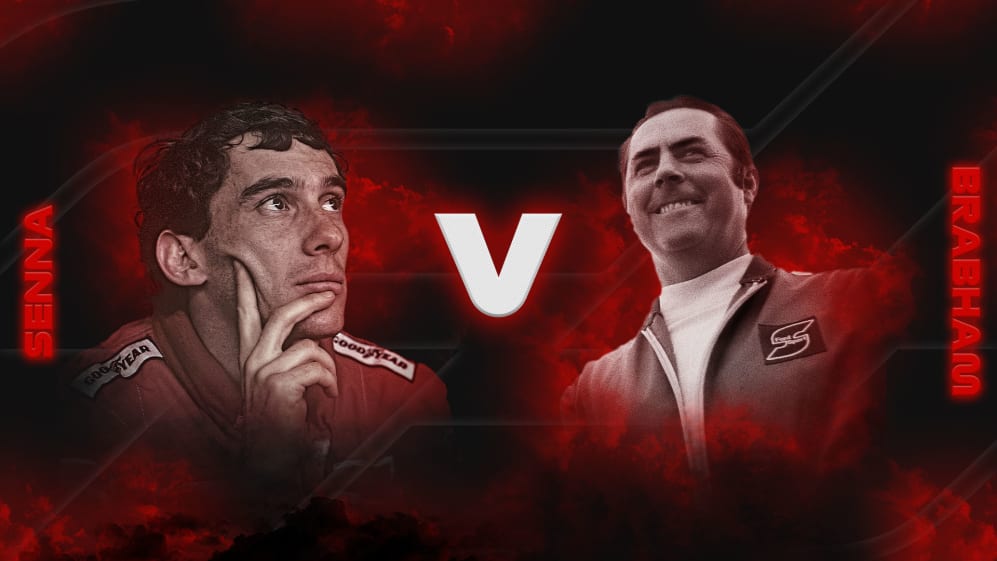 Match-up 3 sees an F1 icon go up against a self-made legend. Here's why you should vote for each...
The case for Ayrton Senna
Brazil had loved F1 since the 70s, but one man made it a religion. Ayrton Senna wasn't merely an icon back home - like Muhammad Ali he was a global sporting phenomenon, his name and image becoming cultural touch points.
F1 with Senna was always appointment viewing, whether it was a shimmering qualifying lap, a superlative wet weather drive or even a press conference - he demanded watching. No one else has transcended the sport in the same way.
Even in death, the sheer scale of his loss created immediate, seismic safety changes, whilst to this day his foundation serves to support those in need in Brazil, continuing the charitable work he so believed in.
The case for Jack Brabham
Jack Brabham was a brilliant, formidable racer - but there was much more to him than that. For a start, he had an engineer's brain, a fact evidenced by his contributions to the mid-engined Coopers that revolutionised F1 at the end of the sport's first decade - and gave him his first two drivers' titles.
But it was in what he did next - founding Brabham cars with fellow Aussie Ron Tauranac - where he probably had his most profound influence. His race- (and ultimately championship-) winning performances in his own self-built machines inspired both Bruce McLaren (who he'd taken under his wing at Cooper) and Dan Gurney to cast out on their own with similar success.
Oh, and as if shaping Bruce McLaren's destiny wasn't enough, it was also Brabham who hired a certain Ron Dennis as chief mechanic, leaving quite the impression on the young Briton...
But who has had the greater influence on F1?

MATCH 4 - Lewis Hamilton (4) Vs Juan Manuel Fangio (5)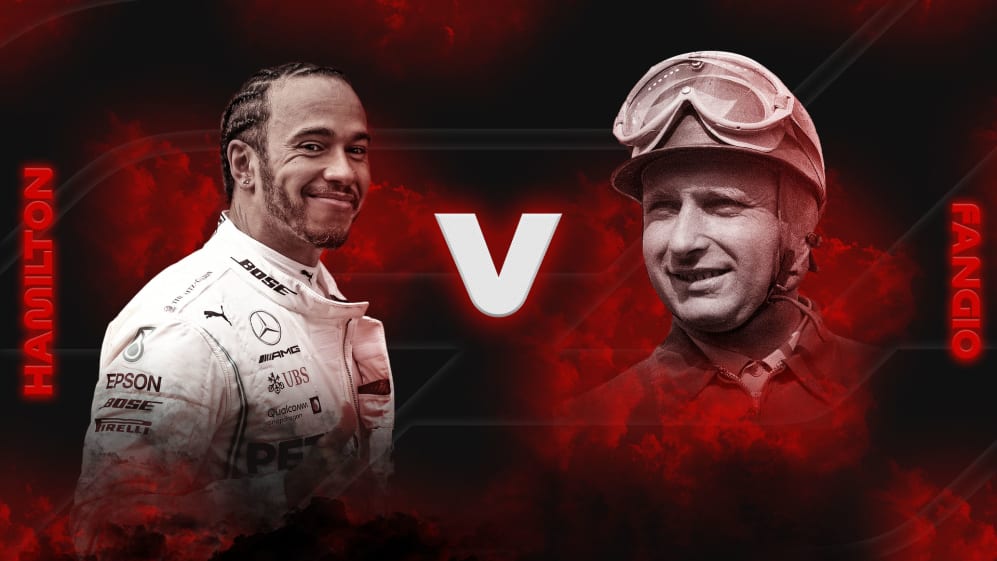 It's the duel of the Silver Arrows titans in match-up 4. Here's why you should vote for each...
The case for Lewis Hamilton
You could argue nobody has done more to take F1 to new audiences than Lewis Hamilton. The first black superstar in F1 history, having arrived at a time when the sport was far from ethnically diverse, Hamilton is much more than a great racing driver.
A multi-dimensional character with a compelling back story and a multitude of interests outside of F1, Hamilton seems as at home at a Hollywood party or at a fashion show as on the race track.
The term 'celebrity' doesn't always have the greatest connotations, but Hamilton has used his to help put F1 in the forefront of the public eye, making it accessible and relevant to people who might otherwise not have been fans. And to the younger drivers in F1, he's a role model in the virtue of just being yourself.
The case for Juan Manuel Fangio
Juan Manuel Fangio was, quite simply, F1's first megastar: a five-time world champion who inspired awe from his fellow competitors, was known the world over, and set the gold standard for all who followed him.
As a driver he was the arch professional in a sport still often filled out by enthusiastic amateurs, using his reputation to seamlessly shift teams to ensure he was always in the best machinery – a strategy many other top drivers would follow in the future. In retirement, he was the ultimate F1 ambassador, his engaging personality and natural gravitas leaving even his fellow champions hanging on his every word.
Even after his death in 1995, his shadow loomed large, with the moment Michael Schumacher matched his long running record of five world titles in 2002 rightly recognised a watershed moment.
But who has had the greater influence on F1?

Who missed the cut?
Arguments raged over who should be included in our drivers' bracket, and inevitably some big names who commanded considerable influence were going to fail to make the cut. Amongst them were the likes of Sir Stirling Moss – inspiration to the legion of British racers like Sir Jackie Stewart – and Alain Prost, who was half of F1's most famous and storied rivalry, amongst other things. Though his legacy lives on, McLaren founder Bruce McLaren also narrowly missed out by a whisker, as did Gilles Villeneuve, who inspired an F1 passion in Canada that lives to this day, and more modern 'influencers' such as Fernando Alonso, Kimi Raikkonen and Sebastian Vettel.
All the votes are open for 24 hours, and we'll have the results for you right here on F1.com tomorrow, along with the first four match-ups in our next category: Team Bosses.