Feature
Knockout tournament: Who is the most influential person in F1 history?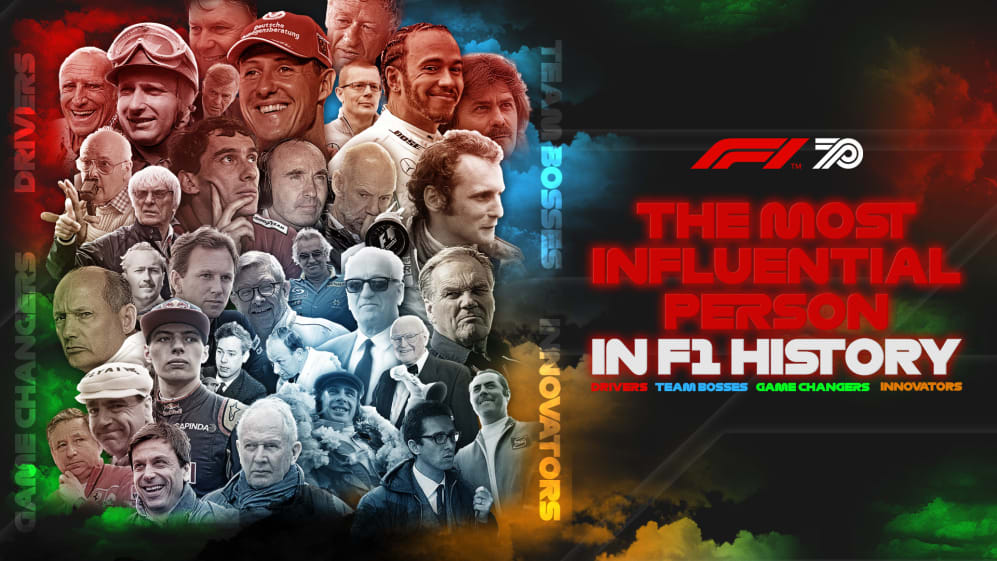 This year we are celebrating 70 years of the Formula 1 World Championship, and over those seven decades as the sport has grown and evolved, fans have watched countless thrilling Grands Prix and seen racing legends like Juan Manuel Fangio, Jackie Stewart, Ayrton Senna and Michael Schumacher produce some truly epic performances on track.
There is a constant and ongoing debate about who the best ever F1 driver is, but rather than revisit that argument, instead we decided we wanted to find out who the most influential figure is from the sport's history.
Who is it that has had the biggest impact on F1? Is it a technical innovator who changed everything with some brilliant engineering, a driver who inspired legions of fans to follow the sport, a team boss who nurtured a crop of young drivers, or a pioneer in the field of safety?
To help us discover the answer, we've come up with a knock-out tournament to decide on the winner – and we need YOUR help.
How will it work?
We've put together a shortlist of 32 of the biggest F1 personalities, split into four categories: Drivers, Team Bosses, Innovators and Game Changers. The tournament is laid out according to the bracket you can see below.
We've seeded each contender from 1-8, and each of them will eliminated one-by-one until we have a winner.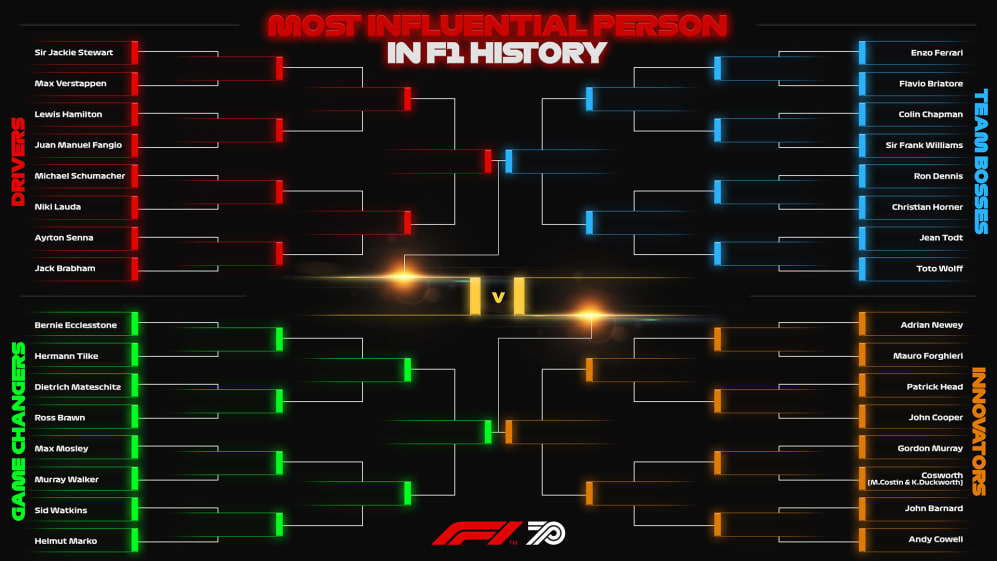 How did you choose the final 32?
We asked a panel of Formula 1 experts to draw up our list of finalists, and after a LOT of debate, they finally settled on the 32 names you see in the bracket above.
But where's my favourite driver/team boss/personality?
It's worth noting that we wanted a selection of people who span the entirity of F1's great history, from its origins to the present day. It's also important to remember the names we have selected do not necessarily represent the best or most successful people in their field - this is about the people who ultimately had the most influence on Formula 1, not who won the most races or collected the most trophies.
That, plus the fact we could only include 32 people, meant our panel had a tough job on their hands to whittle it down to that number (believe us, the debates and arguments went on for days!).
There are indeed drivers and team bosses who won more than some of these names we have included (and who we hated leaving out), but ultimately our panel decided that these people - who are all giants of the sport - were the most deserving, given that the key criteria for inclusion was their influence on F1.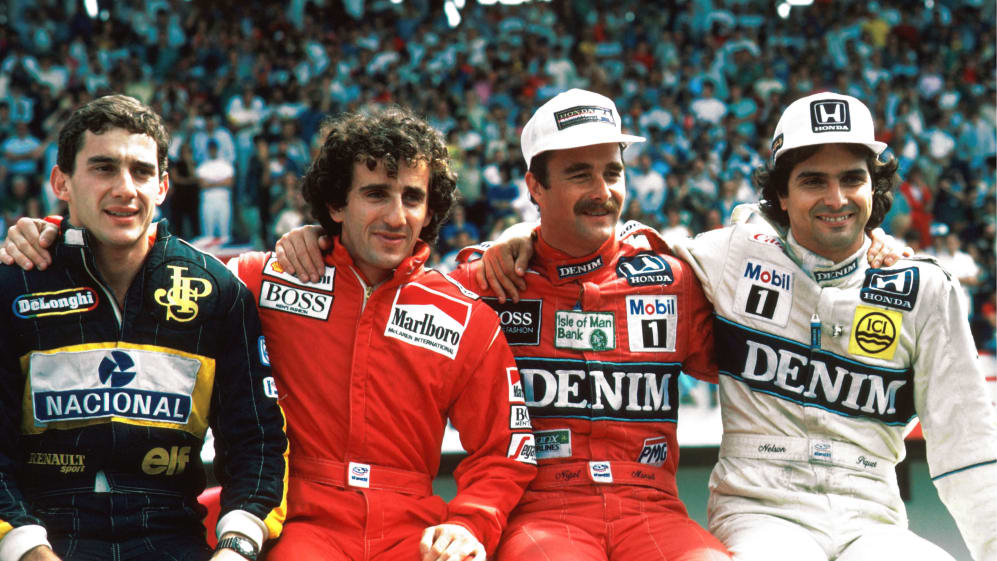 How will voting work?
Starting tomorrow (Monday) we will have an article here on F1.com with the first round of votes, which will see our eight drivers go up against each other in a series of four head-to-head votes.
We'll give you a brief rundown of each contender's case for victory, then all you need to do is vote for your choice of winner in each match-up. The losers of each vote will be eliminated, the winners will progress to the next round.
Identical votes on the other three categories will follow over the coming days, before the winners of each category face each other in the later rounds.
We will announce the winner on May 13, the anniversary of the very first Formula 1 World Championship Grand Prix held at Silverstone in 1950.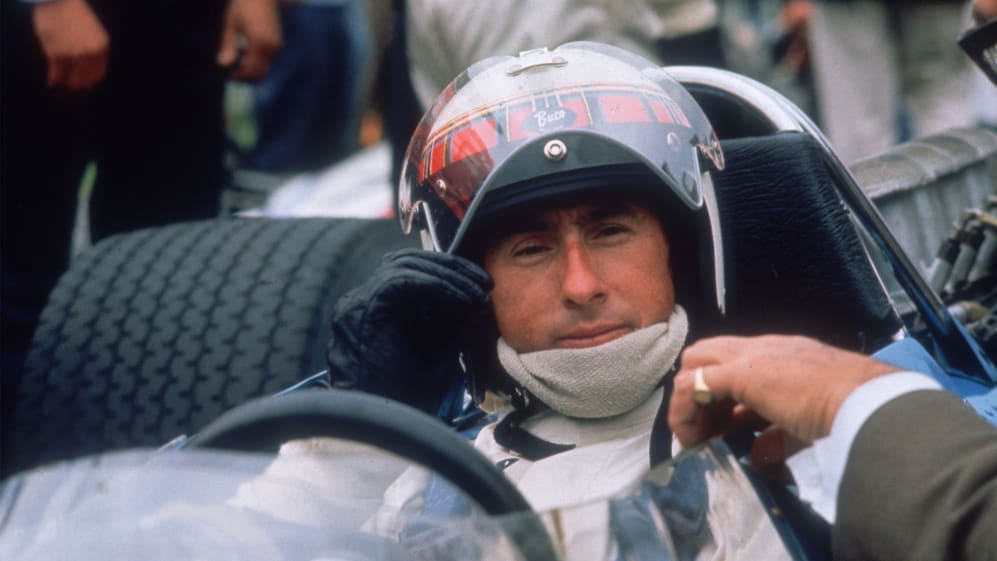 The Contenders & Seedings
DRIVERS
Jackie Stewart (1) – Triple world champion as a driver, winner as a team owner and tireless safety campaigner.
Michael Schumacher (2) – Set new standards, broke just about every record there was and inspired a whole new generation of F1 fans and drivers.
Ayrton Senna (3)– Was part of perhaps the most intense rivalry in F1 history with Alain Prost and created a level of fan devotion that continues to this day.
Lewis Hamilton (4) – A force in F1 right from his very first lap, he forged his own path as the sport's first black driver and looks set to beat even Schumacher's incredible winning records.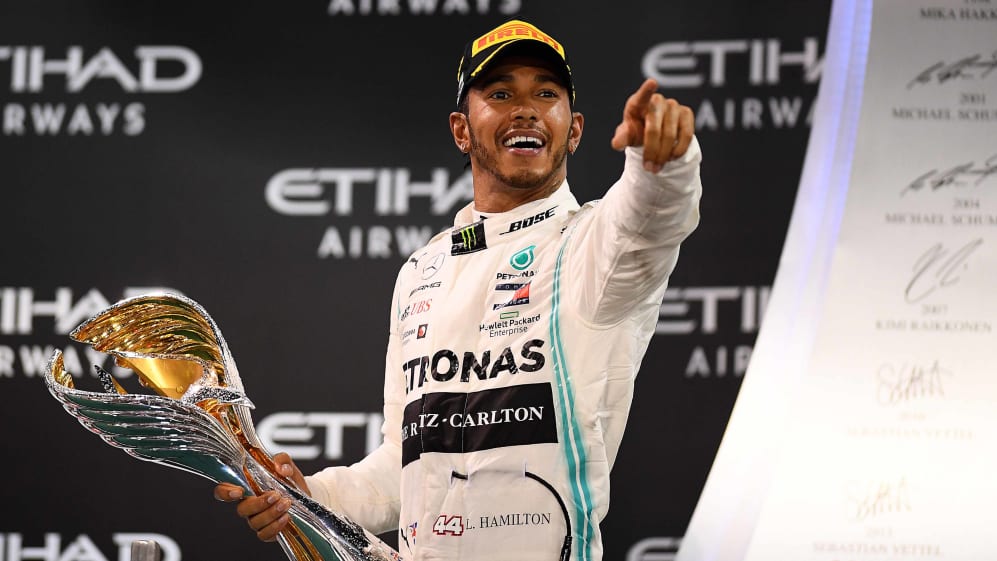 Juan Manuel Fangio (5) – Perhaps the first legend of F1 racing, he set records that took over 40 years to beat.
Jack Brabham (6) – A trailblazer for drivers from Australasia, he not only won three world championships, but remains the only man to win a title in his own car.
Niki Lauda (7) – A triple world champion who defied horrific injuries to come back and win again, then played key roles with Ferrari, Jaguar, and most importantly, the current all-dominant Mercedes team after he retired from driving.
Niki Lauda: An F1 legend remembered
Max Verstappen (8) – He redefined what was possible as a young driver after entering the sport at just 17, and has already built the biggest fan following in F1.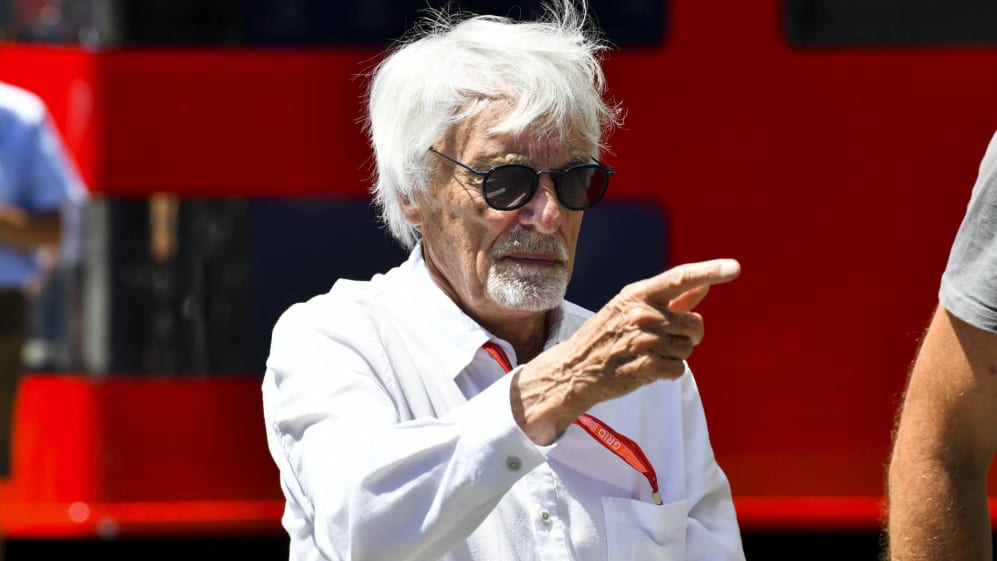 GAME CHANGERS (SEEDING)
Bernie Ecclestone (1) – A winning team owner who then revolutionised F1 from an enthusiasts' sport to global TV phenomenon over a 40 year-plus reign.
MUST-LISTEN: Bernie Ecclestone guests on F1's official podcast
Max Mosley (2) – An ally of Ecclestone who became FIA President and one of the chief architects of F1's safety push after 1994.
Sid Watkins (3) – The man who more than any other revolutionised medical care and safety in the sport.
Dietrich Mateschitz (4) – First as a sponsor and then as the owner of two F1 teams, the Red Bull magnate showed running a Formula 1 team could be done differently.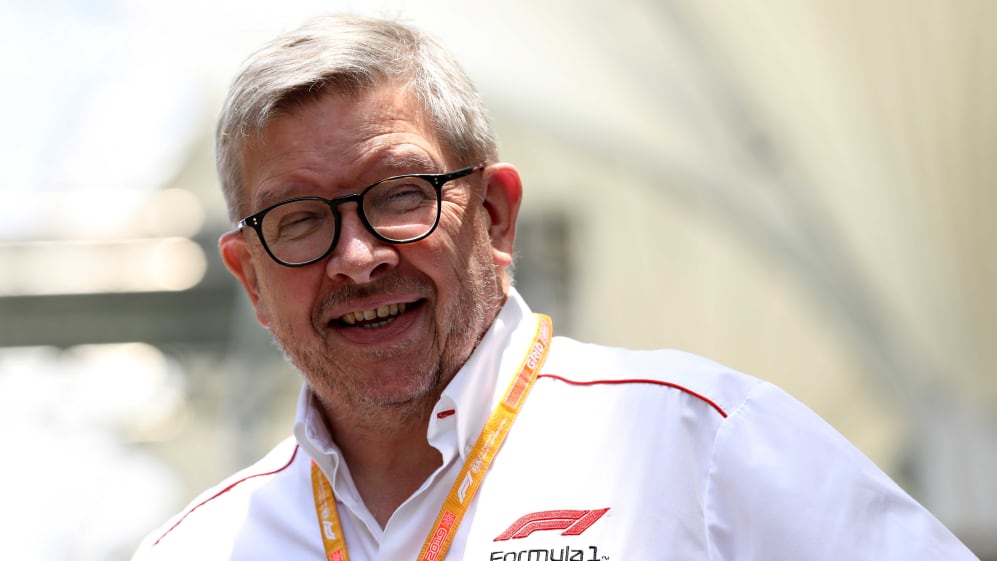 Ross Brawn (5) – Masterminded Schumacher's seven titles, saved his own team from extinction to win again, and is now re-shaping the next generation of F1 cars and the sport's regulations.
Helmut Marko (6) – Has overseen the Red Bull Junior Programme, responsible for guiding Sebastian Vettel, Daniel Ricciardo and Max Verstappen into Formula 1.
Murray Walker (7) – The most legendary commentator the sport has ever had, not just for British audiences, but those around the world. Think of a Grand Prix between 1976 and 2001, and you'll hear Murray in your head.
Hermann Tilke (8) – The go-to designer for new circuits in F1, many of the tracks F1 races on today started life on his drawing board.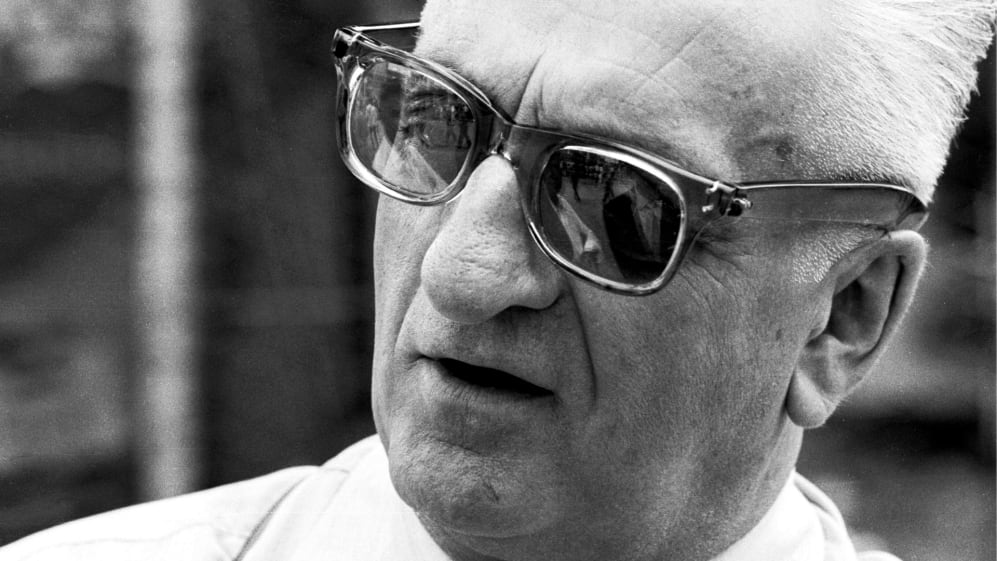 TEAM BOSSES (SEEDING)
Enzo Ferrari (1) – Founder of Formula 1's most legendary, committed and well-supported team.
Ron Dennis (2) – No nonsense, perfectionist owner who transformed McLaren into the model F1 team, overseeing a huge amount of success in his almost four decades at the helm.
Jean Todt (3) – The man who made Ferrari a feared and relentless winning machine after years in the wilderness. Now uses F1's profile to help promote road safety around the world.
Beyond The Grid: Jean Todt on rebuilding Ferrari, heading the FIA and more
Colin Chapman (4) – Master team builder and engineer who came up with countless technical innovations to make his Lotus outfit one of the most successful the sport has ever seen.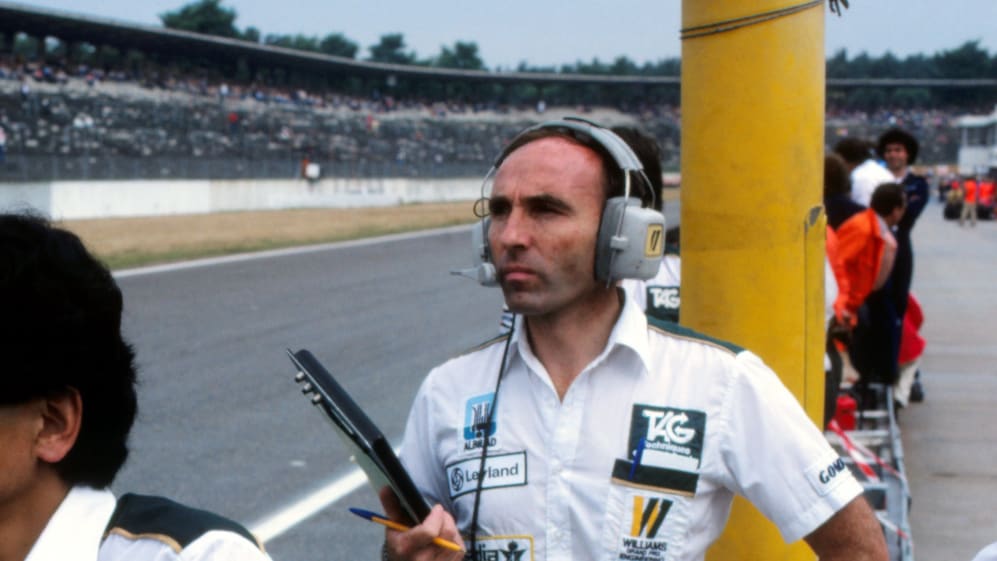 Frank Williams (5) – Founder of the second-most successful team in Formula 1 history and still going strong as F1's last independent owner, despite his shocking 1986 accident.
Toto Wolff (6) – A new(ish) arrival to F1 who has helped create the most dominant team ever seen in F1, and forged a formidable partnership with Lewis Hamilton.
Christian Horner (7) – Was F1's youngest team principal when he arrived in F1 but quickly turned Red Bull into winners, and is also a big mover behind the scenes as Formula 1 looks to shape its future.
Flavio Briatore (8) – Upset the established order when he arrived at Benetton with no F1 experience, but soon had them winning with Schumacher in the car. Was also manager to plenty of drivers over the years, including Fernando Alonso and Mark Webber.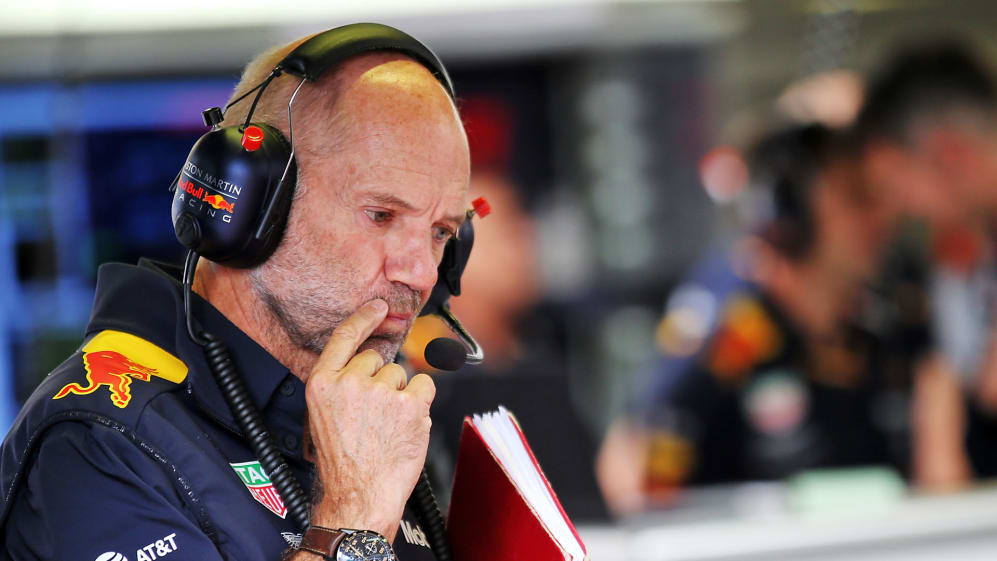 INNOVATORS (SEEDING)
Adrian Newey (1) – Arguably F1's most successful engineer, and designer of championship winning cars with Williams, McLaren and Red Bull.
Gordon Murray (2) – A pioneer of radical design concepts like the 'fan car', Murray was a free-thinker who helped Brabham and McLaren to title success.
John Barnard (3) – Every modern Grand Prix car has a carbon fibre monocoque and a semi-automatic gearbox. Both were introduced to F1 by Barnard, who had success with McLaren, Ferrari and Benetton.
John Barnard on working for Enzo Ferrari, engineering Schumacher, and his best F1 innovations
Patrick Head (4) – Without the forceful and technically brilliant Head, the Williams team – of which he was a co-founder – would likely never have tasted success. And he oversaw the most advanced F1 car ever, the FW14B.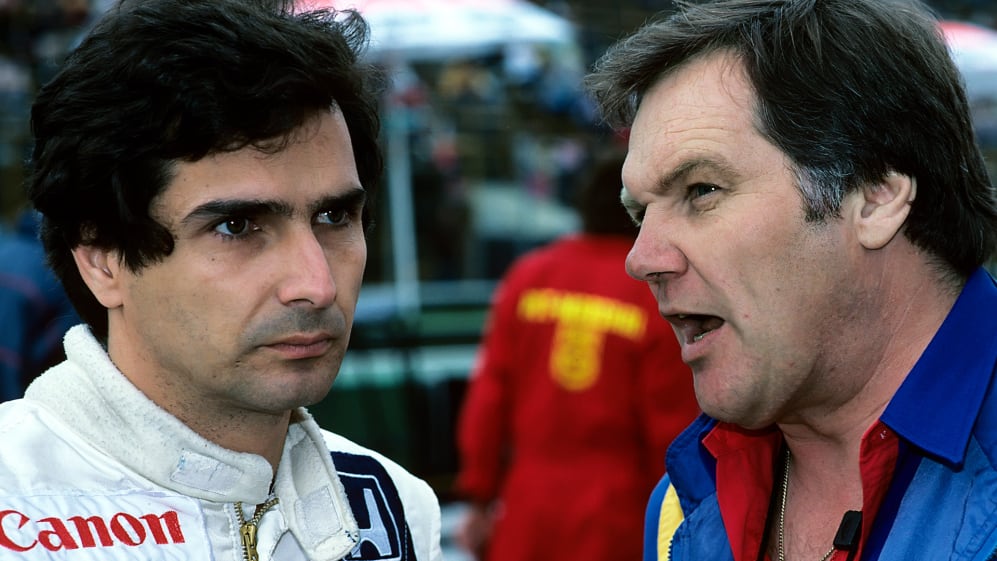 John Cooper (5) – He established Britain as a superpower in motorsport technology and introduced the rear-engined car to F1, revolutionising the sport.
Andy Cowell (6) – The man responsible for Mercedes' hybrid V6 – F1's most dominant power unit.
'Cosworth' (Mike Costin/Keith Duckworth) (7) – Two men inseparable from each other. Together they revolutionised engine tech with the introduction of the DFV engine, which became the most widely-used and successful F1 engine of all time.
Mauro Forghieri (8) – Ferrari's longstanding engineering genius who designed their first turbocharged engine, introduced the concept of a rear wing to F1, and oversaw a string of wins and titles in the 1960s and 70s.
Look out for the first round of head-to-head match-ups tomorrow, and remember: this is about who was more influential, not who you think is best. And most importantly: this is just a bit of fun. If you disagree with how the votes go, let us know on our social channels using the hashtag #F1MostInfluential.