W Series season curtailed as organisers focus on 2023 funding
W Series have confirmed that their 2022 season will be cut short, with the final three races planned in the United States and Mexico later this month no longer going ahead.
A press release issued by the championship highlighted that, as confirmed at the recent round in Singapore, "the required funding due to the business from a recent contracted investment was not received, forcing the remaining three races of the 2022 calendar into doubt".
HIGHLIGHTS: Watch the action from a dramatic Japanese GP as Verstappen seals his second World Championship
It continued: "Since then, the decision has been made to focus on the longer-term fundraising process to enable the longevity and financial health of W Series into 2023 and beyond, and enable cost cutting by cancelling the remaining races in Austin and Mexico City."
W Series had been due to visit Austin's Circuit of The Americas on the weekend of October 21-22, with a double-header scheduled at the Autodromo Hermanos Rodriguez from October 28-30 – both in support of the F1 World Championship.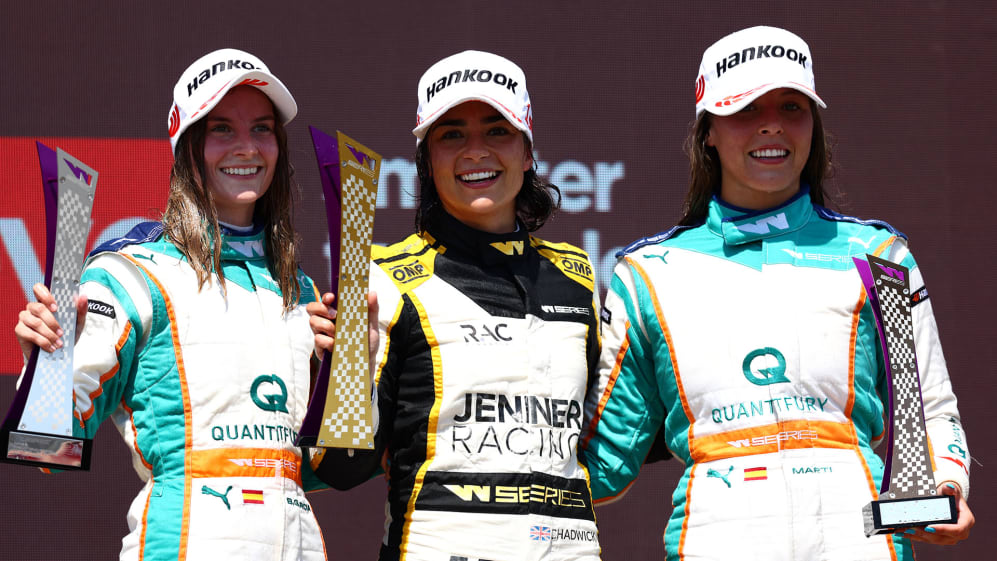 With the aforementioned rounds chalked off, Jenner Racing driver Jamie Chadwick – who sits 50 points clear in the drivers' championship standings – is crowned W Series champion for a record-breaking third time.
Chadwick has taken 11 wins, 10 pole positions and 18 podiums across three seasons in the all-female category (2019, 2020 and 2022), with no racing held in 2021 due to the Covid-19 pandemic.
READ MORE: 5 Winners and 5 Losers from the Japanese Grand Prix – Who mastered the wet conditions in Suzuka?
Catherine Bond Muir, Chief Executive Officer of the W Series, said: "It's with both great sadness and frustration that we announce that our much-anticipated final three races of the 2022 season in Austin and Mexico City will not go ahead.
"As a start-up in only our third season of racing, we are always working hard to ensure regularity of funding as we continue to grow our business, but due to recent unforeseen circumstances outside of W Series' control, we had not been in receipt of contracted funds due to us.
Oops! Error retrieving Twitter post
"Therefore, we have been forced to make the unfortunate decision not to complete our scheduled calendar this season."
Bond Muir continued: "We are incredibly thankful for the help and support we have received in recent weeks following the news of the financial difficulties we've been facing, which has accelerated our fundraising process and given us great optimism as we look to 2023 and beyond.
IN NUMBERS: The stunning statistics behind Verstappen's dominant title defence
"While we aren't in a position to make a formal announcement yet, there are many positive conversations ongoing and all parties share our passion for and belief in our mission to provide our incredible field of women drivers a platform to showcase their talents and to race in front of enthusiastic fans all around the world.
"We are doing everything we can to ensure the long-term financial health of our business and we look forward to W Series' continued growth and success."