WATCH: Raikkonen ends his final Friday practice session in the wall after Turn 14 crash in Abu Dhabi
Kimi Raikkonen would probably admit that he was never the biggest fan of Friday practice during his two decades in Formula 1. But even the Finn will have been disappointed to end the last Free Practice 2 of his career in the wall, having spun at Turn 14 of the Yas Marina Circuit.
The 2021 Abu Dhabi Grand Prix weekend will be Raikkonen's last in F1, as he prepares to bow out of the sport that he first raced in all the way back in 2001. But ahead of his 349th and final start, Raikkonen was circulating at the tail end of FP2 when he lost the back end of his Alfa Romeo C41, making heavy contact with the wall with the rear of his car and ripping off his rear wing.
FP2: Hamilton leads Ocon and Bottas in second Abu Dhabi practice session, as Verstappen takes P4
"It had been a normal Friday until the last lap," explained Raikkonen. "We had finished nearly all our work when I had my accident. I just lost the rear in a place where there wasn't any run-off and went into the wall. These things happen."
Speaking of modifications to the circuit ahead of this weekend's race, meanwhile, Raikkonen said: "It was interesting to try the track after the modifications. Making changes is good and I can see why they were done, but I am not sure whether overtaking will be any easier. In the end, it is what it is, it's different and we'll have to adapt."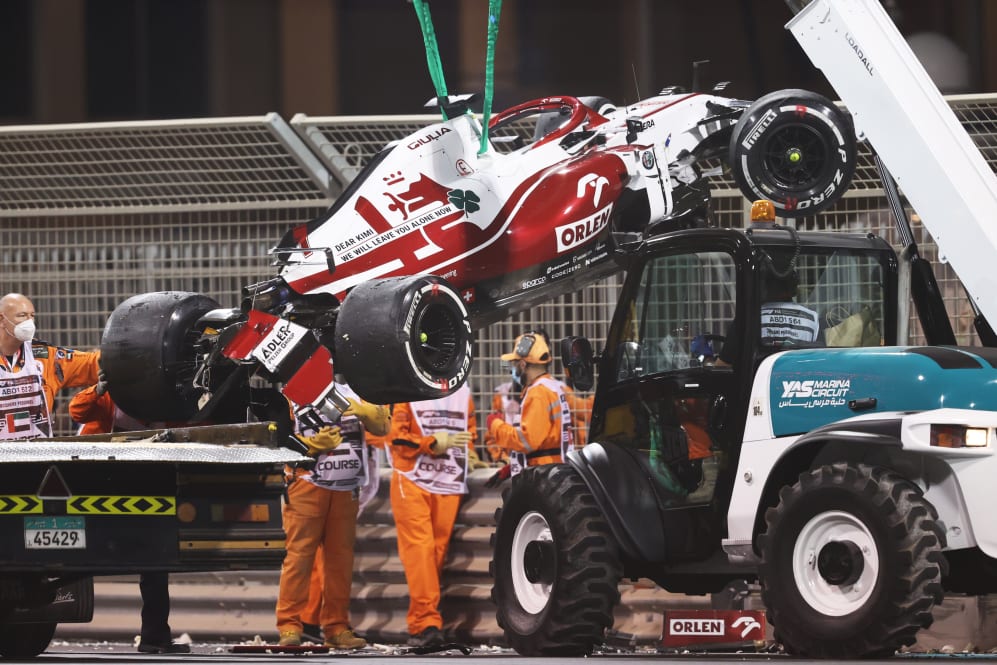 Team mate Antonio Giovinazzi was adamant on Thursday that this wouldn't be his final weekend in Formula 1, despite leaving Alfa Romeo at the end of this season to switch to Formula E.
And the Italian – who sports a Raikkonen tribute helmet this weekend, as Raikkonen himself switches to a lid evoking his 2001 helmet design – kept his nose clean on his final Friday with Alfa Romeo to finish a promising P12 in FP2.
GALLERY: Check out the one-off helmet designs from Verstappen, Raikkonen and more for the Abu Dhabi GP
"It was more fun I would say," was Giovinazzi's opinion of the track changes. "Faster, so for this car it was better. I don't know how good it will be for the race, how much better it will be, so we'll see on Sunday, but it was a positive day today so far.
"FP1 [where Giovinazzi finished 14th], FP2, we are there, really close, all together again, so it will be important to work really hard tonight, find some tenths for tomorrow but yeah, not a bad day to start.
"Hopefully we can still find something for tomorrow" added Giovinazzi, who qualified P10 in Saudi Arabia before taking just his second points score of the year, "and then it will be great to have another good qualifying like Saudi."