Video
WATCH: Verstappen loses front wing after crash in first practice at Monza brings out red flags
Max Verstappen had the first crash of the Italian Grand Prix weekend on Friday when he went off the track in his Red Bull in the first practice session at Monza.
The Dutchman was out on track when he lost control of his RB16 car at the Ascari chicane, spun and then bounced across the gravel trap before hitting the barrier and ripping his front wing off in the process, as you can see in the video above.
READ MORE: Verstappen bats away 'stupid' questions about motivation as Red Bull try to catch Mercedes
He managed to keep his engine running and reversed out of the barrier and back on to the track, but the red flag was shown to stop the session to allow the marshals to clear the debris from the incident.
"Thankfully it was just the front wing," said Red Bull Team Principal Christian Horner after the session. "I think it was some damage underneath the car as well that the mechanics will get into now. But thankfully it was just a front wing, so, yeah. We're not flushed with parts so we'll need it back from the marshals a bit later!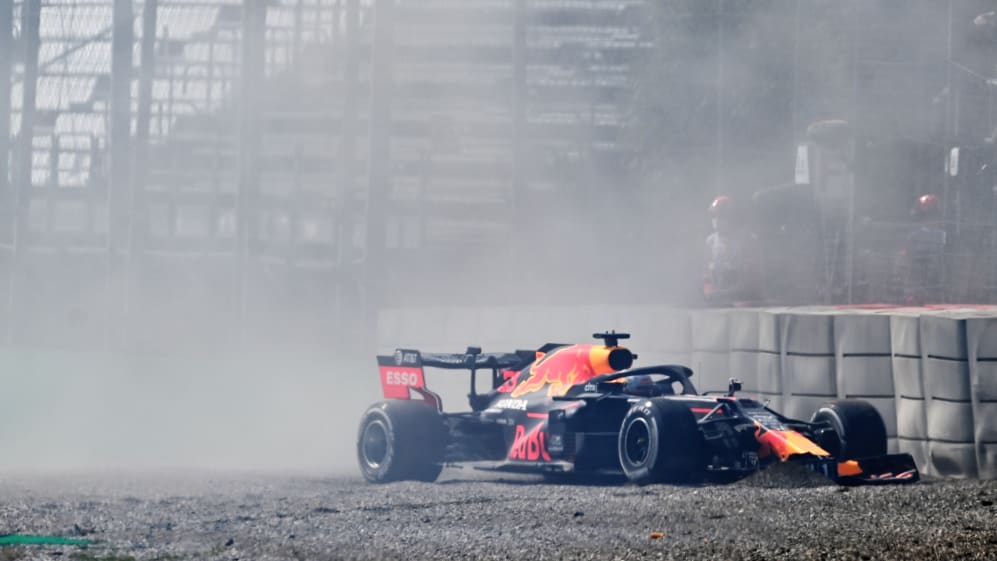 "I think he was [surprised], just talking to him at the back of the garage there. He's got a bit of a disconnect in balance as well at the moment. I'm sure we can tune that out, hopefully for the next session. But it's very high-speed over there so we're lucky to get away with the lowest amount of damage that we did."
Verstappen drove back to the pits and Red Bull had a new wing fitted before sending him back out. At the time of the off, he was third in the time sheets, behind Mercedes pair Valtteri Bottas and Lewis Hamilton.