We can recover, says Vettel after FP2 setback
His second practice session in Singapore was cut short when he clouted the wall on his first qualifying simulation run, limiting him to just 12 laps under the floodlights. But Sebastian Vettel, who despite admitting the incident was far from ideal, is confident his Ferrari can recover and challenge for pole position on Saturday…
Vettel, a winner at the spectacular Marina Bay Street Circuit a record four times, could only go third fastest in FP1 behind the two Red Bulls, and then was confined to his garage when he got a little bit too close to the wall at Turn 21 in FP2, a session in which his team mate Kimi Raikkonen topped the timesheet.
On initial viewing, the glancing blow looked to have caused only minor damage to his rear-right wheel, but as the four-time world champion returned to the pits, hydraulic fluid was pouring from the back of the car. The incident forced Vettel to head back to his Ferrari motorhome, bringing a premature end to his Friday participation.
The former Red Bull star, however, believes the only setback was to miss out on running time in the night-time conditions that the drivers will face both in Saturday's qualifying and Sunday's race - and he's hopeful of delivering the goods this weekend.
"The bad was obviously the touch to the wall which made the session come to an end," said Vettel. "Obviously there was a bit more than just a kiss, then we took precaution and decided not to run.
"We lost some time, which is not ideal, but nevertheless I think I've got a good feel for the car and thankfully I've been here before so I know the track. Tomorrow I think it will be key to find the right balance and feel the car a little bit better than this evening and then we should be fine.
"I tried a little bit too hard and we lost some time but I think overall the car is working and I think we can improve it from where it was. So it's not yet where I want it to be but I think for tomorrow we should be in a better place.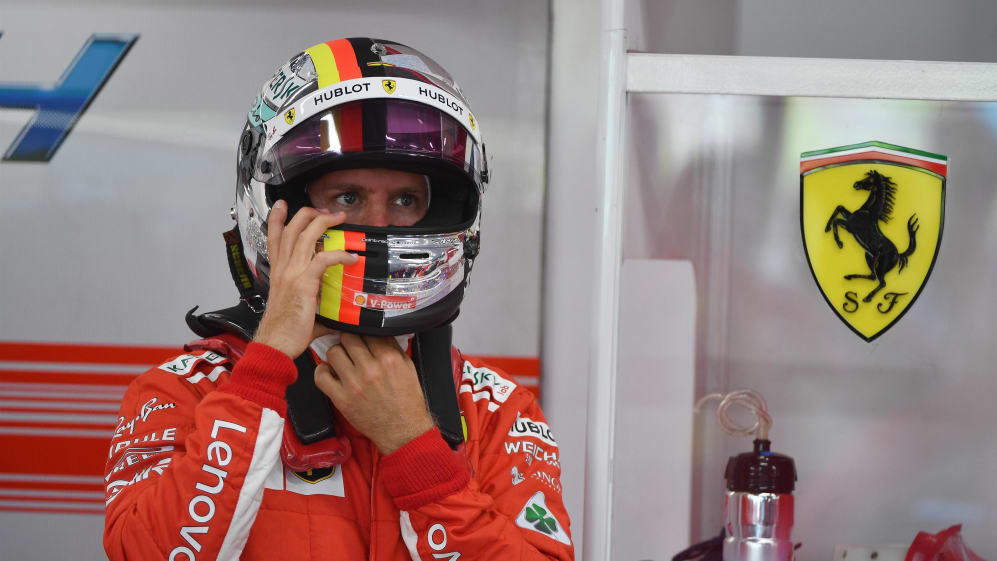 "This morning there were some phases that were really good. In the evening we tried something, maybe it didn't work, so I think we'll probably go back but that's normal.
"You try different directions. But I think the lap that I had up to the kiss with the wall was OK - but I wasn't very happy with the car so I think there's still (work to do)."
Coming into this race, Red Bull had been tipped by many to challenge Ferrari for victory – but Vettel believes Mercedes won't be too far behind either.
"It's very close. I think with all the three teams, (but) maybe Red Bull are a bit closer - especially on the long runs they look quick. We'll see. We won't know before Sunday but obviously here the qualifying is important.
"I think it's difficult to really read too much into the times. Also when people had traffic and so on, it's difficult to say how much they were struggling with tyres or not. I think tyres will be key on Sunday, Red Bull looked very strong, especially later in the stints, so we will see."
Vettel is looking to get his championship bid back on track in Singapore, with the German currently trailing standings leader Lewis Hamilton by 30 points.