'We got Tsunoda'd!' – Horner on the incident that hit Red Bull's pole attempts in Mexico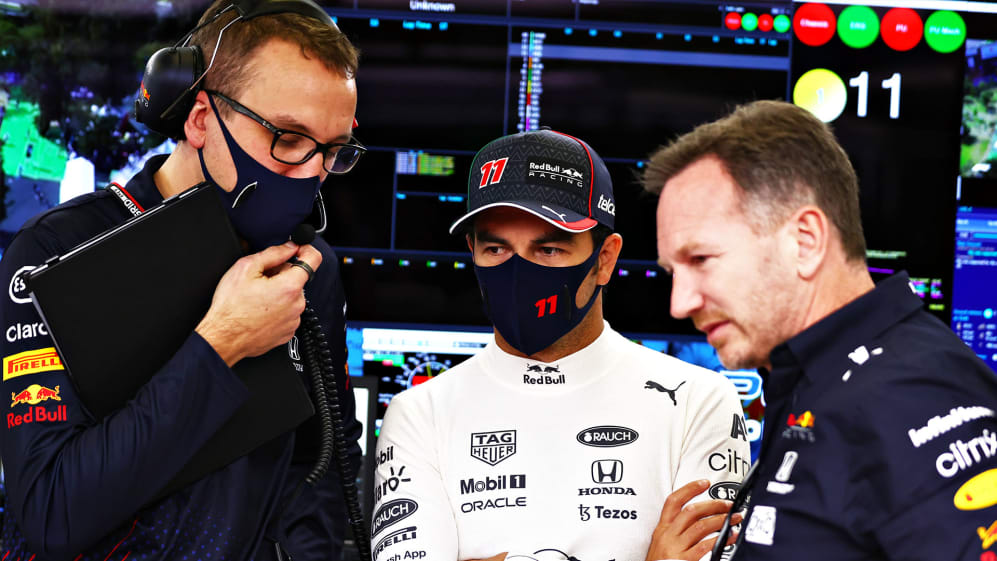 Christian Horner's Red Bull team endured an unhappy Saturday afternoon at the Autodromo Hermanos Rodriguez, suffering rear wing worries before getting comfortably beaten to pole position by rivals Mercedes – and at a track they were expected to dominate at.
Red Bull weren't helped in qualifying by Yuki Tsunoda, driver of sister team AlphaTauri, who ran off track at Turn 10 in the final moments of Q3 just as Sergio Perez and Max Verstappen were approaching on fast laps – Perez following the Japanese into the run-off area, as Verstappen behind lifted.
READ MORE: 'A terrible qualifying' – Verstappen frustrated after Perez-Tsunoda incident thwarts pole ambitions in Mexico
That hiccup left Valtteri Bottas to claim pole for Mercedes ahead of team mate Lewis Hamilton, with Verstappen and Perez behind in P3 and P4 – with Tsunoda's actions made all the more galling given both his Red Bull ties, and the fact that he was set to start at the back of the grid anyway after taking a new power unit.
"I think we got Tsunoda'd!" said a rueful Horner after the session, when asked about the incident. "Both drivers were up on their last lap, Max was up two and a half tenths, I think Checo was just under two-tenths up, and I don't understand why [Tsunoda] was just cruising around at that part of the circuit.
"So it's disappointing as it affected both the drivers. They're both pretty annoyed, but we're still second row of the grid and can have a great race from there."
Red Bull's disappointment was all the greater given that they'd dominated Free Practice 2 and 3 ahead of qualifying, Perez a full 0.651s faster than Hamilton had been in final practice.
But there had been other worries in the Red Bull camp on Saturday too, with the team opting to carry out strengthening repairs on the rear wings of Perez and Verstappen's cars before and during qualifying, as Horner explained...
"We saw something in P3 and we just wanted to add a bit of protection into those rear wings," he said. "It was more precautionary than anything else, so nothing that would affect the performance.
READ MORE: Perez explains how his final Q3 run came undone as he targets maiden home podium
"The guys will have a good look at it tonight, but I think the modification that's been done has addressed any concerns," he added. "We were just concerned with a bit of fatigue that we'd seen; nothing serious but we just wanted to take no risk from it."
Horner will now turn his attention to Sunday's Mexico City Grand Prix, where he believed Red Bull still had a good chance to overturn Mercedes' advantage – with the polesitter not having won at the track since 2016.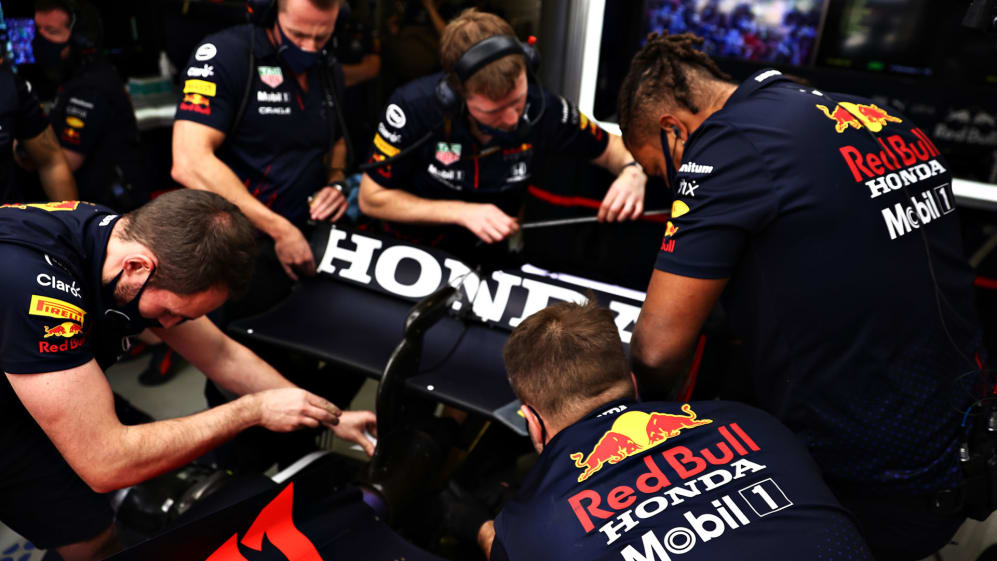 "You've got to be careful around here because you can't follow for too long, because the temperatures all start to get out of control," said Horner, when asked if Red Bull would ideally seek to pass the Mercedes on the opening lap.
"But I think the first opportunity is down into Turn 1. You've only got to look at the replays from 2019 here to see it can get a bit juicy down there. The tow is strongest obviously on that first lap, so it's going to be grandstand seats down there, but we need to have a good start with both the drivers and try and get a run.
READ MORE: 'It's a real surprise' – Hamilton stunned as Mercedes outpace Red Bull to lock out front row in Mexico
"You've still got Valtteri ahead of Lewis," Horner added. "Lewis is on the dirty side, Max is on the clean side. As I say, it's all going to be about where they are after the first lap, and then of course the strategy will come into play. We believe we should have a quick race car here, so disappointed in today, but still optimistic for tomorrow. We can still have a good race."
Red Bull currently sit 23 points behind Mercedes in the constructors' standings with five races left, while Verstappen heads Hamilton – with whom he clashed on the opening lap here in 2019 – by 12 points.