'We made all the right calls' says Verstappen, as he pulls off spin-and-win in Hungary to extend lead to 80 points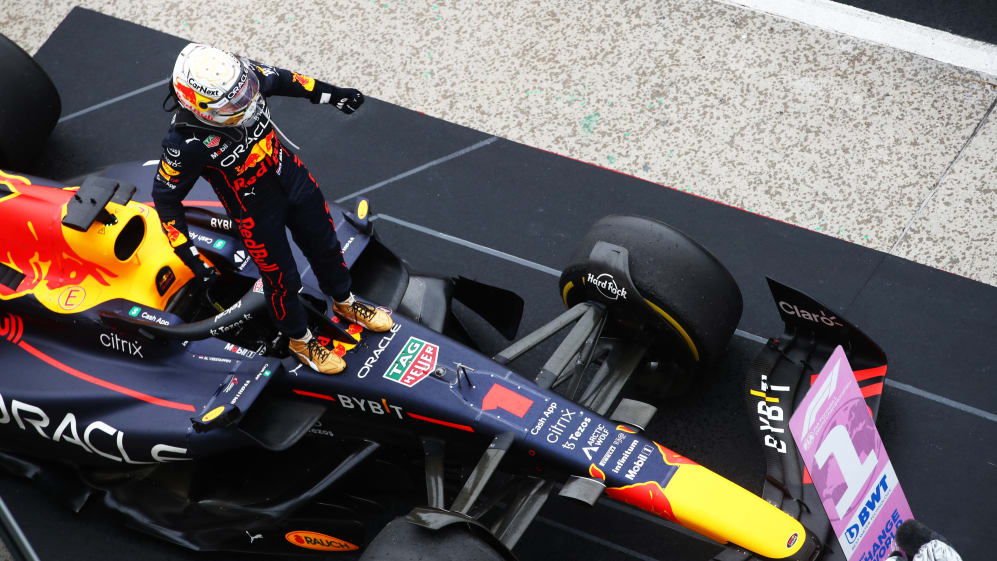 Max Verstappen hailed Red Bull's inspired strategy in Hungary as he won from 10th on the grid, shrugging off a spin to extend his lead at the top of the drivers' championship.
The Dutchman kept it clean at the start, pulled off a soft-medium-medium strategy, undercutting the Ferraris and overhauling the hard-tyred Ferrari of Charles Leclerc for the lead late on – for what he admitted was an unlikely victory from 10th on the grid, after power unit issues cost him in qualifying.
READ MORE: Verstappen recovers from P10 to take Hungarian GP win as Mercedes secure double podium
"Yes, I think nobody really expected this, but we said to each other we have to remain calm before the race, and I think we did that; we made all the right calls and the race was a bit hectic… in the first lap, getting a bit boxed in and staying out of trouble.
"But after that we did a few overtakes. But yes, we pitted at the right time, we put the right tyres on the car, I think that at the time we planned it, and then I basically saw that Charles was struggling a lot on the hard tyre so that was my moment to try and attack him. I got him, then I spun, did a 360, lost a position again, but yes, it was a bit unlucky of course.
"But then we kept our heads down, got them back again and pulled a gap."
The reigning champion added that his soft-tyred laps to the grid convinced his strategists that hard tyres were not the right compounds for the race. Leclerc spent 15 laps on hards and ended up ditching them to finish on soft compounds as he ended up sixth from third on the grid.
"We were planning to start on the hard tyres but then I went to the grid on the soft tyres and I and was already struggling for grip, so I was like, 'No way we're going to start on hards!'
FACTS AND STATS: Verstappen matches Red Bull's best-ever recovery win
"It's also credit to the team, because we of course planned our strategy around that on the hard tyre and then I said, 'Okay, we're switching to softs'. We had a lot of confidence, just changing it around… I'm very happy that we did because the hard tyre was really tough and you could see that with Charles and Carlos, they were sliding around a lot. After we made our minds up about the softs that [hard tyre] was never a consideration.
"It's of course very hard to always be on the good side, let's say it like that, but I think we have a lot of good guys in the team, and girls as well; today I think Hannah [Schmitz], our strategist, was insanely calm, and she is very good," he added.
Verstappen has an 80-point lead over Leclerc heading into the summer break, with fourth-place finisher Perez only five behind the Ferrari driver. Furthermore, Red Bull are 97 points ahead of Ferrari and Mercedes are just 30 points behind the Scuderia.
"It's of course a great lead," said Verstappen, "but we cannot have too many days like we had yesterday – and even today we had a few little issues with the clutch and the upshifts, which was not great to drive."