'We pretty much put it all together' – Norris and Ricciardo delighted with McLaren qualifying performance at Monza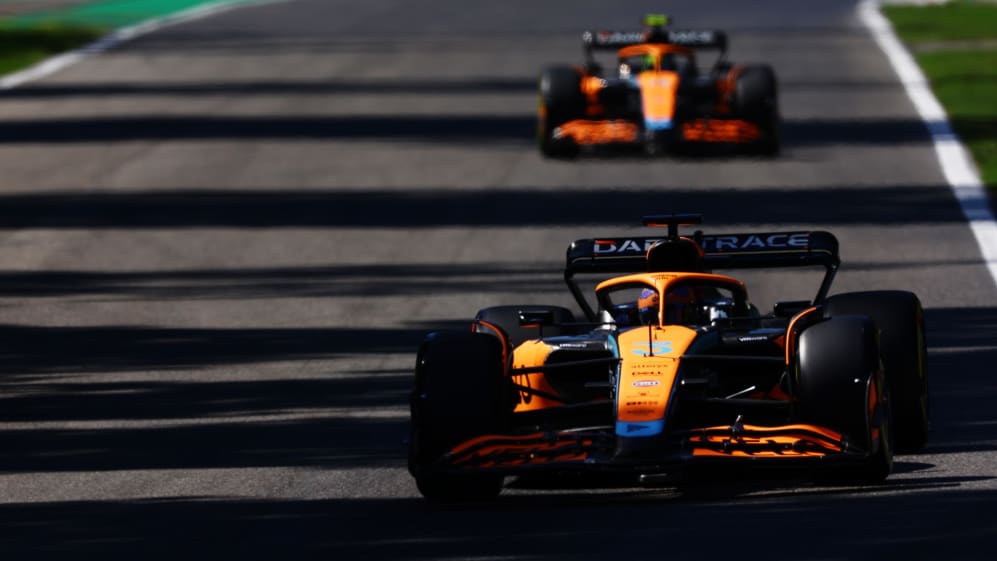 It was a strong Saturday afternoon at Monza for McLaren, as Lando Norris and Daniel Ricciardo qualified seventh and eighth fastest respectively, for tomorrow's Italian Grand Prix, leaving both drivers to reflect on a great team performance.
Norris qualified 1.423s off pole-sitter Charles Leclerc's time but will start in third place for tomorrow, with various drivers ahead of him set to start further down the grid with penalties. And the Briton was full of praise for his and the team's performance, believing he got everything possible out of the car.
"I mean, very happy with today, good job by the team," said Norris. "My lap in the end I was very happy with. Pretty much put it all together. Tough, it's not easy… it's a short track, not too many corners, but the margins are very close. Especially Q2, I think it was... it was extremely close between everyone.
READ MORE: Leclerc eyes another memorable Monza win after 'putting everything together' for pole position
"To find the little margins and put them all together is very tough here, but I feel like I did that and gave myself a very good opportunity. I was six-hundredths behind two Mercedes. Yeah, P3 on the grid tomorrow, good opportunity to score some points."
Looking ahead to Sunday's Grand Prix, Norris added that while the team had made improvements, it is important that they start translating their qualifying form into race pace, as he highlighted Fernando Alonso's pace as a source of concern for tomorrow.
"We've definitely made some improvements from yesterday," Norris said. "The race pace of Fernando was very strong yesterday. So, similar to Zandvoort and a lot of races this year, Saturday we are strong, we can perform, and we can do a good job, but Sunday is the one where we've not always been able to deliver and keep up our performance from Saturday.
FACTS AND STATS: Norris chasing two podiums on Italian soil for the second straight year
"We will work hard tonight to really understand it all and give ourselves the best opportunity to finish ahead and have two cars in the points."
Team mate Daniel Ricciardo qualified in the top-10 for the first time since returning from the summer break. And the re-energised Australian was delighted with his performance, admitting his form in qualifying was better than he had expected.
"I am happy with the session," said Ricciardo. "I think Q3, it was a bit of handful through the second sector, even the first actually. It wasn't completely hooked up and to be honest my lap in Q2 I was kind of like on the limit with trying to get everything out of it. It's obviously been hard for me to really feel comfortable on the limit of this car.
GALLERY: View special Italian GP helmet designs from Leclerc, Sainz, Bottas and more
"I was happy with Q2 to get me in Q3, and then trying to get a couple more tenths out of it. I was pointing the opposite way I felt through some corners, so it is what it is. But happy with this session. I didn't feel like I was so far a top-10 car, so it was nice to put a few laps together in quali."
The 2021 Monza winner continued: "I don't know where I start... but I gained some [places]. I can see the pole-sitter, that's a nice feeling, been a while since I've been towards that end of the grid and nice to do it back here, of course, where last year there were some good memories. I am really filled with optimism."