Feature
5 things we learned from Friday practice for the Azerbaijan Grand Prix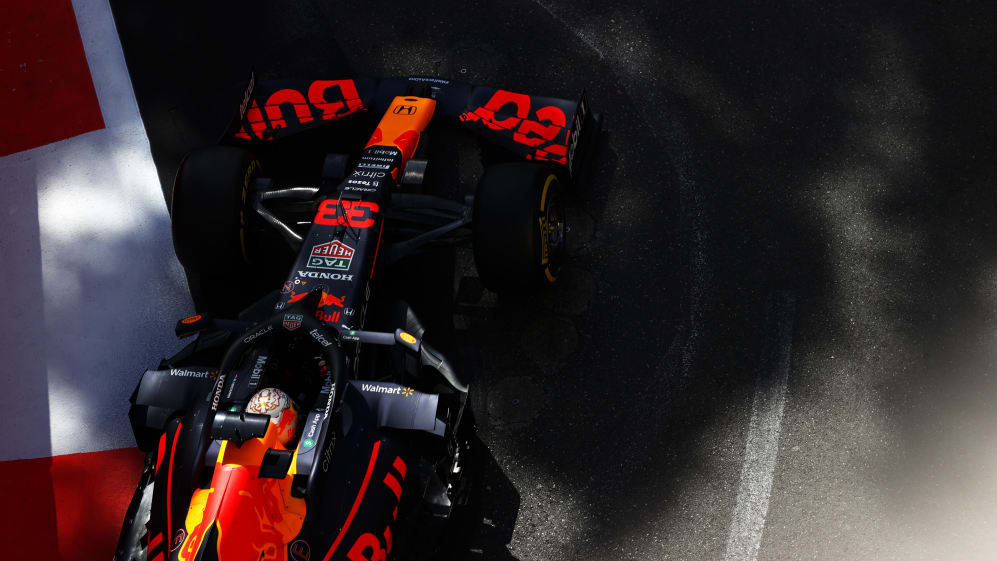 Mercedes arrived in Azerbaijan on the back of their worst weekend of the season and anticipating yet another difficult Grand Prix on what will be the second street circuit in succession.
But are Red Bull be in a position to capitalise on the Silver Arrows' dip in form around the streets of Baku? And what of Ferrari, who emerged as a contender for victory in Monaco?
There were so many questions and only two one-hour sessions to glean answers on Friday. So without further ado, here's what we learned...
READ MORE: What the teams said - Friday in Azerbaijan
1. Red Bull seized the initiative as Perez stepped up
Max Verstappen was in an optimistic mood when he chatted to media on Thursday in Azerbaijan (below), the Dutchman anticipating a strong weekend. And that optimism was well-founded based on Friday practice, as he and team mate Sergio Perez swept the board in Baku.
Perez was the happier of the two drivers, the Mexican topping the second session after what he described as his "most complete Friday in terms of data, in terms of how comfortable I feel with the car". This is a massive step forward for Perez, putting him in the mix not only for his first Red Bull podium but also potentially pole and the win.
His team mate Verstappen said he initially felt quite comfortable in FP1, but changes in the next session meant they "went a bit backwards" before adding "nevertheless for the team it was a very good day". You'd expect Verstappen to fight back on Saturday and be favourite for pole.
WATCH: Ride onboard for Sergio Perez's fastest lap of Friday in Azerbaijan
On the timesheets, they ended up one second clear of a Mercedes. When our data team crunched the numbers, accounting for all sorts of factors such as fuel loads, that gap drops to 0.58s (as you can see in the chart below). But that's still an impressive advantage over their main championship rivals in qualifying trim.
It shrinks dramatically when looking at race simulations however, with Mercedes just 0.07s per lap slower, which means it could be more of a fight in the race. However, Red Bull may feel confident enough to try and qualify on the medium, so they can start the race on that rubber. Mercedes may not feel they have that luxury.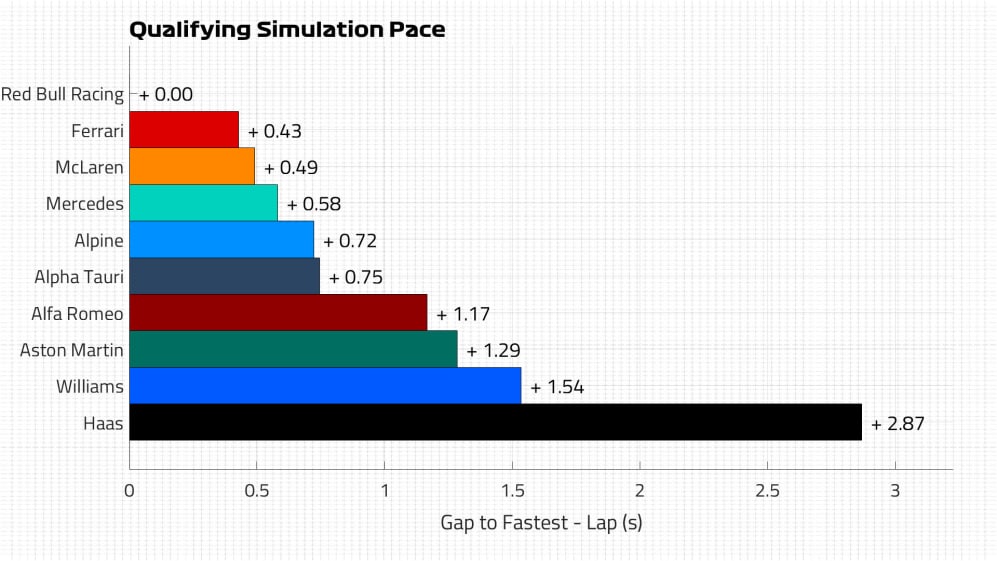 2. Mercedes were left scratching their heads
Mercedes boss Toto Wolff did not look like a happy man as he walked out of the garage and up to his hospitality unit after second practice – and who can blame him? He's not used to seeing his cars one and two seconds, respectively, off the pace.
Their trackside chief Andrew Shovlin described it as "our worst Friday by some margin", pointing to single lap pace as their "biggest issue". Mercedes struggled to get the tyres up to temperature in Monaco – and that was once again an issue in Baku, with Valtteri Bottas saying he needed more laps to warm up the rubber.
READ MORE: 'We're just slow' – Hamilton and Bottas 'scratching their heads' over Mercedes pace deficit in Baku
"We're a long way from our normal positions so clearly we need to find something very significant there," added Shovlin of their qualifying simulation pace. "The long run picture was not as bad – a fair bit behind Red Bull but still in the mix.
"So, lots to work on overnight; we're planning a comprehensive programme of analysis and simulator work to try and understand some of these issues but we clearly have an awful lot to find."
Mercedes have shown time and time again that they can recover from a poor Friday, but rarely have they had to come from this far back. That said, getting into Q3 should still be no problem, and with the race pace they have – on a track where overtaking is possible – they can certainly aim for damage limitation before heading to more favourable tracks.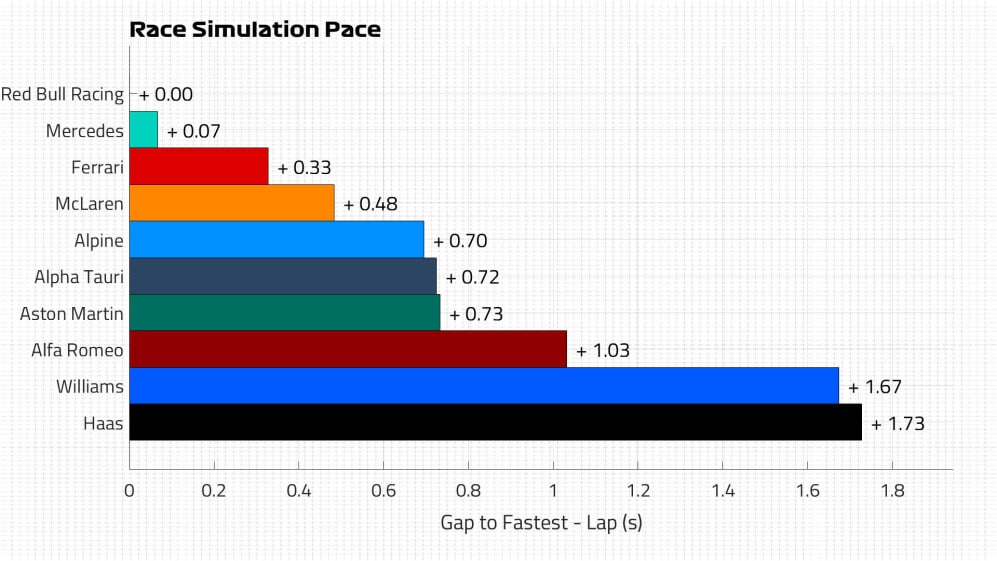 3. Ferrari caused a stir once more
Ferrari made a point of playing down their chances heading to Baku after a stunning weekend in Monaco that yielded pole position and then a second place in the race.
READ MORE: Ferrari duo say Baku pace 'better than expected' – but think McLaren haven't shown their hand
But they didn't hang about with their performance on Friday, with Carlos Sainz ending the day just 0.128s slower than Perez in P3 with Leclerc P4. Admittedly, the Spaniard picked up a bit of a tow on that quickest lap on the soft tyre, which would have flattered his lap time, but nonetheless, this was very impressive pace from the Scuderia.
According to our ideal lap data, which puts a driver's best mini sectors together to get their best timed lap, Sainz was actually quickest, having left 0.46s on the table, with Pierre Gasly in second in this metric, Verstappen third and Leclerc fifth.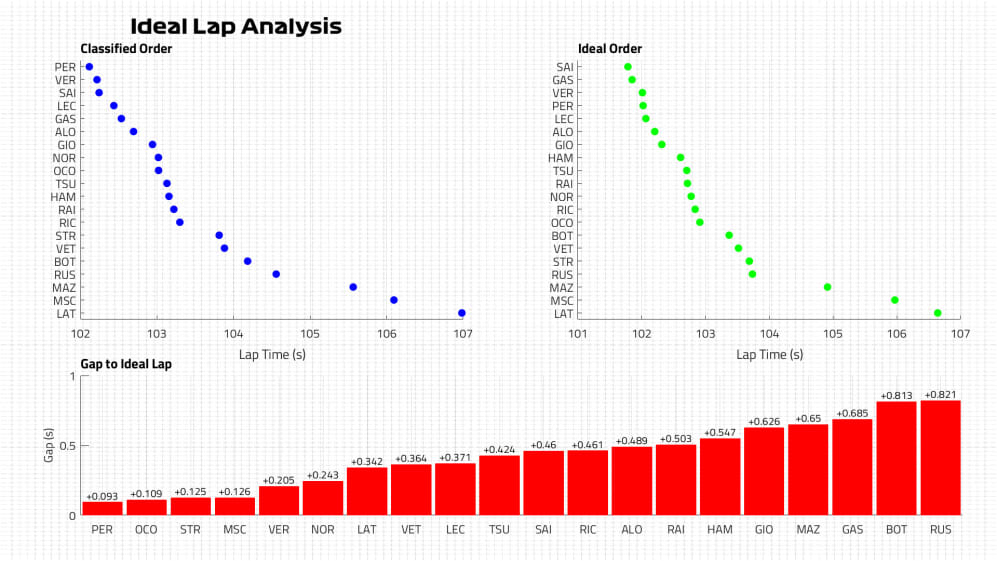 That shows that there is plenty more to come as they ramp things up as the weekend goes on. They aren't getting ahead of themselves though, with those inside the team wary McLaren will turn things up on Saturday and that Mercedes will rebound with Red Bull moving clear, having been impressed by their long run pace.
But the qualifying simulation data has them P2 in the ranking, around 0.43s off the pace, and 0.06s ahead of McLaren, and while they drop to P3 in the race-sim rankings, their advantage over McLaren extends to 0.15s. Depending on what Mercedes do overnight, Ferrari could well find themselves in contention for a podium.
MUST-SEE: How does the pressure of a Grand Prix affect the heart rate of a Formula 1 race crew?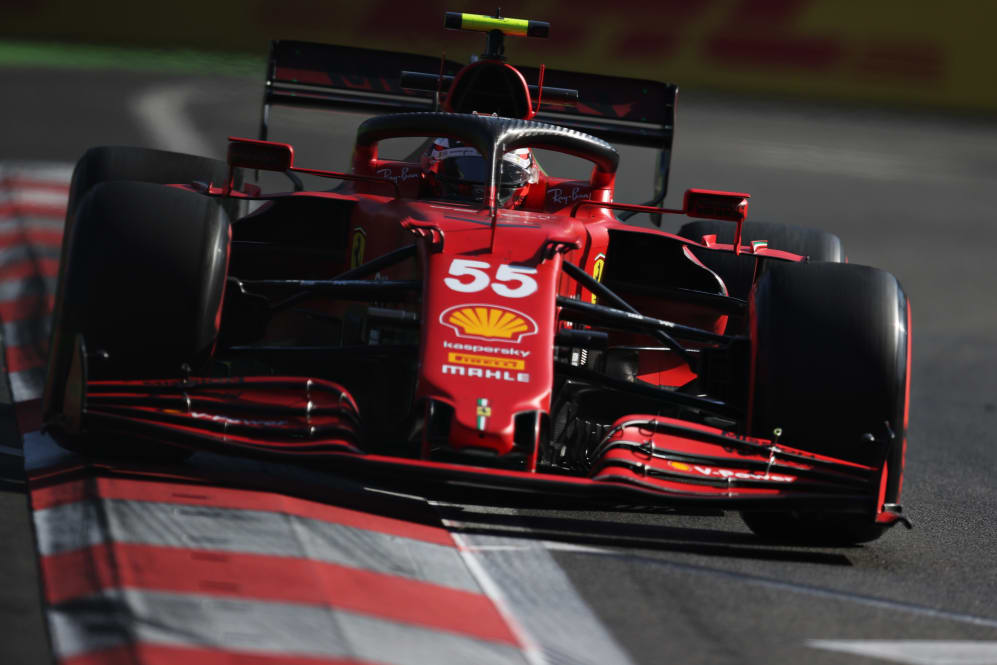 4. McLaren are very much in the mix – even if they didn't look it
Lando Norris said Red Bull and Ferrari "look quite a long way ahead of us" after Friday practice but though he did sound a little downbeat, he could take consolation from the fact the MCL35M "feels good" and that he is "quite confident in the car".
READ MORE: 'Ferrari and Red Bull a long way ahead of us' says Norris after low-key day for McLaren
McLaren tend to put a bit more fuel in on Friday so it doesn't show a true picture of where they are in the real pecking order. When we've corrected qualifying runs for fuel, they are third-best, 0.06s behind Ferrari, and around 0.2s clear of Alpine and AlphaTauri.
Daniel Ricciardo had a tougher day in terms of outright lap time, but Friday was more of a fact-finding mission to help him adjust to driving this car – and he believes he is "a lot closer" than the times suggest.
Crucially, he felt it was a "step in the right direction and I feel more comfortable and confident going into tomorrow" which bodes well for the team in the longer term.
For the race, though, they have a car that should be capable of competing for good points, based on the data which puts them as fourth best, 0.48s off Red Bull but two tenths better off than next-best Alpine.
MUST SEE: Bottas and Norris end up down same escape road in first practice in Baku
5. AlphaTauri and Alpine are set for a tight tussle
We've said it before and we'll say it again: the midfield in Formula 1 is just so close – and if anything seems intent on getting closer as the year goes on.
On Friday, there were six different teams inside the top eight – and not one of them was a Mercedes. AlphaTauri's Pierre Gasly is currently in the form of his life, ending the day with a P5 and P6.
READ MORE: Gasly vows to stay aggressive after taking promising P5 in Azerbaijan FP2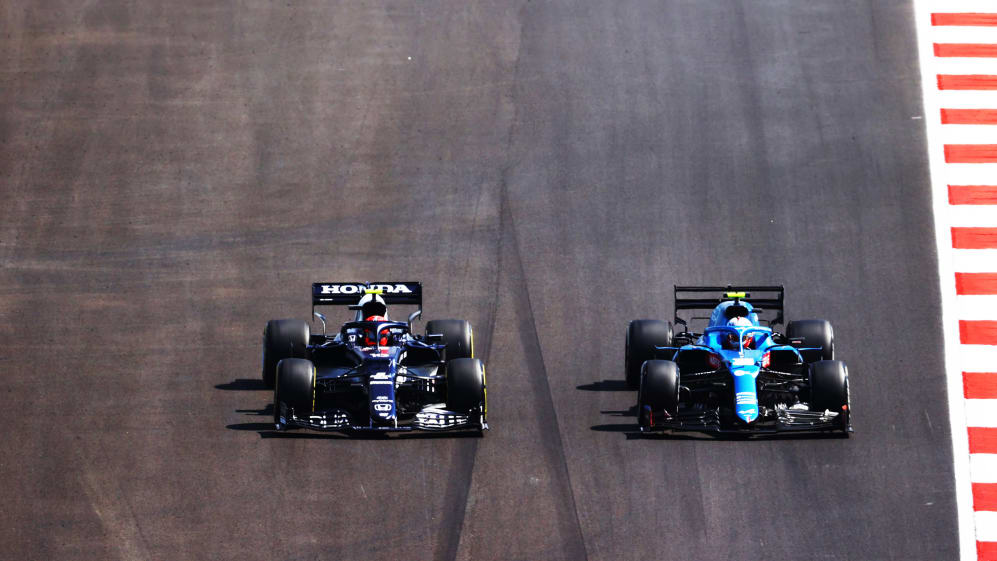 The simulations suggest he should be well in the fight for Q3 and points, but his Italian squad face a real threat from Alpine, who are just 0.03s off in qualifying trim and 0.02s off in race pace.
READ MORE: Alonso says there's still 'potential to unlock' after taking strong P6 in Azerbaijan FP2
Much may depend on tyre strategy, with both the soft and medium compounds showing reasonably high levels of degradation.
A one-stopper is in theory the quickest route to the chequered flag, but if degradation remains high, some might be forced into a two-stopper, providing opportunities to those kinder on their tyres. But whatever the strategy, it looks super tight in the midfield here in Baku.
FORMULA 1 AZERBAIJAN GRAND PRIX 2021
Azerbaijan
2021
Practice 2 results
POSITION
TIME

1

Sergio

Perez PER

Red Bull Racing

1:42.115

2

Max

Verstappen VER

Red Bull Racing

+0.101s

3

Carlos

Sainz SAI

Ferrari

+0.128s

4

Charles

Leclerc LEC

Ferrari

+0.321s

5

Pierre

Gasly GAS

AlphaTauri

+0.419s