Weather prevents running in Eifel GP FP2 to cap action-less day at the Nurburgring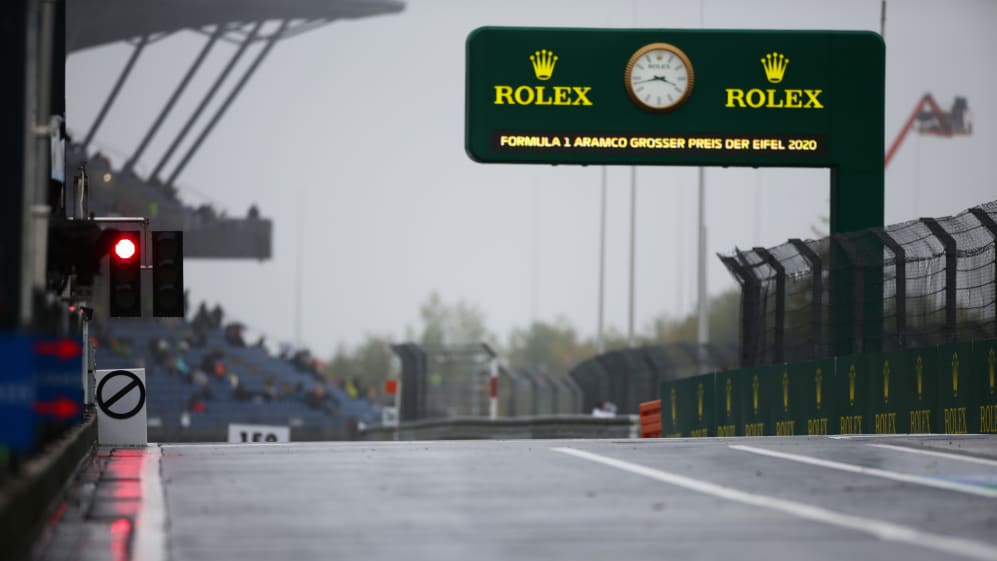 When the drivers were unable to run in Free Practice 1 for the Eifel Grand Prix due to fog, there was hope that we might get some action on Friday afternoon in FP2. But those hopes were dashed when the FIA confirmed that weather conditions hadn't improved sufficiently to allow running at the Nurburgring.
The pit lane exit had remained unopened when the clock ticked around to 1500 local time at the Nurburgring, when FP2 was due to start. But with the medical helicopter unable to take off safely – with the route to the local hospitals obscured by fog – the decision was made to effectively cancel the session, meaning that there'd been no running at all across Friday.
READ MORE: Bad weather at the Nurburgring prevents any running in first practice for the Eifel GP
"The weather actually and dampness is fine," said FIA Race Director Michael Masi when asked why the session couldn't start. "It's actually the medical helicopter which is not able to fly to the receiving hospitals due to fog.
"We had the broadcast helicopter that's flying only around the circuit, [but] to fly to any of the hospitals should something happen, it's not possible, so therefore from a safety perspective we would not start the session.
"[For the rest of the weekend] the forecast looks better," Masi added, "but we are also working on some backup plans should we have a similar situation to be able to work around. We are working on those as we speak. We'll work on the backup plans and advise everyone accordingly at the time."
READ MORE: Mick Schumacher disappointed but philosophical about missing out on FP1 debut
The lack of running was bad news for Mick Schumacher and Callum Ilott, with the Formula 2 and Ferrari Driver Academy pair having been set to drive in FP1 for Alfa Romeo and Haas respectively.
Meanwhile, with F1 having not raced at the Nurburgring since 2013 – and with temperatures this weekend far colder than we've seen throughout most of 2020 – the teams had banked on an important day of fact-finding on Friday to get up to speed with both the track and conditions ahead of qualifying and the race.