'We're not as good as it looks' – Norris plays down McLaren's potential at Monza after P2 result in second practice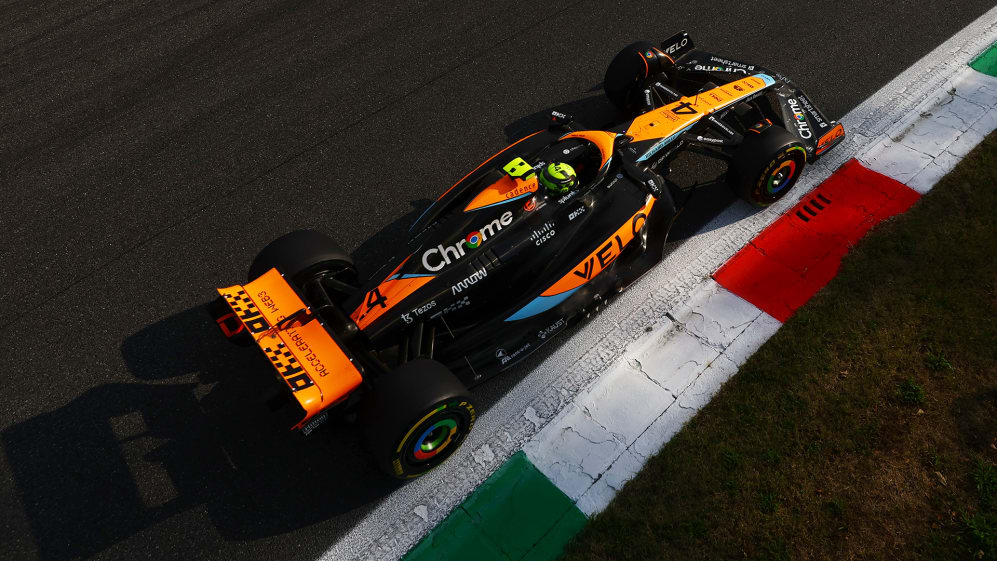 Lando Norris believes McLaren face a battle to remain at the sharp end of the order as the Italian Grand Prix weekend unfolds, saying the team are "definitely still not competitive enough" despite their early practice times.
Norris split Carlos Sainz's Ferrari and Sergio Perez's Red Bull on Friday's timesheets at Monza, with rookie team mate Oscar Piastri making it two McLarens inside the top four positions.
FP2: Sainz leads Norris as Perez crashes out during second practice at Monza
Asked to reflect on the two sessions, and where McLaren stand, Norris said: "To begin the day not so good. Really, the only run we looked competitive was this final run, which makes us look very good, but I'd say we're not as good as what it looks.
"I think with the other tyres, with the medium and the hard, we struggled quite a bit more. Also on the race runs we struggled quite a bit more than we did on the one-lap soft. It's a C5, so it's obviously a soft tyre and provides a lot of grip for one lap, which is always a good thing for us.
"I'm happy, we took some good steps forward and made some improvements today, but we're definitely still not in a competitive enough place."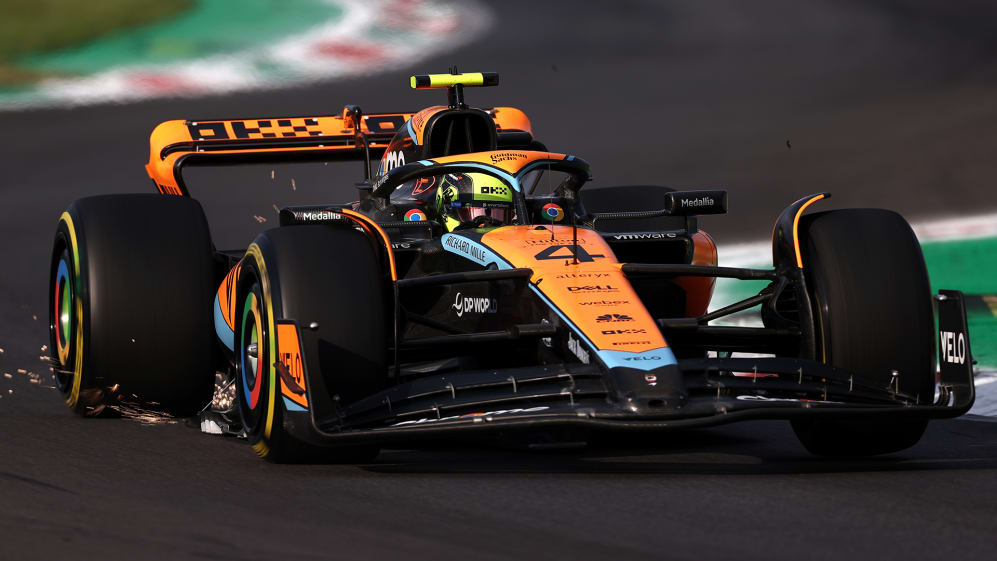 While recent upgrades have launched McLaren into contention at tracks full of medium and high-speed corners, Norris explained that the team's low-downforce performance remains their sticking point.
"It's clear where we're still losing… The majority of it is still in the straights comparing to some of the other cars," the Briton continued.
READ MORE: Perez explains FP2 crash at Monza as Verstappen admits there's 'work to do' at Red Bull
"The Ferrari is unbelievably quick in the straight, but I think we always expected them to be quick here, they have a good balance, in the very slow-speed corners they're always very competitive, and they're always slippery in the straights.
"I think we have a few ideas and things to work on. We took a good step forward between P1 to P2, so maybe a bit more of that, even though it's not as easy as the step we did, a little bit more in that direction would be helpful."
Piastri, who finished just under two-tenths down on Norris, shared similar feelings as he also touched on how the Alternative Tyre Allocation (ATA) – which enforces hard tyres in Q1, medium tyres in Q2 and soft tyres in Q3 – could play a key role this weekend.
"It feels reasonable," was the Australian's assessment. "I think whenever you come to Monza and take all the downforce off the car it never feels that nice, but our pace over one lap seems to be there or there abouts.
READ MORE: Brand new 'Hybrid Energy System' graphic set to debut at Italian Grand Prix
"I think we still have some things to work on. Qualifying is not the be all and end all here, so we really need to factor in Sunday as well. But yeah, a decent first day, tried a few things. We've got a few things we still need to figure out and improve on, but not a bad day.
"I think we're quick enough to hopefully… [With the ATA] we should be able to do a good enough job to get out of Q1 and get into Q3. We'll see how we go, but I think as long as we make it through to when we put softs on in Q3, then the car should be okay."