Feature
We're streaming the 1998 Belgian Grand Prix – here's why you should watch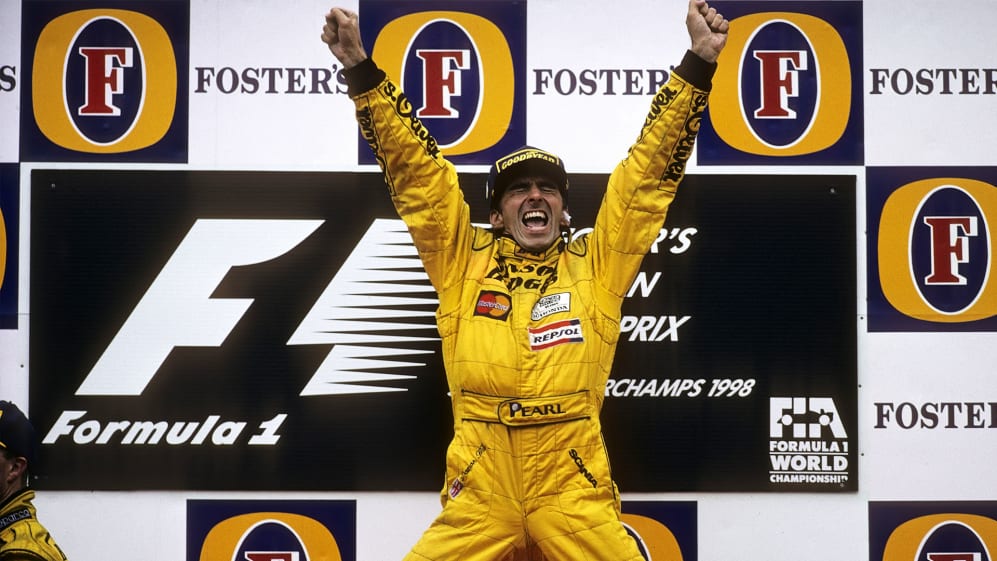 Damon Hill surviving the carnage of the 1998 Belgian Grand Prix to take an unexpected victory for Jordan will be our classic race stream on Wednesday, May 27 at 1800 UTC (1900BST). It was one of F1's craziest races of all time – and here's why you won't want to miss it.
1996 champion Damon Hill took 22 wins across his eight-season F1 career. But without doubt the most chaotic and least expected of those 22 was the final one, which came while driving for Jordan at a 1998 Belgian Grand Prix that has written itself into the folklore of Formula 1.
PODCAST: Damon Hill on his father's legacy, Imola 94 and world title glory
How they stood before the race
One thing to make clear from the outset is that Hill was not a contender in the championship stakes in 1998.
Following his unceremonious dumping by Williams at the end his title-winning 1996 season, Hill had joined the minnow Arrows outfit in 1997, before jumping ship to Jordan the year after. He arrived at Spa ninth in the standings.
No, 1998 was a battle chiefly fought between McLaren's Mika Hakkinen and Ferrari's Michael Schumacher. And both title protagonists would have memorable races in Belgium… for all the wrong reasons.
Standings ahead of the 1998 Belgian Grand Prix
| Position | Driver | Team | Points |
| --- | --- | --- | --- |
| 1 | Mika Hakkinen | McLaren | 77 |
| 2 | Michael Schumacher | Ferrari | 70 |
| 3 | David Coulthard | McLaren | 48 |
| 4 | Eddie Irvine | Ferrari | 32 |
| 5 | Jacques Villeneuve | Williams | 20 |
| (9) | (Damon Hill) | (Jordan) | (6) |
The background
Hill had already raised eyebrows by putting his Jordan 198 in third on the grid in Saturday's dry qualifying session – although he was over a second behind the leading McLaren of Hakkinen on pole, while the Finn's team mate David Coulthard was second.
Schumacher was fourth for Ferrari ahead of his own team mate Eddie Irvine, while reigning champion Jacques Villeneuve would start sixth for Williams, having emerged unhurt (apart from a bruised knee) from an enormous crash at Raidillon on Friday.
PODCAST: Mika Hakkinen on Schumacher, Senna and recovery from injury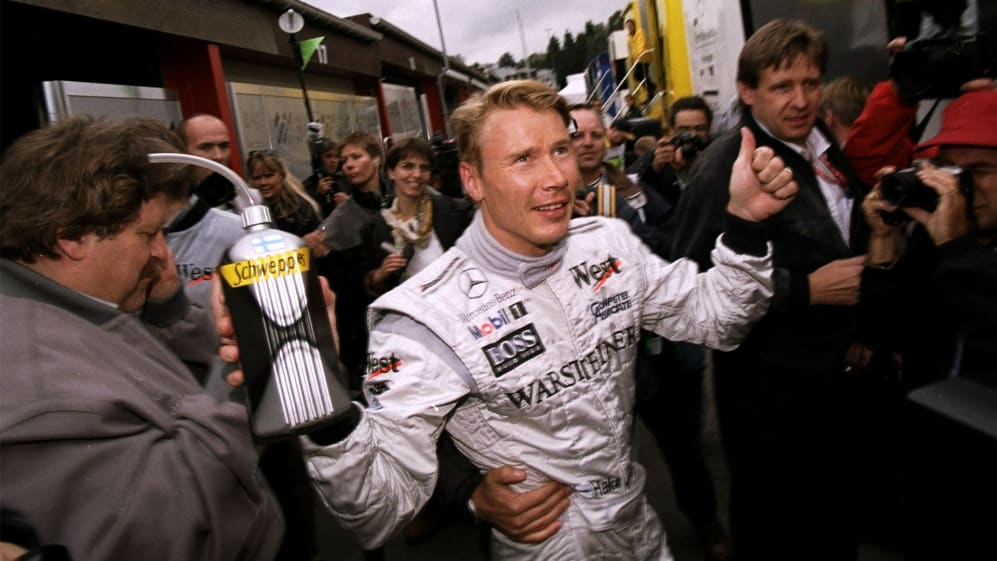 Four key moments
1. Start #1 – With Spa soaked on race day, Hakkinen made a strong getaway from pole and led on the run down to Eau Rouge, followed by Villeneuve, the Benetton of Giancarlo Fisichella and Hill.
Behind, though, Coulthard dropped a Bridgestone onto a slippery drain cover, spinning wildly and sparking what's thought to be F1's most expensive crash of all time, involving a full 13 cars. Fortunately, no one was seriously injured.
READ MORE: The full story of the massive 1998 Belgian Grand Prix pile-up
2. Start #2 – With just 15 drivers taking the restart from the original 22, there was more drama as Hakkinen tried to out-muscle Schumacher at the La Source hairpin, only to spin his McLaren and get collected by the Sauber of Johnny Herbert. He was out.
Amazingly, Hill now led from the Ferraris of Schumacher and Irvine, although Schumacher would pass the Jordan by Lap 8. Coulthard, meanwhile, clashed with the Benetton of Alex Wurz, dropping him from second to P15.
3. Schumacher and Coulthard collide – With Coulthard enduring an abysmal afternoon, by midway through the race the McLaren driver was on the point of being lapped by leader Schumacher. As the Ferrari approached, Coulthard held tight to the racing line and lifted off, but in the heavy spray, Schumacher was caught off guard and ploughed frighteningly into the back of the MP4-13 as they approached Pouhon.
Both trundled back to the pits, with Schumacher storming down the pit lane to give Coulthard a piece of his mind. Meanwhile, an almost identical crash between Fisichella and the Minardi of Shinji Nakano would force the Safety Car into action a few laps later.
4. Hill takes Jordan's maiden win Having been over 35 seconds behind Schumacher when the Coulthard crash happened, Hill then shot into the lead, with team mate Ralf Schumacher behind and Jean Alesi third.
The younger Schumacher was looking fighty, but an unusually stern warning from Hill to Eddie Jordan about the chance of losing out on their first win – and a one-two no less – forced the Jordan team to tell Schumacher to hold station. The yellow Jordans duly crossed the line first and second, with Eddie Jordan dancing a delighted jig down the pit lane in celebration.
READ MORE: Check out the full result from the 1998 Belgian Grand Prix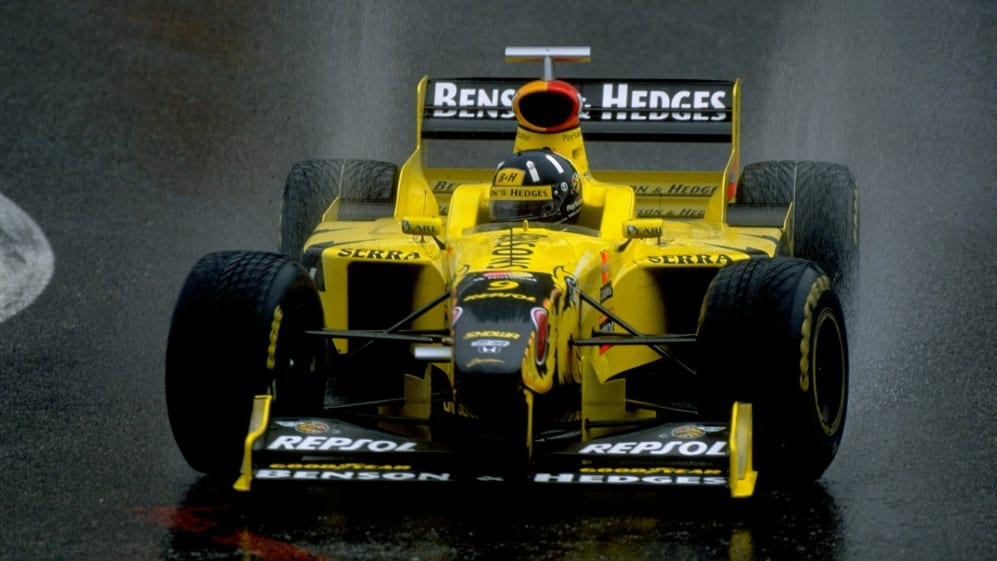 The headlines
Hill the hero – Hill was understandably ecstatic to take his first win since the 1996 Japanese Grand Prix victory that had secured his title. "I feel great," he said after the race. "I said I wanted to give Jordan its first Grand Prix win and it is fantastic to have achieved that.
"We were strong all weekend here and knew we were in with a chance of winning. To finish first and second shows just how competitive we were. I think this is a greatly deserved victory."
The Schumachers left unimpressed – Hill might have been happy, but Ralf Schumacher felt, perhaps rightly, that he'd had the pace to take his maiden win… and his brother agreed. Fresh from remonstrating with Coulthard, the elder Schumacher made a beeline after the race to speak with Eddie Jordan.
"Michael Schumacher came charging into the motorhome," remembered Jordan on the F1 TV special Eddie And Damon – The Unlikely Lads. "'You've screwed my brother. He will never drive for you again'… And that's why [Ralf] went to Williams."
READ MORE: 5 fantastic documentaries to watch for free on F1 TV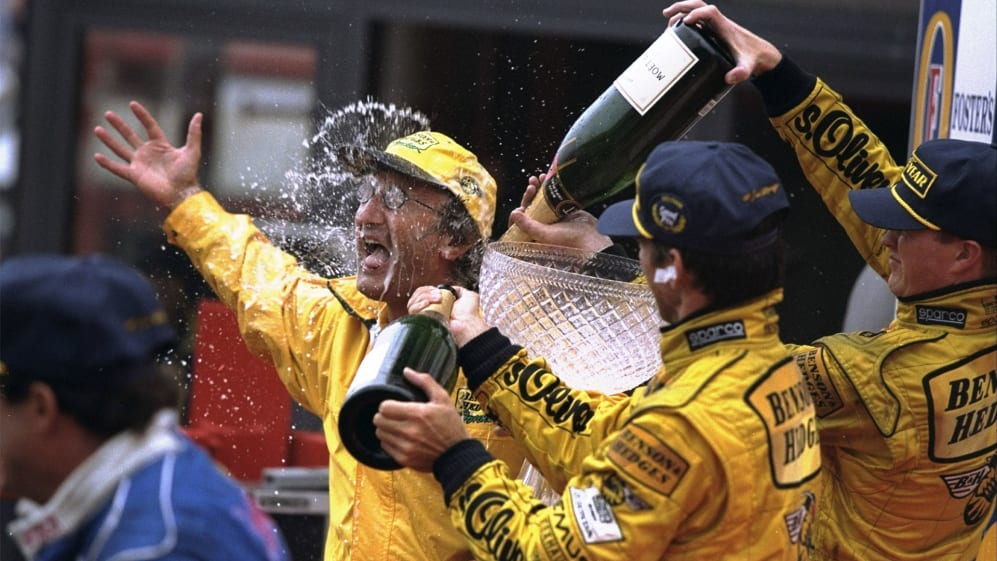 Coulthard and Schumacher talk it out – After their fraught pit-lane fracas, meanwhile, Coulthard and Schumacher sat down at the following race in Monza to clear the air… which they sort of did.
"I said, 'Michael, surely you've got to accept some responsibility because you're the one who ran into me, I didn't reverse into you,'" Coulthard remembered. "He said, 'No, I don't see it that way.' So I went, 'Well surely you're wrong sometimes.' And he said, 'No, not that I remember.'" Oof.
WATCH: Schumacher's Greatest Rivals – David Coulthard
How to watch
Tune into Damon Hill's final F1 triumph when we stream the race on Wednesday, May 27 at 1800 UTC (1900 BST) on F1.com, Facebook and YouTube.