Feature
We're streaming the 1999 European Grand Prix – here's why you should watch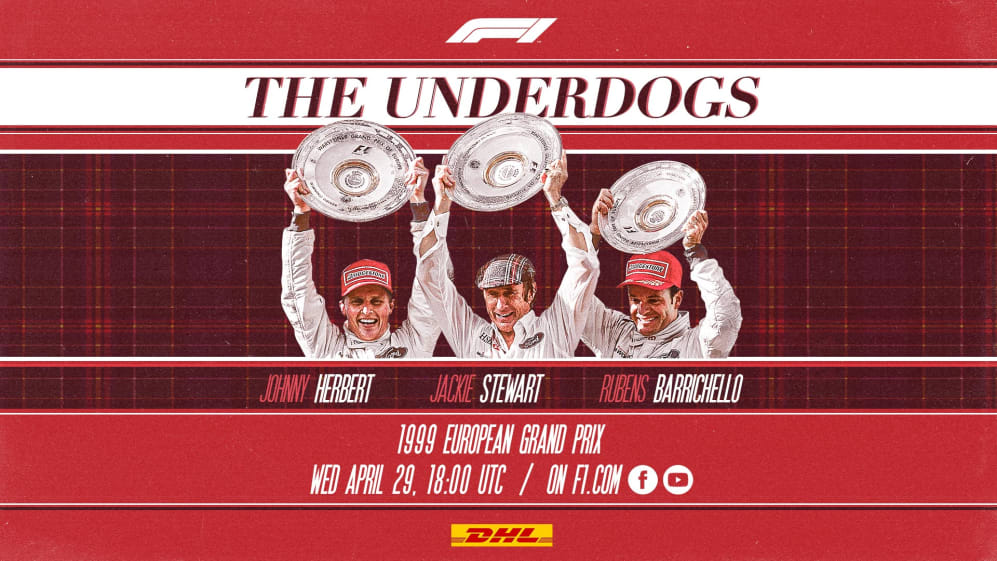 April 29 will see us streaming one of the great underdog wins in the history of Formula 1, when Stewart Grand Prix's Johnny Herbert took an unlikely triumph at the Nurburgring in the 1999 European Grand Prix. Here's why you should tune in for this action-stuffed thriller.
Stewart Grand Prix were not set to play a major part in the 1999 European Grand Prix. In their final season before transforming into Jaguar Racing (following a lucrative Ford buy-out) there had been successes for the tiny outfit started by Sir Jackie Stewart and his son Paul, with Rubens Barrichello taking their first pole position at that year's French Grand Prix.
But despite the good turn of pace in their SF3 machine, Stewart were by no means a front-running team in 1999… which made the events of that year's European Grand Prix all the more surprising.
ORAL HISTORY: The inside story of Stewart GP's fairytale '99 victory... with added Phil Collins
How they stood before the race
The 1999 drivers' championship was boiling down to a fight between Ferrari's Eddie Irvine and McLaren's Mika Hakkinen, with Michael Schumacher relegated to the sidelines after breaking his leg at Silverstone earlier in the year.
Heinz-Harald Frentzen had been having a good year, too, behind the wheel of the sprightly Jordan 199, and arrived at the Nurburgring off the back of his second win of the season at Monza. He held P3 in the standings.
Standings before the 1999 European Grand Prix
| Position | Driver | Team | Points |
| --- | --- | --- | --- |
| 1 | Mika Hakkinen | McLaren | 60 |
| 2 | Eddie Irvine | Ferrari | 60 |
| 3 | Heinz-Harald Frentzen | Jordan | 50 |
| 4 | David Coulthard | McLaren | 48 |
| 5 | Michael Schumacher | Ferrari | 32 |
| 6 | Ralf Schumacher | Williams | 30 |
The background
Frentzen had taken the glory in the changeable conditions of qualifying, timing a move onto slicks in the dying moments of the session to perfection to win out from the McLaren pair of Coulthard and Hakkinen.
The Stewart pair of Herbert and Rubens Barrichello were next to each other on the grid too… but way down in P14 and P15, with Herbert having had to qualify the spare car after his developed an electrical fault.
LISTEN: Sir Jackie Stewart on surviving F1's most dangerous period, where he ranks Lewis Hamilton, and more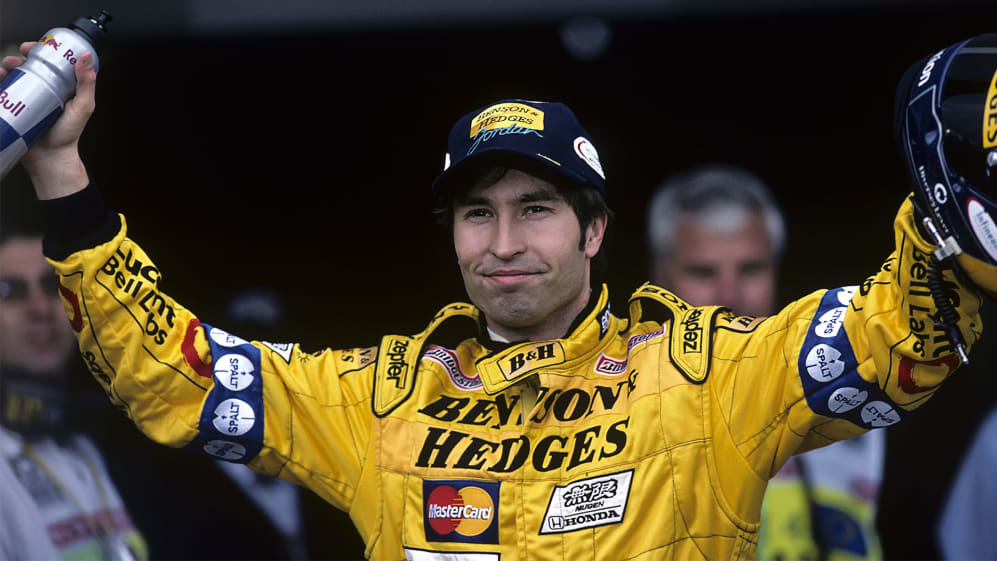 Four key moments
1. The start – Frentzen nailed the start and led away, with Hakkinen passing team mate Coulthard for second. Behind, though, there was chaos as Jordan's Damon Hill slowed with an electrical problem, causing Benetton's Alex Wurz to swerve and clip the Sauber of Pedro Diniz.
The car barrel-rolled into the sodden grass, with Diniz's upturned C18 looking worryingly sunk into the soft earth. The Safety Car was brought out for six laps while the mess was cleared up.
2. Rain leads to a strategy headache – With rain beginning to fall at around Lap 20 of 66, several drivers including Hakkinen opted to dive into the pits for wets. The wrong call, as it turned out, with the rain abating a few laps later. Herbert was one of those who opted to stay out, as he honoured his 'long first stint' strategy, meaning he was up to sixth by Lap 32.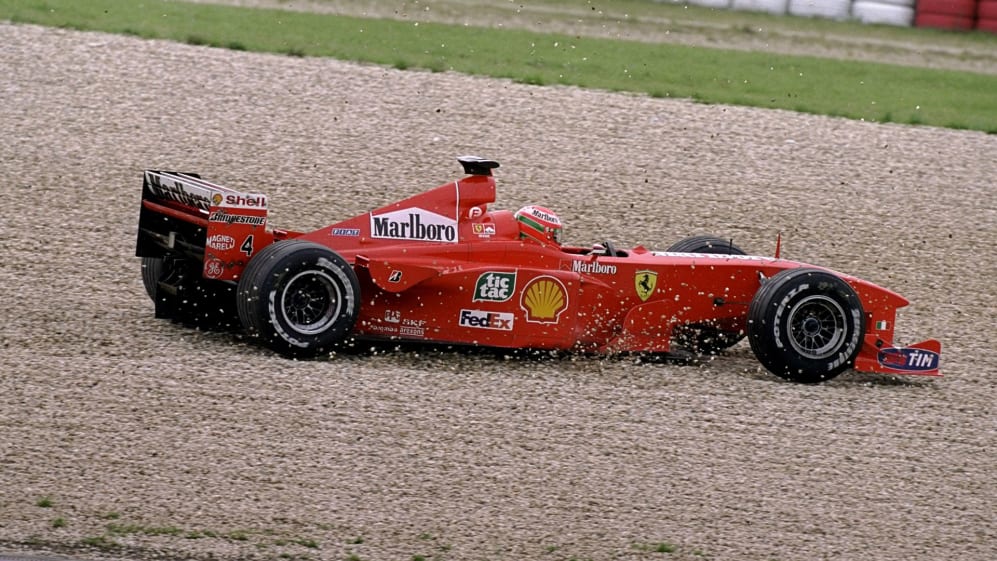 3. The frontrunners trip up – On Lap 33, Frentzen ground to a halt on the circuit, the German retiring from the lead of his home race. He was followed on Lap 38 by new leader David Coulthard, who slid off in the rain, which had begun to fall again.
Benetton's Giancarlo Fisichella and Williams' Ralf Schumacher would both lead in the ensuing laps, before Fisichella retired on Lap 48, while Schumacher then got a puncture that relegated him down the order.
4. Herbert holds on for victory – Herbert had masterfully read the conditions and pitted for wets on Lap 35, pulling out of his pit box just as the heavens opened.
Once his rivals had tripped up, the Stewart driver then found himself in the lead with 16 laps to go, and held on for a momentous third and final win of his career, ahead of Prost's Jarno Trulli and, sensationally, the second Stewart of Rubens Barrichello.
READ MORE: Check out the full classification from the 1999 European Grand Prix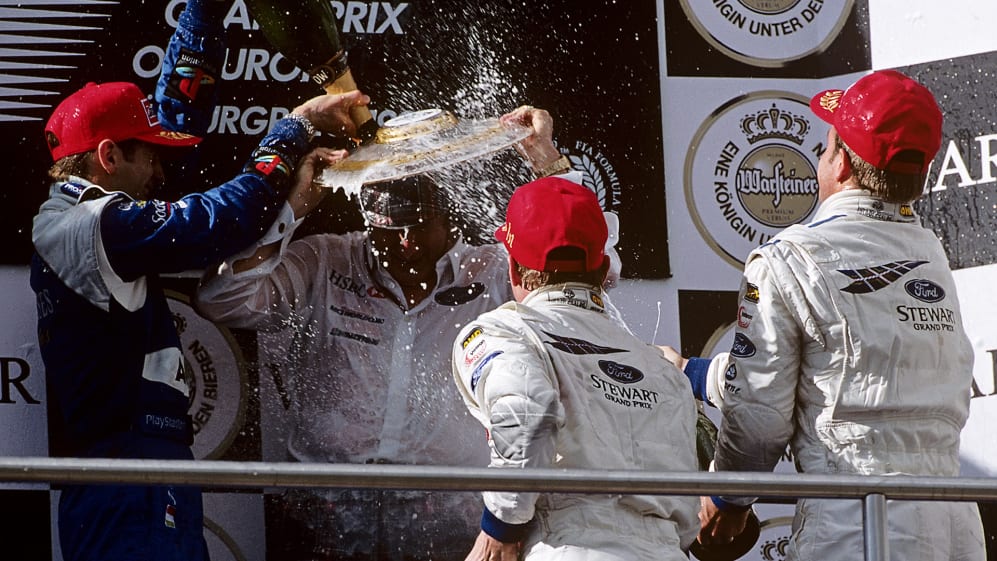 LISTEN: Johnny Herbert on overcoming injury to become an F1 race winner
The headlines
A fitting end to the Stewart Grand Prix story – With just three races to go before the Stewart Grand Prix organisation became Jaguar, the minnow team had pulled off a sensational maiden victory (plus Barrichello's podium), with Jackie Stewart going up onto the rostrum with his two drivers.
"I'm absolutely over the moon," said Herbert after the race. "It's particularly pleasing for Jackie since this is the last year the team will carry his name."
Concern for Diniz – Diniz's crash had been a nasty one, with Martin Brundle revealing later: "I was very worried in commentary… you start to think, 'Hang on, are we commentating on a fatality here, or has somebody broken their neck?'"
Fortunately, the worst of the Brazilian's injuries was a bruised shoulder and knee. He was flown to hospital for a precautionary check, but declared fit and well.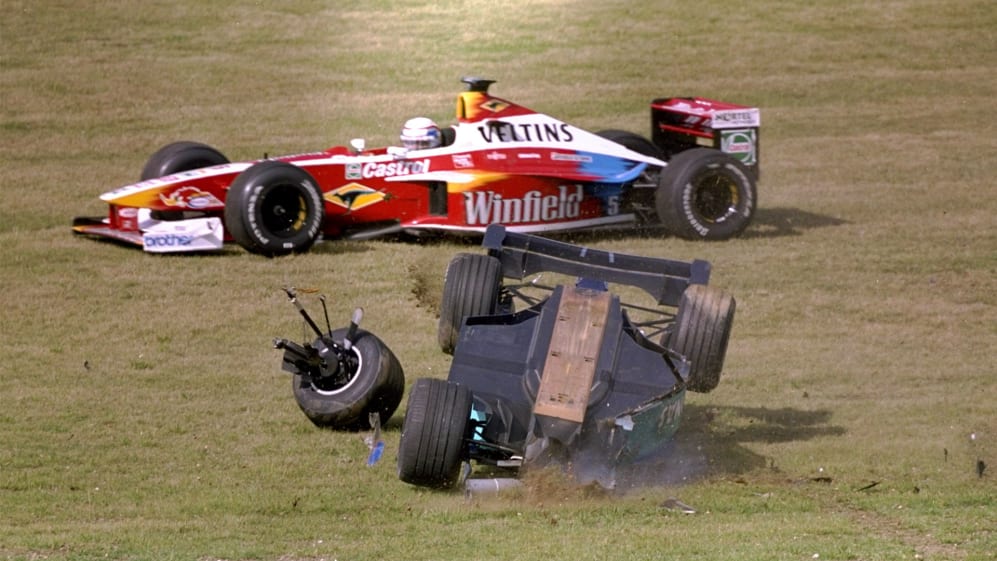 Frentzen left frustrated – Riding high on victory from the previous race, Frentzen couldn't hide his agony at retiring at home. "Today was a huge disappointment," he said. "It feels awful to drop out of the race when you are leading."
Worse still, 10 points for victory, on a day where Irvine scored zero and Hakkinen just two, would have put Frentzen within two points of the championship lead with two races to go…
Heartbreak for Badoer – The race almost had another underdog success, with Luca Badoer running fourth with 13 laps to go when his Minardi broke down – with Badoer following suit, as he collapsed against the side of the stricken M01 and sobbed uncontrollably. Oh dear.
How to watch
Relive this rollercoaster ride of our race with our 1999 European Grand Prix stream on Wednesday, April 29 at 1800 UTC – while you can choose to watch right here on F1.com, or on our Facebook and YouTube channels.