Feature
We're streaming the 2012 Brazilian GP – here's why you should watch
One of the most dramatic races in the entire 70-year history of Formula 1, we'll be streaming the 2012 Brazilian Grand Prix in full on Saturday, April 25 at 1400 UTC. From Sebastian Vettel's unlikely comeback to take title glory, to Nico Hulkenberg narrowly missing out on victory, to Kimi Raikkonen's hilarious mid-race excursion, here's why you won't want to miss it.
The 2012 season culminated at Sao Paulo's storied Interlagos circuit, with that year's Brazilian Grand Prix set to host a title showdown between reigning two-time champion Sebastian Vettel, driving for Red Bull, and Ferrari's Fernando Alonso.
But there were storylines up and down the grid going into the 2012 finale, with Mercedes' Michael Schumacher starting his last race in F1 (six years on from his last last race in F1 at Interlagos) while Lewis Hamilton's unlikely departure from McLaren to Mercedes to replace the seven-time champion meant that this would be his final Grand Prix for the Woking squad that had nurtured his career.
ALTERNATIVE HISTORIES: What if Hamilton hadn't joined Mercedes?
How they stood before the race
The crazy spread of winners in 2012 – this was the season where seven different drivers won the first seven races, remember – had watered down many of the early title favourites' hopes throughout the year, leaving just two drivers – Alonso and Vettel – in with a shout of claiming the championship in Brazil.
Next closest to the pair was the ultra-consistent Kimi Raikkonen, who found himself in P3 for Lotus despite having won just one race to the four of Hamilton, and the two of Jenson Button (SPOILER ALERT: soon to become three) and Mark Webber that season.
F1 REWIND: Watch our full race stream of Hill vs Schumacher in the 1994 Japanese GP
Standings before the 2012 Brazilian Grand Prix
| Position | Driver | Team | Points |
| --- | --- | --- | --- |
| 1 | Sebastian Vettel | Red Bull | 273 |
| 2 | Fernando Alonso | Ferrari | 260 |
| 3 | Kimi Raikkonen | Lotus | 206 |
| 4 | Lewis Hamilton | McLaren | 190 |
| 5 | Mark Webber | Red Bull | 167 |
| 6 | Jenson Button | McLaren | 163 |
The background
With a 13-point gap between the title protagonists ahead of the race start, there were a host of permutations for the title, the simplest being that if Vettel finished in his grid position of fourth, he'd be champion no matter where Alonso ended up.
Vettel's chances looked especially good after Alonso could only qualify a lowly eighth. But, typical of the man, Alonso wasn't ready to throw in the towel yet. "My chances of making it to the podium are still intact," Alonso forecasted after quali. "We are still in the game and we are definitely not going to surrender."
READ MORE: Alonso vs Hamilton – Nick Heidfeld names the 'most complete driver' he raced in F1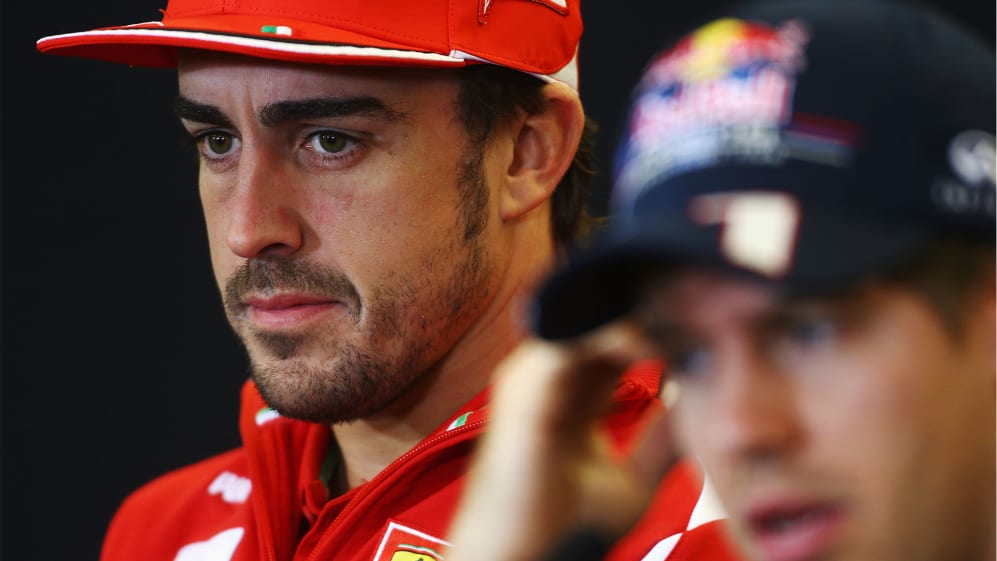 Four key moments
1. The getaway – In no mood to help his team mate to the title, Webber squeezed Vettel at the start, dropping him to seventh by Turn 1. That would cost Vettel dearly when, at Turn 4, he was sensationally hit and spun around by the Williams of Bruno Senna, leaving Vettel plum last, and with a car that Red Bull's Adrian Newey admitted he thought was done for.
2. Hulkenberg leads – In damp conditions, Force India's slick-shod Nico Hulkenberg was brilliant in the early part of the race. He took the lead from Button on Lap 18, the pair nearly a minute ahead of the field before a Lap 23 Safety Car closed the pack back up.
He would lead for 30 laps in total – but after being passed by Hamilton, Hulkenberg's attempt to regain the lead saw him hit the McLaren, dropping him to P5 by race end. It was a move that he would later admit haunted the rest of his career.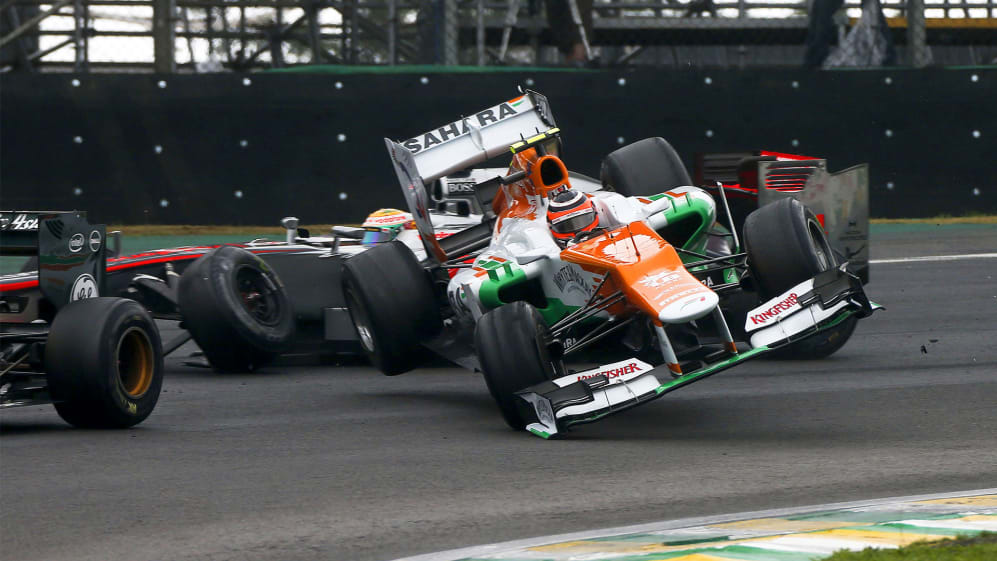 3. Gate-gate – Lap 52 witnessed some light relief as Raikkonen ran off the circuit in the damp conditions at Juncao and bolted down an escape road, in a vain attempt to take the same shortcut back to the track that he'd used 11 years before.
"Where I went off, you can get back on the track by going through the support race pit lane, but you have to go through a gate," he said after the race. "I did the same thing in 2001 and the gate was open that year. Somebody closed it this time. Next year I'll make sure it's open again."
4. Vettel holds on – With Red Bull having re-mapped the engine of Vettel's badly damaged RB8 to keep the exhaust cool, the German managed to make it to the finish and claim sixth place, enough to make him the youngest ever triple world champion in the sport, as second-placed Alonso – whose thousand-yard stare was famously picked up by the cameras in parc ferme – had to settle for the runner-up spot.
READ MORE: Leclerc 'happy' if Vettel remains his team mate at Ferrari next year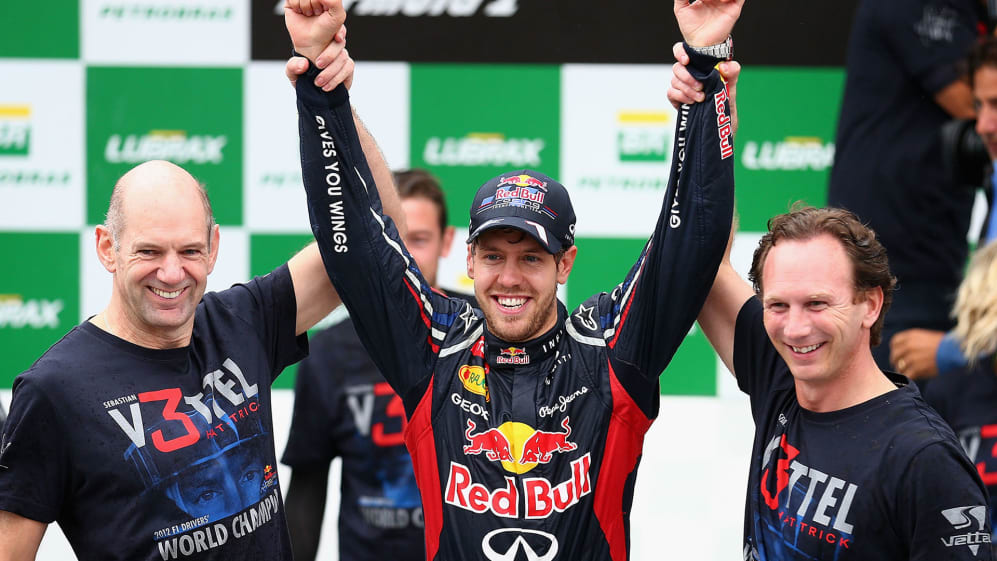 The headlines
Vettel hits out – Vettel was in a punchy mood in his emotional post-race press conference, appearing to take aim at Ferrari's decision to break the seal on Felipe Massa's gearbox at the previous race in Austin to help Alonso's title hopes: "A lot of people tried to use dirty tricks, certain things that from our point of view were beyond the limit," he said.
"[But] we never got irritated or distracted by that. We gave a big push to the end."
Schumacher passes the baton – Although P7 would have been enough for Vettel to take the title, his friend Michael Schumacher appeared to let the Red Bull driver past easily on Lap 64 of 71 – with Horner thanking Schumacher for acting "graciously" in his 306th and final race.
"I think it was his gesture to Sebastian, almost like passing the baton on," said Horner.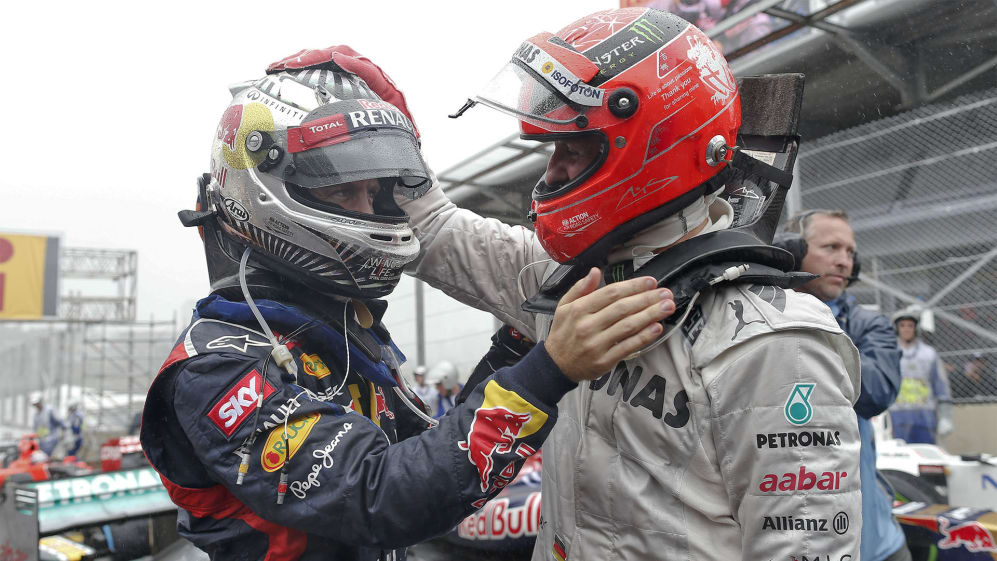 Button takes final F1 win – Following the demise of Hamilton and Hulkenberg (who'd finish fifth), Button was left to take his third win of the year. "This is the perfect way to end the season," he said. "We have had ups and downs, and to end on a high bodes well for 2013." Unfortunately for him, it didn't, with that victory marking both his and McLaren's last wins in F1 to date.
Ferrari consider appeal– There was a further twist in this rollercoaster Grand Prix, when it was revealed that Ferrari were considering an appeal regarding Vettel allegedly passing the Toro Rosso of Jean-Eric Vergne under yellow flags – the 20-second race penalty for which would have handed the title to Alonso by a point as Vettel dropped to P8. However, after clarification, the appeal idea was dropped.
READ MORE: Find out where Brazil 2012 ranked in our 10 best races of the 2010s
How to watch
Strap yourself in for this titanic modern classic when we stream it at 1400 UTC (1500 BST) on Saturday, April 25 on F1.com, as well as Formula 1's Facebook and YouTube.