Feature
We're streaming the 2017 Azerbaijan Grand Prix – here's why you should watch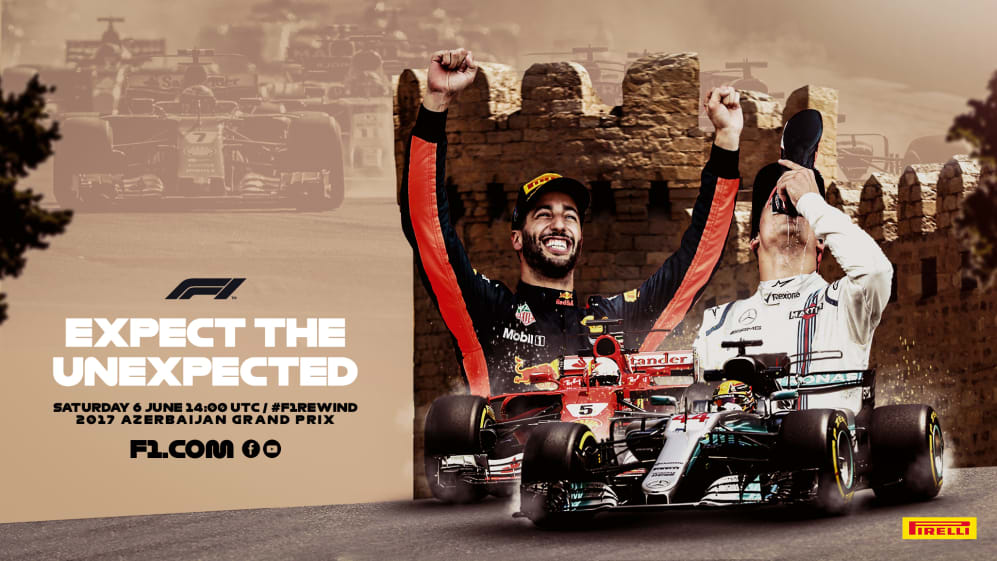 Daniel Ricciardo's unlikely victory at the 2017 Azerbaijan Grand Prix is the race we'll be streaming on Saturday, June 6 on F1.com, Facebook and YouTube. And with a supporting cast of warring champions, in-fighting team mates and unlikely podium finishers, this is a modern classic you won't want to miss.
For the majority of the grid, the 2017 Azerbaijan Grand Prix was a bad-tempered affair, the sinewy streets around Baku causing tempers to flare and hackles to be raised. Daniel Ricciardo was one of the few who was left smiling by the end of Sunday evening in Azerbaijan – but the Australian's path to victory was far from straightforward...
READ MORE: Perez and Gasly to join Norris and co on the grid for Sunday's Virtual Azerbaijan Grand Prix
How they stood before the race
Much as he would do 12 months later, Sebastian Vettel had enjoyed a strong start to his campaign in 2017, winning the season opener in Australia, and then again in Bahrain and Monaco, to head Lewis Hamilton when the championship arrived in Azerbaijan for round eight.
Thrust into the Mercedes team following the abrupt retirement of Nico Rosberg at the end of 2016, Valtteri Bottas had already claimed his own first win, in Russia, and was third in the standings, while the two Red Bulls of Daniel Ricciardo and Max Verstappen had both been hobbled by reliability issues early on in the season, as they held fifth and sixth.
Standings ahead of the 2017 Azerbaijan Grand Prix
| Position | Driver | Team | Points |
| --- | --- | --- | --- |
| 1 | Sebastian Vettel | Ferrari | 141 |
| 2 | Lewis Hamilton | Mercedes | 129 |
| 3 | Valtteri Bottas | Mercedes | 93 |
| 4 | Kimi Raikkonen | Ferrari | 73 |
| 5 | Daniel Ricciardo | Red Bull | 67 |
| 6 | Max Verstappen | Red Bull | 45 |
The background
The Mercedes were untouchable in qualifying, with their powerful, super-slippery W08 working beautifully around Baku. Hamilton made the best use of it, taking pole position, a full 0.434s ahead of Bottas, while the Ferraris of Kimi Raikkonen and Sebastian Vettel in third and fourth couldn't get within a second of Hamilton's time.
Max Verstappen was fifth, ahead of a pair of Force Indias – Sergio Perez followed by Esteban Ocon – and a pair of Williams, with Lance Stroll ahead of Felipe Massa – both teams making good use of their strong Mercedes power units.
Daniel Ricciardo was 10th, having set no time in Q3 after crashing his low-downforce set-up Red Bull RB13 in Turn 6.
READ MORE: Check out the full grid for the 2017 Azerbaijan Grand Prix
Four key moments
1. The Start – Hamilton nailed his getaway to lead Bottas into Turn 1, with Bottas falling back into the clutches of Kimi Raikkonen. As the two Finns went side by side into Turn 2, Bottas took too much inside kerb and bounced into Raikkonen, pushing the Ferrari into the wall, and forcing Bottas to pit for a new nose, dropping him to last. Behind, Carlos Sainz spun at Turn 1 after his Toro Rosso team mate Daniil Kvyat "came back like a madman to the track" (in Sainz's words) after running wide at Turn 1.
2. Vettel and Hamilton collide – Kvyat would be out of the race by Lap 10 with an electronics issue, with his parked up car requiring a Safety Car while it was moved. At the restart a few laps later, Raikkonen then damaged his front wing while battling with the Williams of Massa – immediately bringing out another Safety Car.
It was while circulating behind that one that Vettel felt leader Hamilton brake-tested him, with the German immediately pulling alongside Hamilton and gesticulating, before steering sharp right and colliding with Hamilton's Mercedes. It was a moment of madness for which Vettel would later receive a 10-second stop/go penalty.
3. Chaos at the race restart – The Force Indias of Perez and Ocon had worked themselves into a very tasty P3 and P5 by the time the Safety Car pulled in on Lap 19. But at the restart, Perez was pipped by the Williams of Massa for P3, leaving him to battle directly with his team mate. And battle they did, the pair colliding with each other in Turn 2, as Ocon appeared to crowd over into Perez, costing the Mexican his front wing.
Both were able to continue (although Perez would later be withdrawn as a result of the damage) – but the debris left by the destructive spree at the restart forced the Race Director to throw the third Safety Car of the afternoon – followed soon after by a red flag.
4. Ricciardo wins – Compounding his miserable qualifying, debris in Ricciardo's brakes had forced him to pit on Lap 5. Dropped down to 17th, Ricciardo had worked his way up to fifth when the race was red flagged – while at the third and final restart, Ricciardo immediately passed the two Williams with a searing move (our Overtake of the Year 2017 no less) into Turn 1.
Once Hamilton had been forced to pit for a new head restraint after his had worked itself loose, and Vettel had served his stop-go penalty, it was left to Ricciardo to come home for an unlikely fifth win of his career – while equally unlikely, Bottas recovered from being dead last at the end of Lap 1 to out-drag the Williams of Stroll to the line to claim second. And yep, that means that Stroll claimed the first podium of his career… which was also quite unlikely.
The headlines
Hamilton and Vettel's road rage – The fall-out from the Hamilton/Vettel "road rage" incident (as Martin Brundle branded it in commentary) was huge, with neither driver initially prepared to back down. "I don't agree with the penalty that I got," said Vettel, "because if you penalise me then you should penalise us both."
For his part, Hamilton was clear on his take of the situation: "I definitely didn't brake-test Sebastian… everybody saw clearly what happened after. All the young kids in other series look up to us, as champions, to set an example and that is not the behaviour you expect to see from a multiple champion."
Vettel would later apologise to the FIA for his actions, after they'd considering imposing further sanctions on him.
Ricciardo doesn't win boring races – Ricciardo's fifth career victory continued his streak of never winning from inside the top three on the grid (a streak only broken when he won from pole in Monaco in 2018). But 10th was nonetheless the lowest starting position Ricciardo had, or has, ever won from.
"I have never really had a boring win and today was certainly not that," he said. "After all the chaos and the red flag I felt that a podium was in reach. But then once Lewis had to pit and Seb had the penalty I knew the win was possible."
READ MORE: Daniel Ricciardo reveals Ferrari talks went on 'for years' before McLaren switch
Stroll lost for words – In Baku, Lance Stroll became just the second ever teenager to stand on an F1 podium, as he claimed a sensational third place for Williams. "I can't quite realise what just happened," Stroll said.
"I'm sort of lost for words. I couldn't believe coming into the weekend that I would be standing on the podium! It was a bit disappointing to lose P2 at the end to Valtteri, but all in all an amazing race." It was slightly less amazing for team mate Massa, who'd had to retire from his own promising position after suffering suspension issues.
War breaks out between Ocon and Perez – A hint of tension between the Force India drivers had been seen at the previous race in Canada, when Perez had refused to let Ocon past to try and attack Ricciardo. But it exploded into life after their collision in Baku. "I think we would have been in a position to win the race," said Perez. "The team did a great job all weekend and deserved much more than to have a race ruined in these circumstances."
Ocon eventually finished the race in sixth, and told the media: "I'm happy with our performance and also disappointed not to realise the potential we had today. It's never nice to have an incident with your team mate and it was costly for both of us." The pair would collide again at Spa later in the year, leading Force India to issue an order preventing them from racing each other.
READ MORE: Why 'stronger' Ocon is relishing racing return in 2020
How to watch
Enjoy Ricciardo's win at the chaotic 2017 Azerbaijan Grand Prix when we stream it on F1.com, Facebook and YouTube at 1400 UTC (1500 BST) on Saturday, June 6.