Feature
We're streaming the 2018 Chinese GP – here's why you should watch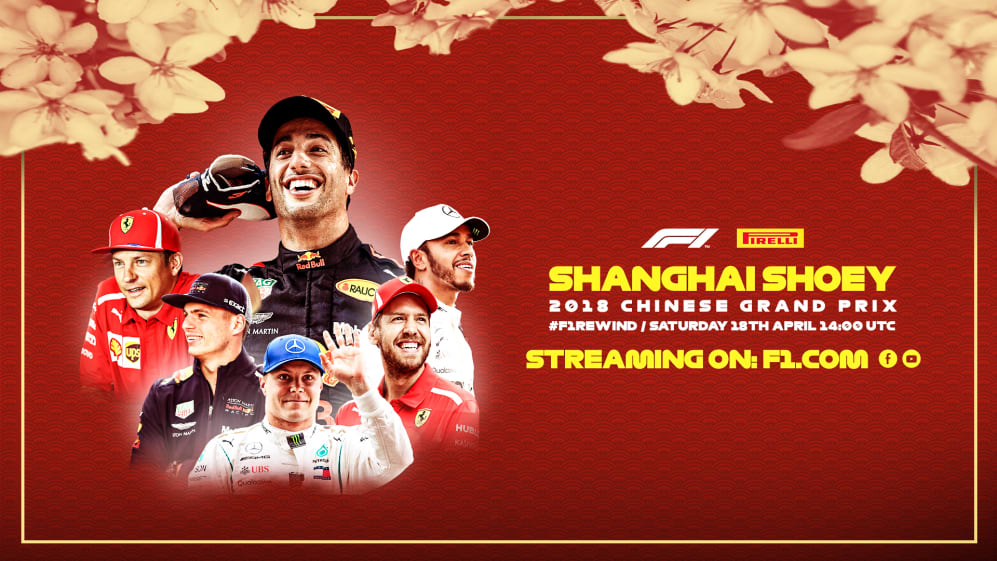 Daniel Ricciardo's victory at the 2018 Chinese Grand Prix cemented the Australian's reputation as one of the best overtakers in the business. We'll be live streaming this action-filled modern classic on Saturday, April 18 at 1400 UTC – here's why you should tune in.
Things had not been going well for Danny Ricc before he arrived in Shanghai for the third race of the 2018 season. The Red Bull driver had retired from four of the previous six Grands Prix he'd competed in, stretching back around to the tail end of 2017.
Most recently, an electrical issue had forced him to spectate for the majority of the Bahrain GP, where he'd watched on as Valtteri Bottas had tried and failed to get past Ferrari's Sebastian Vettel in the final laps.
WATCH: Highlights from the 2018 Bahrain Grand Prix
Arriving in China, Ricciardo was questioned about the incident: would he have gone for the move in Bottas' position? "I definitely would have sent it, 100%," Ricciardo told the press. "I wouldn't be content. If it's for a win, you just can't. That's not in me at least, I don't think."
It was just something interesting to talk about on a Thursday afternoon at the following Grand Prix. But Ricciardo's words would gain significance as the race in China wore on…
How they stood before the race
Sebastian Vettel had enjoyed a perfect start to 2018, winning the first two races of the season in Australia and Bahrain, while chief rival Lewis Hamilton had a second and a third place to his name, and was seemingly on the back foot.
Ricciardo, meanwhile, lagged down in seventh – behind the likes of McLaren's Fernando Alonso and Renault's Nico Hulkenberg. His team mate Max Verstappen was fairing even worse, though, down in P10, and with just eight points.
Standings before the 2018 Chinese Grand Prix
| Place | Driver | Team | Points |
| --- | --- | --- | --- |
| 1 | Sebastian Vettel | Ferrari | 50 |
| 2 | Lewis Hamilton | Mercedes | 33 |
| 3 | Valtteri Bottas | Mercedes | 22 |
| 4 | Fernando Alonso | McLaren | 15 |
| 5 | Kimi Raikkonen | Ferrari | 15 |
| 6 | Nico Hulkenberg | Renault | 14 |
| 7 | Daniel Ricciardo | Red Bull | 12 |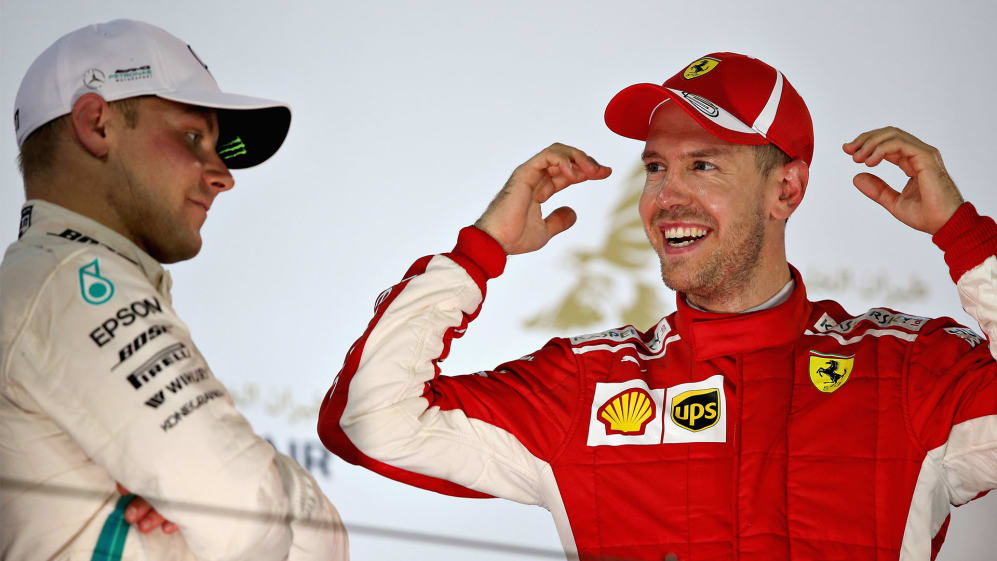 The background
Form man Vettel wasn't messing around at the Shanghai International Circuit, as he romped to his second straight pole position, just 0.087s ahead of team mate Kimi Raikkonen – but over half a second quicker than the Mercedes of Valtteri Bottas and Lewis Hamilton, who locked out the second row.
It was even worse for the Red Bulls, who had their own lock-out on row three, Verstappen ahead of Ricciardo, the two drivers 0.701s and 0.853s off Vettel respectively. But Ricciardo was lucky to be there at all, having suffered a turbo issue in final practice that required a new power unit to be fitted for qualifying, with the Australian only just making it out in time for Q1.
READ MORE: 5 fantastic documentaries to watch for free on F1 TV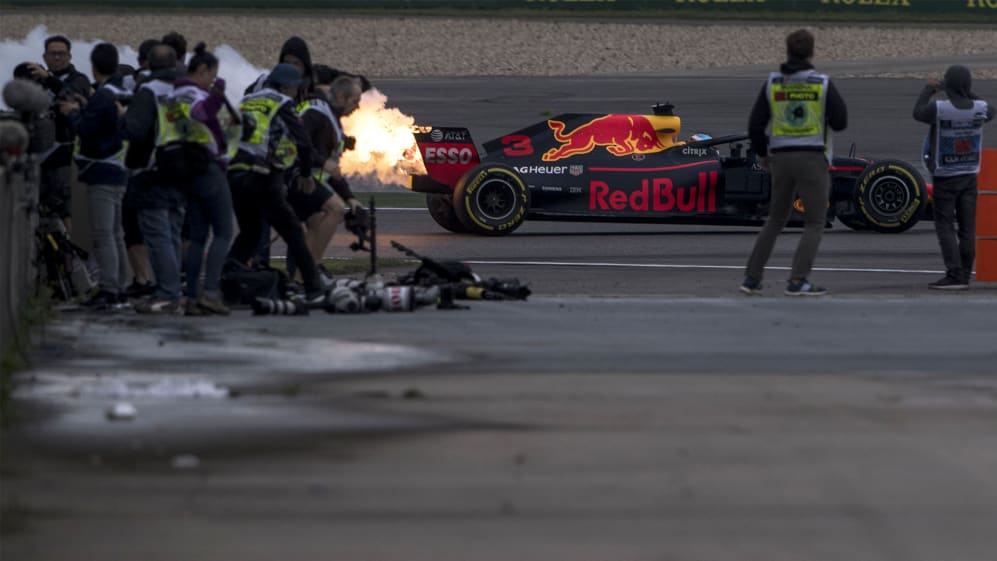 Four key moments
1. The getaway - Vettel nailed the start before aggressively squeezing team mate Raikkonen on the run down to Turn 1, allowing Bottas to surge past into second place, with Verstappen smartly claiming P3 from Raikkonen a few corners later, accompanied by a cheeky "see you ****ing later, son" over the radio…
2. Safety Car hurts leaders - Bottas and his Mercedes team had slickly undercut Vettel in the pits to give the Finn the lead of the race when the two Toro Rossos of Pierre Gasly and Brendon Hartley came together at the Turn 14 hairpin on Lap 30. The Safety Car was brought out to clean up the debris – but poor timing meant that the lead pair weren't able to take advantage...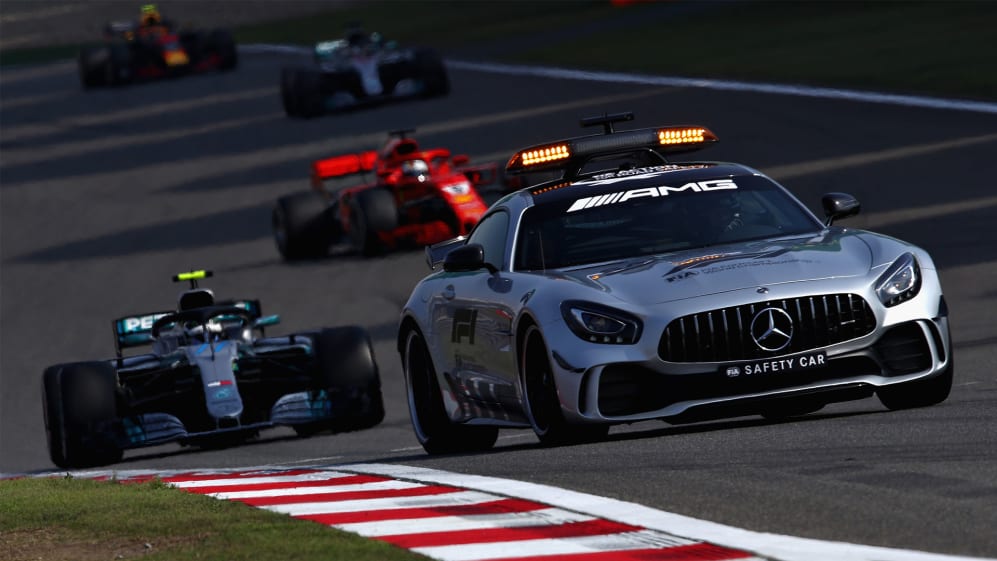 3. Verstappen hits Vettel - Verstappen was in a punchy mood once the Safety Car had pulled off. But after trying too hard to get past Lewis Hamilton for third on Lap 39, Verstappen slewed off track. Later, as he tried to emulate team mate Ricciardo's pass on Vettel on Lap 42, he clumsily clouted the Ferrari at Turn 14, sending them both into half spins.
4. Ricciardo seals the deal - With Ricciardo having surged from sixth on Lap 36 to second by Lap 44, just Bottas stood between him and victory. But unlike Bottas on Vettel at the previous race in Bahrain, there was no hesitation from the Australian. Find out why it would be voted the best overtake of 2018 on F1.com.
READ MORE: 'I thought I'd have a world title or three by now' – Daniel Ricciardo bears his soul ahead of 2020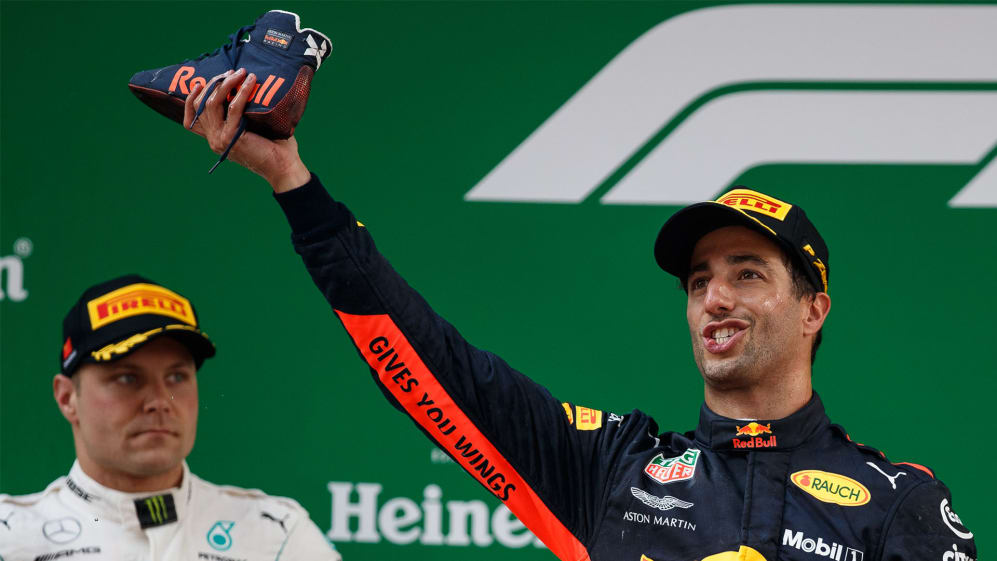 The headlines
Ricciardo strengthens his bargaining power - While the focus of the post-race was on Ricciardo's stunning romp to victory, the man himself was wasting no time in using the win to leverage his position in contract negotiations with Red Bull – with Ferrari and Mercedes seen at the time as realistic destinations for him for 2019. 'If teams want me next season, they should get in touch' ran The Times' headline.
Bottas loses out again - Bottas looked disappointed on the podium, although Mercedes Team Principal Toto Wolff was quick to praise him: "The whole weekend was not good for all of us. The only thing that I see positive was Valtteri's race today, that was awesome."
READ MORE: Sebastian Vettel discusses his F1 future with Ferrari, temporary pay cuts and his lockdown lifestyle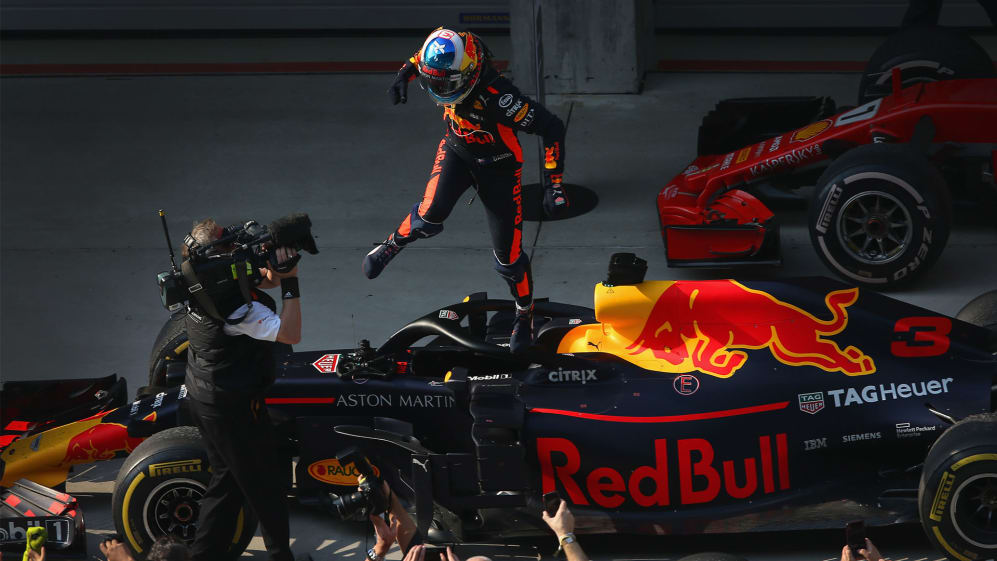 Verstappen apologises to Vettel - Left to come home P8, Vettel was at least impressed by the maturity of Verstappen, who immediately took the blame for their collision after the race. "I appreciate the fact that he came to me straight away," said Vettel. "I told him that was the way to solve it, face to face and not through the media or blowing something up."
Toro Rosso's "miscommunication" - Meanwhile, the catalysts for Ricciardo's victory, Toro Rosso's Pierre Gasly and Brendon Hartley, admitted that conflicting messages had led to their contact. "I've just been chatting to Pierre, clearly a miscommunication," Hartley said. "He must have thought that I was opening a door on entry, which was not the case."
How to watch
Settle in for an hour and a half of F1 awesomeness when we stream the 2018 Chinese Grand Prix on Saturday, April 18 at 1400 UTC on F1.com, Facebook and YouTube.
Delve into F1 TV's archive: highlights of every race going back to 1981, with more than 1000 hours of on-demand content, including season reviews, on-boards, qualifying highlights and much more! It's all on F1 TV here.