Feature
What the teams said – Qualifying in Hungary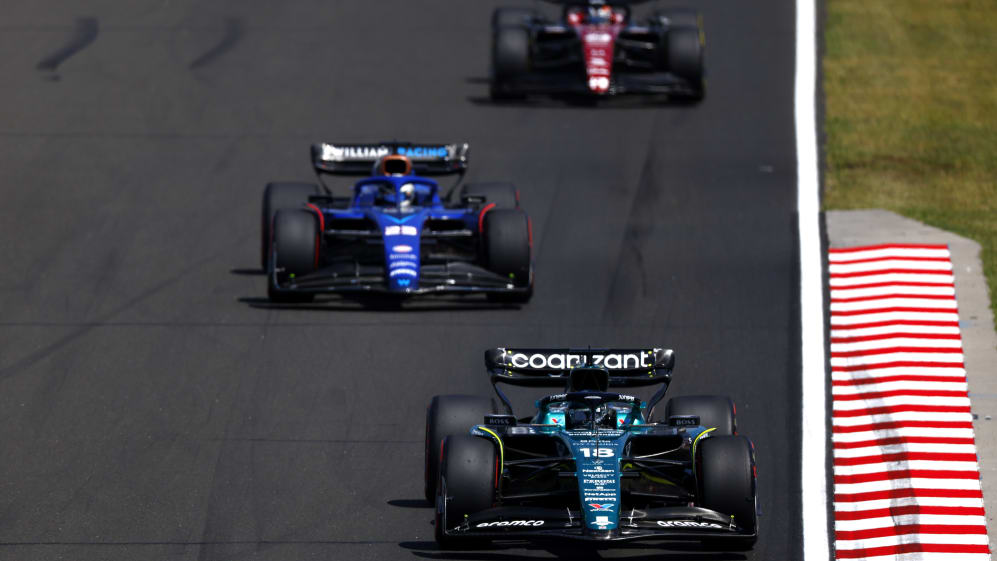 Mercedes
Talk about a game of two halves. Mercedes made a small tactical faux pas, opting for just one run late on in Q1 with it all to do. Hamilton did manage to extract enough pace on the hards to make Q2, but with traffic building, Russell had his out-lap thoroughly compromised and couldn't do likewise. Russell's early exit was put into perspective by the clear amount of pace that Mercedes had, with Hamilton making Q3 with ease and then threatening Verstappen on his first run in that segment. But few expected what happened next – Hamilton to absolutely nail his final lap and grab pole by just 0.003s from old rival Verstappen.
READ MORE: Hamilton ecstatic with breakthrough Hungary pole after 'big rollercoaster ride' amid Mercedes' recent struggles
Lewis Hamilton, 1st, 1:16.609
"Pole position is an amazing feeling! I feel so grateful because the Team have worked so hard. We've been pushing so much over this time so to finally get pole position is great; it feels just like the first time. I didn't expect that we'd be fighting for P1 coming here today. When I started my final lap, I gave it absolutely everything. There was nothing left in it.
"There's been plenty of ups and downs over the past 18 months. It's been a roller-coaster ride, but none of us have lost faith. We've all just hauled together and stayed united. We're focusing on trying to steer the car in the right direction. It has been tough, and will continue to be so at times, but I think this shows that we're on the right track and we can do it if we keep pushing. I have to try and sleep tonight now! Tomorrow, we'll bring our A-game as a Team. It's going to be difficult to fight Max and Lando but let's see what we can do."
George Russell, 18th, 1:19.027
"Today we were fast, and the car felt great. Unfortunately, we were out of sync with everybody else for the whole session. We have a great Team around us but the whole session just wasn't good enough for our standards. There was a lot of traffic at the end of the final sector, and the lap was gone when I was three tenths down by turn one. The Hard tyre works well here, especially with the high temperatures, but we were just on track at the wrong time.
"It's disappointing as the car was more than quick enough to get through. When you don't get things right you get punished and we've been punished for sure today. Lewis did an amazing job though so congratulations to him. Tomorrow will be extremely hard, but we'll be fighting and I'm going to try to come back through. Even though it's a tough track to overtake, I'll do my best tomorrow."
Toto Wolff, Head of Mercedes-Benz Motorsport
"We had a package today that was competitive. That's something we can be really proud of. Lewis drove an amazing lap and put it on pole. If you give him a car, that's what he can do. We made some good decisions with the set-up overnight and the drivers moved it in the right direction in FP3. The car we had today gave them confidence and allowed them to push.
"We made a mistake with George. We should have put him in a much better position on track and we've apologised to him for that. There's a gentleman's agreement that you don't overtake one another as time is running out. He had a number of cars move ahead of him though and that obviously screwed up his last lap.
"We will be fighting tomorrow, and we know it will be tough. The long run pace of others looked strong but form in the race sometimes looks a little different to practice. We will be giving it everything we've got and see what our car is capable of."
Andrew Shovlin, Trackside Engineering Director
"It's great to get pole with Lewis; he had a really strong session. A lot of hard work has gone into improving the car over recent races and it's a sign that we're moving in a good direction. On the other hand, we let George down with how we handled his session. It wasn't good enough and we'll review and see how we can improve. It's obviously very disappointing when we see the promise of the car and that he didn't get the opportunity to get a clean run in. We'll see what we can do tomorrow.
"Both drivers will be in for a tough race. Max looks to have been struggling more than normal for single lap pace, but his long run was very strong, as was Lando's. George has a lot of cars between him and the points. We will need to look to offset on strategy to put him in a position where we can start making progress. It's going to be hot and if we are looking after the tyres well that will bring opportunity. With Lewis we'll be hoping for a good start and then see what we can do from there."
Red Bull
The good news for Red Bull is that Perez, after a confidence-boosting final practice, made it all the way through to Q3 for the first time since Miami. Once there the Mexican surprisingly fell off the pace on the soft tyres, but at least he is starting much further forward than he has done of late. Verstappen always looked up there, and even when he lost a lap time in Q2 he didn't look flustered. But he didn't improve on his final run in Q3, which opened the door for his old rival to steal pole.
READ MORE: Verstappen admits he and Red Bull were 'all over the shop' during run to P2 in Hungary qualifying
Max Verstappen, 2nd, 1:16.612
"We have not performed the way we should be performing all weekend, it has been really difficult to get the most out of the car. I was struggling with putting the balance together, front to rear. We tried a lot of different things in terms of set-up but it didn't really work. When you are struggling in qualifying you can only try one or two things and then when you really push you fall out of the window again.
"My second lap in Q3 I tried to push a bit more and the car wasn't there. I think our upgrades worked but that didn't really show. The balance I had in qualifying won't necessarily be a bad thing for tomorrow. Everything in the race is a lot calmer and more stable, whereas in qualifying you really push it to the limit on the balance and can feel more issues. Our long run looks competitive so that is positive. It is still going to be tough to get in front but if we are better on tyres then I predict a good race. Nothing is lost, we have a good race car and it will be a good battle with them tomorrow."
Sergio Perez, 9th, 1:17.045
"Today was such a tight battle that was dominated by the compounds and the new tyre format. You don't get many learnings on the tyres so we don't have too much information from them for this weekend. In Q3, I had a poor sector one on the last lap which set us back, however, we have had a solid day and are focusing all our efforts on tomorrow. I believe we can be competitive and aim to finish on the podium as we have a good race car and a strong race pace. The track here is harder to overtake on but I am confident we will have a good performance: everything is to play for on race day."
Christian Horner, Team Principal
"A good qualifying today from both our drivers but it was a big lap from Lewis and he did very well to secure pole. Max didn't seem too comfortable with his set up, he wasn't able to find his sweet spot, you could see he was fighting the car slightly. I don't think he was getting what he wanted from the car in quali as he seemed more comfortable in the long runs we did earlier today so we will be looking into it this evening.
"Great to see Checo in Q3 although I know he wont be happy with P9 but its been a weird grid with a lot of movement. He will race well tomorrow though, we just need to ensure we give him the right strategy. It will be 10 degrees hotter which will make things interesting, especially with the balance, but we tend to have better race pace than we do in qualifying so lets see what tomorrow brings."
McLaren
Norris was keen to play down expectations of the team yesterday, but despite the warmer temperatures and different conditions, McLaren still excelled. Both cars made it to Q3, and once there Norris threatened the front row at times, ending up less than a tenth from pole. Despite his first lap in Q3 leaving him a lowly P9, Piastri aced his final effort to share the second row with his team mate as he continues to grow in confidence.
READ MORE: Norris admits he is 'disappointed' to miss out on pole position after qualifying third for Hungarian GP
Lando Norris, 3rd, 1:16.694
"If you're doing within a tenth of pole, it feels like you should be on pole if you put the lap together, but I guess as an overall picture, the team did a good job: P3 and P4 for both of us.
"So, a good weekend so far but, as a driver, I'm not the happiest. I feel like I made too many mistakes here and there and that cost me today. There are always little things. Just putting the lap together. It wasn't the cleanest. I guess there's always an element of risk involved in trying to push it a little bit more – but nothing major. P3 is still a good position for tomorrow. So, still a good day.
"I'm excited. I think the race pace yesterday was pretty strong. Just as strong as we were at Silverstone, so I'm excited. It's just a difficult track to overtake – which is probably why I'm a bit more frustrated than I normally would be – but I'm up there with the good guys. We've got two cars up there, so hopefully we can use them and get some good points tomorrow.
"We did a good job today. Tonight, we focus for tomorrow."
Oscar Piastri, 4th, 1:16.905
"P4, so I'm happy to be at the front, definitely. I think in Q3 it wasn't my best performance, but it was enough to be on the second row. So, we'll see what we can do tomorrow. It's been a very encouraging day for the team, to still be at the front at a very different circuit. So, full credit to the team in giving us these opportunities. I'll try to make sure I'm a little bit more polished next time, but it's still a nice place to be, in P4."
Andrea Stella, Team Principal
"A positive day for McLaren, with Lando in P3 and Oscar P4 at the end of what was an interesting qualifying session with the new ATA format. Both drivers drove very well in tricky conditions, due to a slippery and windy track, and were able to capitalise on the hard work of the team, here at the track and back at the MTC. The Hungaroring, with some more low-speed sections and high temperatures, is different to the previous two circuits, and this performance looks like confirmation of the step forward we have made. Now, focus is on being as prepared as possible for the race tomorrow."
Alfa Romeo
Alfa Romeo looked strong all weekend, and certainly looked in the hunt come qualifying. Bottas was lucky to escape Q1 after finding a huge amount of traffic in the final sector on his last flying run, just about doing enough to progress. With both drivers topping the session at various points, expectations were high – and fifth and seventh is a pretty good return on what has been a much brighter day for the team.
Valtteri Bottas, 7th, 1:17.034
"I am really proud of the whole team today, and positively surprised about how good our performances have been: we saw that we had realistic chances to get into the top ten, but fifth and seventh went even beyond our expectations. We have been strong throughout the whole qualifying session, with all the compounds, and managed to extract the full potential from our cars: the track layout seems to suit us and allowed us to get the most out of our package. Of course, the work is only halfway done, and points will be awarded tomorrow: still, overtaking is not easy here, and that should help our cause with the positions we locked in today. The results we brought home today are a good reward for the team both trackside and back home in Hinwil, for the job done in the recent weeks."
Zhou Guanyu, 5th, 1:16.971
"It feels good, very good, to be lining up on the grid in fifth place tomorrow. I felt comfortable from the first lap onwards, but still, I did not really expect to even finish Q1 in P1. My first run was quite rough, but then we subsequently managed to execute at the top of our performances up to the end of Q3. I am very happy with the job done today, I knew I had to do a big step in my final push lap since my previous one had gotten deleted, and we did it, all together. Overall, I would say this track layout suits our car well, which gives us great motivation ahead of tomorrow's race. The team did an amazing job, and I am glad we got both cars into the top ten: we were not happy with the performance we extracted from the new package after Silverstone, but we all worked hard in order to further optimise it, and these results prove it. We were already looking quite strong yesterday, and after having further analysed the data overnight, we found that extra push that allowed us to get through Q2 and Q3. Now, all of our focus will go into keeping up with this performance tomorrow, when it matters: hopefully, we'll be able to end the weekend as we started it, and add new points to our tally."
Alessandro Alunni Bravi, Team Representative
"We are very happy about today's result, which is a good reward for the work done by our team, both trackside and back home in Hinwil, and by our drivers. Of course, we are fully aware that this is only Qualifying, although on a track like this one, starting positions are important looking into Sunday. This is just half of the job, and we all will need to execute a perfect race tomorrow: we have a great opportunity to score points, and we know how tight the competition is. By fine tuning the upgrades we introduced in Silverstone, we were able to unlock that extra performance our cars needed to make a step forward: qualifying in fifth and seventh place today has been confirmation of the effort put in at the factory over the recent weeks. I want to pay tribute to Zhou and Valtteri, for having showed such strong performances throughout Q1, Q2, and Q3, as well as to our team, who got the most out of the Alternative Tyre Allocation introduced this weekend. The use of the hard compound during FP3 has been fundamental in granting us access to Q2, and we were subsequently able to build up on this performance during the entire session. Now, we must all keep focused, as our work is not yet complete: we surely have a good reason to be happy with ourselves today, and we will make sure to carry this motivation into tomorrow's race, which is when it counts."
Ferrari
It was hard to tell where Ferrari might land heading into qualifying, such was the mixed up nature of the practice sessions. In the end they managed to get one car into Q3 courtesy of Leclerc, whose late improvement knocked his own team mate out. Once in the top 10, the Monegasque couldn't make too much of an impression and wound up sixth – not great, not terrible, which just about sums up their weekend. Sainz will have more to do tomorrow from P11 on the grid.
Charles Leclerc, 6th, 1:16.992
"Although I am happy with my lap, we just weren't fast enough. Our car is quite sensitive to wind and that also affected the outcome.
"It's difficult to say who our main competitors will be tomorrow, because, as we have seen this season, the pecking order is changing all the time. We know what our weak spots are and will work hard to improve them. Tyre management is key on this track, if we manage that well we can have a good race."
Carlos Sainz, 11th, 1:17.703
"I'm not happy to miss out on Q3 for the first time this year by only two thousands. I haven't been comfortable with the Medium compound all weekend and I paid the price today, in the tightest qualifying of the season so far.
"It won't be easy tomorrow with the traffic and the high degradation, but we'll try everything to overtake and gain positions to bring home some good points."
Fred Vasseur, Team Principal
"Our performance today has nothing to do with the new format, which is the same for everybody. We struggled to get a clear picture of our situation before the session, but what let us down is that we did not do a good job in terms of tyre management. In the end, with Charles we missed out on being one row further up the grid by less than a tenth. We were matching Lewis for all the session, but we could not do it at the end.
"As for the race, it's hard to say how it will unfold, because teams were doing their long runs yesterday on different compounds. Track conditions tomorrow will be completely different to Friday which means we all go into the race a bit blind, since we had limited runs with high fuel this morning. Tomorrow, the opening lap will be crucial as it is quite difficult to overtake, as we saw in today's Formula 3 and Formula 2 races, when there were big DRS trains. It will be an interesting challenge and we will have a lot of work to do tonight."
Aston Martin
Having dropped down the pecking order slightly, this track was expected to suit Aston Martin's strengths. Instead they only managed to get one car into Q3, Stroll falling by the wayside in 14th. The Canadian was also called to the stewards to explain himself after he seemingly blocked Bottas in Q1 when the Finn was on a hot lap, but they opted to take no further action. As for Alonso, he did make the top 10 but didn't challenge for the front rows, having to settle for eighth.
Fernando Alonso, 8th, 1:17.035
"I was happy with the AMR23 today in Qualifying after we made some tweaks to the set-up from yesterday. The average time for us to pole position has been four to five tenths [of a second] this season, so if you look at our result today, it was a normal Qualifying. The pack is so close, so a tenth here or there makes a huge difference in deciding the final positions. I think our performance is better than our result suggests. Looking ahead to the race we know it's difficult to overtake here, so I think it will be tough tomorrow. We will try to extract the maximum and target the top six positions to score as many points as possible."
Lance Stroll, 14th, 1:18.144
"It was frustrating to have had my first Q2 lap deleted due to track limits at Turn 12; I was just pushing hard and it's difficult to know where the line is as you can't feel it. The new Qualifying format did make things slightly more challenging, but I don't mind that, and it's the same for all of the drivers. It's an incredibly tight pack with fine margins between all of the teams, so going into tomorrow we'll be looking to make the most of any opportunities that come our way."
Mike Krack, Team Principal
"We had the potential to be slightly higher up the grid today, but some of our competitors have closed the gap and have found some speed. You always get a tight grid here and those small margins made the difference. It is tomorrow that counts, and we are usually more competitive on Sundays. It will be interesting to see how the race plays out because tyre degradation is relatively high on this track, which could encourage a variety of strategies. As for the trial of the Qualifying format, I think it is important to explore different ideas, understand what they bring to the show, and give a new challenge to the teams."
Haas
Hulkenberg had looked strong over one lap all weekend, but was concerned about his car's performance on the harder compound tyres. He need not have been, the German once again making it into the top 10. Magnussen couldn't match his team mate's times and exited at the first time of asking, another driver who couldn't quite get the perfect preparation on his out lap thanks to traffic.
Nico Hulkenberg, 10th, 1:17.186
"Happy! All laps were clean and we extracted everything we could out of it. In Q3, unfortunately we were only 10th as we didn't have any more pace. I was a bit concerned in Q1 with the hard tyre going into qualifying, I wasn't sure what to expect there, but we managed to survive that. Q2 on the medium was pretty good, and then in Q3 there just wasn't enough pace, but every Q3 for us is positive."
Kevin Magnussen, 19th, 1:19.206
"Just a disappointing qualifying for me, I couldn't find the pace in one lap this week. I think I just can't seem to find the confidence in the car on one lap – on long runs and high fuel in the race it's a different story. Seeing what's in the car, Nico doing Q3, it's of course disappointing not to be able to extract that myself. I feel more confident in the race but then again we as a team have a limitation there too. The tyre allocation made no difference for me, it's the same for everybody. We'll just try again tomorrow and see if we can pull something out of the hat."
Guenther Steiner, Team Principal
"It was a good FP3 - we ran all our test program with both cars without issues. In qualifying, it was a good result for Nico. Obviously, Kevin is not so happy with his result, but we need to work on him to get him up there as well, it's possible. Nico got the best out of the car, and it's a tough crowd. In Formula 1 these days, anything can happen, it's all over the place but in a good way. In that regard, you never know what will happen tomorrow. We'll get ready knowing our weakness is the long runs, but it's another day, and another fight."
Alpine
Alpine looked quick in final practice, so it was a bit of a surprise to see both cars exit in Q2. Gasly had a lap time deleted for track limits, but in truth that only cost him the one grid slot. Ocon likewise just couldn't find the pace to fight for the top 10, as once again their midfield rivals got the jump on them.
Esteban Ocon, 12th, 1:17.841
"It's a disappointing feeling not to reach Q3. All teams expected some challenges with the new Qualifying format on Hards and Mediums in Q1 and Q2 and that certainly proved to be the case. We've been at our best on the Soft compound this weekend, so it's a pity we could not reach Q3 and see where we could have ended up. There are many things we must review but right now, we will focus on tomorrow's race and working our way back into the points. We will need a good start, a good strategy and I'm confident we can secure some points as a team."
Pierre Gasly, 15th, 1:18.217
"It's been a frustrating day for the whole team and it's always a bitter feeling not to be in the final part of Qualifying. The qualifying system today is the same for everybody but we seemed to struggle on the harder compounds especially on warm-up and getting the tyres into a window at the beginning of the lap. In plain terms, we were simply not fast enough today. We have to keep our heads down, keep working hard and find ways to make our package quicker. This weekend is not over until the chequered flag drops tomorrow afternoon. We will see what we can do on strategy to make up some places and I'll give it my all on track."
Otmar Szafnauer, Team Principal
"We are all disappointed to not get a car into Q3. After Practice, we knew it was going to be a challenge to progress through Q1 and Q2 with both drivers reporting similar feedback on the Hard and Medium tyres, which were mandated for Q1 and Q2. We had confidence on the Soft tyres, which, in the end, we were not able to demonstrate after not reaching Q3. The weekend is far from over and we will give it our all to turn around our compromised starting positions and we will do our best to come away with points on Sunday afternoon."
AlphaTauri
All eyes were on Ricciardo as he returned to the qualifying fray, having to grapple with three compounds of tyre as well as a car he had only driven in practice. As such, making Q2 and out-qualifying an Aston Martin and an Alpine is a job well done for the Australian. Tsunoda couldn't quite join him there, winding up 17th on the grid.
READ MORE: Tost opens up on 'difficult and emotional' call to replace De Vries with Ricciardo
Daniel Ricciardo, 13th, 1:18.002
"The main thing is for me to get behind the wheel, feel good again and be comfortable in the car and the team. I feel like I've made good progress over the past two days and learnt relatively quickly, and as long as we keep progressing from here, I'll be happy. It hasn't been the easiest weekend to come in, with the wet conditions we had yesterday and the different tyre allocations, but I was happy to be competitive in qualifying. I don't expect the racing to feel too foreign, I only took half a year off, so tomorrow will be fun, and of course, if there are gaps, I'll see what the car can do."
Yuki Tsunoda, 17th, 1:18.919
"Today was difficult. Being knocked out of Q1 isn't great; it's tough and I'm disappointed. I couldn't improve and missed out on Q2, not finishing in the position I wanted to, and it's a shame. The pace was there, and I feel we have made a step forward with the new rear wing, I just couldn't put it together and maximise my performance. It's good learning for the future, but I'm very frustrated I lost the opportunity to maximise my pace. The different tyre allocation we had for qualifying this week was fun yet challenging, because it made the practice sessions more difficult, but it doesn't affect the race tomorrow. From what we saw in practice, the race pace seems ok, so hopefully I can maximise on that and gain as many positions as possible."
Claudio Balestri, Chief Engineer – Vehicle Performance
"Based on the data collected yesterday, and even with some interruptions during FP1, we tried to optimise our package, taking into consideration the different track conditions expected today. During the first half of FP3, we did some high fuel runs to optimise the car for the race by completing a long run simulation. In the second half of the session, we focused on quali preparation, and considering the new format, we decided to optimise our car, especially on the hard and medium tyre compounds, which are the mandatory ones for Q1 and Q2. It was a bit more difficult to understand our level of competitiveness due to the very different tyre usage across the pitlane, with many teams using soft tyres and only a few deciding to use the hard compound. Our strategy paid off in the end and in Q1 we were able to set competitive lap times on the hard compound. However, while Yuki, unfortunately, struggled to improve in his last attempt in Q1, Daniel made it into Q2. Today we were simply not fast enough to enter Q3. We now shift our attention to preparing for the race tomorrow, which will not be an easy one, but we will do our best to get back into the points."
Williams
Albon's qualifying prowess of late made a Q1 exit for the Thai driver something of a surprise, despite this track not massively suiting the FW45. He wasn't far off making Q2, winding up just 0.011s back from the time he needed. Sargeant also couldn't make it through, and with both cars down the order, Williams might be doing a rain dance tonight in the hopes that some chaos could help them climb towards the points tomorrow.
HIGHLIGHTS: Watch the action from qualifying in Budapest as Hamilton takes last gap pole position
Logan Sargeant, 20th, 1:19.248
"I think if everything had gone perfect, we had a chance to go to Q2 today, but it was a messy lap. It was difficult going straight to Qualifying on the hard tyre as neither of us had driven it yet this weekend [due to the Alternative Tyre Allocation format of the race] and it wasn't easy to put a lap together. Although I'm sure everyone struggled and had time to find today, I'm mainly frustrated with myself; I've been driving well all weekend, I feel like we had the pace to do something good and I could pick out at least half a second on that lap that was left out there. With the tyre format this weekend, we've been so limited on laps. Strategy-wise tomorrow, we'll be fine as we saved a set of hard tyres. A few people have used all their sets, which I don't think will feel good for them tomorrow, but from our side we have the tyres we need for the race so hopefully that will play into our hands."
Alex Albon, 16th, 1:18.917
"If you look at Qualifying, it wasn't a bad session as we were right in the mix - one tenth would have moved us up a few places. It's frustrating to be so close to Q2 but it's a bit more representative of our overall pace. It shows we're making progress but it's also good to come to tracks like this as it helps us to understand our car and highlight the issues. Even the tyre compounds went against us I believe as the harder tyres have less grip, so soft tyres tend to hide our problems, whilst hard tyres expose us more. It was always going to be tricky but, ultimately, I believe the Alternative Tyre Allocation penalises us more than the top teams who can save on tyres and be better prepared for Sunday."
Dave Robson, Head of Vehicle Performance
"It was incredibly tight today and we missed a place in Q2 by the smallest of margins. The Alternative Tyre Allocation worked fine today; there was a lot of on-track action in Q1, which made finding a gap in the traffic more difficult than usual. Alex and Logan were mostly in good positions although Alex had to complete the final couple of corners in the wake of the McLaren.
"Considering that we expected to struggle here more than at recent tracks, today wasn't too bad and with a very modest improvement in lap time we could've been considerably further up the grid.
"Every driver has a number of race tyres for tomorrow, but with differing quantities of new and used tyres available, it could make for an interesting strategic battle. Although overtaking is traditionally difficult here, there will still be opportunities to make progress and we have a race car that can do just that."
Pirelli
Mario Isola, Motorsport Director
"I think this was a very interesting qualifying, with the new format posing various challenges for the drivers. It made for even closer times and more unpredictability than at previous events. That can be seen from the fact that seven teams are represented in the top ten and the fastest ten qualifiers are all within six tenths of each other. For example, the drivers had to adapt to the switch from one compound to another in the three phases of qualifying, something they are no longer used to, ever since the rule stating they had to start the race on the same set of tyres with which they made the cut out of Q2 was abolished. At the same time, considering that the Hard seems like the best choice of race tyre, many drivers opted not to use these sets in free practice and therefore found themselves somewhat in the dark in Q1, so that even the top teams had to do two runs.
"In FP3, the long runs showed that, with a track temperature of around 50 °C, which is what we can also expect for the race, the C5 does not seem to be the ideal choice for the race. At the same time, the higher temperatures compared to yesterday and the normal track evolution, always very significant at the Hungaroring, sees the balance swinging more in favour of the two harder compounds, the C3 and C4. Therefore, the most likely strategy is for two stops, starting on the C4 and running two further stints on the C3. A single stop (Hard-Medium) is possible but it's very much on the limit, both in terms of performance drop-off and tread life. Add these factors to the way the grid order looks and it should be a spectacular race."