Feature
What the teams said – Friday in Azerbaijan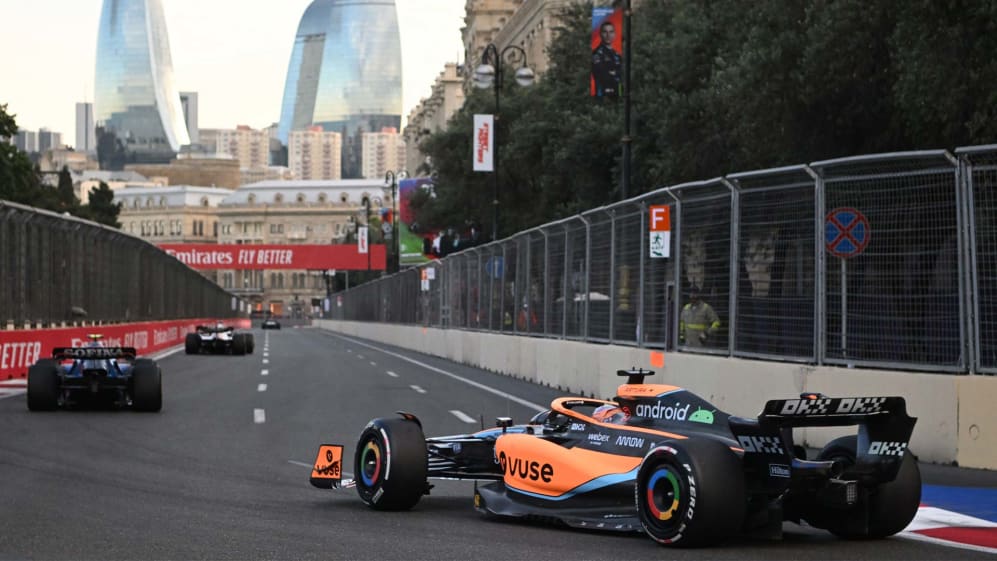 Red Bull
Perez looks on the pace here from word go, picking up where he left off in Monaco last time out. Fastest in FP1, second in FP2 – he is right in the mix at a track he tends to go well at. But Verstappen had a few more problems, spinning in FP1 and complaining about the handling of his RB18. The team opted to change his oscillating rear wing between sessions to the spec run by Perez, and as a result he was out of sync in FP2 and couldn't get a fully clean run in.
READ MORE: Red Bull pair confident they can close up to Ferrari in Baku despite 'tricky' Friday
Max Verstappen - FP1: 1:45.810, P3; FP2: 1:43.580, P3
"Overall it was not a bad day, we look quite decent, we just need to fine tune a few things. I was a bit unlucky with my soft tyre runs in FP1 and FP2, there were a few yellow flags so I had to back out. It seems like Ferrari is quite quick over one lap again, the long runs look a bit more even so that's positive. The tyres seem to be working well after one lap which is good for a street circuit. We tried to fix the DRS after FP1, it seemed to be alright in FP2. My long runs went well, I did a grand total of three laps [laughs]. We should have enough info now to know how to play it with tyres this weekend."
Sergio Perez - FP1: 1:45.476, P1; FP2: 1:43.472, P2
"It was a good start to the day but the second session didn't go as well as we would have liked. We explored some things this afternoon and the results we wanted didn't come but we have collected good data with both tyres, as well as on the long runs. There is a lot to look over this evening and go through to hook it up for qualifying tomorrow. Initially the long run data looks good for the race but there are a lot of details we need to look into more. I feel confident around this circuit, as always with the braking you will make some mistakes here and there so I will keep my head down and focus on eradicating that."
Ferrari
Ferrari looked to be struggling with bouncing issues in the opening session, with Sainz in particular complaining about the ride of the F1-75. Nonetheless, they looked quick, just lagging a tenth or two behind their Red Bull rivals. Roll on FP2 though and Leclerc seemed to have found a set-up more to his liking as he went top. He did suffer some engine issues late on though, which the team will be checking thoroughly overnight. Sainz locked up on his flying run and left some time out there today.
WATCH: Ride onboard with Leclerc as he sets the fastest time on day one of running in Baku
Charles Leclerc - FP1: 1:45.603, P2; FP2: 1:43.224, P1
"We had a solid first day. The progression we made from FP1 to FP2 was good and we worked well as a team.
"The lap times are not representative, because no one put a proper lap together in the second session. There is still quite a bit of room for improvement. Our race pace looked quite strong and I felt good in the car. In terms of tyres, I felt comfortable on the long run and didn't have any graining, which is another positive."
Carlos Sainz - FP1: 1:46.012, P4; FP2: 1:44.274, P5
"It's been an interesting Friday, as always here in Baku. There were quite a few challenges during FP1 and I was struggling a bit too much with the bottoming and the bouncing, which made the session quite uncomfortable.
"We worked in the right direction for FP2, improving competitiveness and feeling. Overall, it was a smooth second session despite not being able to close an entire flying lap on the softs due to yellow flags. We look forward to making another step forward tomorrow and having a clean qualifying."
Mercedes
Mercedes started the day with some extreme porpoising, so much so Hamilton complained about not being able to see the pit entry lines. They still had both cars in the top 10 though, but seemed to drop backwards after adjusting the front suspension. Work to do overnight, as they try and close the gap to the leaders ahead of qualifying.
READ MORE: Red Bull and Ferrari are 'too far ahead' says Russell as Mercedes end Friday practice looking for pace
Lewis Hamilton – FP1: 1:46.667, P6; FP2: 1:44.874, P12
"The hardest thing about today was the bouncing, we're hitting serious speeds at the end of the straight and bottoming out. We're facing the same problems as in the last race. We tried something experimental on my car in the second session, it didn't feel great but at least we tried it and we got some useful data to go through. We'll probably revert to the original set up tomorrow. I can't tell you one specific area which is costing us the 1.3 or 1.6 secs difference to the front, a lot of it seems to be on the straight but we need to get our heads down tonight and find solutions."
George Russell - FP1: 1:46.705, P8; FP2: 1:44.548, P7
"It was a tricky day and clearly we weren't as competitive as we'd have liked to be. It's a tough track to get the tyres switched on and in the right window. You saw a number of other drivers set their fastest times right at the end of a run, whereas Ferrari and Red Bull seem able to just turn it on. At the moment, they have an inherently quicker car than us and we're doing everything we can to catch up. Even if we get on top of the tyres, that's only 50% of the problem, the other 50% is just car performance. Now with the cars are running so close to the ground, in the high speed corners the cars are fully bottoming out and it's the same for everybody, it's really not comfortable to drive. I don't know what the future holds for this era of cars but I can't see us running like this for the next four years so for all of us, conversations will be needed as we're all in the same boat."
Andrew Shovlin, Trackside Engineering Director
"The morning session in hotter conditions was better for us than the afternoon when it cooled somewhat but regardless, we've got a bit of work to do to find time on single lap and long run. The balance isn't a major issue but we're lacking grip in the corners and the ride on the straights is uncomfortable for the drivers, so we need to improve that overnight. Our straight-line speed also isn't great but some of that will be due to us hitting the ground on the straights. We did have some new parts on the car today, so we'll review whether those were contributing to our issues. Overall, we're not in a good position and it's one where we need to be looking for some fundamental improvements rather than a case of fine tuning."
Alpine
Alpine ran an eye-catchingly slim rear wing, which impressed a fair few former drivers. Whether they have set up the car for qualifying or the race remains to be seen but one thing is for sure – they look quick, especially on Alonso's side of the garage. Ocon was also in the top 10 in both sessions, leaving the team with a perfect start to the weekend.
READ MORE: 'We seem fast' – Alonso pleased with Friday performance in Baku after set-up choice helps him to P4 in FP2
Esteban Ocon - FP1: 1:46.917, P10; FP2: 1:44.609, P9
"It was a decent day for us overall. Baku is a place where you really need to make the most of these practice sessions and get the laps in. Confidence is key around here, similar to Monaco, and there are many braking points that you need to hit properly as there is plenty of lap time to be found in those. The car seems competitive after today, so that's good to see, but we'll have to put it all together tomorrow."
Fernando Alonso - FP1: 1:46.571, P5; FP2: 1:44.142, P4
"It is always tricky here in Baku with the windy and fast circuit conditions. But I think we had a normal Friday today and we were able to test some of our new items. We still need to optimise a few things on the setup of the car ahead of Qualifying tomorrow. However, we seem fast today, so we'll work overnight to ensure we keep this sort of pace tomorrow. We seem fast on the straights and it's sometimes a setup compromise with this type of circuit, but let's see how we go tomorrow."
Alan Permane, Sporting Director
"We are happy with our work today. We brought some upgrades to Baku and everything seems to be working very well. The drivers are reasonably happy with the cars and there are still improvements to make of course. The two sessions ran as planned, very smoothly. We did our tyre work and have a good understanding on how the car is working, both on high and low fuel. The wind plays a part here, it can be very gusty and can catch the drivers out as we saw a few times especially around the last couple of corners that are very tricky with a tailwind today. It was a steady day and we look forward to qualifying tomorrow."
AlphaTauri
AlphaTauri – along with Ferrari and Mercedes – seemed to suffer the worst of the porpoising. But again, it didn't affect their speed, with both drivers winding up in the top 10. In FP1 is was Tsunoda who got the better of Gasly at a track where he had a breakthrough performance in his rookie year, and although Gasly turned the tables in FP2, it looks like both drivers have brought some serious form to the Land of Fire.
READ MORE: Gasly calls Perez contract deal 'logical' as he plans more talks with Red Bull management
Pierre Gasly - FP1: 1:46.830, P9; FP2: 1:44.315, P6
"So far, it's been amazing here in Baku, I've really enjoyed it. It's a really fun track to drive and, being a street circuit the adrenalin is much higher, as you're really driving at the limit. The car feels good around here and I felt really comfortable inside the car in both FP1 and FP2, so at this point there are a lot of positives. We know the battle is on Saturday afternoon, once everyone turns their engines up and finds that extra bit of pace, so we need to go away and find something more tonight. Looking at our performance so far I think it's going to be good."
Yuki Tsunoda - FP1: 1:46.696, P7; FP2: 1:44.567, P8
"I think the whole day has run smoothly for us. We're quite happy with what we've managed to complete and with the performance of the car so far. We've gathered a lot of important data over the two sessions today, so we'll go away and analyse this with the engineers tonight. We've been consistently in the top 10 and we're looking strong within the midfield battle, so hopefully we can continue like this tomorrow."
Jonathan Eddolls, Chief Race Engineer
"We had a productive Friday here in Baku and carried out a number of setup options on the car across the two sessions. Each option has pros and cons, so the optimal choice is not obvious, but we have gathered some strong data which we can now analyse tonight and then we'll try and find the best for both cars tomorrow. Tyres are always a challenge here, but the high track temperatures help. We will need to see what the graining is like in the race, especially at the start when drivers are fighting hard. The circuit is very bumpy, so the car is not as easy to drive, which is hard on the drivers. Our competitiveness appears to be there over both the short and long runs, so we just need to keep doing what we have been doing and I expect that we can target points on Sunday."
McLaren
It was a tricky day for McLaren, who often opt for lower engine modes and heavier fuel loads on a Friday, keeping their true pace under wraps. Ricciardo couldn't extract much from his car, and found himself down the order in both sessions. Norris was at least knocking on the door of the top 10, and now that the youngster has fully recovered from his bout of tonsillitis, should be well placed to make a push for Q3 tomorrow.
Daniel Ricciardo - FP1: 1:48.810, P18; FP2: 1:45.059, P14
"The day was a bit mixed. We had the morning trying a few things but were a little bit behind after that session. We had good reason to try those things, but I think but seeing the performance, we changed the settings for this afternoon, and we were certainly more competitive. Now it's just a bit of fine-tuning overnight and a little bit of fine-tuning in myself as well: clean-up a few corners – but I at least felt there was definitely more potential in the car this afternoon, so I am a bit more at-ease with that. I think we can make another nice step tomorrow."
Lando Norris - FP1: 1:47.691, P11; FP2: 1:44.771, P10
"A tough day. Just very tricky conditions altogether. I think we made some small bits of progress with the car, but it's difficult because of the wind. The wind makes for very difficult sessions to understand everything because of the lack of consistency, but everyone's in the same boat, and I think we made some good progress. However, we need to make some more progress. We'll try hard tonight, we'll analyse all the data and all the things we learnt and try to take some steps forward for tomorrow."
Andrea Stella, Executive Director, Racing
"We had a couple of productive sessions today in Baku. We didn't have any problems with the cars and there were fewer disruptions than normal at this track, in terms of yellow and red flags. We could work through our programme, which was focused on car set-up, understanding the tyres for qualifying and the race, and drag-level – which is important at this track. As usual, the midfield looks very busy; we'll do our best overnight to prepare the cars for qualifying, try to make it to Q3 and score some points on Sunday."
Alfa Romeo
Alfa Romeo didn't suffer any reliability issues on Friday which meant they had a clean start to the weekend which hasn't always been the case this year. Both drivers seemed happy to accumulate laps and get their eye in, without particularly troubling the timing sheets. Whether that is their true pace remains to be seen – but Bottas tends to go well here, so you'd expect him to move forward tomorrow.
Valtteri Bottas - FP1: 1:48.078, P15; FP2: 1:45.115, P15
"We progressed pretty well throughout the day, even though the start was a bit tricky, with grip levels and car balance not quite there. The track feels a little bumpier than last year, but nothing to worry about: we didn't have any issues with bouncing, thankfully. We made quite a few setup changes during the day, and by the end the car was getting much better. I am sure there is more to unlock from it, and I didn't get many clear laps either, including the final one in FP2, where I was making big gains but locked up a tyre and lost the lap. As usual, the midfield is very close, and I'm positive we can make a step forward overnight and improve quite a bit. I'm optimistic for qualifying and for the rest of the weekend."
Zhou Guanyu - FP1: 1:48.222, P16; FP2: 1:45.264, P16
"I had an enjoyable day out there: I like this track and I feel I got up to speed with the layout reasonably quickly, especially compared to my experiences in Jeddah and Monaco. I enjoyed the push laps and didn't make mistakes: I'm happy about this, although we obviously still have things we need to work out as a team. I'm confident we can make a step forward for tomorrow's qualifying: the battle in the midfield between P10 and P16 is extremely tight, so if we can find a few tenths we could have a big gain in positions on the grid. There are a lot of factors at play, not least the big difference finding a tow can make to one's lap, but we know we can be in this fight. We'll be giving everything we can to make it happen."
Aston Martin
Stroll was lucky in FP1, as he brushed the barriers but managed to kiss the soft padded cladding and so was able to continue. And despite a tangle with a plastic bag, Vettel was also able to get in a good haul of laps. They weren't quite as quick as the likes of Alpine and AlphaTauri, but with McLaren not showing too much pace-wise, Aston Martin might fancy a top 10 berth come qualifying.
Sebastian Vettel – FP1: 1:47.970, P14; FP2: 1:44.781, P11
"We had an encouraging first day today. It was incredibly windy during FP1, which meant it was very easy to lock a wheel under braking or run up an escape road. I had a couple of lock-ups but otherwise it was a pretty smooth day. We spent the first session working through a few balance issues, but the car started to come towards us in FP2. I think we are in a solid position for qualifying tomorrow."
Lance Stroll - FP1: 1:47.847, P12; FP2: 1:44.874, P13
"We had a successful day of practice and have already learned a lot and achieved some good lap times ready for the rest of the weekend. Although I had a brush with the barrier, thankfully it did not affect our running as nothing was broken, so I managed to get away with it. It was all part of getting into the rhythm of the circuit and finding the limits. I really enjoy this track and I think it is a fun challenge, so I am very much looking forward to getting back out here tomorrow."
Haas
Schumacher was the first to have an issue this weekend, water gushing from the side of his car as he was forced to park down an escape road. Missing nearly all of FP1 was hardly ideal, not then helped by missing a chunk of FP2 with a loose piece of bodywork. He'll need a clean session tomorrow if he's to get on the pace of his team mate here.
Mick Schumacher – FP1: 1:58.332, P20; FP2: 1:46.425, P19
"It seems that the problem with the water leak came from the heavy bouncing that we suffered in the first lap, and it just wrecked the plan. It's the first time physically that I do feel the effect of it, it's quite harsh on the body and also on the car, so it's definitely something to think about for future events. This track in general is quite light on tyres except for obviously the surface temperature being quite high. It will be interesting to analyse deeper today, so we have a good overview for the race."
Kevin Magnussen – FP1: 1:47.946, P13; FP2: 1:45.588, P17
"It's a nice track to drive, I like it. It's a street track and it's always just a little more exciting, a little more on the limit it feels so I enjoy it. The car feels very good actually but in FP2 we weren't very quick which is a bit surprising – to fall back that much from FP1. Usually, the trend is that we're better in FP2 than we are in FP1 and today it was the opposite, so we need to look into that and see if we can find something. I'm still positive, this race is a crazy one where lots can happen."
Guenther Steiner, Team Principal
"FP1 started badly with the water leak on Mick's car - he couldn't go out - which is not good at a track like this. Something strange happened and actually we're lucky the same thing didn't happen to Kevin as he was very close to having it happen as well, so we fixed it for FP2. FP1 was actually pretty good – we then made some changes for FP2 and we didn't perform as we planned to perform, so we need to go back to the drawing board a little bit overnight and see what we can do for tomorrow to be able to get some performance into the car."
Williams
Latifi was told to park his FW44 which was smoking in FP1, a loss of drive the issue. The team didn't get his car back until after the session, but managed to fix the issue and get him back out in the early evening session. FP2 was the turn of Albon to miss some running, although his issues were self-inflicted. The Thai driver clipped the wall at Turn 17 at high speed, and although he made it back to the pits, the team opted to fully check over his car rather than send him back out.
Nicholas Latifi – FP1: 1:50.921, P19; FP2: 1:47.218, P20
"In general, with street tracks, you don't want to miss any running especially on this track with how much confidence you must get into your braking points. There's still a lot of lap time to come from me once I get that confidence from chipping away at it. We'll do our homework tonight to get a better understanding of the direction to go with the car. There's a bit of catching up to do but we're going to maximise every moment to prepare us for qualifying."
Alex Albon - FP1: 1:48.419, P17; FP2: 1:46.397, P18
"Today's gone OK. It's been a bit tricky for us as the car felt good. It felt like one of the better cars that we've had so far this year. To be where we are on pace is a little bit confusing, so we need to try and understand what's going on. We've got a bit of work to do on that side. We'll go to the drawing board tonight and see what we can come up with."
Dave Robson, Head of Vehicle Performance
"A small brush with the wall by Alex in FP2 prevented him from completing the afternoon session. However, we have been able to complete a lot of what we had planned, and we have identified some areas to work on tonight. The car is working reasonably well at this circuit, but we need to find something else to improve the lap time, and that will be our focus in FP3."
Pirelli
Mario Isola, Motorsport Director
"The tyres behaved as expected today, with no graining and consistent performance. Usually, the FP2 session is more representative of the race than FP1, but here FP1 and FP3 actually take place at the same time as the race, while FP2 is run at the same time as qualifying. This may have an effect on the programme tomorrow, but it's interesting to note that all the teams very much focussed on the soft and the medium in both sessions today, with very little running on the hard, which already gives an indication of the potential strategies."