Feature
What the teams said - Friday in Hungary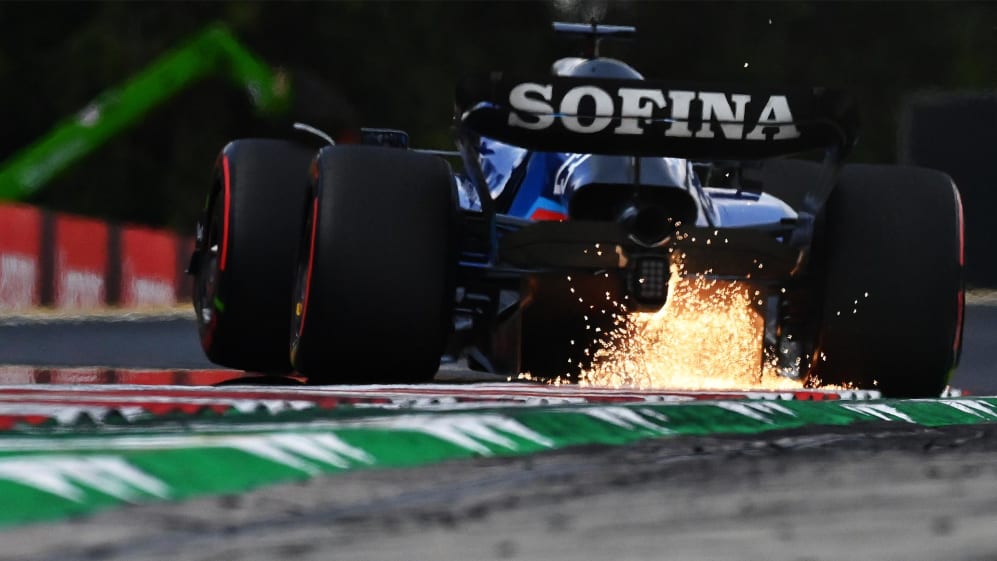 Ferrari
That Ferrari looked solid from the word go, with both drivers able to extract plenty of pace on their initial laps. Sainz proved quicker in FP1 before Leclerc returned the favour in the second session. Add in the fact the car looked pacy on longer runs, and the day couldn't really have gone much better for the Scuderia. The only small blot on their copy book was Leclerc driving into a front jack that had been left out when he tried to exit the garage in FP2.
READ MORE: Leclerc says France crash won't change his driving style – 'that's what gave me the edge'
Charles Leclerc - FP1: 1:19.039, P3; FP2: 1:18.445, P1
"With weather conditions likely to be variable this weekend, our main focus was on set-up work today. We did some race simulations too, as we may not have the chance to collect representative data in FP3 tomorrow.
"Though track evolution is always quite high here, it was lower than we expected today. It will be key to put the tyres in the right window tomorrow."
Carlos Sainz - FP1: 1:18.750, P1; FP2: 1:18.676, P3
"It has been an interesting Friday. The car felt very good straight out of the garage in FP1 and we could put together some very good laps.
"For FP2 we tried a couple of changes in the set-up to evaluate which direction is best to take for tomorrow and the race. We lost the feeling a bit, but we are in a good place in terms of car balance and pace.
"It looks like tomorrow might be wet, so we'll have to adapt to the conditions. Today was a positive day for the team and I look forward to the rest of the weekend."
Red Bull
It was a mixed bag for Red Bull on Friday. While Verstappen was there or thereabouts, he wasn't too happy with the oscillations he was suffering and didn't seem totally at ease in the car. Perez likewise had a few grumbles on the radio and found himself down the pecking order. But with the potential of rain tomorrow, the duo may still fancy their chances of beating their Scuderia rivals.
Max Verstappen - FP1: 1:18.750, P2; FP2: 1:18.728, P4
"As expected, it was a bit tricky around here today, we were trying to find the right balance from high to low speed, sometimes it worked and sometimes it didn't – there's a bit of work to do. I think the Ferraris will be ahead of us this weekend and it will be hard to beat them. We'll work hard overnight and try and close that gap as much as we can. The weather looks like it will have an impact on us tomorrow. In the dry we might struggle to compete, but it could be a different story in the rain; who knows, we will see tomorrow."
Sergio Perez - FP1: 1:19.622, P6; FP2: 1:19.397, P9
"We were trying various bits to get comfortable with the car today and I think we have got a good idea and understanding of things, so hopefully tomorrow we will be able to show what we have learned. That should transfer to both high and low fuel pace and I am fairly optimistic for the weekend, but the Ferraris certainly look very strong. They are very fast but rain tomorrow could mix things up a bit and we can be up there with them. We must put everything together tomorrow for qualifying and I am looking forward to it."
McLaren
McLaren looked decently quick in FP1, while Norris leaving it late to set his impressive lap time after running aero rakes for much of the session. Roll on FP2 and both drivers set their lap times at the same time as the pack, meaning they are fully representative. And what they represent is the fact McLaren could be a force to be reckoned with here, with the team seemingly in the mix with Ferrari and Red Bull up front.
Daniel Ricciardo - FP1: 1:19.841, P8; FP2: 1:18.872, P5
"I think it was a good day, it was solid. We had a pretty good showing in both sessions, which is positive. Obviously, we had updates last week and perhaps they're working a little bit better around this track so that's good. I think there's still bits and pieces we can improve on, for sure, but it's been a positive Friday and one of the better ones this year. I'm happy with that, but we will probably have to put some wet set-up in for tomorrow, but it's nice to have a solid Friday and I think everyone's in good spirits."
Lando Norris - FP1: 1:19.299, P4; FP2: 1:18.662, P2
"Things are feeling good. The car is in a good place and seems to be suiting this track a little bit more. But we're always a little quicker in FP2 than where we end up being on Saturday. Normally, we know everyone else, especially Ferrari, Red Bull, Mercedes usually step it up a lot more tomorrow. But we're feeling good. I can be happy in saying the car is in a reasonable position. We're probably a little bit ahead of where we were in Paul Ricard. I'm not expecting to be fighting for pole, but hopefully we can be a little bit ahead of where we were in France, especially for the race."
Andrea Stella, Executive Director, Racing
"A productive Friday for us at the Hungaroring. Overall, the car seems to have decent potential. It ran without issue, which allowed us to get through a busy programme split between more work to fully understand the new aerodynamic package we introduced in France, and also running to understand tyre behaviour for this weekend. For the latter, we were able to test all three compounds – and have plenty of data to go through this evening. We're shifting focus now to be in good shape for qualifying and the race. Looks like we may be in for some interesting weather tomorrow!"
Mercedes
Mercedes looked to be trying some different set-up changes in Hungary on Friday, but they didn't seem to pay off. Both drivers complained about the handling of the car, with Russell struggling with porpoising while Hamilton ran wide over the kerbs in FP2 and damaged his floor. They might be one team going for a rain dance later on, with both drivers renowned for their wet weather skills.
READ MORE: 'It's going to be a tough weekend' – Mercedes drivers lament 'difficult Friday' in Hungary after failing to crack top-7 in FP2
Lewis Hamilton – FP1: 1:19.710, P7; FP2: 1:19.547, P11
"The car was a struggle today, it's crazy how it swings from track to track and tonight we'll be working on setup to try and get the car working. At the moment, it's a little loose and not doing what we want it to do. Not much has changed since last week, I'm still the same driver! But for some reason at this track, the car isn't working as well. In the glimpses where it was working, we were still down a second which was actually similar to last week. I didn't get much chance of a long run at the end because I sustained some damage to my floor and lost a lot of downforce. It's going to be a tough weekend, but we'll give it everything."
George Russell - FP1: 1:19.606, P5; FP2: 1:19.355, P8
"It definitely hasn't been our smoothest Friday this season, a bit of a strange one because we think it's going to be wet for qualifying tomorrow and then different again on Sunday. We tried quite a few things with the car and used today as a test session so while it's been a tough day, it's probably been a productive one. Today was about gathering lessons long-term rather than maximising our lap times, but we were further behind than we probably expected with a couple of issues here and there. Tomorrow is going to be a totally new day and Sunday, we'll be in a different place too."
Andrew Shovlin, Trackside Engineering Director
"The morning session was reasonable but we'd made some changes going into the afternoon on both cars that look to have taken us in the wrong direction. That's easy enough to undo for tomorrow, and it looks like we are going to get some rain so hopefully we can recover the situation but other than finding out what not to do, the afternoon wasn't a lot of use. To further add to matters, Lewis picked up some damage on his low fuel run which we couldn't repair in time so by the end of the session, the car was very difficult and very inconsistent. The weather for the rest of the weekend looks like a wet day tomorrow followed by a dry race but in cooler conditions than we had today. Whilst we're disappointed with the pace in the afternoon, we've hopefully picked up some useful learning over the day. We've got a busy night ahead in the garage and the engineering office to make sure we can gather up the situation for tomorrow. Qualifying is more important here than at most tracks so that's our focus; we know the car works well when it's in the right window so that's what we'll be trying to achieve."
Alpine
Alonso was celebrating his birthday on Friday, and managed a very good lap in FP2 as a present to himself. Ocon couldn't quite extract the same sort of pace from his Alpine but given the team tend to start slowly, there is nothing to worry about just yet. Especially with the potential weather around, and both drivers known for being quite handy in the wet.
Esteban Ocon - FP1: 1:20.348, P9; FP2: 1:19.614, P13
"It's great to be back driving in Budapest as lots of great memories came back to me! In terms of our running, it was good to get two practice sessions under our belt. We are still unsure about the weather forecast for tomorrow and today could likely be the only dry running we have before Qualifying or even the Race. We've extracted a good understanding on a variety of things, which puts us in good shape for the rest of the weekend. As we know, rain here can make things interesting so let's see how that pans out and see what we can achieve."
Fernando Alonso - FP1: 1:20.377, P10; FP2: 1:19.049, P6
"It was a productive Friday today and we tried a few different things in terms of the car set-up. The weather looks very changeable tomorrow and Sunday, so who knows what we will be facing, but we gathered some good data and ran a smooth programme in both practice sessions. The car felt quite good and enjoyable to drive, so let's see what we can do tomorrow. I must say it was also very nice to drive around Budapest on my birthday!"
Pat Fry, Chief Technical Officer
"Today was particularly challenging as the grip on-track was very low, which made things difficult for the drivers. That was a problem which most other teams also struggled with, but the track will continue to clean and improve session by session. We will remain vigilant to the weather as conditions look set to change quite drastically. There's a high chance of rain tomorrow – possibly for Qualifying – and, already this year, we've shown we can be competitive in the wet. Then, we have an eye on Sunday where conditions will be significantly cooler than today. As ever, we have plenty of analysis to conduct to be best prepared for both Qualifying and the Race, and I'd say we're in pretty good shape as things stand."
Aston Martin
Aston Martin caught the eye early on with a rather interesting looking new rear wing configuration. Both drivers pent most of FP1 getting used to the upgraded part and data gathering, before getting the opportunity to go for some quick laps in FP2. And based on those times, the upgrades have had an effect – Vettel was solidly in the top 10 and should be hopeful of a decent qualifying slot tomorrow.
READ MORE: 'He's such a legend of our sport' – Vettel's fellow drivers hail him as 'an inspiration' following his retirement announcement
Sebastian Vettel – FP1: 1:20.383, P11; FP2: 1:19.253, P7
"On the face of it, our pace today looked quite good – our long runs were quite competitive, and I think we did a solid job as a team, but the car is still quite difficult to drive. We have recently struggled to qualify in dry conditions so I am optimistic that tomorrow's expected heavy rain will provide us with an opportunity. I love driving this circuit and I really hope that the weather does not stop us putting on a show for the fans tomorrow."
Lance Stroll - FP1: 1:20.414, P12; FP2: 1:19.702, P14
"It is positive that we are still bringing updates to the car – we will look at the data tonight to see what impact they are having. Today was a good day – in the dry, we look to be right in the mix in the midfield. But it is very close there, with only a couple of tenths separating much of the pack. The forecast for the rest of the weekend is uncertain so it is difficult to predict where anyone will be in qualifying tomorrow or in Sunday's race."
Alfa Romeo
Kubica had the cockpit of Bottas's car in FP1 and gave his usual professional showing, managing a good haul of laps and keeping out of trouble. Roll on FP2 and both Alfa cars leapt up the leader board as they discovered a set up more to their liking. Bottas found himself on the fringes of the top 10, Zhou not far behind. The question is – can they stay there?
Valtteri Bottas - FP2: 1:19.411, P10
"I had FP2 to get a bit of a feel for the car and the updates we are bringing for this race. I think we've made a step forward in terms of grip, we are moving in the right direction: the midfield is going to be as close as always, so every little improvement can give you an edge. I know there's a lot more to come from my side, so I am satisfied with what we did today, it wasn't a bad start. Tomorrow may be a very different day when it comes to the weather, but we did work to prepare for all conditions. Overall, the balance of the car is not bad so I think we're in a good place for Sunday."
Robert Kubica – FP1: 1:21.179, P19
"It is always good and interesting to be in the car, as there is always something to learn. For the second time in a row after France, track conditions were different, we ran a few tests and we discovered some new things. All in all, I think we did a good job. We had some updates on the car, so I made sure I took it easy to avoid any damage, but I still had a little bit of fun. I did one run on the hard compound and then switched them for softs, it's never the most straightforward to switch from one compound to the other but all went well."
Zhou Guanyu - FP1: 1:20.810, P15; FP2: 1:19.605, P12
"Today went reasonably smooth, we took a step forward in the afternoon compared to FP1, although there is still plenty of stuff to look through overnight preparing for Saturday. Hopefully, we will be able to have a better performance tomorrow compared to the previous weekends, but I think it's safe to say we aren't looking too bad. In today's hot conditions, we didn't struggle much compared to Paul Ricard, so I think what needs to be done is some fine tuning to be all set for tomorrow. As usual, the midfield is set to be tight, so we need to put out our best performances and be able to get back to Q2 which should be our base goal from now on."
AlphaTauri
It was a subdued day for AlphaTauri. Tsunoda locked up heavily in FP1, damaging his tyres while Gasly was frustrated with anti-stall issues and traffic. Both found themselves down the order, and may be another team hoping for rain. They are both running the upgraded package now, but have yet to get fully used to it after an incident-hit French race ruined any chance for the pair to gather much needed data.
Pierre Gasly - FP1: 1:20.456, P13; FP2: 1:19.730, P15
"I was pretty happy with my lap and managed to put a good one together in FP2. In terms of performance, we are not there yet. We are sliding too much, so we will have to see what we can change by tomorrow to be faster. There isn't a massive issue with the balance, and I felt like I was really on the limit, putting a clean lap together, but the time does not seem to reflect that, so we will need to analyse it tonight. Based on the forecast it will be wet tomorrow for Qualifying, which are conditions I enjoy driving in. Hopefully we find some solutions to improve the car, but a bit of rain wouldn't be a bad thing for us."
Yuki Tsunoda - FP1: 1:20.695, P14; FP2: 1:20.521, P19
"Today feels like quite a step-back since France, where the car was performing quite well. Here in Hungary, the balance of the car is not ideal, I'm really struggling with it a lot, so we need to go away with the engineers tonight and find out what the issue is, so we can improve for tomorrow. It's looking like it'll rain for Quali, I'm not quite sure how I feel about that yet, it really depends on what we're able to learn overnight and how much more pace we can find in FP3."
Jonathan Eddolls, Chief Race Engineer
"We've arrived in Hungary already prepared, with a lot of learnings on how our new aero package performs on track from last week in France. So, we adapted the setup to suit this circuit and then had a number of tests to conduct across the two cars to improve the balance. In FP1 we ran the Hard and Soft tyres - the Hard had much less grip than expected and therefore the step-in grip to Softs was big, so we didn't maximise the performance on the first push. The hard performance was also evident on the long run in FP1. The track was very hot and with the tyre energies at the Hungaroring the tyres were having a hard time, therefore the degradation was high. For FP2 the changes were aimed at fixing these issues. We were unable to find the expected increase in grip on the Soft tyre, so we need to understand why this was the case and update the setup for tomorrow to address it. The performance we have shown today is not in line with our expectations, so we have a lot of work to do tonight. Tomorrow there are some questions marks over the weather, which means this could be the last dry running before the race. In any case, we will keep pushing to understand the limitations and try to make improvements for the rest of the weekend."
Haas
Magnussen is driving the upgraded Haas car this weekend. He was understandably cautious in practice, with no spare upgrades in the garage should he crash. While he gets used to his new charge, Schumacher was being foiled by traffic – first he was blocked by Leclerc, then the next time around he earned the wrath of Perez when he blocked the Mexican.
Mick Schumacher – FP1: 1:21.027, P18; FP2: 1:19.985, P17
"It was quite tricky. It's just a matter of getting used to this track with these new cars – it's a lot more mechanical, a lot bumpier. We're figuring out where the bumps are at the moment, and also trying to adapt the car set-up to what we need here. We still need to work a bit on high and low-fuel but our main focus at the moment is high. Usually in the wet our car has been quite strong so let's hope for the best tomorrow. If we have everything in the right spot, we should be decent."
Kevin Magnussen – FP1: 1:20.921, P17; FP2: 1:19.818, P16
"It felt quite smooth really. We had no issues with it and the feeling in the car was pretty good. It was basically more or less what we expected, so I'm happy with that. There's going to be more work to do to extract more out of it and that's going to come in time and so far, it's been going well. We hope to move further up the grid tomorrow and it looks like it's going to be wet, so that's going to be a curveball."
Guenther Steiner, Team Principal
"It wasn't a bad session for us today. We're just trying to understand the upgrade package on Kevin's car and there is work to be done – but at the moment, it looks promising. We need to work a little bit more on the balance, we haven't really figured out where to go with it. Mick had an issue with his front wing in FP2 so it didn't give the downforce it should've, so we need to look into that, but all in all it was not a bad session. Tomorrow obviously looks like it's going to be completely different circumstances because of the rain, so we'll go away as we have a lot of data to look at, but at the moment it looks OK."
Williams
Albon had the biggest moment of the day in FP2. The Thai driver spun before Turn 1, flat-spotted his fresh soft tyres and meaning he was unable to set a flying lap time. Such was the nature of the spin, it seemed likely to be more car related than driver error. As for Latifi, he was struggling with car balance and didn't seem overly happy with the handling of his FW44.
Nicholas Latifi – FP1: 1:21.413, P20; FP2: 1:20.488, P18
"Overall it's been a tricky day with the track conditions and temperature which have probably been the same for everybody. We struggled to get the balance dialled in, so there's still a bit of lap time to extract if we can bring the car a little bit more together.
"There are still a few things on my side to work on. Tomorrow could provide some opportunities with the mixed conditions so hopefully, we can take advantage of that."
Alex Albon - FP1: 1:20.834, P16; FP2: 1:20.615, P20
"We didn't really do a proper short run and we had to cut the race run short, so it was not a smooth session today, but anyway we will go into tomorrow fresh. It's likely to be wet, so it'll be a bit of a reset for everyone and I don't think today will hurt us too much."
Dave Robson, Head of Vehicle Performance
"We got through a lot of work today and made some good progress with the tyres. With rain forecast for tomorrow, we opted to use five new sets of slicks today in order to maximise our preparation for the race.
"We had a solid FP1 with both drivers feeling comfortable with the car and making very similar balance comments. In FP2 Alex flat-spotted his main set of soft tyres before he had a chance to set a lap time and so he finished at the bottom of the timesheet. However, although we were struggling for overall grip today, we know that there is a lot more to come from him.
"Alex also suffered a telemetry failure during his high fuel running and so his session finished early as a precaution. Nicholas had no serious car issues and made good progress on low fuel before successfully completing his high fuel run. The outcome of the rest of the weekend will likely be dictated as much by tomorrow's weather as the car performance and we hope that a wet qualifying will present us with an opportunity at a circuit where overtaking is very difficult."
Pirelli
Mario Isola, Motorsport Director
"With the expected degree of track evolution today, we've already seen some quick times that would perhaps have eventually beaten the qualifying simulation tomorrow. But with heavy rain forecast for Saturday, this will probably remain hypothetical. With cooler temperatures expected on Sunday, this could also be one of the reasons why we saw a lot of running on the soft tyre today, which might become a valid option for the race. The cooler the weather becomes, the more that the additional grip of the soft tyre comes into its own. However, this has to be offset against the mechanical demands on the tyre at this circuit, especially with the cars on full fuel at the start of the race. There was more wear than expected on the hard tyre today, due to some sliding, while the medium and soft performed well for these conditions. As a result of the changing weather, the teams face some complex strategic decisions over the next couple of days."
HIGHLIGHTS: Watch the action from an intriguing second practice session at the Hungarian Grand Prix