Feature
What the teams said – Friday in Miami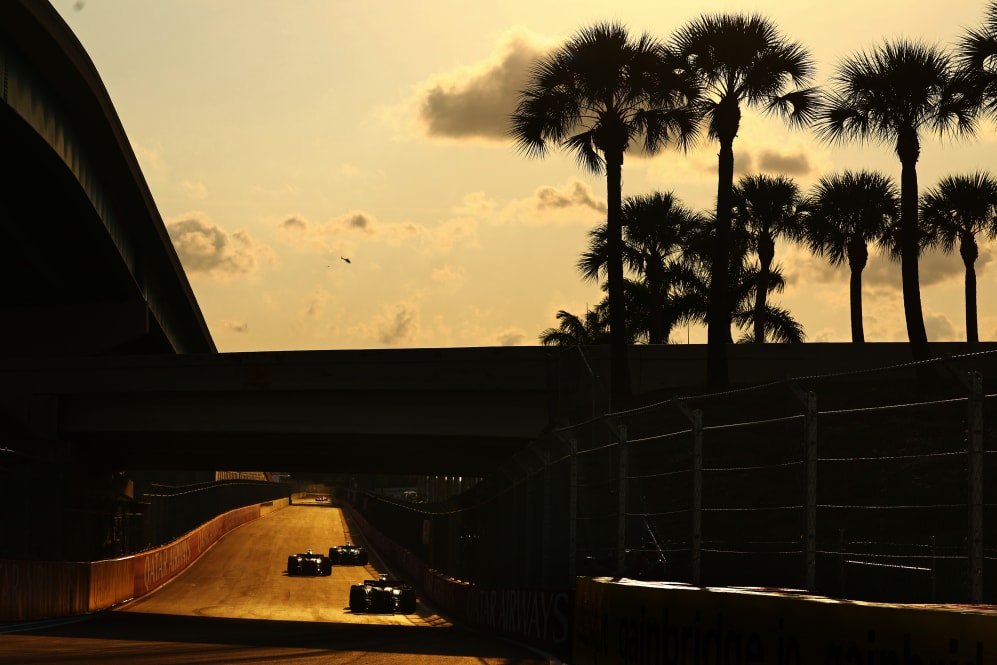 Red Bull
It wasn't a trouble-free first day for Red Bull in Miami. Verstappen complained about his headrest at times as he had done in Baku, but in FP2 looked very quick indeed and wound up on top by an eye-watering 0.385s. Perez locked up and ran wide on a couple of occasions, but from being off the pace in FP1, at least dragged himself back into contention in the second session. But on current form, it will be Verstappen that is favourite heading into qualifying day.
READ MORE: Verstappen enjoys Friday practice after topping FP2 while team mate Perez laments tough start in Miami
Max Verstappen - FP1: 1:30.549, P4; FP2: 1:27.930, P1
"Today was a good day. Initially we were getting used to the track with the new tarmac, it was ramping up a lot throughout the day. It's still quite slippery off line but on the driving line it's okay. Most importantly today we had good balance in the car so I feel happy. There are still a few things we want to look at overnight, ideally we want to be faster on every corner, which isn't always possible. We'll have to see what the weather will do tomorrow, but overall it's been a positive day."
Sergio Perez - FP1: 1:31.566, P11; FP2: 1:28.419, P4
"The conditions out there aren't great, especially the grip in FP1, it felt like inter to wet tyre conditions. Getting a read in these low grip conditions is tricky but there are only very small margins to ensure we make improvements. We have been trying some stuff with the mechanical balance and I think we learnt quite a bit. I haven't had the greatest of Fridays. On one of my flying laps I locked up on the final corner and then on the long run I don't think we managed to get too much of a read on the laps we got in. So, I still have quite a bit to come, together with my driving because I was not driving very well today. If I am able to improve my driving and get myself a bit more comfortable, I should be alright."
Mercedes
Russell complained of vibrations in FP1 and lost some running with the team having to change his steering rack, which was carrying a development part on it. The team opted to send their drivers out in the last moments for their quick laps, and they wound up with a 1-2 thanks to running when the track was at its best. They did fall back in FP2, but Russell caught traffic on his flying lap while Hamilton didn't seem to be pushing flat out. More to come from them.
READ MORE: 'It's a kick in the gut' – Hamilton left frustrated as Mercedes tumble down the Friday practice timesheets in Miami
Lewis Hamilton – FP1: 1:30.337, P2; FP2: 1:28.858, P7
"I'm going to stay optimistic and hopeful that we can get the car in a better place for tomorrow, and maybe be a couple of positions further forward than today. We weren't particularly quick, and it was a struggle out there. The grip is quite low on this new surface. It is slippery, particularly for the rear-end. The track temperature today was very high so there was lots of sliding.
"FP1 looked quite good but our pace in FP2 was a kick in the guts. We're trying lots of different things and we'll keep working on it. We'll regroup tonight, see if we can make some set-up changes and get the car in a better sweet spot. It's a great weekend here and a great place to be so there are still positives."
George Russell - FP1: 1:30.125, P1; FP2: 1:29.216, P15
"Today didn't feel too dissimilar to last year here in Miami. In 2022, we were fastest on Friday but then knocked out in Q2 on Saturday. This year, the car changed even during the session. FP1 was a bit of a messy hour but we ended fastest. In FP2, I felt strong on the medium run but when we put the soft tyre on, the car wasn't working for me. We understand a little bit why that is and fortunately, we've got the time to make improvements overnight. It's fine margins out there.
"I think going into Sunday there will be a few unknowns. The track has been resurfaced this year but it's still not performing like another circuit. It's a true outlier. I think that's cool in some regards, but it could be difficult to race on. You can't afford to drive offline as you lose all grip.
"Looking at Saturday, if everything is right then there's no reason we can't be ahead of Ferrari and Aston Martin. As we've seen at the first four races, it's very tight between all three teams. If we maximise everything, we can be rewarded and jump ahead of them. We know we've got the potential, but we need to improve overnight."
Andrew Shovlin, Trackside Engineering Director
"Our programme in FP1 was offset compared to others, so the headline times flattered us to some degree. Nevertheless, we clearly had the car in a nice window and both drivers found that the lap time came quite easily. We made some subtle changes to the car before FP2, but it immediately become apparent that in cooler conditions the car was more of handful on new tyres. The red flag for Leclerc's crash meanwhile meant that everyone was limited to only a few laps on high fuel. From the running we did get, our pace in that aspect looks OK. It's going to be difficult to overtake here though so we must improve our single lap balance this evening, otherwise we will face a frustrating Sunday. As usual, we have the support of our factory overnight and we've got a good read on the issues from today, so we know what to work on."
Ferrari
Sainz was slightly off the pace in Baku, so it was a welcome return to see him mixing it at the top of the leader board in the afternoon session. Leclerc likewise was right up there but did have a moment in FP2 that highlighted how tricky this track is to navigate. He caught a snap of oversteer, but not in time to prevent his Ferrari heading straight into the barriers and wiping off its front wing for good measure.
Charles Leclerc - FP1: 1:30.449, P3; FP2: 1:28.398, P3
"The feeling in the car is good on one-lap runs. In terms of race pace, we are still lacking compared to our competitors and are focused on closing that gap. Let's see what is possible tomorrow."
Carlos Sainz - FP1: 1:30.724, P5; FP2: 1:28.315, P2
"Today in Miami was, as expected, an intense Friday with high temperatures and a lot of running. The tarmac is very different to last year so it was important to get a good feeling for the new conditions.
"We completed the whole programme, we tried all three compounds and we've got plenty of data for tonight."
Aston Martin
Aston Martin seemed content to watch and wait on Friday, withholding their true hand in FP1. They did show a bit more form in second practice, but as of yet not enough to place them in the battle for pole. That being said, Stroll went well at this track last year and Alonso seemed comfortable from the off, so they can't be totally discounted.
Fernando Alonso – FP1: 1:31.231, P7; FP2: 1:28.660, P5
"It was a relatively routine Friday practice for us after the different format in Baku. We've had more time on track to learn about the car and the tyres this weekend, despite some red flags disrupting the sessions. So far, I think the new track surface seems to be better, but we were basically just cleaning the racing line today. It seems when you move away from it, it's very slippery – so that could make overtaking difficult. Qualifying tomorrow is important, but our strength is normally on Sunday, so we'll see what we can do."
Lance Stroll - FP1: 1:31.337, P8; FP2: 1:28.930, P8
"We made the most of both practice sessions today and came away with a better understanding of how the changes to the track will impact our running. We know it will be incredibly hot here – probably the hottest track temperatures of the year – so tyre degradation will be a big factor and something we need to monitor across the weekend. But the car felt good; we made some changes after FP1 which improved performance for FP2, so I'm feeling positive heading into Saturday."
McLaren
It was a mixed bag for McLaren on Friday. Norris looked very quick in FP2, topping the timing sheets at one stage and winding up in the mix with the big four teams. Piastri couldn't quite match that and wound up down the order. But the team often keep their cards close to their chest on Fridays, so tomorrow could be a different story.
Lando Norris - FP1: 1:31.997, P16; FP2: 1:28.741, P6
"It's been a reasonable first day in Miami, I think we made a couple of small improvements between FP1 and FP2, which was good, hopefully we can try to go further in that direction for tomorrow. As Friday goes, I'm pretty happy, I think we found a slightly better balance with the car. We are struggling in a few areas of the track, so we'll focus on improving that, get a bit more confidence in the car and aim for Q3 in qualifying tomorrow."
Oscar Piastri - FP1: 1:31.810, P12; FP2: 1:29.339, P16
"A useful first day of racing in Miami. We learnt a lot on what was quite a tricky track surface and temperature for FP1. In FP2 the track gripped up and got a lot faster, and we have some work to do to adapt to that. We were trying a few things throughout the session but we're still working on it. It's not been a bad day, but we've got plenty to look over for tomorrow."
Andrea Stella, Team Principal
"Today was a productive day. We worked through our programme of understanding the new surface of this track, and the behaviour of the tyres, both over a single lap and longer runs. We also did some useful work on set-up. Overall, we seem to be able to compete for Q3 and for points, but once again we can see the midfield is very compact. We'll study the data overnight and come back tomorrow, trying to maximise our performance for qualifying and the race."
Alpine
Alpine managed to get plenty of laps in with both cars, which was progress on last week. They were in and around the top 10 which is encouraging, but did confirm that they would be using all three practice sessions to assess their upgrades. As such, they weren't necessarily running representative fuel loads, so they are another team who may well spring a surprise come qualifying.
Esteban Ocon - FP1: 1:31.542, P10; FP2: 1:28.930, P9
"Firstly, it's great to be back driving in this iconic city and it's always a pleasure racing in the United States. For us, it was a smooth day on track overall and it was good to have two full sessions to work on the set-up of the car. Today was a day of data gathering, and really looking into how the track and surface feel, and how the tyres behave. I have to say the organisers did a great job as the tarmac is much better than last year. We still have one more Practice session and some work to do to fine-tune our car before Qualifying. I am definitely looking forward to seeing what we can do and hopefully we can be in the mix for a strong result."
Pierre Gasly - FP1: 1:31.104, P6; FP2: 1:29.098, P11
"It was important for us to have a clean and uneventful day in the car and I think we're in a decent position ahead of the rest of the weekend. We have a much better read on the car than we did this time last week and the aim now is to push on and execute an even better Saturday. We tried a couple of things on set-up, some worked, others not so much, but I have no real complaints at this stage and I feel we can find even more in the car in Practice tomorrow ahead of Qualifying. It's really good to be back here in Miami at this impressive venue. Let's see what we can do tomorrow where, of course, the minimum aim has to be reaching Q3."
Pat Fry, Chief Technical Officer
"It's been a productive Friday for the team today here in Miami and it was good to have two smooth Practice sessions where we've been able to run to our programme and tick things off our list. We have another good read on the upgrades from last week, which are in line with our expectations and performing well on the car. The field looks extremely tight with a couple of tenths of a second the difference between a handful of positions, especially in and around the top ten. Everything will need to click and go right if we are to be at the upper end of that mix. As ever, we'll run through the data, see which set-up direction works and aim to come back tomorrow with some further improvements."
Haas
Hulkenberg was the first driver to connect with the barriers, losing the rear after getting off the racing line and spinning into the wall to bring out the red flags. That was a shame for the German who had looked quick in FP1. In FP2 it was Magnussen's turn to have a moment, the Dane spinning and just clipping the barriers with his front wing. He was fortunate to be able to continue.
Nico Hulkenberg - FP1: 1:31.392, P9; FP2: 1:29.393, P17
"I wanted it a bit too much, a bit too soon and paid the price for it. It happens sometimes and luckily there wasn't too much damage and we picked things up in FP2 and were in a good spot. I feel the car actually handles and fits quite well to this circuit and I like the circuit a lot too. It was my first time on track in a Formula 1 car and it's got a nice flow to it, it's technical and challenging. I had a good day despite the incident."
Kevin Magnussen – FP1: 1:31.853, P13; FP2: 1:29.171, P12
"I think we had a good day. We did some tests in FP1 with the new bits we brought for this race and that's looking good and I tried them in FP2 and it seems to be feeling good. A heavy-fuel run was looking very good as well, so it's all going to plan and hopefully we can repeat it again tomorrow. I think Q2, maybe Q3 is possible – it's super tight and a couple of tenths will put you from P15 to P10 – so it's all to play for tomorrow."
Guenther Steiner, Team Principal
"As much as today doesn't look good for us, it was a good day. The only little thing was Nico's crash in FP1 but the team did a fantastic job to get him out again for FP2. Where we were in the standings doesn't really show where we are as Nico on his fast lap had a lot of traffic in the second sector. All in all, we're very happy and the upgrade seems to be working well so we're really looking forward to going out again tomorrow and having a good qualifying."
Williams
Sargeant kept his day clean at his first home race, managing plenty of laps if not setting the timing sheets alight. Albon did better, he didn't get a clean lap on the softs in FP1 but showed plenty of potential in the afternoon session.
Logan Sargeant - FP1: 1:32.619, P19; FP2: 1:30.038, P20
"A tricky day that wasn't the smoothest. I know what I need to do tomorrow and it's quite clear when I look at the data. I need to keep building mainly in Sector 1. We have a little bit of setup work that we need to do to try get the consistency between high-speed and low-speed better. The driving side will come, I have no doubt about that. We just need to dial everything in, put some clean laps in during FP3, then take it that last step in Qualifying."
Alex Albon - FP1: 1:31.903, P15; FP2: 1:29.046, P10
"It was a tough day; I think we definitely had the car in a better window for FP2, however it's fair to say this track doesn't suit us as the other circuits have in previous rounds. We'll need to try get on top of it as much as possible, seeing what we can change tonight to improve the car. I think a lot of the problems are more car characteristics then set up, but we'll give it a go. It's clearly very close out there with fine margins, so it's going to be a fight."
Dave Robson, Head of Vehicle Performance
"The first Free Practice session was dominated by the new track surface and very high temperatures. This made the tyre behaviour a little tricky to predict and initially made the lap times very slow. However, the track improved quickly, which allowed the lap times to tumble, but this made testing things difficult. Nonetheless, we got through a lot of useful work in FP1. By the evening Free Practice session, the track had improved further and was cooling quickly as the sun set. Despite another red flag interruption, we completed another good programme during which both drivers refined their car balance and tyre management.
"The next two days could be heavily influenced by the weather, but we did enough running today to be in a good position to adapt to whatever happens. The car is behaving quite well and with further tuning before qualifying, we should be in the usual tight midfield fight."
AlphaTauri
De Vries managed to spin in FP1, and although he didn't connect with the walls, he did enough damage to warrant sitting out the rest of the session. If Tsunoda's hour was anything to go by, all he missed was plenty of traffic – the Japanese racer left furious on several occasions at being baulked. Come FP2, both finally managed plenty of running, but with De Vries making up for lost time and not running a traditional programme, quite where they are in the pecking order is a mystery.
Nyck de Vries - FP1: 1:34.637, P20; FP2: 1:30.038, P19
"Miami is a unique event and the venue is great, so it feels awesome to be racing in front of the American crowd. It's a new track for me and grip levels are extremely low, so you get quicker with each lap that you do. Even though the temperature is quite high, tyre warm-up seems to be a challenge because they need a long time before they perform. There is something to find in that area, so we'll analyse this tonight and hopefully come back stronger tomorrow. Looking at our performance today, we are not where we wanted to be, but we'll try to put all the pieces together."
Yuki Tsunoda - FP1: 1:32.169, P18; FP2: 1:29.613, P18
"It was a challenging day because the pace does not seem great so far, so we need to find a solution to improve. Compared to last year, our overall performance has increased and the track surface has improved, but we are still lacking quite a bit of pace compared to our competitors. We didn't have any big upgrades coming into this race, so we'll need to try a different approach for tomorrow."
Jonathan Eddolls, Chief Race Engineer
"It hasn't been such a straightforward Friday for us today. Both drivers have been struggling with overall grip and find it hard to extract the lap times. Yuki completed a front wing comparison in FP1 with positive results, so this will be retained for the rest of the weekend. It's not a game-changer and works better with the aero components we have coming on stream in future, but it is still adding performance with this package. This morning Nyck had a small spin in the twisty section of Turn 11 and Turn 12 and just touched the wall with the rear end of the car, but the damage was enough to have to stop the session and swap the gearbox for FP2. The mechanics did a great job to turn the car around, and having missed out on running the Soft compound in FP1, it left him with two sets for FP2. On the other side of the garage, Yuki ran on the usual Medium and Soft tyres. Again, there were no big balance limitations for either driver, but they just lacked grip, so we need to review the setup and tyre usage overnight. Due to the red flags, we didn't get good long-run data for tyre understanding, but the new tarmac here doesn't seem to be having such an impact on tyres, so the race will likely be a similar story to last year. We all have a busy night ahead of us to try to find some grip and lap time, as the performance we have shown today is falling short of our expectations."
Alfa Romeo
It was a quiet day for Alfa Romeo, who continue to struggle to break into the top 10. They did manage to get plenty of laps in with no obvious issues, but on current form, don't look likely to challenge for the front of the midfield.
Valtteri Bottas - FP1: 1:31.902, P14; FP2: 1:29.189, P14
"It was important to get as much time as possible on track today and, despite the red flags, we managed to have a productive session. The new asphalt made the track quite slippery at first, but the surface improved as the sessions progressed. The car feels balanced and, in terms of performance, we feel a bit closer and a bit better than in Baku. It's more or less where we expected to be today: of course, the objective is to make a step forward with the setup overnight and try to be as far ahead as possible in qualifying. The field is really close so there's all to fight for."
Zhou Guanyu - FP1: 1:32.134, P17; FP2: 1:29.181, P13
"A good day on track for me – I feel we made a step forward between the two sessions today. The track keeps changing and improving, but I am generally happier with the car so far. The feeling in the cockpit is good, but we still need to find a bit more to be in the fight tomorrow. Compared to last week, however, we are in a better place and we must build on this ahead of qualifying."
Pirelli
Simone Berra, Chief Engineer
"We saw two very intense hours of free practice today around the Hard Rock Stadium in Miami. The new asphalt and how it would affect the cars was one of the biggest unknown factors heading into the event. As we've seen at previous races, the 2023 cars have shown themselves to be considerably quicker than last year's equivalents: it's no coincidence that today's fastest time is a good nine-tenths faster than last year's pole.
"So we can expect another notable step forwards tomorrow in terms of lap time compared to simulations, based on the information we have from the teams. The new asphalt is very smooth and slippery, offering little mechanical grip but at the same time good adhesion, which increasingly improved as conditions got better. On top of the increase in car performance this year, this led to some overheating on the rear tyres.
"There was also graining seen on the medium and soft, not only on the rear tyres but also on the fronts, which are heavily worked at this circuit. The hard tyres showed themselves to be very consistent. We'll see how the track improves tomorrow, taking weather conditions into account as well. Cloudier skies are expected, with a significant possibility of rain on Sunday."