Feature
What the teams said - Friday practice in Mexico City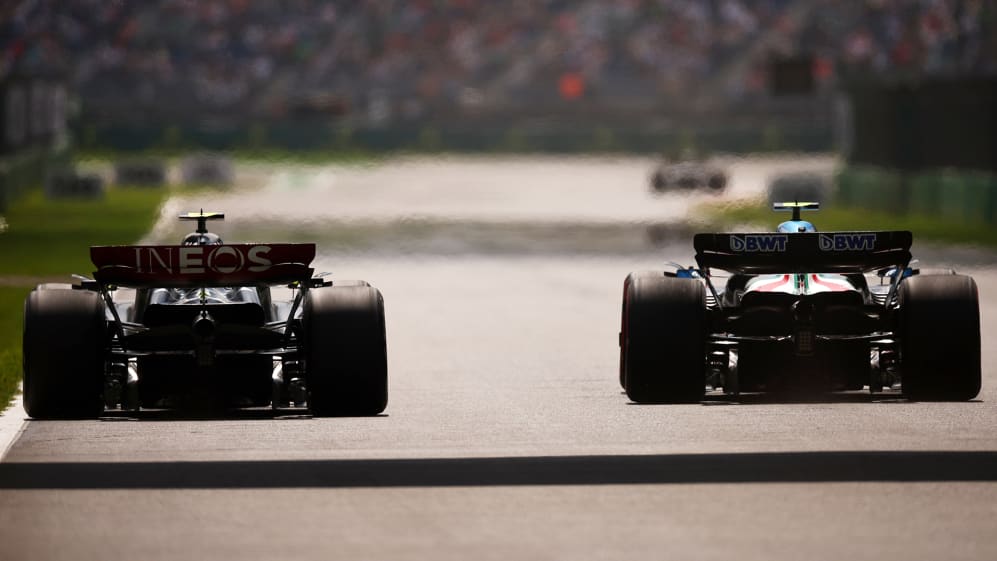 Red Bull
Verstappen started his weekend in perfect fashion, by topping FP1 although he did have to pit with something rattling around in his cockpit by his feet at one point. Perez also had a decent opening session, building well through the first hour to wind up an encouraging third. There was more of the same in the second session for the Dutchman, but Perez lost some of the feeling he'd had with the car in FP1, and dropped slightly down the order as a result.
Max Verstappen - FP1: 1:19.718, P1; FP2: 1:18.686, P1
"I think it was a positive start to the weekend, of course, it wasn't plain sailing out there today, there are always a few things to improve. You can see that the track is very slippery and the tyres were difficult to manage in the long runs, so there are still a few things that we can work on. We did look competitive out there so that's good, maybe even better than expected. Tomorrow, it's going to be incredibly close over one lap and the race pace again will be a different story."
Sergio Perez - FP1: 1:20.015, P3; FP2: 1:18.988, P5
"It is funny, when you are in the car you are so focused you can forget where you are and then as soon as you are out, it's like wow, it's a lot of attention, but it is so nice to have a lot of support from the fans. I would say we didn't have a straightforward day, we didn't get a good read on the soft over a single lap, I had a yellow flag, so I ended up doing it on my second timed lap. Then my lap wasn't tidy and I nearly ended up going off in the final corner! So, there are still plenty of things to understand, especially the different compounds to get a good read for Sunday. I think overall we are looking in a good position and I think we have a good direction to take. Things are looking good but as we know, qualifying is going to be tight."
McLaren
McLaren were struggling with a few gremlins early on, Norris having revving issues while Piastri was complaining about a lack of power. The good news is that once those were sorted, both drivers looked quick. Piastri didn't waste much time at all at a track he hasn't previously driven, winding up just two tenths shy of his team mate's time. In FP2, Norris managed to catch one big squirrely moment but bar that, looked quick. Piastri dropped back slightly, but the margins were pretty fine out there across the whole of the top 10.
Lando Norris - FP1: 1:20.237, P4; FP2: 1:18.805, P2
"A good start to the weekend, it's close. We'll continue to try and improve but it's a good start. I think we generally do start the weekend off well. We always have a good idea where to put the car to begin with, and normally it's not far off from where we end up, so there's not a lot to gain through the weekend. However, there's always little things we can improve and work on, and those things do add up. So, a couple of bits still to improve, but we're off to a good start and can build from here."
Oscar Piastri - FP1: 1:20.463, P6; FP2: 1:19.163, P9
"It was a good first day here in Mexico City. The track is very low grip and that takes a lot of getting used to, but it seems cool. I feel like I've built up through the day and we had a reasonable FP2 session. There are still a few things to tidy up and find tomorrow but it's looking reasonably good."
Andrea Stella, Team Principal
"It's been a productive first day in Mexico City. We had no issues across either session, which meant we could work on set-up, tyres and cooling. Overall, our performance looks encouraging, however it seems many teams have the potential to be competitive here. We will do our best, adapt to the conditions and hopefully secure good starting positions tomorrow for Sunday's Grand Prix."
Ferrari
Sainz didn't have the dream opening session, a hydraulics issue curtailing his early running although the team did manage to fix it and get him back out for a few laps late on. Roll on FP2, and he was turning the airwaves blue with frustration after he again struggled, this time for pace. Leclerc by contrast had a more straightforward day, although he did complain at one point about a funny sound from his engine. Fifth and third is an encouraging result for him.
Charles Leclerc - FP1: 1:20.297, P5; FP2: 1:18.952, P3
"It has been a positive day overall as we were able to test everything we wanted. We tried all the tyres available and worked a bit on the setup even if it's clear that being only Friday there's still some work to do for tomorrow's qualifying and the race. We will analyse all the data we collected and will work to make a step forward."
Carlos Sainz - FP1: 1:20.479, P7; FP2: 1:19.257, P11
"A busy Friday here in Mexico as working with the prototype tyres always mixes things up. Despite a minor setback in FP1 we managed to cover our main items on the run plan throughout the day.
"There is still some work to do before qualifying so I'm looking forward to digging into our data tonight and jumping back in the car for FP3. The atmosphere today was, as always, amazing! Thanks to all the fans for your support!"
Williams
Albon has said Williams might not go too well here, but that didn't seem the case in FP1. The Thai driver was quick on all the tyre compounds he tried, including a very impressive soft lap time that was within a tenth of a second of Verstappen. He looked quick in FP2 as well, although he set his soft tyre lap time quite early on and thus fell down the field. With Sargeant having a tidy day, the only downside for Williams was some possible late damage for Albon, who was seen kicking up even more sparks than usual as something seemed to be dragging underneath his car.
Logan Sargeant - FP1: 1:21.157, P14; FP2: 1:19.900, P17
"There is pace, but it needs to be extracted in the right way. It's tricky out there to get everything in the right window whether that's the tyres or car. The balance isn't easy to drive with the high altitude. It's not been the smoothest of days, but we made a good step from FP1 to FP2. From my side, there's definitely more to come. I need to drive a little better tomorrow but it's all heading in the right direction."
Alex Albon - FP1: 1:19.813, P2; FP2: 1:19.446, P14
"I don't think we were slow in the FP2, but we obviously had a good run in the first session. We were better than expected but I think we just hit the ground running and optimised the window from the first lap, whereas other teams potentially took a bit longer to get up to speed.
"We were quick on the Test tyre but my lap on the Softs wasn't very good. This is a circuit that doesn't feel great for anyone with the low downforce; you feel like you're sliding around a lot, however comparing year on year, it's a big step, so let's see how we go tomorrow. I don't think we're top five or top 10 but I do think we'll be in a position to fight for Q3 tomorrow."
Dave Robson, Head of Vehicle Performance
"We had a very productive day and were able to test numerous options before the rain started in FP2. Our pace was very strong in FP1 with Alex immediately happy with the car balance. Whilst this was great to see, we fully expected the others to catch up during FP2.
"With rain threatening the final third of FP2, we opted to run the new Soft tyre quite early in the session so that we could concentrate on the all-important high fuel running; getting the PU and brake cooling correct for this circuit is a challenge but we collected some good data and will be in a good position for the Grand Prix on Sunday.
"Our attention can now switch to analysing the results from today's testing and refining the car ahead of Qualifying tomorrow. Although our position on the timesheet looks less impressive this afternoon, we are still in a good position to secure a strong result tomorrow with a car that should also be competitive on Sunday."
Mercedes
Vesti was in the hot seat at Mercedes, Russell making way in FP1. The youngster gave a good account of himself, as Mercedes had a relatively quiet opening with Hamilton not willing to fully push on his soft-shod lap after an early mistake. The Silver Arrows still didn't seem to show their full hand in FP2 either, Hamilton and Russell not troubling the top of the leader board at any point.
Lewis Hamilton – FP1: 1:20.724, P11; FP2: 1:19.024, P7
"It's been a challenging day for me today, the car felt completely different to what it felt like in Austin a week ago and we need to understand why. We didn't show the most competitive long-runs, so we've been focusing on trying out different set-ups. The track here comes with its challenges, but we've done well here in previous years. So, we're not yet fully where we want to be ahead of tomorrow, but we will work hard overnight to improve and make necessary changes. The car showed a promising pace in Austin and I'm confident we can get it to a good place here and there's plenty of room for us to improve."
George Russell - FP2: 1:19.227, P10
"It felt good to be back in the car, but I had a challenging session today with mixed weather conditions and a bit of rain towards the end of FP2, which compromised the consecutive laps for everybody. It's a tight grid out there and lots of traffic during the sessions today, so one of the challenges we will need to tackle this weekend. We also need to make some improvements with the pace of our car, if we want to be at the front end of Q3 tomorrow, but I know we will work hard overnight to achieve that."
Frederik Vesti – FP1: 1:22.937, P19
"This is a very special weekend for me, it's a dream come true and I'm very grateful to the team for the opportunity. Since I've joined the team's junior programme, there's been a lot of work going into getting the right results and lots of preparations in the simulator to prepare me for today. It was a good session for us overall, we managed to get some useful information from the long run stints and understand the prototype tyres and degradation at this track. I've never raced here before and it's definitely a difficult track with low grip, which you can also really feel in the car. So, lots of learnings for me and the team today in this one-hour long practice session and hopefully good preparations for decent results on Sunday. And I can't wait to be back in Abu Dhabi and sit in the car for the team again."
Andrew Shovlin, Trackside Engineering Director
"We've struggled with the car today and it wasn't the easiest introduction to a free practice session for Fred; Lewis was finding the car quite a handful, but Fred did a good job to get through the test items, he didn't make any mistakes and had some fun driving the track here. The extra sets of tyres that we had to evaluate tend to mean that the programmes up and down the grid diverge a bit, which makes it more difficult to compare, but we've seen enough to know that we have work to do on both single lap and long run. George is still getting up to speed having missed the first session and both lost a bit of time on single lap with traffic, but we need more than that. It's also interesting that most teams have had a driver featuring near the front at some point today, which almost certainly means that getting through to the final part of qualifying will not be comfortable. We've got some good lines of enquiry to follow up overnight so we'll keep working on it, the balance has been pretty poor throughout the day which is normally a good indication there is lap time that can be found."
Alpine
Doohan gave a good account of himself as he took over Gasly's race seat for the opening session, with Ocon doing likewise in a steady first session for the team. In FP2, it was more of the same from Ocon who once again found himself in the top 10, which bodes well for qualifying. Gasly couldn't quite get up to speed in his one session, but at least has another hour of practice to come.
READ MORE: Giving youth its chance – why we need the FP1 young drivers rule and who's doing what in 2023
Esteban Ocon - FP1: 1:20.677, P9; FP2: 1:19.077, P8
"¡Un placer estar de vuelta en México! It was a very good Friday for us here at the Autódromo. We got through a very busy programme without issues and made good progress between the sessions. We are, of course, keeping our heads down, debriefing as a team, and focusing on how to best approach Qualifying tomorrow. We'll be working hard overnight to be in the best position to try and reach Q3 and put ourselves in a strong position ahead of Sunday's race. I feel good in the car, so let's see what we can do tomorrow."
Pierre Gasly - FP2: 1:19.642, P16
"It's great to be back in Mexico City and it's always a pretty incredible atmosphere all around the circuit here. I was in the garage in Free Practice 1 with Jack [Doohan] in the car as part of the rookie session regulations, so it was interesting to follow the session live from the garage with the engineers. It does mean we had to play catch-up in Free Practice 2, so it was important for us to have a productive session, which we did. There are a few things we need to look at to get the car in a better window and I'm sure we can make some improvements for tomorrow ahead of Free Practice 3 and Qualifying."
Jack Doohan - FP1: 1:22.109, P18
"It was a really good session and I felt very comfortable in the car right from my first lap. I was glad to contribute to the team's programme, which, on my side, focused on a couple of future test items. It was important to get through the session without any issues and tick all the boxes on our run list, which we were able to achieve trouble-free. I've been testing throughout the year in the 2021 car, so I definitely felt ready for today and it meant we could be right on it from the start. I'm very grateful to the team for the opportunity and for their trust and support both in the build-up ahead of the day and during the session itself. I'm now looking forward to seeing how the rest of the weekend unfolds for the team and offering my support where I can."
Alfa Romeo
Pourchaire didn't have a great hour of practice, managing just four out-laps, with a brake-by-wire issue curtailing his involvement. Zhou at least did manage a good haul of laps, with the team relying on his data in FP2, when Bottas returned to the fold. Speaking of Bottas, he often goes well here and seems to excel when the grip is at a premium. He raised the most eyebrows of anyone in the field by grabbing fourth, right in the mix with the top teams. The Finn is definitely going to be one to watch come qualifying.
Valtteri Bottas - FP2: 1:18.955, P4
"I am pleased with how today went: thankfully, we found the issue that affected our car during FP1, and we were able to address it and quickly solve it between the sessions; I would like to thank our mechanics for the hard work put in to get the car back on track. Of course, it was a shame for Théo to miss such an important outing, but I am positive he'll be back in the car soon. Overall, FP2 has been a clean session, which is important as it was the only practice of the day for me. I got a good number of laps under my belt, and the feeling with the car was generally pretty good. Still, it is only Friday: now our focus will go onto further improving both the setup and my confidence with the track, to fine-tune our car and place ourselves in comfortable positions ahead of tomorrow's qualifying."
Theo Pouchaire - FP1: No time set, P20
"I'm grateful to the team for this opportunity, even though we didn't get much in terms of laps today. Unfortunately, I suffered an issue on the braking system at the beginning of the session, which prevented me to get any running throughout FP1 – the priority was, rightly, to promptly investigate the problem. Of course, it is a bit frustrating, as I was really looking forward to driving the C43 out on track; still, it's all part of motorsport, and something like this can happen at any time – and, at least, it was during practice. On a positive note, the team was able to quickly address the issue and solve it between the sessions, so that Valtteri could get some proper track time this afternoon. I am hopeful I will get some more time in the car, but now, I will resume my reserve driver duties, while putting my focus on the Formula 2 finale which will take place in a little less than a month. There's a job to be done and I want to give 100% towards my objective."
Zhou Guanyu - FP1: 1:21.129, P13; FP2: 1:19.415, P13
"It was a solid start to our weekend, the car felt good today. We tried different things to extract the potential we missed in Austin and everything seemed to come together. I do not think we are too far off the top ten, but the key in qualifying and the race will be to get everything right when it matters. Looking at the lap time and at our pace, we improved a lot as a team. When the track returned to regular conditions this afternoon, we seemed to be picking up where we left off last year, and if we can keep this level, we should be competitive. I believe we have enough data to go through tonight to continue making steps to be fighting for Q3 tomorrow."
AlphaTauri
Ricciardo caused a brief scare in FP1, something flying off his car and the resultant debris settling on the start-finish straight. It didn't seem to affect his running though, the Aussie winding up in the top 10. As for Hadjar, he was a bit worried about some anti-stall issues early on, but once he settled he did well in his first ever FP1 session. Ricciardo showed a very good turn of pace in FP2 to land himself right in the mix in the top 10, but Tsunoda concentrated on longer runs after news broke that he will be given grid penalties for Sunday's race after taking on a raft of new PU components.
READ MORE: Tsunoda to start Mexico City GP from back of the grid as AlphaTauri driver hit with penalty
Daniel Ricciardo - FP1: 1:20.568, P8; FP2: 1:19.002, P6
"Since the race in Austin, I've been hungry to keep going and get back in the car. After last week's race, we discovered some things that made me want to prove that we have pace. Today was a very good day. I enjoy this place, and the car was solid. From the get-go, I was certainly comfortable, and because it isn't a Sprint weekend, we have more time to try some things. We continued to chip away and made good progress with our setup, and we look like we're in a good place, so I'm confident we can carry this performance into tomorrow. The field is close, and you never know what other teams are doing exactly, but I know what I felt in the car today was good, and I believe it's a top 10 car tomorrow."
Yuki Tsunoda - FP2: 1:19.290, P12
"I'm happy because we completed most of our run plan today. As we replaced some elements on the car, we'll be starting Sunday's race from the back of the grid, which is why today was mainly focused on our long-run performance. The car behaved slightly unusual in terms of balance, and I struggled with a couple of things that I didn't expect, so our focus tonight will be understanding why. There are some areas we can improve on for tomorrow, but as a group, we collected a lot of data, so we'll put it all together as a team."
Isack Hadjar - FP1: 1:21.941, P17
"It's the best day of my life! My first ever time in an F1 car was incredible, so I'm happy. There was so much going on with the procedures and traffic that it was overwhelming at first. It was tough, but I got into a rhythm quite quickly, and my confidence grew. During my first runs, I was struggling to get a lap without traffic, but in the last run, the race pace was quite good and consistent, and I could manage the soft compound for a few laps. It was a really good experience, and now I can't wait to be back in the car."
Jonathan Eddolls, Chief Race Engineer
"We had Isack driving Yuki's car in FP1 today, and he did a very good job with the team. With a similar downforce level to Monza and a green track to start, it's definitely not a straightforward circuit for a rookie driver in a free practice session, but Isack did all we asked of him. He gathered some useful aero data and set competitive lap times.
"The focus for Daniel in FP1 was on setup work based on our findings from his return to the car in Austin. We explored some interesting directions which also translated over to FP2, and I think we found some performance. Tyres and understanding how best to optimise them on this low-grip surface with the track nature were a topic in FP1, but our general limitation was with the front end. Yuki returned for FP2, and having sat out for FP1, he played catch-up as he took some time to get a good feeling of the car. However, by the time of his soft compound short run, he was there. Daniel was a bit more comfortable with the car, having completed 30 more laps than Yuki, and was able to show that the car has potential here. Yuki will start from the back of the grid on Sunday because we needed to take a fresh Power Unit, but given the pace shown today, we believe Daniel can challenge for a spot in Q3 tomorrow, and we remain optimistic for the rest of the weekend."
Aston Martin
Alonso came in early on with mechanical woes, losing some running as a result. That wasn't ideal, but it did mean he got to complete some of his programme late on when the track was slightly more rubbered in. His day continued in topsy turvy fashion with a spin on his flying run on the softs causing big enough flat spots that he was unable to set a representative lap time in FP2. Stroll didn't manage one either, although his disrupted session as caused by a stuck wheel, that meant he was in the garage while the qualifying simulation runs were happened.
Fernando Alonso – FP1: 1:21.347, P16; FP2: 1:20.426, P20
"Today we focused a lot on race pace and high fuel running. It's difficult to read too much into the times, but the set up felt good and we will continue to optimise the AMR23 in Free Practice 3 tomorrow."
Lance Stroll - FP1: 1:20.687, P10; FP2: 1:20.075, P18
"It was good to get back out on track in Mexico City today; it's a fun circuit to drive. It's a pretty slippery surface with quite low grip, but I think we made a good start dialling the car in. We got some decent laps in during FP1 and completed our run programme, including high and low fuel running. Unfortunately, FP2 was interrupted by an issue we had removing the wheel from the front left of the car, so we lost a bit of time resolving that. As always, we'll work through the data tonight to try and get the car in the best place possible ahead of FP3 and Qualifying tomorrow."
Haas
Haas opted to bolt on the soft tyres quite late with both Hulkenberg and Bearman, those two improving deep into the session as a result. Bearman probably pushed the hardest of any of the Friday rookie drivers and was rewarded with P15. When Magnussen took over the reins of his VF-23, the Dane concentrated on longer runs on the soft tyre – the only driver to do so. That could point to Haas already thinking about alternate strategies for the race.
Nico Hulkenberg - FP1: 1:20.968, P12; FP2: 1:19.535, P15
"It was a challenging day. Obviously, coming to Mexico each year we have the same challenge with the thin air, it has some pretty significant side effects. It didn't feel too good today and the timesheets also don't look too good so there's some homework for us to do to find some performance overnight. We've had two solid sessions of work, progress, and exploring things, so that was definitely a positive."
Kevin Magnussen – FP2: 1:20.112, P19
"The pace didn't look too good. I didn't do a long run on the mediums, only on the softs, and they wore out very quickly and had a lot of graining, so that wasn't too easy. We were checking to see if the softs could be used in the race, but it doesn't look like it. It's often hard to predict, even after Friday, where we'll stack up, but I didn't learn too much today having only one session, hopefully I can get a feel of the other compounds tomorrow."
Oliver Bearman - FP1: 1:21.313, P15
"My first goal was to have a clean session and we did that, so that was the main thing. Secondly, I got up to speed quite fast, I had confidence in the car - it was my first time on the soft tyres, my first time doing a long run – and I'll do better the second time, but for my first FP1 I'm happy. The thing that surprised me was how much quicker you arrive at Turn 1 on a quali sim, compared to the race. The guys have given me pointers throughout, especially because the track is so unique due to the altitude. It was over so fast, but I'm going to be back on the sim preparing for Abu Dhabi."
Guenther Steiner, Team Principal
"It looks like our heaviest downforce package is just not enough for here, we've struggled in the slower sectors because of the thin air at this altitude. It's one of these things, we'll work on it for next year – so that our high downforce package works here as well. On a positive note, Oliver Bearman did a good job this morning and got a lot of laps in. He didn't put a foot wrong, so we're very happy with what he did for the team."
Pirelli
Simone Berra, Cheif Engineer
"After two weekends run to the Sprint format, Mexico City marks a return to the usual one, with Friday given over mainly to an evaluation of the various compounds we have chosen for this event. In addition, we also had a test programme for a new version of the C4, with each driver having two sets available to use as they saw fit. We would like to thank all the teams for their support in this important phase of development, because it's not easy squeezing something extra in what is always a very busy programme. I think we have gathered a lot of useful data – with significant results from some of the comparative tests between the current Medium and the prototype – which will see us make a decision in the coming days over its eventual inclusion in the 2024 range.
"As for the other compounds, two elements have to be taken into consideration. The first is the rapid evolution of the track which rubbered-in gradually with every lap. The second was the weather which, especially in the second session, affected tyre performance, particularly on long runs towards the end when the air and track temperatures dropped significantly, even more so if compared to the first session.
"As expected, graining was an important consideration, especially on the softest compound and on the front left tyre. Also relevant was the degradation in terms of performance and that could definitely have an impact on strategy. On paper, a one-stop is still the quickest, but a two-stop cannot be ruled out, or at least the teams will need to adopt a flexible approach, possibly starting the race with a clear plan for both options and then making a decision based on tyre behaviour in the first stint. The fact that track conditions will improve has to be taken into consideration, as it could lead to a progressive reduction in the risk of graining."