Feature
What the teams said – Qualifying in Abu Dhabi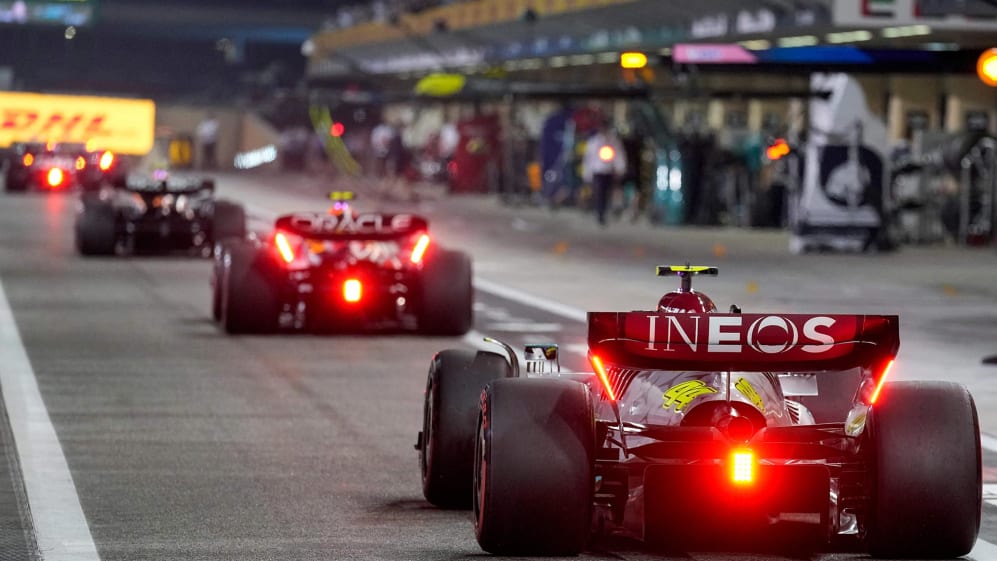 Red Bull
Perez topped FP3 and also the start of qualifying, and looked to be the man to beat as his team mate complained about a lack of grip. But in Q3, Verstappen felt his car was back to normal and bar a late scare when it wouldn't turn on, was imperious in grabbing another pole position. He generously offered a tow to Perez on their last flying laps to ensure his team mate got second, leaving them in a great place for the race.
READ MORE: Verstappen says 'chaotic' situation nearly derailed bid for third-straight Abu Dhabi pole
Max Verstappen, 1st, 1:23.824
"It couldn't have been better today, the tow worked out well as we managed to lock out the front row. We went out there and did our thing. As a Team we had an almost perfect qualifying and we are very excited for tomorrow, The most important thing is that Checo stays ahead of Charles so we'll do what we can to make that happen. I do think that our car is quick, there's a massive question mark around the other teams though and how much long run performance they will have gained overnight. We made a few mistakes in Brazil I guess but we learn from that and we are back where we should be."
Sergio Perez, 2nd, 1:24.052
"It is a great Team result for everyone back home and here in Abu Dhabi, we are in the best position to finish off the job and get that result tomorrow. It certainly was good teamwork with Max today, it was important to get both cars as high up as possible for the race. My Q1 and Q2 were looking strong, and I was hoping for more, but then Q3 wasn't ideal, especially our first run. That put us on the back foot a little and in the end, it wasn't good enough for P1. We have a very long race ahead of us, so we need to finish the job off tomorrow and deliver a massive result for the Team. It will be important to get off the line well and get a strong start to get away from Charles. We are certainly confident going into tomorrow that our race pace is good and we can race harder. We are a lot happier with performance than we were in Brazil. It would be a huge year for us if we are able to get second place in the Drivers' Championship and make history for the Team. We will work hard and hopefully we can succeed."
Christian Horner, Team Principal
"It was a great qualifying from the Team, our first front row lockout of the year and first since 2018. We are tremendously happy with the performance as it gives us an opportunity to end our most successful season in the best possible way. Max secured the 20th pole position of his career with a stellar last lap. On top of that, he gave Checo the tow in the second sector to help him secure the second grid slot - locking out the front row for the Team. It was. We couldn't have asked for a better Saturday, but there is still a lot to do. Now we must focus on converting this into the best possible result tomorrow, ensuring 2nd place in the Championship for Checo."
Ferrari
Ferrari really struggled in FP3 with their tyres, unable to make them last even one push lap. But once the sun set and temperatures cooled, their car came alive. Leclerc made a mistake and locked up on his final flying effort but even without that moment, said he didn't have enough to challenge Red Bull. As for Sainz, he was a whisker behind his team mate.
READ MORE: 'If there's an opportunity, I'll go for it' – Leclerc eyeing early pass on P2 rival Perez in Abu Dhabi finale
Charles Leclerc, 3rd, 1:24.092
"P3 is the best we could do today. It was quite a tricky qualifying, especially in terms of tyre management, as is usually the case in Abu Dhabi, with the rear tyres overheating in the final sector.
"With Carlos starting right behind me, we will work together to put pressure on our competitors ahead and aim to finish the season on a high."
Carlos Sainz, 4th, 1:24.242
"It was a solid qualifying for the team today as we made a step forward on pace and car setup. I'm not entirely happy with my last attempt in Q3 as the traffic on the out-lap compromised getting everything up to temperature and I didn't put a great lap together.
"However, I'm happy with the feeling in the car and I think we're in a good position for tomorrow. There are still many points to fight for and we'll push until the end."
Laurent Mekies, Racing Director
"We're reasonably pleased with how qualifying went. I think the team has made a step forward since yesterday, when we weren't completely happy with the car's handling. Here at the track and back in Maranello, we worked on fine tuning the set-up and on extracting a touch more performance from the car. Out on track, Charles and Carlos gave their best and improved their performance lap by lap, executing this session in a solid way. That resulted in us locking out the second row, with Charles within a whisker of Perez's time.
"It's a decent starting position for tomorrow's race, but we know Red Bull and Mercedes will have a very strong pace. We can expect a close six-way fight, and tyre management will likely be a key factor again. That could present opportunities and we will try to make the most of them."
Mercedes
Not to be for Mercedes, despite looking strong in final practice. They weren't able to live with Ferrari when the sun set and the Scuderia turned things up. Hamilton might have managed a second row berth had he not made a mistake in the last sector of his final flying lap, but fifth and sixth was about right on the balance of the session. The good news though is that their car looks to have better race pace than qualifying pace, which bodes well for tomorrow.
READ MORE: Hamilton says brake problems and 'bouncing' cost Mercedes after third row showing in Abu Dhabi qualifying
Lewis Hamilton, 5th, 1:24.508
"We came here expecting this to be a difficult one for us but we didn't expect a gap of eight tenths to pole position. We were losing six tenths today on the straights to the top cars. I gave it everything, so it's a bit of a surprising result and just being so far behind Red Bull and Ferrari. Hopefully our race pace tomorrow will be better than our qualifying pace today. There's also some bouncing at this track, which adds to our lack of performance and issues with temperature splits on the brakes which we've experienced throughout the whole season. The whole team is working hard and they're doing an incredible job to fix these issues, especially also for next year. I'm looking to tomorrow and the final race of the season!"
George Russell, 6th, 1:24.511
"We hoped for better lap times during qualifying but should be in a stronger position during the race tomorrow as our long run pace looked competitive from what we've seen so far. The grid position seems fair when you look at our current car performance at a circuit like Abu Dhabi but following the results in Brazil, we were probably hoping for a little bit more. So, we would have liked to be a little bit closer to the front but should be in a better place for the race. Tomorrow will be interesting, as there are lots of different strategy options. I expect Red Bull to be out of reach, but I hope we can chase Ferrari. Let's see what tomorrow brings - we will fight as hard as we can all the way to the finish line."
Toto Wolff, Head of Mercedes-Benz Motorsport
"Today didn't go our way unfortunately. We didn't get the job done right and went backwards in terms of our performance, while our competitors made a step forward. We opted for a higher downforce and higher drag setup, and it was just too slow on the straights during the session. We've also had issues with the brakes that we need to investigate. The weekend looked positive for us so far, especially during the earlier sessions but in the end, we didn't deliver when it came down to qualifying. All in all, a disappointing day for the team. We want to be in the front, fighting for victories. Hopefully, our set-up will benefit from the earlier start time of the race tomorrow and the higher temperatures, which seemed to result in better car performance for us so far here in Abu Dhabi."
Andrew Shovlin, Trackside Engineering Director
"We had a solid FP3, looking like we were sitting between the Red Bulls and Ferraris on single lap pace so it's disappointing to end up 5th and 6th. Through the weekend it has felt like we are at our best on the hot track and struggling to find the grip in the cooler evening conditions. The decisions we made with the car setup are biased towards race pace, and on a long run everything is running hotter anyway so we're still hopeful that we can have a race where we are looking forwards not backwards, but a third row start for both cars means that we have our work cut out if we are to challenge at the front."
McLaren
Two cars in the top 10 was a decent result for McLaren, albeit one tempered by the fact Ricciardo will have a grid penalty for tomorrow's race, earned last time out for the first lap collision with Magnussen. Norris was 'best of the rest' but a long way shy of challenging the big three teams, and has arch-rival Ocon alongside in what could be a tasty first lap tomorrow.
Lando Norris, 7th, 1:24.769
"A good quali. I think I got everything out of the car today, so I'm happy. I struggled a bit, not having enough confidence to push the car, but at the same time, we secured the best position we could. We've got a good starting place, let's convert it into some good points tomorrow."
Daniel Ricciardo, 10th, 1:25.045
"I'm pleased with Q3 because it hasn't been a sure thing this year. So, from that point of view, I'm happy to just be in it the whole session and be able to be in the hunt. It was a P10, but we were competitive enough to give us a little bit of hope. I think the middle sector, I just didn't quite nail so there was maybe a tenth or so on the table there which maybe could have put me in the fight with Vettel and perhaps Ocon. Nonetheless, looking forward to tomorrow. I will try to attack from the start, make up a few positions and put myself back in the fight with the top ten."
James Key, Executive Director, Technical
"It was a case of looking for marginal gains in FP3, after some good work on set-up and balance during Friday, together with further steps overnight, we took an approach of fine tuning and working out best approach to qualifying. It was good to get both cars through to Q3, the margins were tight in all three sessions but both drivers had the pace to make the top 10. The long run pace looked reasonable yesterday, so we look forward to making good use of that tomorrow in the final race of the season. Daniel has a three-place grid penalty but he'll be pushing hard to fight back into the points. It will be an interesting race with the predicted strategy options available so it's all to play for."
Alpine
Alonso just didn't gel with this track today, nearly exiting in Q1 and then actually dropping out in Q2, sounding resigned to his fate. His team mate at least make Q3, but Ocon couldn't out-qualify both McLaren cars. But with a 19 point lead over the papaya team in the standings, those positions should be enough to ensure Alpine finish fourth in the constructors' tomorrow.
Esteban Ocon, 8th, 1:24.830
"I'm very pleased with today's Qualifying so a big well done to the team for one of our best sessions of the season. Every run felt like we made a step as we tried to maximise the performance of the car today. Our main competitors are quick this weekend, perhaps quicker than we originally thought, so we will need to be focused tomorrow to have a good race and bring back some points. There's one more to go, so let's make it the best one yet."
Fernando Alonso, 11th, 1:25.096
"We didn't quite have the pace in Qualifying today, so in the end, I think we can be quite happy to be starting tenth for the race. It was close in Q1 and less than a tenth separated a number of cars in Q2. We know it will be difficult to overtake tomorrow, but we'll try our best to have some fun and gain some places inside the top ten. It's the last time I will jump in the car with Alpine, so I will be looking to make the most of the race tomorrow and hopefully end on a high with the team."
Alan Permane, Sporting Director
"We will start tomorrow's final race of the year with Esteban in eighth and Fernando in tenth and we're generally quite pleased with those starting spots. Fernando didn't quite extract the most from the car today – missing a tenth or two throughout – and his focus is already on tomorrow's race where we know we are strong. This circuit has always been quite tricky for Qualifying with cooling track temperatures and traffic as cars queue in the final sector, which brings difficulties in keeping the tyres in a good window. Esteban and his team did a great job in managing those elements today to qualify in eighth place and he was close to sneaking seventh by just half a tenth of a second. We're looking forward to tomorrow's race where the aim is to utilise our strong race pace and have both cars well inside the points to end the season on a high note."
Aston Martin
Vettel really did roll back the years in qualifying, producing not one but three epic laps where he pushed his car to the maximum, one in each segment. Making Q3 in his final qualifying was a fitting way to round out that portion of his career. Stroll couldn't follow suit and had to settle for 14th in a car that once again looks likely to have decent race pace.
READ MORE: 'I enjoyed every lap' – Vettel delighted with final F1 qualifying run but wishes he had 'one more set of tyres'
Sebastian Vettel, 9th, 1:24.961
"Overall, my final qualifying in Formula One was a good session. The car is doing what I want this weekend and this has contributed to this decent result. I have been very motivated and it felt as if there was a bit extra in me today. We did have some traffic in Q1 and Q2 with a Red Bull at the last corner, but the lap in Q3 was clean. I am looking forward to the race – my last one in Formula One – and I hope we will be able to deliver a good result for the team as I end my journey with everyone at Aston Martin F1. Anything can happen here and we will try to maximise our chances tomorrow."
Lance Stroll, 14th, 1:25.359
"I was happy with my final lap in Q2: it was good and clean, but we just lacked a little bit of speed to Sebastian, who has had a really good day in his final qualifying. Crucially, we have qualified ahead of both Alfa Romeos and the car has been behaving really well this weekend. We will look to move forward into the points. It will be a long race and we have lots to fight for tomorrow."
Mike Krack, Team Principal
"It was hot today in Abu Dhabi - but, as usual, given the 6.00pm start time, the track cooled during the qualifying hour. Both drivers progressed smoothly through to Q2. Thereafter, Sebastian managed to get through to Q3, but Lance narrowly failed to do so. Tomorrow, starting from P9 and P14, our ambition remains to do our utmost to win sixth place in the Constructors' World Championship."
AlphaTauri
Gasly had a hairy moment in FP3, losing his 'wheel brow' as he ran over the kerbs and suffering a puncture as a result. His day didn't improve in qualifying, a lack of pace resulting in a Q1 exit. Tsunoda did make Q2 and should benefit to the tune of a place when Ricciardo's grid penalty is applied, which leaves him well set to compete for points.
Pierre Gasly, 17th, 1:25.859
"We have been playing catch-up all weekend as we've had difficulties setting up the car. Today we made a small step forward, but it wasn't enough. The car was sliding around in the low-speed corners and was still not the way I wanted it. Qualifying was like rush-hour in London, but I think it was the same for everyone. Tomorrow will be a long and difficult race, but there will be plenty of opportunities to make up some ground. Tomorrow will be the last time that I am dressed as a Scuderia AlphaTauri driver, so it is definitely an emotional and special weekend for myself and all the team. I have spent so much time with them over the last five years and I will remember those memories forever, so it is time to give it one final push."
Yuki Tsunoda, 12th, 1:25.219
"I'm pretty happy with today, I made a bit of a mistake in Turn 6 on my final lap in Q2 but overall, I'm pleased with how it went, and the extra performance we were able to show in Quali. I really like the track here, it was my best placed finish last year with 4th, and we're starting just outside the points tomorrow, so hopefully something good can happen again. Obviously, we know it's going to be difficult, but our long-run pace was looking quite good yesterday, so I think there's a possibility to move ourselves forward tomorrow and score some all-important points, to allow us to finish the season in P8."
Jody Egginton, Technical Director
"We made a reasonable number of small adjustments to various parts of the set-up and tool settings overnight, in order to improve turn-in stability and mid-corner rotation, amongst other things. In FP3, Yuki reported some improvements, however Pierre had a front-right puncture on his first run, which limited running, and meant it was not possible to get a clear read on balance. Qualifying saw good progression from Yuki, making the cut for Q2 relatively easily, whilst Pierre's struggled a bit more on his final run and did not make it through on this occasion. In Q2, Yuki continued where he left off, putting a good lap on both his used and new tyre sets, but fell just short of Q3 finishing P12 in a very tight midfield. Looking ahead to tomorrow's race, tyre degradation has shown some signs of being higher than last year, so we need to keep an eye on this and be ready to take our chances to hopefully achieve the target of improving our Constructors' Championship position."
Haas
Not to be for Brazilian qualifying hero Magnussen, who exited in P16. But Schumacher, fresh from the news that he wasn't being retained next year, at least outqualified his team mate and made Q2 to ensure his final qualifying was a good one. With two points' worth of breathing room to AlphaTauri, Schumacher's job tomorrow might be to finish ahead of Tsunoda to make sure of eighth in the championship.
HIGHLIGHTS: Watch as Verstappen storms to pole position in Abu Dhabi
Kevin Magnussen, 16th, 1:25.834
"It seemed like we did take a step forward from FP2 to qualifying, but the traffic at the end meant we had to stop in the last sector for close to half a minute before starting our lap, so that killed it and you start your lap on cold tires. It's so tight that even one tenth would've got me close to the top 10. That's a bummer, that's what we got right last week but today we didn't manage to do the same. It's very tight so I think it's going to be more about tire management and strategy tomorrow."
Mick Schumacher, 13th, 1:25.225
"Q1 didn't look too bad and Q2 was ok, actually. We felt like we were in a good position and it was less than two tenths to getting through to Q3 which was very unexpected to be this close. We'll happily take it and move forward now to the race. We're quite close to the points and we have AlphaTauri quite close as well so hopefully we'll get them at the start, and we'll be able to manage the race from there. It will be crucial for us to stay in front of them so that's what we'll focus on."
Guenther Steiner, Team Principal
"It wasn't a bad qualifying session today, pretty happy. Kevin got into traffic a little bit and his tires weren't working, so he couldn't out of Q1. Mick did a very good job getting into Q2 and got a good result out of it. Starting tomorrow in P12 and P16 puts us in a position where we can score points."
Alfa Romeo
Alfa Romeo have had more pace of late since their last upgrade package was bolted onto the car, but couldn't bring it to the fore here. Bottas struggled with tyre warm up as he dropped out early on, with Zhou not having the pace to make much of an impression in Q2. But tomorrow is a new day – and their race pace in Friday's practice sessions was encouraging.
Valtteri Bottas, 18th, 1:25.892
"We went into qualifying knowing we had good pace, so I believe today's result doesn't really reflect where our car actually is. It was a strange feeling, we just couldn't get the tyres to work in our outlap and, as a result, our sector one pace suffered. This was especially so on my second run – there was so much traffic at the end of the outlap, I had to pretty much stop and that destroyed our attempt. It's frustrating, of course, but now we need to prepare in the best possible way for tomorrow's race."
Zhou Guanyu, 15th, 1:25.408
"I feel I got as much as I could out of the car tonight, as my qualifying performance was alright: unfortunately, we weren't close enough in terms of pace to be a little further up the grid. Yesterday, everything was working fairly well, while today has been more difficult. We struggled a bit during FP3 earlier today, and even though it seemed like we got our pace back in the afternoon, I don't think we quite had the speed to fight for Q3. We definitely hoped for more, but nevertheless as the midfield was pretty close during Q1, we will hopefully be able to move further up to deliver the results we worked so hard for."
Frédéric Vasseur, Team Principal
"We looked a lot better ahead of tonight, so it is disappointing not to have a car in Q3. We struggled to get our tyres to work for a single lap and we just lacked the pace we would have needed to emerge from such a close midfield. It's not time to despair, however: there is still a long race ahead of us tomorrow and we've demonstrated before that we can make up ground on Sunday. This will be the target for tomorrow: we will give everything until the final corner of the final lap to secure our objective."
Williams
Williams just lacked pace in qualifying from word go, and wound up propping up the back row. It was tight between their drivers though, Latifi narrowing the gap and finishing just 0.026s back. They might have a long race from there unless some Safety Cars can come into play.
Nicholas Latifi, 20th, 1:26.054
"I'm pretty happy with the last lap in Qualifying. It wasn't the perfect lap, but it was clean. We just didn't have the pace today. I made sure to use all the tyres I had and left nothing on the rack. It's not where I want to be in my last Qualifying session, but I'm satisfied.
"I think the main difficulty was trying to find the right space for the outlaps. Tomorrow will be difficult but it's my last race and I'll be trying to enjoy it as much as possible."
Alex Albon, 19th, 1:26.028
"After FP3 we were feeling confident and the car was looking good, however as the track temperature drops down, outlaps need to be faster to compensate for the drop and we were in a lot of traffic and not able to get a clear outlap."
"I overtook seven or eight cars on the outlap and I was still not ready for Turn 1. However after Turn 6 I was happy with my lap but I lost so much time in the first half trying to get the tyres up to temperature. It wasn't enough when the margins are so small but I think we would've got into Q2 had it not been for that.
"Fortunately, it's not a situation where we're scratching our heads wondering why there's no grip, it's more that we didn't really have the chance to do what we needed to. When we're in traffic it makes it complicated so it's a bit frustrating, but we'll look to tomorrow."
Dave Robson, Head of Vehicle Performance
"Qualifying was a frustrating session, which we didn't execute as well as we needed to. We knew how to get a good lap out of the car, but we didn't give Alex a good chance to achieve it as he had too much traffic on his final outlap.
"Although Nicholas had an easier outlap, he was still a little compromised and the margins are so fine that, whilst he drove well, he was unable to progress.
"After the good work of the last few days, this was a disappointing day, but we now need to look to tomorrow."