Feature
What the teams said – Qualifying in Singapore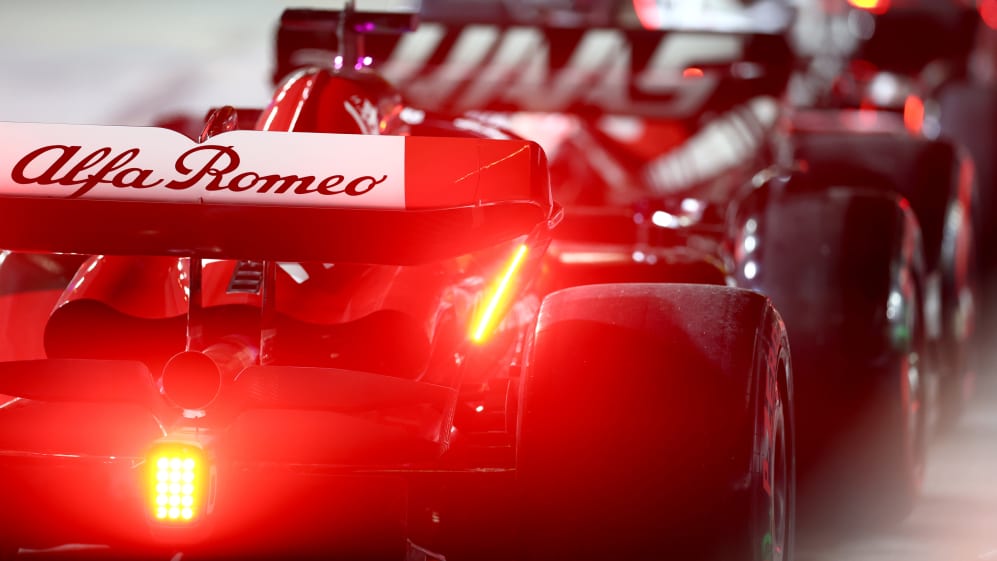 Ferrari
Sainz topped FP3 and looked supremely confident heading into qualifying. And so it proved as he swept all before him to grab his second pole position in a row, never putting a foot wrong despite qualifying being reasonably chaotic. As for Leclerc, he was there or thereabouts but couldn't match his team mate through the final sector and had to settle for third.
Charles Leclerc, 3rd, 1:31.063
"We've looked quite strong all weekend and it's positive to see such good performance today. Usually, we've been strong in Singapore, so we know that we shouldn't get carried away. We've learned a few things at the last race and will try to take step forward using those learnings for the rest of the season.
"In Q3, I made a small error in turn 17, so it wasn't enough for pole, but we have great starting positions as a team and will work on putting some pressure on George (Russell) between us."
Carlos Sainz, 1st, 1:30.984
"It feels great to get pole position here on the streets of Singapore! Yesterday we already saw we were competitive and I think we've done a good job building up to qualifying. Q3 was super tight but we managed to pull off good clean laps and grab that P1!
"The race won't be easy due to the degradation but it is key to stay focused today and prepare well for tomorrow. The team has been working flat out and we deserve a good result. We'll definitely go for it!"
Fred Vasseur, Team Principal
"This pole position and our overall qualifying performance, is down to the fact that every aspect of this weekend has gone well with all the team, both at the track and back in Maranello, doing a very good job right from free practice. Our drivers have topped every time sheet and tonight, Carlos put it all together to take a brilliant and well deserved pole position. As was the case in Monza, qualifying was very closely contested, so that even though Charles was less than a tenth slower than his team-mate, he had to settle for third place. It will be a long race tomorrow and strategy management will be key.
"We will focus on our race, on tyre management, paying attention to the slightest detail at every point in the race, while being ready to take advantage if any of our competitors slip up."
Mercedes
Russell looked the stronger of the two Mercedes drivers in FP3, and he carried that form into qualifying. The Mercedes drivers made it through to Q2 despite having to go for their second runs on used tyres, with the late red flag aiding their progress. Both made Q3 easily, and then Russell extracted everything he could on his final run to muscle his way onto the front row. Hamilton couldn't match that, as he continued to struggle with tyre warm up on his out-laps. But both drivers have an extra set of mediums for the race as opposed to their rivals, which could aid them come the Grand Prix.
READ MORE: 'It's an exciting place to be' – Russell looking to capitalise on Mercedes' strategic advantage from front-row start in Singapore
Lewis Hamilton, 5th, 1:31.485
"The car was feeling incredible yesterday and we had hoped that with some tweaks, we'd be able to challenge the Ferraris. We made some pretty big changes overnight, and it just came away from me again, and we didn't have the speed today. It's obviously disappointing, especially because we clearly had a great package here and George was able to get on the front row. But tomorrow is a new day - and there is a lot to fight for. I hope George gets a great start tomorrow and puts some pressure on Ferraris; it would be great for him to get the win. On my side, I will be pushing to the maximum to go forward and see how the race unfolds in front."
George Russell, 2nd, 1:31.056
"I've been really happy with this weekend as a whole. I've felt confident in the car and the team did a great job with the tyre strategy. We are on an offset strategy compared to everybody else, so we have an extra set of Medium tyres tomorrow which nobody around us has. So, to get to Q3, and then the front row, with just four sets of tyres and a strategic advantage, that's an exciting place to be. It was a challenging session in the car - sitting in the garage, it's like being in a sauna, and you just need to keep your composure and stay cool. The same will be true tomorrow: traditionally this has been a one-stop race, but the new circuit layout has possibly changed that. I think it's going to be close between a one- and a two-stop, and with that extra Medium tyre available, we can put pressure on Ferrari and try and force an error to get the upper hand. That's what we're looking for."
Toto Wolff, Head of Mercedes-Benz Motorsport
"I think we outperformed ourselves today. Singapore is a Ferrari track - they were strong here last year, too - so to get within a tenth of pole with George is fantastic. Lewis struggled more with the car, but we still have two cars in the top five, and that promises an exciting race tomorrow. As for our expectations in the race, we have got to stay humble and do the work tonight. I hope it's not going to be an easy, one-stop, cruise into the sunset - and we have a potential advantage with the second Medium tyre that none of the other teams have. So I think everything is possible - and the weather may a part - it's going to be an exciting evening tomorrow!"
Andrew Shovlin, Trackside Engineering Director
"A great lap by George to get on the front row and split the Ferraris. That's certainly helped his chances tomorrow as their ability to control the race is a lot less if we can get between them. Lewis wasn't as happy with the car through the sessions and struggling to get the tyres to switch on; some of that was when the outlaps were compromised with traffic but even on the final run he didn't feel that the grip was there. We made a decision in the morning to keep two mediums for the race tomorrow but that meant we only had four softs in qualifying. There were times during qualifying where it felt like we might have regretted that decision as field was much tighter than we expected but at least we got both through to the final session and importantly it's opened up some unique options for us on the strategy and how we deal with safety cars. We looked to be competitive in the long runs on Friday and with both cars well placed on the grid we're looking forward to the race tomorrow."
McLaren
Piastri was unlucky – he was behind Stroll in Q1, and so couldn't complete his final flying run. He had been on a lap that looked quick enough to progress, but it was not to be. As for Norris, he was first on the scene after Stroll crashed and did well to pick his way through the debris. He made it all the way to Q3 and had to settle for fourth, behind the Ferraris as expected but also pipped by his good friend Russell.
Lando Norris, 4th, 1:31.270
"A very good day for us today. I'm very happy with P4. I was close to the front – two-tenths – but there was not two-tenths in it today. I felt like I got everything out of it, so I'm very happy. The team have done a great job, so I'm proud of everyone. We're in a good position tomorrow to score some good points. The race is always very tricky around here, so we're not getting ahead of ourselves, but we have a good enough car to challenge, and we'll see what we can do."
Oscar Piastri, 17th, 1:32.902
"Obviously, it was a disappointing qualifying, however, I'm glad to see that Stroll is okay. Unfortunately, there's not much more we could have done due to the Red Flag. Our first run was okay, a little bit scrappy, and then we had an issue with traffic starting the final run, but I think it would have been good enough to get us into Q2. We'll see if we can go forward tomorrow, it's going to be tricky to get points, but that doesn't mean we can't try our hardest."
Andrea Stella, Team Principal
"An eventful intense qualifying session here in Singapore, producing an unusual final grid. Oscar was unfortunately out in Q1, as we were caught out by the Red Flag. It's great to see that Stroll is okay but it meant Oscar couldn't progress.
"On Lando's side, thanks to the upgrades he has this weekend, we were able to get into Q3, where he extracted everything from the car and took a spot on the second row. Once again, I want to thank the team for the massive effort that made it possible. We're expecting a long and busy race and want to not only score heavily with Lando but also find a way to get Oscar back into the points."
Red Bull
Neither driver was happy from the get go, both struggling with a lack of grip while Verstappen also complained about his upshifts again. In the end, they both made Q2 but Perez spun on his final flying run and Verstappen just couldn't improve on his last run. But as if that wasn't bad enough, Verstappen was also called to the stewards for three separate offenses – impeding at the end of the pit lane, impeding Tsunoda in Q2 and also impeding in the heavy traffic at the end of Q1. In the end, the stewards opted to hand Verstappen a pair of reprimands, plus a €5,000 fine for Red Bull.
READ MORE: Verstappen calls Red Bull's double Q2 exit 'a very shocking experience' as team predict race-day struggles in Singapore
Max Verstappen, 11th, 1:32.173
"It hasn't been a great weekend for us so far, qualifying was hectic. I couldn't break late and hard because I would bottom out, I've also been struggling with the low speed corners, we just had no rear support. It is of course very hard to pass in Singapore on the street circuit so I'm not expecting a lot tomorrow. We've had so many successful weekends this year, we can be proud of what we have achieved so far. It's more important that we understand where we are going wrong this weekend."
Sergio Perez, 13th, 1:32.310
"I had a complete disaster, I am really disappointed with the result, it was not really what we were expecting, it really hurts. We made a lot of changes to the car this weekend but nothing really worked, we need to understand it. We started really well with a nice balance in FP1 but then FP2 was very difficult and since then it has been tough because we have been making a few changes here and there but nothing seems to transform the balance. It has been tricky out there with the amount of sliding we have been doing and the balance is changing corner to corner. It made it worse that I couldn't get my final attempt in Q2. The thing we are struggling the most with is ride and it made what happened there even worse. I had a massive under delivery from the engine, it kicked really hard and I ended up losing the car. It was a shame and today is a massive shame. Singapore is a street circuit and it is very hard to pass here, if we are able to score some points tomorrow I would be pleased."
Christian Horner, Team Principal
"There's a lot for us to consider this evening. First thing we need to do is put the disappointment behind us and look to work out what has caused our drop in pace and performance. We tried a new aero part in practice, but what we went into qualifying with is tried and tested. For whatever reason, the car just hasn't responded at this circuit.
There is a lot to do but we won't give up on anything. Starting outside of the top 10 at a track that is notoriously hard to overtake on is going to be tough but we certainly haven't written this weekend off. The points are awarded on Sunday and there is plenty to play for."
Aston Martin
Stroll was baulked on his first run in Q1, and with the clock ticking down, overcooked the last corner on his final flying lap. Getting up on the kerbs, he lost control, slamming into the wall in a very heavy shunt. He walked away to the relief of everyone watching, while his car was swept up and sent back to Aston Martin in many pieces. That left Alonso to fly the flag for the team which he did by once again getting into Q3, although he couldn't find the pace to get in the mix for pole.
Fernando Alonso, 7th, 1:31.615
"I'm glad to see that Lance is okay. My Q3 lap was good. I told the team on the radio that it would have been difficult to improve that lap time even if I'd driven round all night! We seemed to struggle a little in FP3: we didn't look very competitive, so we changed a couple of things on the car and improved it for qualifying – but probably not quite enough. It will be a long, interesting race for everybody tomorrow. We need to maximise every opportunity, but we must be realistic: there are plenty of fast cars in front of us, and we aren't starting out of position. I will try and gain some places tomorrow, but it will be a tough race."
Lance Stroll, 20th, 1:33.397
"I'm okay. I'm frustrated as we have a big job – in the garage and on the race track – ahead of us. I was struggling for grip throughout the qualifying session. We had a bad out-lap with traffic ahead of my final push and we got stopped for the weighbridge. I started a couple of seconds behind Pierre [Gasly], so it didn't play out the way we'd planned. When I saw my lap wasn't improving, I pushed really hard in the last corner to try and make up that extra time, and that's when it went wrong. Let's see what we can salvage tomorrow in the race."
Mike Krack, Team Principal
"The only thing that matters today is that Lance is okay after the accident in qualifying. To see him step out of the car unaided is a testament to the FIA's constant work to improve safety. After some precautionary checks in the medical centre, he was cleared and released. Fernando progressed smoothly to Q3 to maintain his record of qualifying in the top 10 at every race in 2023. The margins between all the teams are very tight. Fernando drove a clean and tidy lap in Q3 and will line up in seventh place for tomorrow's race. We will work hard to progress forward in the race and bring home some points."
Haas
After a torrid weekend in Monza, Haas bounced back in style. They saw both their drivers make it through to Q3 for the first time in over a year. Once there, Magnussen managed to out-qualify his team mate, which hasn't been a common occurrence this season, and in sixth and ninth they are both well placed to chase down some points. But with tyre wear an issue and this race being notorious for being hard on tyres, holding onto those positions could be tricky.
Nico Hulkenberg, 9th, 1:31.808
"It's a very strong result for the team to have both cars in Q3. I don't think we expected that so that's a pleasant surprise and we'll enjoy this today, regardless of what happens tomorrow. It was a really strong performance by Kevin, he was on it all of qualifying, so I really had to give it everything and didn't get it quite connected and clean on my side, but that's how it is sometimes. We've always been strong in qualifying, the low-speed favours us too. Let's see what we can do tomorrow."
Kevin Magnussen, 6th, 1:31.575
"First of all, for whatever reason, the car is stronger on this track. We've done a good job and capitalised on the good form of the car, got both cars into Q3 and we start from a good position tomorrow. We know it's hard to overtake here, I would love to still have the little twisty corners in sector three now that I'm here because we know our race pace isn't quite there to stay where we are, but maybe on this track there's a chance. That comes with a little extra pressure as you know it's a bit of a one-off chance and we really want to grab it and score some points tomorrow."
Guenther Steiner, Team Principal
"It's been a pretty good day for us today, for the whole team. We know that we're struggling but it shows again that we keep working hard and then get something out of it. Whatever is there to get, today we showed we got it – between the drivers, mechanics, and engineers, everybody did the maximum and it's our first double Q3 this year. Obviously, it's a happy moment. We now need to try and get something from tomorrow. Hopefully we can get the tyres to work with us, but for sure we will be working hard to make it happen."
Alpine
Alpine didn't look at the races yesterday, so they did exceptionally well overnight to find some extra pace. They had enough speed to get Ocon into Q3, although the Frenchman did cut it a bit fine a couple of times with respect to the walls. Gasly couldn't quite join him there, in a scrappy end to Q2 that saw yellow flags come out for Perez's spin.
Esteban Ocon, 8th, 1:31.673
"Firstly, well done to the entire team for today's performance as it's a well-deserved Q3 appearance and one in which we've had to put a lot of work in. The car has felt good all weekend so far and we were able to extract the maximum when it counted today to put ourselves in a good starting position for tomorrow's race. Credit to the team back at the factories who brought these upgrades to Singapore, which allowed us to clearly make a step in the right direction. Focus now turns to the race tomorrow where we'll be targeting a good race and hopefully some points in the bag."
Pierre Gasly, 12th, 1:32.274
"It was a pity for us not to be in Q3 today but, even so, we have put ourselves in a decent position to fight for points in tomorrow's race when it counts. On our side of the garage, we've certainly lacked a few things and we have been playing catch-up in some places to try to optimise car balance. As a team we will, of course, review what we could do better to be better prepared for Qualifying and start more on the front foot. We made a good step from yesterday to today and that's positive for the team. Tomorrow will be a long and very tough race and I'm confident we can have a strong afternoon and progress ourselves into the points."
Julian Rouse, Interim Sporting Director
"Generally, it has been a more positive day here in Singapore with a smooth and well executed qualifying session from both sides of the garage. As predicted, it's very tight between sixth and twelfth place, but we managed to progress through into Q3 with Esteban in eighth. However, we missed out with Pierre, so we will certainly continue to work hard on how we can improve all of our details so that we can benefit more from these tight margins in the future. For tomorrow, we will be racing for the first time on this new circuit layout, but it will still remain a track that's very difficult to overtake on. With this in mind, we will be putting a lot of emphasis on strategy, especially around the pit-stop phases of the race as these will be the best opportunities to move forward. We will target solidifying Esteban's position in the points as well as seeing what we can do to progress Pierre into the top ten with a mixed-up grid around him. There is still long way to go this weekend and the goal is to be scoring points with both cars tomorrow."
AlphaTauri
Tsunoda wound up on top of the timing sheets in Q1, albeit helped by a late red flag. But he had a messy Q2 session, blocked by Verstappen on his first flying run and abandoning his second without setting a time. Lawson though, impressed as he improved late on not just to make Q3, but to knock out a Red Bull to boot. Having blotted his copybook with a spin in FP3, he made the perfect comeback to gain himself even more fans in the paddock.
Liam Lawson, 10th, 1:32.268
"It's obviously exciting being in Q3, but we didn't maximise the performance, and it's something we have to look at. It's a shame for Yuki because we have a strong package, and he looks comfortable in the car. For me, it was warm-up related because I didn't feel the jump in grip for the last lap and there was lots of traffic in the last sector, so that was tricky. I'm happy to make it into Q3 but there's more potential to be higher up. It's a shame, but I'm still learning and there's more to come. Today went well, but tomorrow is the important one. I'm starting in a good position in P10, but two hours is a long race and will be challenging. We'll focus on maximising our car and driving our race."
Yuki Tsunoda, 15th, No time set in Q2
"I made a mistake, a lock-up into Turn 14. I'm sorry for my team, it's a real shame, and I'm very frustrated because the car pace is incredible. We see how tomorrow goes and I'll try my best to score points."
Jody Egginton, Technical Director
"Looking at the big picture, we appear to have made a step forward in performance here. It's positive and something we need to validate and build on in Suzuka, which is a more conventional track. Looking at qualifying tonight, we believed we had the pace to get both cars into Q3. The pace and balance of the car in Q1 were good, and we looked well-placed to make more progress. However, in Q2 Yuki wasn't able to set a time on his first fast lap and went off on his second run, so he didn't set a time, which is very frustrating as his pace in Q1 was good enough to make the cut for Q3. Liam had a smoother qualifying and made good progress. Getting to Q3 is his reward, which is pleasing to see, as it's his first time here in Formula 1. Our long-run pace looked okay on Friday, so we need to exploit this and be prepared to take opportunities to get Yuki moving forward so he can maximise the package. Overall, there are some positives to take, but tomorrow is when it counts in terms of meeting our objectives."
Williams
Williams just lacked pace in Singapore, with Sargeant called to the stewards after appearing to block Stroll in Q1. That incident earned him a reprimand, but fortunately no grid penalty. As for Albon, he did make Q2 which didn't always look likely, but couldn't go any further. Not every track will suit their car, but it does seem a step backwards for a team that have been on the up at the past few circuits.
Logan Sargeant, 18th, 1:33.252
"It's honestly been an ok weekend from my side, I've been comfortable with the track and got up to speed nicely. Quali was tricky with the track evolving so much lap after lap. I was on a good lap at the end but as I went into turn 10 and over the bumps, I had a lot of rear locking and no downshifts. I must've lost four or five tenths through there that would've put me pretty close to where I needed to be. It's going to be a tricky race, but we have to be optimistic and try to go forward tomorrow. The car is in a better place now than it was yesterday so hopefully that will help us."
Alex Albon, 14th, 1:33.719
"I think 14th is the best we could do today, so I was happy to get out of Q1. In Q2 I just didn't feel the grip I did in Q1, so I don't know if the long time in the garage or the out-lap prep hurt me. We've been so mileage limited this weekend, so I feel like I've been playing catch-up all weekend and just didn't quite get there. The tyres seem to be so soft this weekend, requiring you to drive so slow during the out-lap and cool down lap, so I don't think we fully understood that with the limited track time. I think ultimately with the tyre understanding there was more to be learnt but I don't think it would've changed the result too much. We haven't done a race run so that will make things a bit more challenging, but we'll put our focus on tomorrow."
Dave Robson, Head of Vehicle Performance
"We were playing catch-up today but made some decent progress with the car. However, this circuit remains difficult for us and we need to work hard to correct these characteristics ahead of next season.
"Qualifying was a difficult session for everyone. Alex was fortunate to set a time prior to the red flag in Q1, which allowed him to progress. Although Logan was also ahead of the incident, a gearshift issue cost him the time that he needed to also qualify for Q2. We are investigating the gearbox to see if there is a mechanical issue that needs attention ahead of the Grand Prix.
"Once in Q2, we were unable to make any real progress, gaining a place only to [Yuki] Tsunoda who was unable to set a laptime. Securing P14 on the grid with Alex is a good result at a track we are struggling at. Nonetheless, the race will be difficult tomorrow, but a lot can happen in Singapore and there are probably a few cars out of position, which could make the race very interesting."
Alfa Romeo
Sadly, Alfa couldn't hold onto their pace from yesterday, dropping down the order in final practice and likewise in qualifying. Bottas said he extracted everything he could from his last lap on the radio, but fell a tenth short of making it to Q2. Zhou couldn't make it through either, leaving Alfa Romeo with a tough task on their hands tomorrow to make progress forwards.
Valtteri Bottas, 16th, 1:32.809
"My laps today were actually good, but we lacked something to be in Q2. I did find some traffic towards the end of my final lap but, overall, we appear to have lost some pace compared to yesterday, and we had to make some compromises with the setup. It felt we couldn't extract much from our car, which is quite frustrating as, yesterday, it seemed we were on the path to build something good. Tomorrow is going to be a long day, and making progress will not be an easy task; we must focus on making the best out of our strategy and of any situation that may present itself. This is a street track, after all, and we have seen some unpredictable situations in the past here: if we play our cards well, we may still have a chance to bring home a good result tomorrow."
Zhou Guanyu, 19th, 1:33.258
"We expected a bit more today, but in fairness Q2 would have been hard to achieve. To be 19th is a disappointment, but a reflection of a difficult session. I was not comfortable with the car and it was really difficult to put together a clean lap: when you don't have a good feeling on a track like this, you cannot build up consistency and, in the end, you pay the price. We need to understand where we went wrong: it won't be easy from the back tomorrow, but it's all still open here. We can still move forward and there will be opportunities, also with the strategy, to gain ground. Never say never, we will give everything to get a result."
Alessandro Alunni Bravi, Team Representative
"Today was all about extracting grip from the tyres, and we were unable to do so ever since the final practice session. It seems we couldn't follow the evolution of the track, which meant we were not in the right setup window come qualifying. The drivers' laps in Q1 were good, there were no significant mistakes, but the pace to book a spot in Q2 just wasn't there: it is not the first time we find ourselves struggling to extract all our potential on a single lap, and we need to fully analyse this issue and get to the bottom of it. Still, tomorrow there's all to play for: we have seen in recent races how we can make our way back from the bottom of the grid, and our target has to be the same on Sunday. There will be opportunities, and it will be up to us to make the most of them."
Pirelli
Mario Isola, Motorsport Director
"It was a very spectacular session offering up several surprises, producing a grid that few would have predicted going into this Grand Prix. It means that all Formula 1 fans are in for a very unpredictable race, which will make it even more interesting. On this track, a one-stop to change tyres is usually the quickest strategy, given that time lost in the pit lane is one of the highest on the calendar. On paper, the best combination involves the Medium and the Hard. From what we have seen, one cannot rule out the Soft completely, but one must consider that the advantage it has in terms of grip over the Medium at the start is significantly reduced because of the short run to the first corner. In addition, this compound requires careful management on a full fuel load in the first stint. However, the Soft could be worth considering in case there is a Safety Car period in the second part of the race.
"Usually, Singapore can also throw up some surprises in terms of the weather, with sudden rain showers, some of them heavy, as was the case last year. At the moment, the risk of rain is very low according to the forecast, although more likely in the afternoon: that could potentially affect tyre behaviour if there were to be storms strong enough to wash away the rubber that has been laid down on the track so far up until this evening."