Feature
What the teams said - Qualifying in the United States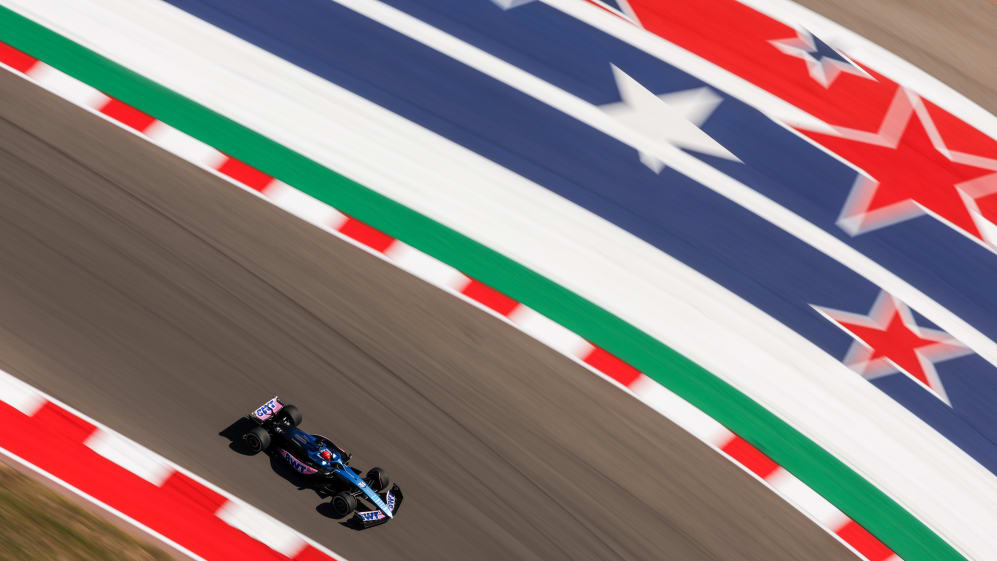 Ferrari
Leclerc looked the pick of the two Ferrari drivers in FP1, but come qualifying Sainz found the form that took him to pole here last year. The two duelled all the way through, but in the end it was the Monegasque driver who managed to grab his third pole position of the season. He played it safe on his final lap to improve his time slightly and with Verstappen losing his lap time, that approach paid off. As for Sainz, his last lap just wasn't quite enough and he had to make do with a spot on the second row.
READ MORE: Leclerc admits surprise at Ferrari's pace after taking pole position for United States GP
Charles Leclerc, 1st, 1:34.723
"On Sprint weekends, it's important to get it right, starting from FP1. We did a great job as a team to prepare the car and so it felt good to drive from the very start as well as during all the phases of qualifying.
"My lap in Q3 was good and I'm very happy, as I love racing on this track and the atmosphere in this city is amazing. Tomorrow, we start from scratch again, with the whole day given over to the Sprint, but for now we can enjoy this pole position for Sunday."
Carlos Sainz, 4th, 1:34.945
"It wasn't a bad qualifying. I was struggling a bit in the final sector, so tomorrow I'll try to improve there. The rest of the lap felt more or less okay and it seems we are in decent shape.
"Congratulations to Charles for grabbing pole for the team. We'll try to score some good points over the whole weekend."
Fred Vasseur, Team Principal
"Today's pole position is a great result, down to hard work from the whole team. There is still a long way to go this weekend, with plenty of potential pitfalls along the way. The hard part will be Sunday but today's result means both our drivers are well placed to get a good result in the Grand Prix. I am very happy for Charles, as this pole is well deserved and is a great start to his weekend. Now we want to do equally well in tomorrow's Sprint.
"So far, our performance has matched our expectations, we are competitive over the whole lap, although it is too early to have a clear picture about the race. Already today we have seen that the fight is going down to the thousandths of a second, so it will be vital to carry on working like this, preparing the execution of every part of the weekend right down to the smallest detail."
McLaren
McLaren had played down expectations that they'd be on the pace of Red Bull this weekend. The team opted not to fit the soft tyres in practice, which was a bold call, and Piastri also had a big moment in FP1 that briefly disrupted his running. But despite all of that, they got both cars through to Q3 with ease and once there, Norris looked back to his absolute best. He couldn't quite grab pole but was whiskers away from doing so. As for Piastri, after his scrappy start to the day, qualifying ended in a similarly scrappy fashion with a mistake on his final flying run.
Lando Norris, 2nd, 1:34.853
"I'm very happy with P2, the pace in the car has been great and I put in a good lap to get on the front row on Sunday. There was maybe a little more in it, but I'm sure Charles [Leclerc] will be thinking that too, so overall I'm pleased with qualifying. We've got another chance to score a good result and important points tomorrow, so we'll turn our focus to that now and aim to go one better in the Sprint."
Oscar Piastri, 10th, 1:35.467
"Not my best qualifying. The pace in the car was quite strong, I just didn't get it together. We'll try again tomorrow. The pace we have is pretty solid, so if we leave out the mistakes, we should be able to get a better result in the Sprint Shootout tomorrow."
Andrea Stella, Team Principal
"As usual here in Austin, we had tricky conditions. The track was hot, and the soft tyres are only good for one lap, so the drivers had one go at making their fast laps count. Add to that the challenge of track limits and the result is a very tricky session.
"Overall, we're happy with the potential of the car, at a track which we expected to be less suitable than recent events. Lando secured a front row and did a great good job. He struggled a little to repeat the strong pace shown in Q1, but it came back when it counted in Q3. On Oscar's side, laptime in Q3 moved away from him due to a large wheelspin event at the exit of Turn 11, which overheated the tyres and largely compromised the rest of his lap.
"We're in a position to score good points on Sunday, which is our ultimate aim this weekend. We also have all the Sprint Saturday ahead of us, and a car with promising pace. We will take the learnings from today and aim to carry this momentum into tomorrow."
Mercedes
Hamilton has a good record at this track, a place he loves that often brings the best out of him. So, it proved in both practice and qualifying, the former world champion rediscovering his qualifying form that has eluded him at times this season. He missed out on the front row by just 0.009s. Russell couldn't match his team mate, having originally thought he'd gone the wrong way on set up in FP1. But even after altering his car, he still couldn't extract the same pace as Hamilton – and chewed through extra soft tyres in qualifying to boot, which might cost him across the rest of the weekend.
Lewis Hamilton, 3rd, 1:34.862
"I have to say a big thank you to everyone back at the factory. They have been pushing so hard to improve our car and we have taken a step closer to the front this weekend. I know everyone is working flat out for that and I appreciate all the efforts. Unfortunately today, we weren't quite at the very front, but we will give it another shot tomorrow.
"I love being in the United States! It's such a beautiful country and this circuit is just incredible. It is definitely one of my favourites. It has a legendary layout, it's bumpy, and all the drivers find it very tricky. Each section is an incredible challenge. I hope tomorrow we can fight for P1 again. I'll be giving it my best shot and with this crowd, I think anything is possible."
George Russell, 5th, 1:35.079
"It's been a really challenging day. I've been off the pace, and I've not been able to identify why. I can definitely feel the improvements we've made with the update, but it's been a strange Friday. I'll put it on my shoulders though as the driver; I just need to work on finding out why I've not been as quick as I think we can be.
"I'm pretty pleased with P5 as at some points it looked like we may not have even made it through to Q3. My final lap was a reasonable effort; I made a small mistake at turn one which probably cost me one more position on the grid. Turning to tomorrow, we can be encouraged. With the exception of Qatar, the Sprint Shootout on Saturday morning tends to go better for us. I will take all those positives and work on finding some more pace tonight."
Andrew Shovlin, Trackside Engineering Director
"Sprint [weekends] are always difficult with the limited practice time we have. It's particularly challenging to try and bring an update kit into one. Going through the data, the upgraded floor looks to be giving us what we hoped for, and the drivers are feeling a benefit. That is encouraging.
"In terms of the on track running, Lewis has had a relatively straightforward day. We thought at times that we had a chance of pole position and in the end, it was pretty close. Unfortunately, he couldn't squeeze any more out of it on his final effort but still took a strong P3. George had a tougher day in terms of the single lap work. He chipped away at it but getting through the first two parts of qualifying was stressful. Fortunately his lap in Q3 was a solid effort and he can do a lot from P5 on the grid.
"The long runs of both drivers looked good this morning in FP1. It's hard to know what fuel loads everyone was running with this format, but we're optimistic we can race well. We were managing to keep the tyre temperatures under control and that's going to be the key to good long run pace on Sunday."
Red Bull
Verstappen topped the only practice session, and looked well placed to capitalise on his strong form with another pole position. But Ferrari and Mercedes were pushing him close, and come Q3 the pressure told. His first flying lap was only good enough for second, and then on his last run he locked up into Turn 1. Chasing the lap from there, he threw his car around the final corner to cross the line 0.005s quicker than Leclerc – but lost the time due to track limits and thus had to make do with sixth. As for Perez, he scraped through to Q3 by just 0.018s but once there, couldn't make much of an impression.
Max Verstappen, 6th, 1:35.081
"It was a shame to miss out on pole with my deleted lap but I knew in Turn 19 it would be a close call. I made a mistake in Turn One so I had to really push for the rest of the lap, I didn't understeer or anything, I just really tried to maximise the corner and I misjudged it. Margins are very fine when you are pushing to the limit. Of course, it's unfortunate but it makes the Sunday race more enjoyable. Now our focus turns to the Sprint race tomorrow, we want to win that and the race on Sunday. It's a long weekend and a lot can happen, I'm going to have some fun out there that's for sure."
Sergio Perez, 9th, 1:35.173
"It wasn't a straightforward one out there today. I was struggling with the balance from low speed to high speed, especially in the low speed, we had made some changes that probably didn't help us in the way we thought. The margins were so tight today that a tenth would have made your qualifying so different, but we are on the wrong side of it. Hopefully tomorrow we have a better Sprint Shootout and then get some points on the board, we are expecting some changes in the conditions, there will be a lot of wind around."
Christian Horner, Team Principal
"It looked like we were going to get pole today but then a small lock up at turn 1 put Max on the back foot so he had to give it absolutely everything. He tried, but unfortunately we didn't quite do it today. Checo struggled with balance slightly but it was tight margins with not a lot in it but it will make for an interesting race on Sunday. We start from P6 and P9 for the race which makes things a little harder for us but there is always an opportunity for victory and we look forward to seeing what Sunday brings."
Alpine
Aston Martin's Q1 loss was Alpine's gain as the French team saw both their drivers make it all the way to Q3. Once there, Gasly just about pipped his team mate but more importantly, both Alpine cars managed to out-qualify a Red Bull and a McLaren. They are too far back now to make a bid for fifth in the championship, but can still take solace in their form, which seems to be improving race by race in the second half of the season.
READ MORE: Doohan set to drive for Alpine in Mexico and Abu Dhabi FP1 sessions
Esteban Ocon, 8th, 1:35.154
"There was probably a bit more on the table today but, nonetheless, we are in a great starting position for Sunday's race to able to fight for points. Our day started with a busy Free Practice session and we got through our programme without issues. We were able to turn things around quickly to be ready for Qualifying and the team did a great job to be on it right from the get-go and we managed things well to get through to Q3. Our focus now turns to the Sprint Shootout and Sprint Race where points are on offer so it will be important to carry this momentum into Saturday."
Pierre Gasly, 7th, 1:35.089
"It's been a good Qualifying for us and our second Q3 appearance in a row after Qatar. I'm really happy with our performance today and the car felt very good right from the start of the day, which is important on Sprint weekends with only one Practice session. We made some improvements between Practice and Qualifying and from there everything flowed well for us. It was fine margins, less than a tenth between a few cars, and I felt I extracted pretty much everything from my Q3 lap. It's always great to be fighting for the top positions. Tomorrow is the Sprint; we will be aiming for more of the same and hopefully be in contention to take some points."
AlphaTauri
Ricciardo returned to the AlphaTauri cockpit, only to find a very different car to the one he left, with so many upgrades having arrived in the period where the Aussie was recuperating. He did well though in making it to Q2, although once there he lost a lap time to track limits. As for Tsunoda, he was whiskers away from Q3 in the end, losing out by just 0.018s. The Japanese racer was also his usual vocal self on the radio, seemingly pretty unhappy with a few instances of traffic during his Friday.
Daniel Ricciardo, 15th, 1:35.974
"It's good to be back. There was nothing physically holding me back today, so it was about finding the feeling in the car and the setup. It's hard to predict what we could've done with only one hour in the car this morning and then straight into qualifying, but the last lap was already feeling a little poor. It's difficult to only have one session where you have to set the car up for what it is for qualifying. It was a shame because we were fighting a little bit from the start, but as the track started to ramp up, we plateaued a little bit. I feel I could've given more, but we have another chance tomorrow, and the wind direction might change, so that can play a role. We'll try and see what we can discover tonight, to learn from it for tomorrow. I wish I wasn't starting P15, but it's nice to be back behind the wheel and result aside, it's been an enjoyable day."
Yuki Tsunoda, 11th, 1:35.697
"I'm happy with my performance, but I think that a minimal difference in my driving would've allowed me to get into Q3, so I feel frustrated. However, some teams in front of me have both their cars in the top 10, so I feel like we extracted the performance our car had today. P11 isn't a bad position to start in on Sunday because it's close to the points, so I'm looking forward to it. Our race pace this morning during FP1 didn't look bad, so the potential is there for tomorrow and Sunday. It's good to have Daniel back. It's not easy to have one Free Practice session and immediately go into qualifying, because there's not a lot of time to get up to speed, but he did a good job and has already given good feedback, and that's why we were able to finish in P11."
Jonathan Eddolls, Chief Race Engineer
"It's been great to welcome Daniel back to the track and to drive our AT04 again from this weekend. He integrated himself and picked up exactly where he left off and was on the pace from the first lap. We split rear wing levels in FP1 across both cars, given there is a trade-off here between straight-line speed and downforce in the corners, and from this, we gathered good data. We also introduced some new aerodynamic parts, which is never straightforward during a Sprint weekend, but with the gaps between teams being so small, we need everything we can take. Both cars ran the medium and soft compound in FP1, and although neither driver achieved a perfectly clean lap on the soft tyre, we could see the updates were working, and we had the pace to compete in the midfield. Q1 was quite tight as we planned just two runs, with some other teams opting for three, but we did enough to make it through. It was yet another P11 for Yuki, this time 18 milliseconds from making it through, and without the dirty air from traffic in Sector 1 of his lap, he would've made Q3 comfortably. Daniel had the pace but suffered too much understeer on his final lap. This is very penalising for lap time here, and with the gaps between cars in the midfield being so tight, he ended up P15. We now shift focus to understanding how to re-optimise the car for the medium tyre for tomorrow's Sprint Shootout."
Alfa Romeo
With Alfa Romeo raising plenty of eyebrows off-track thanks to both of their drivers opting for cowboy attire when they arrived in the paddock, they nearly did likewise in qualifying with both drivers flirting with the top 10. Zhou lost a lap time to track limits though, while Bottas' early session form faded as Q2 wore on. In the end they had to settle for middle of the pack positions, but are certainly not out of the reckoning for points come Sunday.
Valtteri Bottas, 13th, 1:35.858
"Today's result wasn't bad, and I think it's promising to be this close to the top ten: with a decent start, we'll be able to build something on it and fight for points in Sunday's race. It is hot out there, but with less humidity, which makes it more comfortable to drive compared to the most recent events, like Singapore and Qatar. Finding the right balance with just one hour of practice is not easy, and there are obviously things that could be improved, but it's probably the same for everyone else: I think my biggest struggle today were my tyres overheating in the last sector, which made putting together a clean lap more difficult, especially where hundredths of seconds can make the difference. Still, we're not far from the top ten, which is the main positive from today. Tomorrow will be a standalone day, with its own qualifying and race: our main focus remains on Sunday's main event, but we will still look out for any opportunity to score a few points."
Zhou Guanyu, 12th, 1:35.698
"I believe, looking at today's results, that we can definitely be in the mix for points on Sunday; we made an improvement as a team, despite struggling a bit during Free Practice. Between the sessions, we were able to improve our car balance, which allowed us to build some rhythm in qualifying and to get in the fight for Q3, ultimately missing it by less than three thousandths of a second: a positive result, but with some mixed feelings as we could have potentially made a further step forward. Still, we can consider ourselves satisfied with the job done today, and I am confident it'll also allow us to have a much cleaner Saturday. The leading teams clearly have an advantage in terms of pace, but I reckon we can definitely challenge our main competitors and climb our way into the top ten on Sunday."
Alessandro Alunni Bravi, Team Representative
"Today has been a positive qualifying session for us, even going beyond our initial performance expectations on this track. This is proof that the latest upgrade we have brought this weekend is working, and has allowed us to make a further step forward. Of course, there is a slight bittersweet taste to today's results, as we thought we could even make it into Q3. Still, we must pay tribute to the whole team, who was able to rapidly make strong gains from free practice, working hard to put our two drivers in the condition to deliver a strong qualifying performance, as well as to Valtteri and Zhou, for the positive job done on track. Today's outcome places us in a favourable position to deliver even stronger results on Sunday, as well as in tomorrow's standalone Sprint event."
Haas
Haas finally debuted their much-discussed new upgrade package in Austin. It certainly looked quick in practice, and in qualifying as well until Hulkenberg lost his best lap time in Q1. That sent the German out at the first time of asking, which was disappointing in the extreme. Magnussen at least made Q2 but could go no further, but hopefully the team will have learned enough to make strides forward for the Sprint Shootout.
READ MORE: The Guenther Steiner way – Drive To Survive's 'reality TV superstar' and the show's impact in the US
Nico Hulkenberg, 16th, 1:36.235
"It was an unfortunate second run in qualifying, it was the second lap that mattered with the track evolution that we had today, but we got disturbed. We had both Red Bulls interfering with the lap in awkward places which made me lose quite a bit of time and that made the difference. It's the first day that we've run the new updates and after only one hour of practice and qualifying, we need to go through it and understand it more. This morning I wasn't happy at all with the car, but we made some good set-up changes and it felt much better. I think we could've gone a long way today, so it's very frustrating."
Kevin Magnussen, 14th, 1:35.880
"There's been some positive signs today with the upgraded car, and I don't think we've maximised it, I think there's more in it and I'm excited to see how it performs in the Sprint tomorrow. The race on Sunday is of course the big question, to see if we can look after our tyres a little bit better. I don't think we were expecting to be much more competitive over one lap, I think we're hoping to solve some of the inconsistency issues, especially race performance."
Guenther Steiner, Team Principal
"I think there was a little bit more in it for us today, we missed out a bit. I think Q2 for both cars was possible, maybe not Q3, but Q2 for sure. On Nico's lap, he said it himself, he got spooked by a car in front and lost too much in Sector 1 and couldn't catch up. If you could put the Sector 1 time from his first lap, he would've been in. These things happen, but with the upgrade at least we've done it, and I think it was worthwhile to do. There is promise there, we just need to work on it a little more, but we know we can get there."
Aston Martin
Aston Martin had a very tough Friday. They had bolted on a new floor, but couldn't fully test it in FP1 thanks to a brake issue that limited Stroll to just five laps. Alonso was also hampered as his car was checked over to make sure it wasn't suffering the same issue, so he missed out on soft tyre running. But even so, the team couldn't have expected both cars to be eliminated in Q1, just totally lacking the pace to progress.
Fernando Alonso, 17th, 1:36.268
"Not an ideal Qualifying for us with both cars out in Q1. There was a lot of traffic today and we completed our out lap with around one second left to the chequered flag. We started too close to the cars in front. I don't think this helped. It was very close between lots of cars with just a few tenths being the difference. We had a difficult FP1 with some issues and we weren't able to optimise the new package we brought to Austin. We are in parc fermé now so we will see what we can do tomorrow with hopefully a cleaner day."
Lance Stroll, 19th, 1:36.589
"Going into Qualifying with only five laps in FP1 was always going to be a challenge, but I actually felt like I got to grips with the AMR23 pretty quickly. The problem today was that we just didn't have the pace. We'd hoped for a bit more, so it's a disappointing result, but this is a good track to race at and overtaking is possible, so there will be opportunities on Sunday."
Mike Krack, Team Principal
"It was a very close Qualifying session and we did not optimise things today. I don't think our grid positions reflect our true potential. During free practice, we suffered with overheating front brakes on both cars and resolving that issue cost us valuable preparation time. When it came to Qualifying, we were on the backfoot, and with such a tight grid it cost us. The final moments of the session were not ideal with queuing in the pitlane. It was then all quite rushed, with the clock ticking down, and that impacted the preparation of their final laps. We can do better and we have to."
Williams
Sargeant had a messy qualifying. A mistake on his first run saw him pit without setting a time, before he lost his second lap time to track limits. That left it all to do on his third and final run, but he couldn't extract enough performance from the car as he slid around, lacking rear grip. Albon was also struggling to get the tyres to switch on. He'd looked really good in practice, but ran wide on his final flying run in Q1 as he ran out of grip.
F1 EXPLAINS: The incredible logistics of F1 and how the sport moves more sustainably than ever around the world
Alex Albon, 18th, 1:36.315
"The car was quite different from FP1, [I was] feeling a little disconnected which can happen when the wind picks up.
"It meant that to get a clean lap it was very difficult, and my lap just wasn't that good. The car was better than Q1 today, so it's a bit frustrating."
Logan Sargeant, 20th, 1:36.827
"Too bad I wasn't great today, but it was nice to drive on home turf. It was a really tricky session. The car felt completely upside down from this morning so it's strange.
"We'll have to look into it and see what we can do better tomorrow."
Dave Robson, Head of Vehicle Performance
"We didn't have enough pace this afternoon and although we were fairly strong in FP1, we weren't able to make enough progress through the day. In fact, the balance of the car changed quite a lot from one session to the next, which is not what we had expected. The margins remain fine and with our competitors continuing to bring upgrades, we are falling just short of progressing to Q2.
"With a little less traffic, or a slightly better balance, we could've progressed, but we weren't perfect with everything today, and that cost us. As this is a sprint event, there are more opportunities to come during the weekend and although the cars are in Parc Fermé, there are still some improvements we can make.
"We will look to build on the lessons from today and attack tomorrow afresh."
Pirelli
Simone Berra, Chief Engineer
"The Sprint weekends always pose an additional challenge for everyone, because there is less time to evaluate car and tyre performance before the teams have to tackle qualifying. That is also true for us, because, objectively, we have far less data with which to predict tyre behaviour over the rest of the weekend. However, today we still managed to gather sufficient information relating to all three compounds, especially the Medium and Hard, with which the teams did pretty representative long runs, both with a full fuel load in race trim as well as with a medium fuel level. Both compounds seemed to work well in terms of performance and consistency. As was easily predictable, the Soft seems to be only viable for a short stint, so its use in the races would only be possible in certain situations, for example a Safety Car period towards the end.
HIGHLIGHTS: Watch the qualifying action as Leclerc takes United States GP pole after Verstappen loses lap time
"One important aspect is that none of the three compounds showed any signs of graining despite the very high temperatures, with the track comfortably exceeding the 40 °C mark. Tomorrow we can expect a particularly busy Saturday with the Shootout kicking things off, followed by the Sprint over a distance of 19 laps. A fortnight ago in Qatar, the choice of which compound to use for the Sprint was pretty well balanced, with twelve drivers starting on the Medium and eight on the Soft, the latter taking a risk on the Saturday to try and gain an advantage in the following day's race and this is a scenario that could be played out again tomorrow afternoon."