Feature
What the teams said – Race day at the 2022 British Grand Prix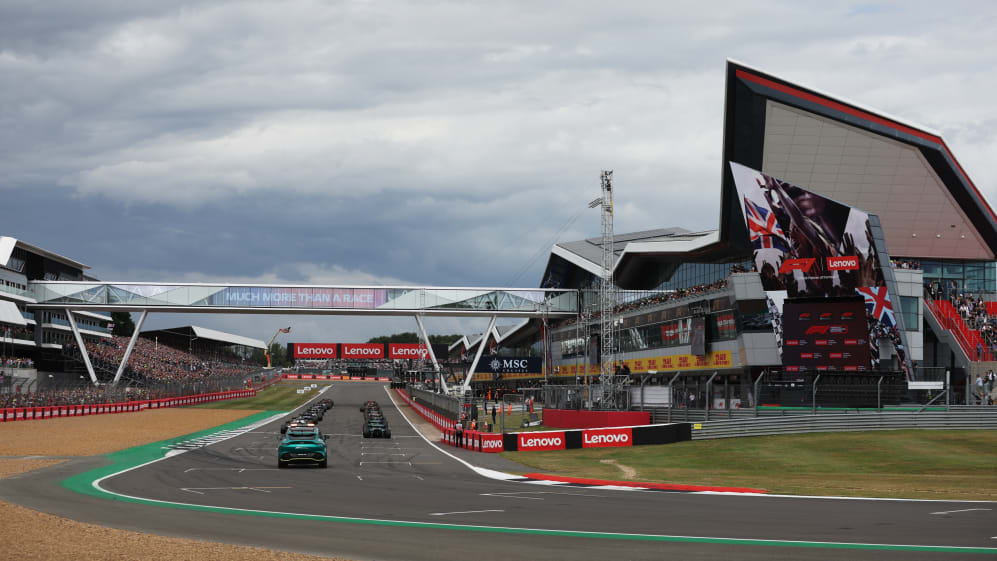 Ferrari
After 150 attempts, Carlos Sainz is finally a winner in Formula 1. The Spanish racer took his first pole position on Saturday and converted it to victory on Sunday – but it was no simple lights-to-flag run for Sainz, who was struggling for pace at times and was ordered to let his team mate Charles Leclerc past as Ferrari tried to cover off a threat from Lewis Hamilton. But a late Safety Car gave Sainz the chance to pit for new soft tyres, which he used to full effect to re-pass Leclerc and then race off to victory.
As for Leclerc, Ferrari elected not to pit him during the late Safety Car period – when he was leading the race – leaving him vulnurable to attack from Sainz, as well as Sergio Perez and Hamilton who all got past him to leave the Monegasque fourth at the flag.
READ MORE: 'It's about time' – Sainz reveals his relief after ending 150-race wait for victory at Silverstone
Carlos Sainz, 1st
"What a day! Winning my first F1 GP and with Scuderia Ferrari in front of this amazing crowd, at one of my favorite tracks, Silverstone, is literally amazing.
"Mentally it was one of the toughest races I've done: managing the gaps, lots of fights on track, the second start. We struggled a bit with understeer and on the second stint we had to save fuel in order to make it to the end, so the lift-and-coast put me at risk from the cars behind. However, as soon as the Safety Car came out, we knew it was paramount to change the tyres as mine were pretty old.
"At the restart, I had fresher tyres but we were fighting for a 1-2 as a team, so I tried to be as clean as possible in overtaking Charles. Thanks to the fuel saved behind the Safety Car we could then push until the end and finally I got my first win. I will enjoy it for today but we'll immediately start working on preparing for the next one."
Charles Leclerc, 4th
"I didn't finish where I wanted to, so it was a frustrating race for me. There were times when I really had to be on the limit to keep my position, fighting with others who were on Softs which was not easy at the end. It's a shame not to bring home more points for our team today, but that's how it goes sometimes.
"No matter how disappointed I am, it should not take away from what is an amazing first win for Carlos. It's a moment he will never forget, a dream come true for every driver and I hope that he enjoys it!"
Mattia Binotto, Team Principal and Managing Director
"To get back to winning, especially at such a demanding track as Silverstone, is particularly pleasing and confirms that we have worked well this season, both at the track and back in Maranello. Carlos had a great weekend, in which he also secured his first pole position. He was strong and consistent throughout and the win was richly deserved.
"On the other hand, it's a shame we scored fewer points than we could have done with Charles who, when the Safety Car came out, was comfortably in the lead. Pitting Charles at that moment, which would have put him behind Hamilton, who at that point would have stayed out on fresh Hard tyres, did not seem the right choice, so we therefore decided to leave him out on track. Unfortunately, at the restart, he was at a disadvantage in terms of tyres. We also want to congratulate Mick Schumacher on scoring his first championship points. They are well deserved.
"Finally, it's worth underlining once again the efforts of the FIA and Formula 1 in terms of safety. The fact that no drivers involved in the accidents at the start suffered any serious injury confirms just how effective are the current safety measures."
Red Bull
Max Verstappen swooped past pole-sitter Carlos Sainz off the line, only for the race to be red flagged immediately, putting him back to his P2 grid slot for the restart. He got past Sainz again when the Ferrari man ran wide in the opening stages, but just a few laps later a puncture dropped him down to sixth, while a damaged floor meant he struggled all afternoon and eventually came home P7.
Sergio Perez meanwhile was forced to pit for a new front wing after contact on the first lap, but thereafter clawed his way back up the order and engaged in some thrilling wheel-to-wheel racing with Charles Leclerc and Lewis Hamilton in the closing laps, before sealing a brilliant P2.
READ MORE: Perez enjoys 'epic' final laps at Silverstone after recovering from last to P2
Max Verstappen, 7th
"Seventh place is a good result considering the damage I had on the car and with Checo on the podium, we've scored some good points for the Team. I of course had hoped for more but today was just unlucky. I had a look at the car during the red flag and the whole of the underneath on the left-hand side was ruptured. I hit a huge piece of debris; I think it was carbon. As I was driving it felt like a puncture as I had no balance and a lot of oversteer.
"The car was a handful to drive, I tried to find a good aero balance but it was difficult. I understand that Alex is having precautionary checks at the hospital, so I hope that he's okay. It's never nice to see these things and today proved once again that the halo is a massive improvement for safety, I think without it Zhou would have been in a different state."
Sergio Perez, 2nd
"It is a good day for us and the team after such a messy weekend for us. Physically I wasn't one hundred percent this week and after lap one I was last, so to come away with second place is a great result. I was so unlucky on the first lap making contact with Charles, I broke my front wing and had to drop to the back. So we had to fight for it and it feels good to have a result like this.
"I am also very happy for Carlos and to share his first win with him is a nice moment for him and his family. I enjoyed the racing today a lot, we were fighting hard and fair and it felt like my karting days. Everyone was pushing really hard and going wheel to wheel, my heartrate was pretty high on those last laps. It was a race where it was important not to give up."
Christian Horner, Team Principal
"It was a phenomenal performance today from Checo after the damage he sustained to the front wing end-plate on the first lap, we had to change the nose and his drive back through the field was just sensational. He benefitted from the safety car which enabled us to put on a fresh set of tyres, but his pace and race-craft was just exceptional.
"For Max, he'd taken the lead and was in a commanding position but unfortunately some debris did a lot of damage to the floor of the car which lead to a massive loss of downforce. It was unfortunate because I think it would have been a fantastic race for him today, but every point counts and he fought as hard for P7 as he would for the win.
"The biggest result today is that all drivers are in reasonable shape considering the scale of the crashes we saw today and we hope to see Alex and Zhou fighting fit in Austria next week."
Mercedes
With new upgrades on the W13, Lewis Hamilton looked right back in the hunt at Silverstone and could well have taken victory. He had a spectacular running battle with Sergio Perez and Charles Leclerc in the last 10 laps which will live long in the memory of the fans, and ultimately finished third after a crowd-pleasing drive at his home race.
By contrast, George Russell was caught up in a multi-car accident on the first lap and jumped out of his car to check on Zhou Guanyu, who had also crashed. His team were then not allowed to repair his car for the restart, as he registered his first DNF of the year.
READ MORE: 'That was Formula 1 at its best' says Hamilton after battling to P3 in home Grand Prix
Lewis Hamilton, 3rd
"I gave it everything today! I was chasing, trying to get those Ferraris, but congratulations to Carlos. They were just too quick today for us and at the end I was in amongst that battle with Checo. Those guys were just too quick on the straights for me today, but I'm so, so grateful for all the hard work the team did to get an upgrade here, we've made a step closer to them, so we've got to keep pushing!
"We lost a little bit of time in the pit stop, and then I was chasing, and chasing, and chasing, but the pace was great on both sets of tyres and then at the end there it was just a little bit difficult. Once you get a Red Bull behind, they're so fast on the straights. We've got some improvements to make but this is a huge bonus for us to be on the podium. I'm glad everyone was safe from that big crash at the beginning of the day. Thank you to everybody, we're going to continue to push."
George Russell, DNF
"We started on the Hard tyre because I made a mistake in qualifying and we thought that risk gave us the best opportunity later in the race but there was just very little grip at the start. It's the hardest compound, it's cold out there and I got swamped by all the cars. Next thing I know I got touched, I was in the side of Zhou, and that was it.
"I jumped out the car to see if Zhou was okay and I saw it was red flagged straight away but when I came back to the car, I couldn't quite get it started for whatever reason, so I ran back to the team to check. I asked the marshals to leave the car and next thing, when I got back, the car was on the back of the flatbed which meant I couldn't restart.
"It was obviously frustrating for my race because the car just had the puncture and there's no doubt we had the pace to come back to P6 today but I'm just glad that Zhou was OK."
Toto Wolff, Head of Mercedes-Benz Motorsport
"A great race today for the fans who all came out with such passion. We had some light at the end of the tunnel in Barcelona and then struggled on three street circuits so I don't want to talk us up too much or be too pessimistic, I'd rather be cautious. We still had our persistent ride issue all three days which is a key focus for us to tackle but we showed strong pace this weekend which is pleasing and our updates seemed to work well.
"In Austria, there will be a couple of corners which haven't made our car happy in the past but it's a constant learning process for us. This year is going to be a pretty tough one to win but we just need to get our house in order to be properly on top of the car's performance. It was disappointing for George not to be in the race because the car pace was good but that's the regulation so it is what it is, unfortunately.
"Lewis drove a strong race, we had the win right in front of us before the safety car and were chasing the Ferraris down but then after the safety car, we were never quite in the position to challenge for the front and lost a little momentum. I'm glad it's a quick turnaround for Austria, another chance for more information which is more learning."
Andrew Shovlin, Trackside Engineering Director
"It's difficult for the team to know how to react after a race like that. On one had its frustrating to only come away with a third place as with two cars and a bit more luck we could have been fighting for the win and a good haul of points. On the other hand, we can be pleased that we were fighting at the front after a very tough start to our season and a lot of hard work from everyone in Brackley and Brixworth to recover a huge performance gap.
"George's race didn't last long. We knew the hard tyre would be a risk but didn't anticipate us losing so much ground off the line. That clearly was the contributing factor in George being part of the accident at the start which ended his race but at least no one was hurt. Lewis on the other had a great start moving to 3rd so it was a shame that he was put back into fifth for the restart from where we dropped a further position. Even so, there were plenty of times where it looked like we might be able to get back into the fight for the win but sadly it was not to be.
"Even so, we can take a lot of encouragement from the progress this weekend. We brought a significant update to the car and it looks to have delivered what we expected. Now we know what works for the car, we can find more. We've got a couple of days to regroup ahead of the Austria sprint race so plenty to do in a short space of time but we're excited to be going there with some hope of fighting at the front."
Alpine
A very good day's work from Fernando Alonso who converted his P7 grid slot into fifth place at the flag, just a second behind Charles Leclerc's Ferrari with the veteran Alpine driver able to close up on the leading pack thanks to a Safety Car triggered on Lap 39 by his team mate Esteban Ocon, whose car ground to a halt on the old pit straight.
Fernando Alonso, 5th
"It was a fun race, which we are happy to finish in fifth place. I was hoping for a few more race incidents at the end, which would have helped us fight our way to the podium, but the battle between the top five cars was really fun. I think we should have finished fourth though because I saw Charles [Leclerc] zigzag several times past Lewis [Hamilton] and, compared to what happened to me in Canada, I think that's not allowed and that he should have been penalized.
"Looking at the weekend as a whole, I think the car was very good and I felt better than any other race I've had so far this season. We managed our race very well and showed consistent pace. We need to continue this momentum and maintain the same level of performance in the next races. I also have to congratulate Carlos [Sainz] on his first victory and am also happy that Zhou is fine after the incident he suffered at the start. It shows how much safety has improved recently in Formula 1."
Esteban Ocon, DNF
"The most important thing to take away from this race is that Zhou is doing well after his big run-out. It happened right in front of me. I was lucky to avoid it, but still suffered damage to the front right from contact with Alex [Albon]. The guys did an amazing job fixing the car and getting it ready when racing resumed, so thanks and well done to them. We managed the relaunch well and the pace of the car was good.
"A fuel pump problem on lap 38 unfortunately ended our race, leaving us with no choice but to retire the car. Overall it was not an easy weekend, with some issues in Q2 and today during the race. We will have to analyze all this closely. On the other hand, we learned lots of lessons and I am happy with the big points brought by Fernando to the team. Now let's look to the next race."
Otmar Szafnauer, Team Principal
"First of all, the good news of the day is that the drivers involved in the incident at the start of the race are all OK. The fact that everyone was able to pull through after a pretty scary accident highlights the extraordinary safety standards put in place in Formula 1.
"Subsequently, we witnessed an exhilarating Grand Prix this afternoon which, for Formula 1, serves as an excellent advertisement highlighting the extraordinary entertainment offered by this sport. We are very happy with Fernando's fifth place. He had a good race, perfectly controlled. Credit also goes to the team for the Safety Car pit stop which allowed them to overtake Lando [Norris] and fight in the leading group at the end of the race.
"Esteban was also shown to be brilliant despite the damage suffered by his car very early in the race. The team did a great job fixing the car, which allowed them to start again, aiming to score some good points. Unfortunately, what appears to be a fuel pump problem forced him to retire. If we want to achieve our goals, we will have to quickly resolve these concerns. We leave here with ten points, which is a good record, and are looking forward to going to Austria this week, ready to score twice as many points."
McLaren
Lando Norris had a great start and managed to get ahead of Lewis Hamilton in the early stages. He was eventually passed by the Mercedes but was competitive all afternoon and was running with Fernando Alonso just behind the leading pack and ready to pounce on any mistakes as the laps ticked down, eventually finishing a solid sixth in his home race.
Daniel Ricciardo struggled after being caught out by intensifying rain in qualifying on Saturday, and finished in P13.
Lando Norris, 6th
"Firstly, it was great to see Zhou, Alex and George get out of their cars safely today, it's never nice to see an accident like that, so I'm glad the safety equipment did its job properly. On our side, a decent race. I felt like we deserved P5, but unfortunately we lost out at the final pit stop under the safety car. I think we drove a good race. We did a lot of things very well today and we had reasonable pace in the car, it was just maybe a late call with the pitstop and that cost us one position today. I'm not annoyed, I think we still got some good points, but it could have been one more place.
"Finally, it's been great to see the British fans this weekend, they've been amazing all weekend come rain or shine. I had a really great run on the second restart and could see the fans cheering for me in the stands, which was awesome to see. I already can't wait to come back next year!"
Daniel Ricciardo, 13th
"Firstly, I'm glad to hear the drivers are OK after that first lap incident. For our race, the car just didn't really seem to operate at the same level of grip as the others. I could just feel it through the tyres as well, trying to carry speed. It was just a bit odd, so we have a bit of investigating to do.
"Then we had an issue with DRS which meant I couldn't use it after lap 31 which was also a bit of a shame. Obviously, it's tough to overtake with that as well – but simply we weren't really quick enough anyway today. It was a bit of a lonely afternoon."
Andreas Seidl, Team Principal
"The most important thing is that all drivers involved in accidents today, F1 and Formula 2, are doing well. Motorsport works hard to improve safety and what we saw today demonstrates why that is essential.
"For us, the positive we take away is that we had a more competitive car this weekend and we're back in the points after two difficult races. Lando looked competitive all day but unfortunately lost out to Fernando in the final pit-stop, behind the Safety Car. Daniel's weekend didn't go to plan, which will need careful analysis over the next few days. He wasn't in a position to deliver competitive lap-times yesterday and today. In addition, he experienced a DRS failure that required an additional pit-stop mid race and required him to run without the DRS in the second half of the race.
"So, some positive signs and, as always, a lot to learn before we get going again five days from now in Austria, on a circuit where we've had tremendous results in recent years. Before then, I have to say thanks to the entire team here at the track and back at the factory, together with our colleagues at HPP, for all of their efforts this week. I also want to thank Silverstone and the fans that made it special. The crowd has been massive, the atmosphere exceptional, and it's wonderful to experience together with a lot of our colleagues from the factory who were cheering for us as well on the grandstands."
Haas
The Haas debrief on Saturday night must have been a long one, as the team tried to understand how they had ended up down in 17th and 19th in qualifying. But race day brought a complete turnaround for the American team as both cars finished in the points for the first time this season, with Kevin Magnussen in P10 and Mick Schumacher a superb eighth – the German finally scoring his first ever F1 points. And it could have been even better for Schumacher who found himself battling with reigning champion Max Verstappen in the closing laps, who just managed to hold him off to the line.
Mick Schumacher, 8th
"We're really happy. Coming back from P19, I said we have the speed to go forwards and we definitely showed it today. It's great for the team, a double-finish in the points, so that's obviously very helpful in the constructors. For me, I'm happy now to focus on what's really important and that's the racing and the driving."
Kevin Magnussen, 10th
"I don't think we could've hoped for anymore. I think on the first stint we didn't have great pace, at least compared to the second stint where the pace picked up. I lost a few positions in the first stint, annoyingly, because then we got the safety car towards the end. We were advised to pit both cars and I took the decision to stay out – I don't know if it was right or wrong – but if it was wrong, it was my decision.
"Two cars in the points though, you have to be super happy with that, to get a decent amount of points at this stage in the year, it's very good. We go away from here with a big smile on our faces and with big motivation for the races ahead."
Guenther Steiner, Team Principal
"I'm very happy for the whole team to have scored double-points today. We deserved it – it wasn't by luck – starting from P17 and P19 and ending eighth and tenth, we couldn't have wished for more. The cars were fast, the guys did a good job, the pit-stops were good, so what we need to do now is a very good qualifying and a very good race and then we're back in the game."
Aston Martin
Sebastian Vettel was baffled and distraught when he was knocked out of qualifying in Q1 on Saturday with a P18 grid slot. But it's on race day that the points are handed out, and Vettel collected two of them after fighting his way up the order – aided by the timing of the Safety Car – to finish ninth in Aston Martin's home race.
Team mate Lance Stroll had an even worse qualifying session and started last on the grid. He too made up ground in the race to finish P11, just outside the points.
Sebastian Vettel, 9th
"It is nice to score points on my birthday, and in the team's home race, especially when you consider where we started [in 18th]. Overall I think it was a decent race and a good recovery.
"The first start, with the red flag, was very chaotic. I had made a really good getaway and it launched me into a gap nearly alongside Alex [Albon]. Then I got squeezed and everything backed up as a reaction to the accident ahead. I braked but could not avoid making contact with Alex. The most important thing is that everybody involved is fine."
Lance Stroll, 11th
"I thought we had a reasonably positive race. The cars showed much better pace than yesterday, so it is a shame I was not able to score some points.
"We are still learning and understanding the upgrades, but based on the race today I see potential for the races to come. I am glad Zhou [Guanyu] and Alex are okay after the crash at the start."
Mike Krack, Team Principal
"The most important thing today is that Zhou is alright after the accident at the start, which once again demonstrated how safe the FIA has made our sport.
"If you had told me after qualifying yesterday that we would score two points today, we would have been pleased to hear it. However, we did not manage Sebastian's and Lance's races perfectly and we need to analyse that in detail. Next up is Austria, a circuit whose characteristics should suit our car better than Silverstone and where we have to do a better job overall."
Williams
Nicholas Latifi was celebrating his first Q3 appearance on Saturday at Silverstone, but the suspicion remained that in dry conditions, his Williams might struggle to stay there. And so it proved, as he finished P12 on race day. Alex Albon meanwhile was one of the drivers caught up in the first lap multi-car crash. He was taken by helicopter to Coventry Hospital for precautionary checks, but was later given the all-clear.
Nicholas Latifi, 12th
"From Lap 1 we were always fighting an uphill battle. At the beginning, I was surprised at how much I could stay with the cars ahead but in reality, there was a little DRS train that was keeping me there because the cars behind were much quicker. It felt really nice to be properly racing in the pack. Unfortunately, we didn't have the basic pace in the end alongside managing the car towards the end of the race.
"The car's lacking downforce compared to the others with us missing pace in the high-speed corners, which wasn't helped by some floor damage today. We put up a good fight, but it wasn't meant to be today. Frustrating in the end but overall a positive weekend."
Alex Albon, DNF
"I'm very glad that everyone else involved in the first lap incident is okay. Thank you to all the medical staff at the track and Coventry Hospital. It's a shame our race ended before it began today, but we are already fully focused on Austria. Bring on the next one."
Dave Robson, Head of Vehicle Performance
"Following the incident at the start of the race, we are grateful that nobody was seriously hurt. It was a shame that Alex suffered contact as a result of the crash ahead of him, and that this put him out of the race after just a few corners and before we had a chance to see how the new upgrades were working.
"However, Nicholas backed up his strong drive yesterday with a very good race today. He showed good pace and took advantage of opportunities that came his way, including the late safety car. Unfortunately, he didn't quite have the pace at the end to challenge for the final points position, but he raced hard until the end and put up a strong fight against faster cars. When he ran wide at T9, he did some damage to the floor, which harmed his pace in the crucial period after his first pit stop.
"We will get Alex's car repaired and then we'll head to Austria with some useful momentum and a plan to further exploit the new package. The Red Bull Ring has some similar characteristics to Silverstone and probably similar weather too and so we should be able to pick up where we left off this weekend."
AlphaTauri
A day to forget for AlphaTauri. They began the weekend struggling for pace at Silverstone and then Pierre Gasly and Yuki Tsunoda made contact in the race at Turn 3, with both cars spinning. Tsunoda later received a five-second time penalty and finished P14, while Gasly's car suffered wing damage in the incident and he was forced to retire.
Yuki Tsunoda, 14th
"It's been a difficult day. The collision I had at the start of the race was completely unavoidable, a car came in front of me sideways and there was nothing I could do. Luckily, I only damaged my front wing and was able to get back to the pits with the red flag and continue to race with the restart.
"Unfortunately, I then had contact with Pierre later on. I need to review it properly but at the moment, I think I could've waited for another opportunity to pass him. My speed was good going into the corner so I thought I could make it through, I also didn't expect Pierre to close the door quite as much as he did, so this is a mistake from my side. Mainly, I just want to say sorry to the team. After that, I had damage to the car, it was very tricky to drive and that made the rest of the race very difficult for me."
Pierre Gasly, DNF
"From a difficult weekend we actually made it quite a bit better with Qualifying, then after the race restart today I was running in seventh, we were in a great position. Following the incident with Yuki I had damage to the rear wing, so we had to retire the car.
"Every point is valuable, especially in a season like this, so I'm disappointed with the end result today, as it was an unnecessary collision. The accident with Zhou was really scary at the start of the race, it was shocking to see him upside down but I'm glad to hear he's ok, that's the most important thing."
Jody Egginton, Technical Director
"It's very frustrating to have thrown away a likely points finish on a weekend where the team and drivers have worked so hard to extract the maximum from the package and get the cars into a position to fight for points. Contact between team mates is never good but in this instance, with both cars suffering extensive damage one of which we had to retire, there was really no way back.
"As a team we will sit down and have the necessary discussions, as the move Yuki made today was not the best and needs to be avoided. In parallel, the guys will be flat out getting the cars repaired and ensuring we are as prepared as humanly possible for the next race."
Alfa Romeo
Zhou Guanyu had outqualified his team mate Valtteri Bottas for the third time in a row this weekend, but there was concern up and down the pit lane for the Chinese rookie when his car was pitched upside down, over the tyre wall and into the catch fencing in a terrifying first lap crash. Remarkably, once he was extracted from the car and checked over by the medics he was declared fit and uninjured. Meanwhile Bottas retired from the race with mechanical issues on Lap 20.
READ MORE: Zhou declared fit after Lap 1 crash at Silverstone as conscious Albon flown to hospital for precautionary checks
Zhou Guanyu, DNF
"It was a big crash and I'm glad I'm ok. The marshals and the medical team at the track were fantastic with their quick response, and I also owe my thanks to the FIA and Formula One for all the work they have done, and they keep doing, to improve the safety of our cars: the Halo saved me today, and it goes to show that every step we take in improving our cars has real, valuable results. I'm keener than ever to get back on track and do what I love: I'm fit and I'm looking forward to Austria next week."
Valtteri Bottas, DNF
"First and foremost, the main thing today is that Zhou is fine. It was a big shunt, and I'm glad that nothing serious happened and that he has already been cleared by the FIA. Today, we got additional proof on how the Halo is one of the greatest innovations in F1, and how safety has improved in recent years.
"For what concerns my race, we had a lot of opportunities after the restart, but we had an issue with the gearbox, so I ultimately had to stop to prevent further damage. It was unfortunate because we had good pace and we could have scored a big amount of points. Even though it's been a tough weekend, we can still draw some positives: the pace we showed on track was a good sign, and I think we can be competitive in Austria next weekend."
Frédéric Vasseur, Team Principal
"I think we can all agree that the most important thing today is seeing Zhou come out of such a huge crash without any injury. What we witnessed were dramatic scenes, and once again we have to thank the great improvements in safety spearheaded by the FIA and Formula One for a positive outcome.
"The work to improve safety in our sport is never done and today reminds us of just how important this is. Zhou is ok and fit to race in Austria next week, and this is the big victory of the day. Overall, we had a tough race in which we also lost Valtteri with a gearbox issue, when he was running in P8 and eyeing a really strong result.
"It's a shame to miss out on the opportunity to score points, but this is racing. We can take comfort from the pace we showed while we were in the race: we can look with optimism to next week's event in Austria."
Pirelli
Mario Isola, Motorsport Director
"First and most importantly, we are all incredibly relieved and grateful that the drivers involved in the scary first-lap crash are OK: a testament to the incredible safety standards in the sport. After then, we saw one of the most thrilling races in recent memory, with battles all the way down the field and tyre strategy providing a key element. For anyone still asking if the 2022 new package of cars and tyres has improved the show and helped overtaking – here is your answer!"
HIGHLIGHTS: Watch the action from a brilliant British Grand Prix, as Sainz seals maiden Grand Prix victory