Feature
What the teams said - Race day in Qatar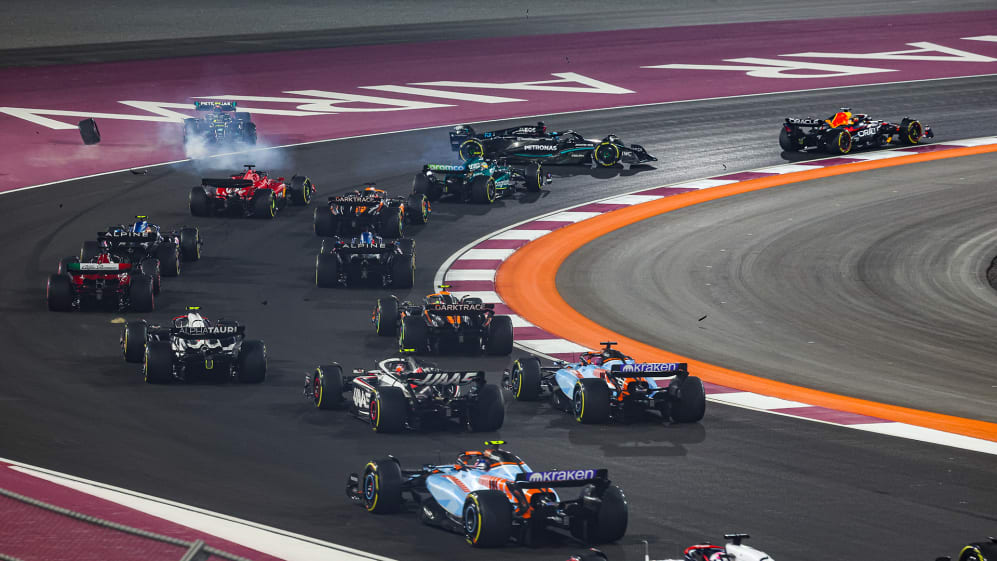 Red Bull
Verstappen started on pole, made it to Turn 1 first and from there wasn't really troubled as he recorded a 14th win of the season. It was closer than it has been though, with the McLaren boys within touching distance. As for Perez, he started from the pit lane following his crash yesterday. He made his way through the order, but found himself on the wrong side of several penalties for track limit violations, including one after the flag that dropped him from ninth to P10.
READ MORE: Verstappen says he will enjoy latest title win 'a little' as he vows to push for more
Max Verstappen, 1st
"We had a really good race today. I think what really made it for me was the first stint where we were strong and good on the tyres. I had a slow stop at the end so the McLarens were quite close at the chequered flag but they have been quick all weekend. Of course, with the mandatory three stops, we weren't able to get the best out of our car as we are good on tyres, but we won and that's the main thing. My hunger for winning hasn't stopped since winning the Championship, I want to keep going and maximising the performance of the car each weekend."
Sergio Perez, 10th
"It was a difficult afternoon, starting on the hard tyre really complicated things for us, especially with the early Safety Car. It meant we couldn't warm up the tyres and then we ended up losing positions and couldn't make progress quickly enough, and as much as we should have. By the time I got the temperature in the tyres we had to pit, due to the mandatory pit stops. We lost our car yesterday due to the incident in the Sprint and we had a completely new car for today.
"It was therefore very difficult to draw conclusions with the car we had, we had to revert on the specifications. I really suffered with the new track limits, they were brought in very last minute, which I don't think is right but it is the same for everyone and I should have done a better job. It was hard for me to judge them inside the car because I think, a little like in Austria, I am sitting a bit too low and that made things harder, I should have maybe altered that when the changes were implemented. Overall, we have plenty to look at and I will be in the factory this week working hard with my Team."
Christian Horner, Team Principal
"For Max it was an incredible win. It's been a very tough race, both physically and mentally, for all the drivers. In a race that was very prescriptive and sub optimal to the fastest race, Max drove well and very controlled, trying to manage the tyres. Having an enforced three stop was not the fastest way to run that race so it was a case of making sure we covered off the Safety Car possibilities and managed the deg but the strategy team did their work, got their sums right and helped deliver the victory.
"For Checo it was another tough race. The 15 seconds of penalties really impacted his overall performance and meant a missed opportunity to capitalise on points with Lewis out of the race. Checo just needs to get that form back that he had at the beginning of the season and we know he can do it. He knows he can do it. He has our full support. We head West now and to the Americas where Checo drives well so we look forward to some stronger performances in the quest for second place."
McLaren
They had a double Sprint top-three yesterday, and they repeated the feat in the Grand Prix which was even more impressive considering their starting slots. Piastri had a great getaway and avoided the Mercedes clash to run second in the opening stages. That was where he stayed, keeping Verstappen honest ahead. Norris had to fight forward after winding up sixth at the end of the opening lap, but his pace was such that third never looked in doubt. He was closing in on his team mate late on, but the team wanted to bring a safe double podium home and called off the fight.
Lando Norris, 3rd
"It was just a mega race from start to finish. We had a good opening lap. I learned from my mistake yesterday of going wide, I said I'd go tight, and I did, and it worked out. So, a good start, we had good pace throughout the whole thing. Probably the best pace out there today, so I'm happy. Stressful, hot, sweaty, little bit tired but a great job for the team. Three in a row now. A 1.8 second pit-stop as well!
"I think the three-stop made it a lot harder physically. You could push a lot more. Even the last stint, you could pretty much push flat-out. This was one of the hardest races I've done, but it's a nice challenge and congrats to Oscar. Thank you to the team for their incredible work to put us in this position."
Oscar Piastri, 2nd
"Very, very happy. Turn 1 was nice. That was in the game-plan before the race. We had a really impressive pace. It was definitely the hardest race I've had in my life. It was hot and basically flat-out the entire time. It was 57 qualifying laps, which I definitely feel that I've done. A really good race.
"My thanks go to the team for providing Lando and myself with a car that means we can fight at the front more consistently. There were some great strategy calls today, brilliant pit-stops and despite the challenging conditions, we were able to put it all together on the day. A great day."
Andrea Stella, Team Principal
"A fantastic day for the team as we achieve our 500th podium in Formula 1. Both Lando and Oscar drove great races in difficult conditions to finish P2 and P3 to add to the success in the Sprint yesterday. A double podium rewards the team both trackside and at the factory for their brilliant work and my thanks go to them for their continued commitment and dedication to McLaren.
"The tyre limitations provided an interesting challenge for the team as we had to adapt our strategy and prepare the team for six stops. However, they managed very well and the brilliant work by the pit-stop crew saw the fastest stop of 1.8 seconds.
"We now turn our focus to a busy triple-header and continue to close the gap to our competitors. We must remain with our feet on the ground, however for now, we will celebrate the success of a very strong weekend."
Mercedes
Hamilton opted to start on the soft tyres, and made a great getaway. But so did his team mate and those two were alongside Verstappen into Turn 1, the Dutchman with his nose in front and on the inside, racing line. As Hamilton cut across thinking he was ahead, he clipped Russell's front wing, his team mate having nowhere to go. Hamilton spun out into retirement and admitted the fault was his, as Russell dropped to the back of the field after needing a new front wing. But there was enough pace in the car for him to fight his way back through to come home a credible fourth.
READ MORE: Hamilton takes full responsibility for first-lap collision with Russell in Qatar
Lewis Hamilton, DNF
"It was a big opportunity to get some good points for the team and in the heat of the moment, I didn't really understand what happened. I felt the tap from behind, but I don't think George had anywhere to go. It was a really unfortunate situation and I feel really sorry for the entire team. Massive apologies to everyone back at Brackley and Brixworth, and I take full responsibility. Everybody is working incredibly hard so it's massively gutting to have a result like this. The positives are that the pace of the car was strong across the weekend. George was also able to do a good job of getting back through to score some important points."
George Russell, 4th
"The incident at turn one was absolutely not intentional from either myself or Lewis. Visibility is so difficult in these cars and especially when you're racing. There are big blind spots and we both have so much respect for one another. We will make sure we come out of this stronger.
"There are still lots of positives to take away from this weekend though. Our goal is to get P2 in the Constructors' and we managed to outscore Ferrari this weekend. Our pace was very strong too so we can be confident going into these final five races. The Grand Prix itself was incredibly tough. It was by far the most physical race I've ever competed. It was like being inside an oven! I was pretty happy to see the chequered flag."
Andrew Shovlin, Trackside Engineering Director
"We've had a tough run of races in the last month. You do get those in sport, though, and it's a good test of how strong your team is. There's very little else to say about the incident at turn one. Neither driver had the intention of coming together. Lewis took full blame for the incident and George acknowledged the role that these sizeable cars can have in such moments. Ultimately both are upset that it's cost the team a lot of points. We know both are committed to making sure we can secure second in the Constructors'.
"We have five races to go and we're looking forward not backwards. There are positives we can take away from Qatar. We had good pace today; George recovered from dead last to fourth. Operationally, the team worked extremely well across a very challenging weekend. We have a decent car, two strong drivers and a very committed team in Brackley and Brixworth behind them."
Ferrari
Sainz didn't make it to the start line, a fuel system issue was discovered a couple of hours before lights out, and it was deemed not fixable in time. That left Leclerc as the only Ferrari car on the start line. He had a hard race, in the thick of the action as he fought with the likes of Russell and Alonso. He couldn't keep the faster Mercedes at bay but did manage to get past the Aston Martin, to extract the maximum his car was arguably capable of.
Charles Leclerc, 5th
"We maximized our potential today. It was a case of damage limitation, with Carlos already out just before the start, In the race, we had to give ourselves a bit of a margin with the way I was driving and bring it home safely. We expected McLaren to be strong, but not as strong as what we saw this weekend. Mercedes also had a strong pace and I think that George (Russell) wasn't pushing as hard as he could.
"Physically, it was the toughest race of my career. That was due to a number of things: very high temperatures, three stops – which meant putting in qualifying laps in every lap of the race – and as a result, much more stress in the high speed corners.
"Next up is the triple header and we will do everything to finish the season on a high, especially in our battle in the Constructors' Championship."
Carlos Sainz, DNS
"We are disappointed as today was a lost opportunity. We all know motorsport can be cruel at times and today I got a taste of the worst of it. It's a pity because I think I could have run a good race today and scored some important points for the Constructors' Championship.
"As in every situation, there's always something to learn for the future. Now it's time to focus on the last five races of the year."
Fred Vasseur, Team Principal
"We can't be satisfied with how things went this weekend, because we have lost points to our closest rival and we were unable to get Carlos to the grid because of a reliability problem.
"However, I think we did the most we could today with Charles. In extreme conditions he drove very well and the mechanics delivered three excellent pit stops. Maybe in the middle stint, we were slowed a bit by traffic, but anyway, it would not have been easy to keep George Russell behind us today. It was a chaotic weekend, held in very tough conditions with several unexpected factors, starting with the problems linked to the kerbs, which might have actually had something to do with the failure on Carlos' SF-23. We go home with 10 points from Charles' fifth place and will start preparing for the triple-header in the Americas which look like being very tough."
Aston Martin
Alonso had an unusually messy race, running wide early on which was claimed to be due to wind. But he also made a mistake late on and went skating through the gravel, before needing to use the escape road to come back on track. He didn't return that tidily, and the stewards had a look. As for Stroll, he fought his way up through the field, and looked like he might score a point but wound up picking up too many time penalties, and was left frustrated with P11.
Fernando Alonso, 6th
"It was an extreme race today with the hot conditions and perhaps one of the toughest we've faced. We also had an issue with the seat being very hot from around Lap 15, which made it quite challenging. We were competitive though and I'm happy to finish sixth after a few weekends where we didn't have the pace. We finished ninth in Monza, eighth in Japan and here I felt like we were in the mix. Perhaps as a sport we can think about some measures in the future if we experience these extreme temperatures again."
Lance Stroll, 11th
"We finished ninth on track today, with track limit penalties demoting us to 11th. It's disappointing not to take any points away having raced so hard in such physically demanding conditions. The temperatures we faced out there were extreme – more so than any other event – and there are lots of tight corners here so you're constantly battling the g-forces. There are positives to take away though; the car had more pace today and the team made some good strategy decisions with the regulated tyre constraints. The team in the garage did a great job in such challenging conditions, too."
Mike Krack, Team Principal
"We scored important points today, but it was not an easy race with the intense heat and tyre strategies available to us. They were tough conditions to go racing in and we saw all the drivers needing to hydrate after the race. I don't think there was much more available to us in terms of the overall results. We had a good opening stint and the strategy calls were the right ones. Fernando suffered with some floor damage after a trip through the gravel, which made it difficult to stay ahead of Charles [Leclerc]. Lance had a good recovery from his starting position and was on track for points without the post-race time penalties. It is clear we need to find more performance and our full attention is on doing that for the upcoming races."
Alpine
A case of what might have been for Alpine. They had both cars in the points for most of the race, and while Ocon duly stayed there all the way to the flag despite having to lift in the closing stages, Gasly could not follow suit. He was going well until he too started picking up time penalties for track limit infringements. Serving those dropped him into a squabble with Stroll and Perez. He managed to overtake both of them but had to give the places back having achieved the feat by going off track, before picking up yet another penalty which ended his quest for a top 10.
Esteban Ocon, 7th
"What a tough and physically difficult race for all of us! In the end, it was a great result for us in seventh place and six points in the bag. We had a great start to move up to fifth and credit to the team too for a well-executed strategy and pit stops. The conditions were extremely tough in the car and I did not feel well physically in the first half of the race. I was able to pull it together and focus on what I needed to do. We had a couple of good overtakes along the way and we brought home six valuable points for the team. Now it's time for rest and recovery and then prepare for a demanding triple-header in the Americas and we'll look to carry this momentum into Austin."
Pierre Gasly, 12th
"There was potential to score points today so, of course, I am disappointed in how the race played out. It was not a good day, it's a matter of centimetres on track limits - that is on me, though - and today I paid a big price for it. It's frustrating as we definitely had the pace to score solid points for the team. We had a small energy management issue to manage during the race, which cost me some pace. I probably tried to take too many risks and overcompensate for that and pushed too close to the limit. I'll learn from it and move on. It's been a fairly positive weekend for the team, we have lots to learn and now we look forward to an intense triple header coming up, starting in Austin."
Bruno Famin, Interim Team Principal
"We leave Qatar with more points on the board after Esteban's seventh place finish; a very smart, clinical and well measured drive in challenging conditions. Pierre too had a strong race – it looked promising for a good double team result - but unfortunately his efforts went without reward due to penalties for track limits. We have lots to learn going forwards but, in summary, it's been a positive weekend for the team across all three days. We will continue our hard work back at the factories, take as many learnings as we can and look to convert those into a good team result in the Austin Sprint weekend."
Alfa Romeo
Bottas started right up the order thanks to a great qualifying on Friday, and opted for the softs for the start. He pitted early as a result, but was always in the midst of the points although he did lose out to the Alpine of Ocon midway through. As for Zhou, he was yoyoing up and down the field, pitting very late and thus out of sync. But he picked off Stroll on the very last lap to cross the line a brilliant 10th – which became ninth thanks to Perez's post-race penalty. This result lifts Alfa Romeo into eighth in the constructors' championship too.
Valtteri Bottas, 8th
"Today has been a great day for us, and I am really pleased with the result we brought home. It was hot and humid out there, quite extreme actually, and the conditions made it an even tougher job, but we knew we had the potential to do well – and we achieved that, thanks to a clean strategy and a flawless race. This double-points finish is a great reward for the whole team, both here and back home in Hinwil, for the hard work done over the past weeks on the upgrades; we keep extracting more from this package, which is encouraging for the races ahead. With the points scored today, we got to improve our position in the Constructor Championship, moving up to P8, and we'll keep working hard to further advance and meet our season target."
Zhou Guanyu, 9th
"It was an amazing race, going from the back of the grid to the top ten: we had a good strategy, we managed the tyres well and did not make any mistake, and all this was the key to tonight's result. We were quick on the hard tyres, our pace on the final stint was fantastic, and this allowed us to keep up with our rivals: by the final stint, it was quite unclear where everyone was with the penalty, so it's great to be ninth at the end. It was not an easy race, we had to pull off some good overtakes and defend hard at times: it was important to keep within track limits, but we managed well. I'm really exhausted, I've never been pushing so hard in such conditions, but this is an amazing reward for all of us after such a tough period. We never gave up when things were difficult, and today we put it together when it mattered."
Alessandro Alunni Bravi, Team Representative
"Tonight we were able to deliver the race we had been aiming for, for a very long time. We knew we had the potential to score points but we had to execute the perfect race to bring home this result. The strategy was spot on, the pit-stops faultless and the drivers delivered two solid performances, pushing from the first to the last lap with no mistakes. It's a nice reward for all the work done by the team in Hinwil, our race team here and Ferrari: we keep bringing new upgrades to track, while also relentlessly continuing, in the factory, in the sim and trackside, to understand and extract performance from our evolving package.
"Tonight's result boosts our confidence and reinforces our belief that we can score points in any race if we do our job like tonight. Now, we need to make another step forward and build on the foundations we laid tonight to keep growing up as a team for the remainder of the season. Our target remains seventh place in the championship, we will never stop reiterating that. It will be difficult, it will be a fight, but we have the people, the drivers and the commitment we need for it. It will be hard, of course – but we will also make it hard for our competitors."
Williams
Sargeant retired midway through the race after feeling unwell. That left Albon to fly the flag, and for some of the race he was running in the points. But he picked up ten-seconds worth of penalties for track limits which sent him backwards, and then he got stuck in a queue of cars and just couldn't make any headway.
FACTS AND STATS: Verstappen breaks Vettel's record for most laps led in a season
Logan Sargeant, DNF
"The main thing is Alex and I are both ok. I've been feeling unwell all week which didn't help with the dehydration in this heat. The last thing I wanted to do was retire the car, but I had to put my health first. Sorry to the team for not being able to reach the finish line. They've done an incredible job all weekend in these intense conditions. I'll be taking next week to fully recover and then bounce back in Austin which I'm really looking forward to."
Alex Albon, 13th
"Firstly, I'm glad Logan is okay as it's never easy to retire from a race. I think this race goes down as one of the toughest of the year, as I suffered with heat exposure myself. Our pace was pretty strong, but I need to review what happened, as we were in what felt like a good position, but we ended up falling out of the points. We also struggled with a bit of an overheating cockpit, so we'll also need to review this. The gap to our competitors is closing, so it's a tough weekend to walk away from but we'll review the data and see what happened."
Dave Robson, Head of Vehicle Performance
"Racing in these conditions at this high-speed circuit is very physical for the drivers and led to them both ending the race dehydrated. Given the build-up to the race and our performance in the Sprint Race yesterday, we were probably expecting a little bit more today, but we were never quite able to find Alex the free air he needed to make really good progress. Being held-up by Hulkenberg early in the race after he started in the wrong grid position did not help us in this regard. Logan has driven very well all weekend and shown good pace, especially in the tricky conditions we had on Friday. It was a shame that we didn't get to see his full pace today after he was forced to retire. We now look forward to the triple header, which begins in Austin before we move onto Mexico and Brazil."
Haas
Hulkenberg was running strongly in the top 10 and looked on for points but there was trouble brewing. The German had absentmindedly pulled into Sainz's empty grid slot at the start, realising immediately what he had done but unable to rectify it. Sure enough, he was handed a ten-second time penalty which dropped him down the field. As for Magnussen, he struggled with his tyres, with general pace and with frustration, bellowing "I don't understand," at one point down the radio.
Nico Hulkenberg, 16th
"I realised before I stopped but you can't reverse and the damage was done, so that was obviously a big mistake from me today. That stopped our race before it even started. The conditions were very extreme, the heat, humidity, the pace was incredibly high with the new asphalt so I think we're all feeling it."
Kevin Magnussen, 14th
"It was unbelievably hard and very hot. It seemed a lot hotter than any other race I've ever done. I think we had a positive day although not from a points or Constructors' Championship standings perspective, we lost a position there which is very disappointing, but there are five races left. It's a tight fight with those guys but we've got to hang on and try our best to get them back. We get an upgrade next race and we're all very happy about that, and excited to work with that upgrade. We're not expecting a miracle for the first race maybe, and it might take a race or two to really get the most out of it, but there's still some positive stuff to look forward to."
Guenther Steiner, Team Principal
"The end of this spec car ended worse than it started, so we're thankful to see the end of it, but today was also not a good day. Nico starting in the wrong grid spot at the beginning didn't help at all because once you get 10 seconds behind at the start of the race where we are, you have no chance. We fought but it wasn't enough. We'll come back in Austin with the upgrade and hopefully it works and at least we know we're doing things to move forward – we're not sitting here waiting for the end of the season. We will work hard until the end of the season."
AlphaTauri
Lawson has probably driven his last race this season – although never say never – and sadly it wasn't his best. He struggled with track limits, although unlike some others he didn't pick up multiple penalties. He did make it to the flag, but coupled with his DNF yesterday, it wasn't a dream final showing. Tsunoda didn't fare much better, he came home down the order as well on a day where the car just didn't look as good as it has of late.
Liam Lawson, 17th
"It was really tricky out there. From the start of the race, we had no speed, and throughout, we were managing some stability issues, so it's something to analyse. It was very hot, and when you're struggling with the car, it makes it even harder to extract the pace. It seems to be my last race with the team before Daniel comes back, so I want to say a big thank you to the team, and it's a shame to finish like this."
Yuki Tsunoda, 15th
"Today was tough and felt hotter than Singapore, so it was definitely a challenging race. My start was good and smooth, I made up places and was in the points. It felt ok inside the car and the balance was also good, but we were just too slow and couldn't keep up the pace. It's not easy to find a quick solution, but I'm confident that together with the team, we'll look through the data and see how we can improve for the future. I think Liam might not be driving for us in Austin, so I want to say thank you to him because he did a very good job. I enjoyed the time together as good friends and teammates."
Guillaume Dezoteux, Head of Vehicle Performance
"The race today was constrained by a maximum number of laps we could do on each tyre set, which was 18. For Liam, starting towards the back of the grid, we tried to start aggressively on the soft compound tyre in an attempt to attack other cars at the start and pit at the first opportunity, which happened during the Safety Car period. Unfortunately, Liam has been struggling to find the pace after his first stop. The pace in the third stint was closer to Yuki, and he was able to further improve towards the end of the race on the medium compound, but it wasn't good enough to catch the cars in front. Yuki's race was also difficult. In his third stint, he was able to stay with Magnussen, but a battle with him and Albon – who had just pitted behind – overstressed his tyres, and he started to lose ground. Since Singapore, we have been on a positive trend with our car performance, both in qualifying and the race, but here in Doha, we didn't manage to achieve the same. We need to analyse the balance evolution and tyre status because we couldn't match our direct competitors today."
Pirelli
Mario Isola, Motorsport Director
"This was a very demanding weekend on many fronts, which ended with a race that, given the circumstances, was interesting and closely contested. The committed and transparent collaboration between all of Formula 1's stakeholders – the FIA, Formula 1, the teams and drivers – meant that there was a rapid and efficient reaction to solving a safety issue that involved us at first hand. Today, the sport was able to put on an interesting show for the spectators with a lot of overtaking and duels, despite the limitations imposed by the FIA. In the coming weeks, we will continue to analyse the tyres used this weekend to acquire as much information as possible and share that with the FIA.
"From what we saw this evening, graining was a very significant factor with all the compounds. It's severity gradually decreased as the track rubbered-in. Today the wind was much weaker than in the past days which reduced the amount of sand and dust blown onto the track surface, even if it did not disappear completely. Thermal degradation also had an effect on tyre performance, with track temperatures never dropping below 36 °C."
HIGHLIGHTS: Watch the action from an entertaining Qatar Grand Prix as Verstappen leads home the McLarens