Feature
What the teams said – Race day in the United States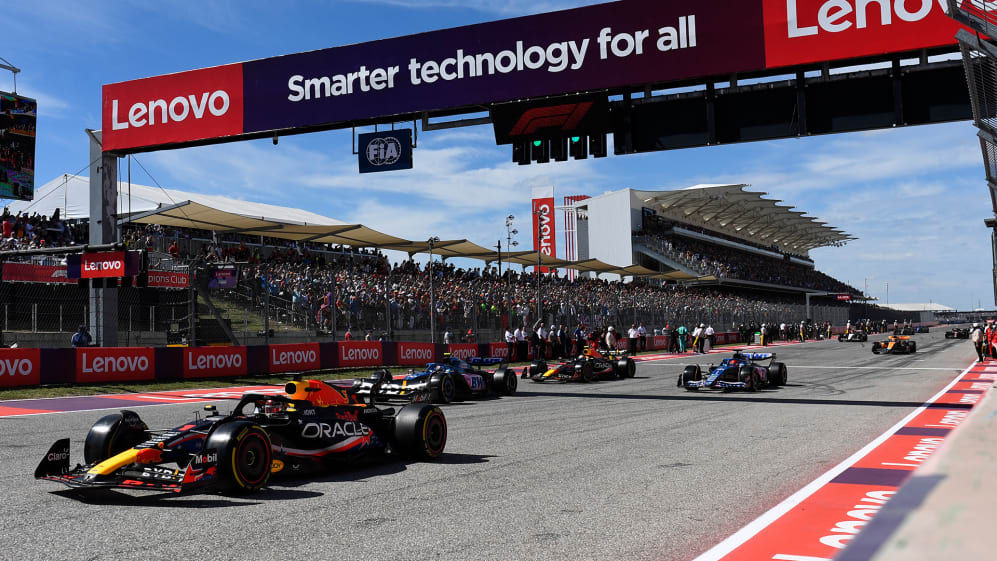 Red Bull
Verstappen started sixth, kept out of trouble on the opening lap just about and then slowly but surely worked his way forward. He passed Norris for the lead after the first round of pit stops and from there it looked as if he'd disappear off into the distance like in the Sprint. But a brake issue was hampering his progress, and in the end he crossed the line just two seconds ahead of a resurgent Hamilton for his 15th win of the year. Perez also made progress, jumping Russell in the pit stops and then passing Leclerc late on for fifth, which became fourth after Hamilton's disqualification.
Max Verstappen, 1st
"It feels incredible to win my 50th Grand Prix here in Austin, I'm very proud of course but I want to keep pushing for more. Starting in P6 today was interesting, I worked my way slowly through to the front. We didn't have a massive pace advantage today and I was struggling with my brakes. I didn't have the same feeling in the car as I did yesterday so that made the race much tougher than anticipated. You could see it was very close at the end and there too. We had to rely on the strategy today and the Team did a great job with that."
Sergio Perez, 4th
"I wanted more for today, obviously. At times we had really good pace, but we are still lacking that consistency. It was a hard race, the Ferrari seemed to have improved, but I also think we made a good step from yesterday. It was quite difficult to overtake, especially because the exit of turn 11 was quite tricky as it was very windy and rough over there. We had a few occasions where we could have undercut people, so I think we need to review that as a Team. I think we know what we did wrong across the weekend, so we are really optimistic going into future races. We need to make sure we learn from this weekend as there are some good understandings to make for Mexico. There is a bit more pace in there and I am massively looking forward to my home Grand Prix."
Christian Horner, Team Principal
"Before the race all our simulations were telling us that the two stop was the fastest race for us and that's what we committed to. The debate was, "do we run the hard in the middle stint or the medium?". We knew going up against Lando that they committed to the two hards so we felt going medium, medium was the best strategy. It was crucial for Max to make use of that, get the pass, take the track position and then run our fastest race to the end of the race. Max was dealing with a brake issue throughout the race, as I'm sure you could hear. It was tough for him and I think his focus was largely on that, although he was able to overcome any issues and bring home the victory. His half century. Another phenomenal achievement for Max. Checo also drove well. He's had some tough races but he had good pace today and I think he'll take a lot of confidence from that. Hopefully that will put him in a good space before his home race next weekend. As all eyes turn to Mexico, we look forward to seeing what's to come and what we can achieve."
Mercedes
Hamilton got pinched at the start and lost a place to Sainz, but he soon made his way past both Ferraris and clearly had very good pace. The team left him out long for the first stint, trying to make a one-stop work. But his tyres lost grip at too quick a rate, and so they had to switch back to the two-stop. That was the same for Russell, but he pitted even later which left him in a halfway house between the two strategies. Hamilton was quick enough to recover, and overtook Norris on track before chasing down Verstappen, missing out on the win by just two seconds. Russell ran out of time to catch Leclerc as well, and he was only three-tenths of a second shy of sixth place. All that changed, though, after Hamilton was disqualified post-race for excessive wear to the skid pads on the underside of his car.
Lewis Hamilton, DSQ
"Firstly, congratulations to Max and Red Bull. They have done an incredible job all year long, they've dominated and been nearly flawless. We were catching them towards the end, though. I was hopeful that I could, but I just need a couple of more laps. There has been so much work to bring this upgrade here and it was difficult after the last race in Qatar. I really felt like I let the team down, so I had to go through such a deep process to get myself back to here. It's one of those experiences of "it's not how you fall, it's how you get back up". I came here in the mood to fight hard, felt great and I'm really happy with my performance.
"Overall, we still didn't perform optimally today. We had good pace and I was feeling great in the car. It was tough racing those around me as they were so quick, but we can be happy with many things. I feel positive as we're moving forward, even if reflecting on it we could have possibly won today. It is of course disappointing to be disqualified post-race but that doesn't take away from the progress we've made this weekend."
George Russell, 5th
"The race start really cost me today. I lost three positions and then, and I don't know why, when we put the Hard tyre on, I was massively off the pace. I had to manage the lift and coast too and I was just dropping like a stone. When we put the Medium tyre on, suddenly we were amongst the quickest cars on the track. I closed over 10 seconds on Max (Verstappen) in that final stint. It's disappointing when I definitely felt that there was the potential to fight for a podium.
"The positive is that the car has improved. We have full focus on 2024 but we also know that the upcoming weekends should suit us more than here. We need to wait and see how we get on there. It's been a scrappy weekend for me but I'm feeling excited and motivated for the final four races of the year."
Toto Wolff, Head of Mercedes-Benz Motorsport
"We can take a lot of positives from the car performance today. We hate coming so close to winning and falling short. But this is a circuit where only a few races ago we wouldn't have performed well because of the fast, sweeping corners. The upgrade seems to have made the car happier in those areas and it is working well. Directionally, it's a very good sign.
"Turning to the race result and the disqualification, set-up choices on a sprint weekend are always a challenge with just one hour of free practice – and even more so at a bumpy circuit like COTA and running a new package. In the end, all of that doesn't matter; others got it right where we got it wrong and there's no wiggle room in the rules. We need to take it on the chin, do the learning, and come back stronger next weekend."
Andrew Shovlin, Trackside Engineering Director
"We are of course naturally very disappointed to lose our podium finish. Unfortunately, it is one of the pitfalls of the sprint format where we have a solitary hour of running before parc fermé. Without running at a race fuel load in FP1, combined with a circuit as bumpy as this and the parts of the track where the drivers have to put the car during the Grand Prix, have contributed to the higher than expected wear levels. We will go away and learn from this but also take the positives from our experience as a whole.
"Lewis had a very strong weekend, and it was exciting to see him closing in first on Lando and then Max, with a shot of winning the race. Unfortunately, we ran out of laps. In hindsight, it is easy to say that we should have covered Verstappen in the first round of stops. However, at the time the one-stop strategy still looked viable. If it had worked out, that would have put us in a very strong position to win. As always, we will analyse the race in the calm of the factory to see if a different strategy would have given us a better chance of the win. George had a lonelier race, suffering in the middle stint on the Hard tyre as he was having to save fuel. That contributed to the tyres not being at their optimum. He was much happier once on the Medium tyre in the final stint. He can take some encouragement from this for the remaining races.
"We can afford to be cautiously optimistic that the step we have made will translate into future race. Both drivers felt the improvement and it is positive for our development trajectory for 2024. Whilst we are disappointed with the ultimate outcome today, we can be encouraged by the pace shown."
McLaren
Norris made an electric start and was clear and away in the early stages. He held on to that lead through the first pit stops, but soon found himself under pressure from Verstappen behind. He couldn't keep the charging Red Bull at bay, and then lost out to Hamilton late on as well. But another P3 - which became P2 after Hamilton was disqualified - makes it four podiums on the bounce for him. Piastri couldn't keep his podium run going though, opening-lap contact with Ocon causing radiator damage that forced his retirement after a few laps.
Lando Norris, 2nd
"It was great to be leading the race at the start. I could control the race a lot but it just wasn't enough today. However, I'm happy, it was a good race from my side. We knew what was going to be difficult today, which was the degradation, but the pace over the first ten laps of every stint was strong. We're getting there. We're making progress every weekend, just a few more steps needed. To finish on the podium here was better than we were expecting coming into the weekend. So overall, very happy."
Oscar Piastri, DNF
"It's a shame to have had to retire the car after only 10 laps. We had a good start and made up a few places but had a water leak that unfortunately ended our race. It's not been the easiest weekend, but there's been a lot of learnings. We took a step forward from yesterday and did improve but not to the level I want to be at. These are character building weekends that are very important in my first season, so we'll take from it what we can and bounce back in Mexico next week."
Andrea Stella, Team Principal
"Another strong result for McLaren, which makes it four podiums in a row. It came in a race where we tried to go for the victory. We pushed hard with Lando and potentially paid a price in terms of consistency in the stints, but this doesn't change the final result. It's encouraging to be competitive in a track that we didn't expect to suit our package.
"It's a real shame what happened on Oscar's side, because we could have finished with really strong points. Unfortunately, his race ended after making contact on Lap 1, damaging the cooling system and causing the engine to overheat. Before that he'd made great progress through the field. Up to that point, despite damage to the car, the pace today was much better, so we are pleased with the improvement we have been able to make on Oscar's side and we will bounce back in Mexico."
Ferrari
Leclerc was pipped into Turn 1 after starting on pole by Norris, and then lost out to Hamilton too. The team opted to leave him out long for his first stint, switching him to a one-stop strategy, but in the end he started to run out of tyre life and dropped back through the field. With Sainz on a more conventional two-stop strategy, the team swapped the two drivers much to Leclerc's frustration. Sainz was certainly looking quick in the closing stages, but ran out of laps to chase down Norris. The team's day went downhill post-race after Leclerc was disqualified for excessive wear to the skid plank on the underside of his car.
READ MORE: Leclerc left ruing 'wrong' strategy prediction after slipping from first to sixth in United States GP
Charles Leclerc, DSQ
"It's fair to say that we didn't go with the right strategy today. On paper, our numbers said that the one and two-stop strategies were very similar, but in reality, this was not the case. I felt good in the car all weekend and our race pace wasn't bad, so it's a shame that we didn't bring home a better result. We have to use the rest of this season to learn as much as possible and make sure we extract the maximum out of every opportunity in the future."
Carlos Sainz, 3rd
"I think today's result was the best we could do. The pace was decent and solid throughout the race and we even closed the gap to the car in P3 during the last laps. Unfortunately the competitors ahead were faster and we couldn't quite reach them. We are not where we want to be and we knew it was going to be a tough one, but now we need to quickly switch our focus to Mexico and prepare for next week."
Fred Vasseur, Team Principal
"We cannot be happy with a fourth [third after post-race disqualifications] and a sixth place [which became a disqualification post-race], especially as Charles started from pole position. As for Carlos, the race management went quite well, while the main problem today was with Charles' strategy, decided on before the start, but which did not work out and therefore compromised his race. Our data suggested that there was not a particularly big difference between a one and a two-stop strategy, but events proved us wrong.
"As things worked out, we clearly had to switch our drivers' positions to try and get the best result possible and Charles did his very best in managing to stay ahead of Russell. Now we head to Mexico, knowing there are several areas where we need to improve if we wish to reach the goals we have set ourselves."
Alpine
Not to be for Ocon, he was involved in an opening lap incident with Piastri, the Frenchman fighting with his car over the bumps and just catching the McLaren as it tried to squeeze past. Damage to his sidepod led to his retirement. Gasly, though, worked his way back into the top 10 after dropping a couple of places at the start, and picked up some more points to go with his two from the Sprint.
Esteban Ocon, DNF
"It's been a very unfortunate Sunday for us today in Austin. It feels like there's been quite a few of those this year, which has really cost us. It's a pity as we had a good starting position for today's race and once again made up a few places with a strong launch and good opening corner. Unfortunately, there was then contact with Oscar [Piastri] and the damage to our floor was too severe to continue. There are some positives to take from our weekend and a lot to review as well. Mexico City is just around the corner and I know we will bounce back as a team."
Pierre Gasly, 6th
"I'm feeling very pleased with today's result and, I must say, it's probably been our most complete weekend of the season so far with two strong Qualifying results and points from both races. We fell back a couple of positions at the start today, but I knew the pace of the car was good and we were able to keep it clean and fight our way forwards. Of course, we want to be fighting close to the front but this weekend has definitely been better for us where we have been able to extract the maximum from it. Operationally it was smooth and that's very satisfying for all of us at the team. Now our focus is on Mexico City and delivering another solid weekend."
Bruno Famin, Interim Team Principal
"Overall it's been a mixed Sunday for the team with Pierre in the points and Esteban unfortunately retiring from the race and therefore unable to show his potential. The car has been competitive – enough to compete for points on both days – so it is frustrating not to have both drivers in the fight for the top ten today. Esteban made a good start off the line and Pierre drove a strong race to finish in eighth [on track] and claim deserved points. This race marks the first of the triple header, we are already looking forward to Mexico City where we aim to continue our points-scoring run and having Jack [Doohan] in the car during Free Practice 1."
Aston Martin
Ahead of the race Alonso opted to swap back to a previous spec floor while Stroll changed his set-up, which resulted in both cars starting from the pit lane. But those changes did the trick, both drivers working their way back through the field. Alonso was running in the points in ninth but was suddenly forced into retirement with damage to his floor, which promoted Stroll. The Canadian picked off Tsunoda late on for his first points since Belgium.
Fernando Alonso, DNF
"It was a great comeback race for us with a lot more pace in the AMR23. We were aiming to score some points having started from the pit lane, but, unfortunately, we had to retire with some damage. It's a shame as during the race today we looked quite competitive. We collected a lot of useful data and comparisons on the two cars today that will be crucial heading into the remaining races."
Lance Stroll, 7th
"Finishing ninth [on track] after starting from last in the pit lane is a positive result after a tough couple of days here at COTA. It's good to be back in the points after some difficult races. The set-up changes we made to optimise the performance have definitely put us in the right direction; we were much more competitive today. I had good grip in the corners, especially once we fitted the Medium compound, and I was able to make a few good overtakes going into Turn 12. We'll be working hard to take this momentum into Mexico next week."
Mike Krack, Team Principal
"Scoring two points [six after post-race disqualifications] with Lance represents a good recovery when you consider everything that has happened this weekend, including starting from the pit lane with both cars. Lance managed his race well, looking after the tyres and delivering really competitive times, as well as making decisive overtakes. Fernando looked destined to score points too, until he picked up floor damage, which forced him to retire with just seven laps to go. We gathered valuable data on the latest updates today. That data will pay dividends for the upcoming races as we continue to tune the set-up of the AMR23. I want to thank everyone at the AMRTC in Silverstone and here in Austin for their efforts over recent weeks to get the new parts on the car. We look forward to getting back on track next weekend in Mexico."
AlphaTauri
Tsunoda was right in the mix all race long, battling hard with the Aston Martin pair. Alonso's retirement promoted him to ninth, but he was picked off by Stroll. Nonetheless, he went for the bonus point for fastest lap on the very final tour and nailed his effort to take home two crucial points. Ricciardo struggled more than his team mate, with his tyres sliding around when following other cars. He wasn't helped by his strategy, the team leaving him out for a one-stop before giving in and pitting the Aussie very late on.
FACTS AND STATS: Verstappen joins exclusive 50-wins club as Norris closes on Heidfeld record
Daniel Ricciardo, 17th
"Texas hasn't been too kind. At the start, we were doing well with our plan, but the problem was once the cars with blue flags came up behind us, we lost too much. We seemed to struggle in traffic and then picked up some damage later on, so after that, we lacked pace. On the medium compound, we were doing the same lap times as Yuki, but because I was on a one-stop, there was a bit more tyre management going on for me. Physically, I feel better today than yesterday, so the Sprint race was a good warmup for the Grand Prix. I got more race mileage, and there's a lot to learn from this race, so now it's full attack for Mexico."
Yuki Tsunoda, 8th
"It was a good race for me and I'm happy. To score points here three times in a row is amazing, especially in front of the Austin fans. A great job and congratulations to the team. Everyone back at the factory, in Faenza and Bicester, and trackside, are working very hard, and it's nice to see that the upgrades they deliver seem to be working well, and we're closing the gap to fight for P10. We got slightly lucky with Fernando (Alonso) in the end, but we maximised the performance because if we weren't driving there, we wouldn't have been able to benefit and score points. At first, I got a heart attack when the team called me in to box, because I thought there was an issue, but they told me we were going for the fastest lap on the soft tyre. It was my first experience going for the fastest lap in the final lap of the race, and I really enjoyed it, it was thrilling. Now we'll refocus and continue to carry this momentum into the final races of this season."
Franz Tost, Team Principal
"Back into the points, so today was good. We decided to split the strategy between the two cars. Yuki was out for a two-stop strategy, while Daniel was for a one-stop. Both cars started on a new set of medium tyres. Yuki lost one position to Zhou in the first lap, but could overtake him in the second lap, and then was always near the top ten. He had good speed, so we extended his first stint, pitting him on lap 17 and switching to the new hard compound. He struggled a little, complaining about understeer, so we didn't stay out too long and brought him in to change to the new medium tyre. This was also to keep Alonso behind us, which worked well. After the pit stop, Yuki came out in front of him, but the Aston Martins had too much speed and therefore, both Alonso and Stroll could overtake Yuki, who fell back to P11. Then, with Alonso retiring, Yuki moved up to P10. As Yuki was around 20 seconds ahead of Albon, the team decided to call him in for new soft tyres. He achieved the fastest lap, which meant the team scored two points [five after post-race disqualifications]. It's important because in the last races, we've been unlucky and didn't score any. As for Daniel, in the middle of the first stint he had a problem with the front left brake duct which broke, affecting the aerodynamics heavily, and losing a lot of downforce. He then couldn't perform well because the car was no longer balanced. We called him in for new tyres in case of a Safety Car, but unfortunately, it didn't happen. I have to apologise to Daniel because of this car failure, which meant he couldn't show a better performance. I'm convinced in Mexico he will come back, and hopefully, the car will be reliable, allowing him to perform a strong qualifying and good race. The upgrades that we are introducing seem to work well. The aero department did a good job as the new floor we had on the car here improved the performance, so well done to the whole team, and we hope we can continue at this level until the end of the season. Being in a triple header, it was quite important for everyone to get these two [five after post-race disqualifications] points, as they give the team an additional push and motivation for the next races."
Jody Egginton, Technical Director
"Today's race has been a busy one, but we achieved the objective of scoring points, and there was not much left on the table, so we are satisfied. Yuki ran a very good first stint, consuming his tyres well and not letting Gasly get too far ahead. His middle stint on the hard compound was a little more difficult, but again, he managed his tyres well. Then, after the second stop back to the medium compound, it was a case of going flat out to try to keep in touch with the Aston Martins, who were quicker in this phase of the race. Once we had the gap to Albon, the pit wall made a very good call to try to go for the fastest lap and grab the extra point on offer, which was a nice bonus today. Daniel's race was more difficult later on, but he also put in a very well-managed first stint, opening up strategy options for him. However, soon after his first stop, he picked up damage to brake duct parts, resulting in a significant loss of aero load and aero balance, meaning he was unable to run at the pace he was capable of and fell back into the chasing pack. Later on, we took the gamble to stop and try to resolve the issue in case of a late race Safety Car. Although we improved the car balance at the stop, the race finished without incidents, providing no opportunity to move him forward. Overall, the car has worked quite well here in Austin, and we have been in the fight for and scored points, which is a positive. However, we need to continue to execute solid weekends, to be able to capitalise on this in the coming races, so there is a lot to still work on. With the event being the first of three Grand Prix weekends, there will be a very intense period of detailed analysis to ensure we take the relevant learning into next weekend's race in Mexico."
Williams
Close, but not close enough for Williams - at least until the post-race disqualifications came in. Albon had to start on used medium tyres, but did manage some overtakes and wound up 11th on track in the end. He did pick up a five-second time penalty for repeated track limit infringements, but it didn't cost him any places. Sargeant had one of his better races of late, pulling out a few good moves including passes on Ricciardo and Magnussen to come home 12th, which later became 10th to give him his maiden championship point.
Alex Albon, 9th
"I'm very happy for the team and especially Logan for scoring points today. We had our luck, but we were there to take it! My race felt a little compromised without any new Mediums, as we used them all yesterday in the Sprint. We also struggled with the Hards, forcing us to run our used Mediums. Nonetheless, to walk away with points is great for the team as we close out the remainder of the season."
Logan Sargeant, 10th
"It's amazing to score my first point in F1 on home turf after the challenging weekend I've had. I'm so proud of this team and myself for the hard work and progress we've been making this season. We worked hard overnight to find a direction with the car that was going to be positive, and we found that. We couldn't change a lot as the car was under Parc Fermé, but we worked on the systems side using the tools on my steering wheel to help move the car in the right direction. The pace was so much better today, and I was driving really well. I had a great start but was unfortunate to catch the sausage kerb in Turn 1 and went into anti-stall which cost me a couple of positions. That changed the race a little bit, but we fought back, and I gave it my all every lap. We made steps in the right direction that we can build on and move forward as we head to Mexico."
Dave Robson, Head of Vehicle Performance
"After Leclerc and Hamilton's post-race disqualifications, we come away from Austin with double points for the team for the first time since the 2021 Hungarian Grand Prix. It's also Logan's first point in Formula 1 and he becomes the first American to score a point since Michael Andretti at the 1993 Italian Grand Prix. It has been another busy sprint weekend and today went well for both drivers. Conditions were a little different with changes to the wind and track temperature for today but overall, the car still behaved well and both drivers were able to push close to the points. All sprint races are difficult for rookie drivers and this very technical track is one of the worst; Logan struggled on Friday but with more laps, he improved rapidly and put in a very strong performance today. We didn't expect COTA to be a good circuit for us so to come away with double points today represents a good effort from the whole team. Although Alpha Tauri were strong and scored some points, we still head to Mexico in a good Championship position."
Haas
Like Aston Martin, Haas opted for some changes to their set-up and thus both cars started from the pit lane. With a rear wing assembly more suited to this track, they were hopeful that combined with their new aerodynamic upgrades it would do the business. It did for Hulkenberg, who managed to make his way up to P13 on track after being one of two drivers to start on the hards. Magnussen starting on the mediums couldn't quite make the same progress.
Nico Hulkenberg, 11th
"The car felt better and I think the relative performance looked a lot more promising than yesterday but it came at a price, having to start from the pit lane. I feel like if we had a half decent qualifying and qualified in the midfield, we might've been able to fight and challenge for points today. There are some positives and encouraging signs, but at the same time it was difficult out there with a lot of tyre management going on, but that was the case for everyone."
Kevin Magnussen, 14th
"I think the race was better because of the changes we made. It still wasn't enough though, we weren't fast enough, and we finished in the position we started in from the pit lane, so we need to find more, but we live to fight another day. It felt better today after having done the changes, putting more downforce on and it was definitely a better set up."
Guenther Steiner, Team Principal
"It was a tough race, but obviously it was the right decision to start from the pit lane with the modifications to the downforce level. We learned quite a bit and hopefully we can look into the data and get a little bit better in Mexico. It's not a magic solution that we've got now, but some of the comments from Kevin and Nico were encouraging, so let's hope we can get closer to what is possible with the car in Mexico."
Alfa Romeo
Alfa Romeo couldn't hold on to their starting grid slots, both drivers sliding backwards. Zhou pitted first of the field to switch to the hard compound tyre, with Bottas doing likewise one lap later. But that didn't release them into the fresh air they had hoped for, and they couldn't undercut too many of their rivals. In the end the Finn came home just ahead of his team mate, who was lapped on the final lap by the leaders and in doing so gave Verstappen a welcome late DRS boost to aid his route to victory.
Valtteri Bottas, 12th
"We gave everything out there today: strategy-wise, we did everything right, but unfortunately we just lacked pace throughout the weekend compared to our direct competitors. The bumpiness of the track also played a factor in our performance, as we had to run our car slightly higher than we wanted and thus sacrificed some downforce, which did not allow us to extract the most from our upgrades. As a slight positive, our direct competitors didn't score many points either today, which leaves the battle for seventh in the championship still open. I am looking forward to heading to Mexico in just a couple of days: last year the track suited our car well, and that hopefully will allow us to quickly get back in competitive form."
Zhou Guanyu, 13th
"We seemed to have a better car at the start of the weekend, especially after changing the setup after FP1, but in the end we couldn't hold the positions we had claimed on Friday. Unfortunately, we just didn't have enough pace to keep up with our direct competitors. I felt like I was lacking grip, and overall I haven't really been able to get in the mix. I think this race has been quite tricky on our end, due to a lot of degradation; we will surely need to analyse what exactly happened this weekend, but I have the feeling that, whatever we could have changed in terms of tyres or strategy today, it wouldn't have made much of a difference. Now, we will quickly regroup, and hopefully make a strong comeback next week in Mexico."
Alessandro Alunni Bravi, Team Representative
"This weekend has been a tough one for our team: we lost ground throughout the sessions, and we will need to analyse everything in detail to quickly understand what didn't work for us. The car balance on all tyre compounds just wasn't there today, and that made both attacking and defending a difficult task for our drivers. Both Valtteri and Zhou drove a clean race, even though that wasn't sufficient to advance through the field and score some points. There is quite a lot of work ahead of us over the next few days, before we head to Mexico for the second stage of this American triple header: I am confident that, with different track conditions, we'll be able to quickly get back to the pace we had shown over the last couple of races, and get more chances to climb our way into the top ten again."
Pirelli
Mario Isola, Motorsport Director
"On one of the most probing tracks of the season, we witnessed a very closely contested race, with exciting duels both on track and between the strategists. On the topic of strategy, the way the race played out confirmed that a two-stop was the quickest option, especially because the one-stop alternative would require very careful tyre management thus making it difficult for a driver to push hard for many laps, while those on two stops were able to do so. That was the case with Leclerc who, although he did not see a drop in performance towards the end due to degradation, found his pace was not strong enough to defend from several drivers who chose to pit twice.
HIGHLIGHTS: Relive the action from the United States GP as Verstappen clinches win ahead of Hamilton
"Looking at tyre performance in general, the Medium proved to be the most suitable compound, because it offered more grip than the Hard, but its degradation did not result in much slower lap times. The Soft was hardly used – only by AlphaTauri in the closing stages – and looking at Tsunoda's performance it showed it was a great tyre over a single flying lap, but not really an option over a long distance on this Austin track with today's temperatures. Finally, it's worth noting that even in the race there was no graining."