Feature
What To Watch For in the 2019 Canadian Grand Prix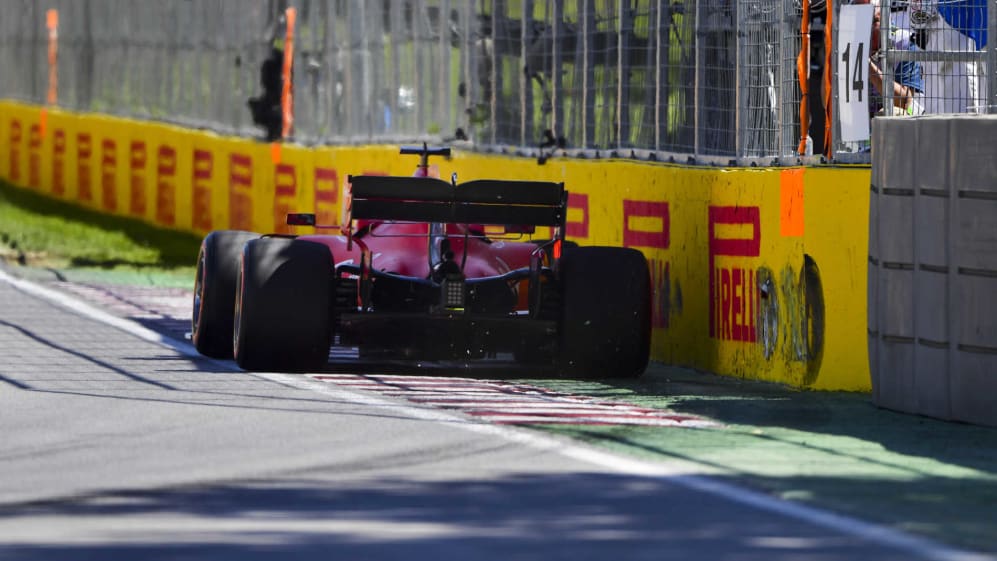 From a Ferrari starting on pole for just the second time this year to Max Verstappen needing to fight back, and from Daniel Ricciardo ahead of his old squad to strategic headaches for the teams, we highlight five topics to keep an eye out for in Montreal…
Can Ferrari finally win this year?
Sebastian Vettel starts from pole, but Mercedes have won every race so far…
Ferrari's pre-season testing pace is a distant memory by this stage, but it still would have taken a brave person to bet against them winning one of the opening six races. Mercedes have dominated up to now, but Sebastian Vettel has secured his first pole position in 17 races, so will we have our first non-Mercedes victory of the season?
The Mercedes long run pace looked particularly strong on Friday compared to Ferrari, which is going to make the start crucial. Vettel referenced how quick his car is in a straight line after qualifying, and that means he is going to be difficult to overtake, even if Lewis Hamilton or Valtteri Bottas can go quicker.
The Ferraris also have the same tyre strategy as Mercedes, so the ingredients are there to convert…
READ MORE: The car was shouting 'Keep going!' – Polesitter Vettel reckons Ferrari can carry pace into race
Verstappen on the comeback trail
A Q2 elimination leaves Max Verstappen out of position – but how high can he climb?
While Ferrari eye victory from pole, Max Verstappen will be focused on getting as far up the order as he can after being surprisingly eliminated in Q2 on Saturday. Sitting 11th, Verstappen looked set to progress until Kevin Magnussen's crash, and now faces the need to produce a fightback drive.
Verstappen has already gained two positions in the aftermath of qualifying, with Kevin Magnussen starting from the pit lane and Carlos Sainz given a three-place grid penalty for impeding Alexander Albon, while the Dutchman will also have a free choice of tyres after not reaching Q3. The latter could prove crucial to his hopes of fighting at the front, as will the pace of his old team mate…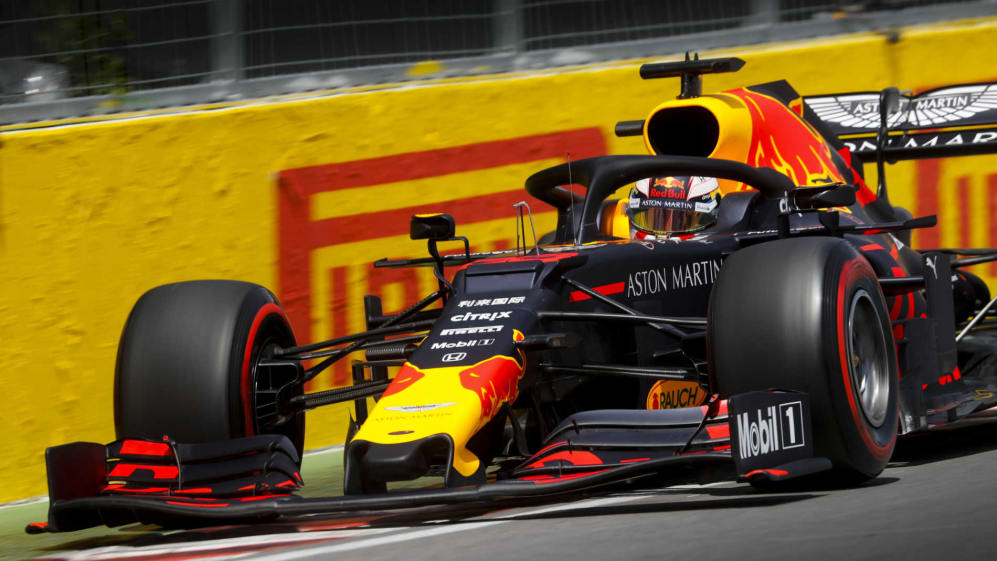 Ricciardo mixing it up at the front
Daniel Ricciardo will be looking to back up his best qualifying performance since joining Renault
That's right, Daniel Ricciardo is back at the sharp end in Canada, with a brilliant qualifying performance securing him a place on row two. Ricciardo was only 0.151s shy of Charles Leclerc's time and will start from fourth place, with Pierre Gasly the lead Red Bull in fifth.
READ MORE: Fourth feels like pole, says Ricciardo after best Renault qualifying
Ricciardo has hit some good form as he gets more comfortable at Renault, reaching Q3 on three occasions in a row, and he isn't expecting Pierre Gasly or Verstappen to have an easy time trying to pass him in the race.
"I have a chance," Ricciardo said on the prospect of beating the Red Bulls. "I don't know how their long runs were yesterday but if we have good race pace, even for our level, I think we can. You can overtake but it is not the easiest track to overtake. If I can hold good pace and keep my tyres healthy throughout the stints then we could have a chance to remain in the top five."
Oops! Error retrieving Twitter post
Split strategies
The soft tyres aren't lasting very long, but many top 10 runners have to start on them
Keeping the tyres healthy will be the key for many drivers starting in the top 10, with the soft compound tyre not looking particularly robust in Montreal. The soft brought to Canada is the very softest of the Pirelli range – known as the C5 – and it is estimated to only last for between five and eight laps at the start of the race.
That explains why Ferrari and Mercedes both got through from Q2 on mediums, and leaves the likes of Ricciardo, Gasly, Nico Hulkenberg and the McLarens facing a tough first stint before giving up track position.
Verstappen in ninth will have the ability to use mediums, as will Daniil Kvyat directly behind him, and Pirelli estimate the quickest way to the finish of the race is a stint of 35 laps or more on mediums before switching to the hard compound. That means those starting on the softs are going to have to make a set of hard tyres last for more than 60 laps if they one-stop, which won't be easy.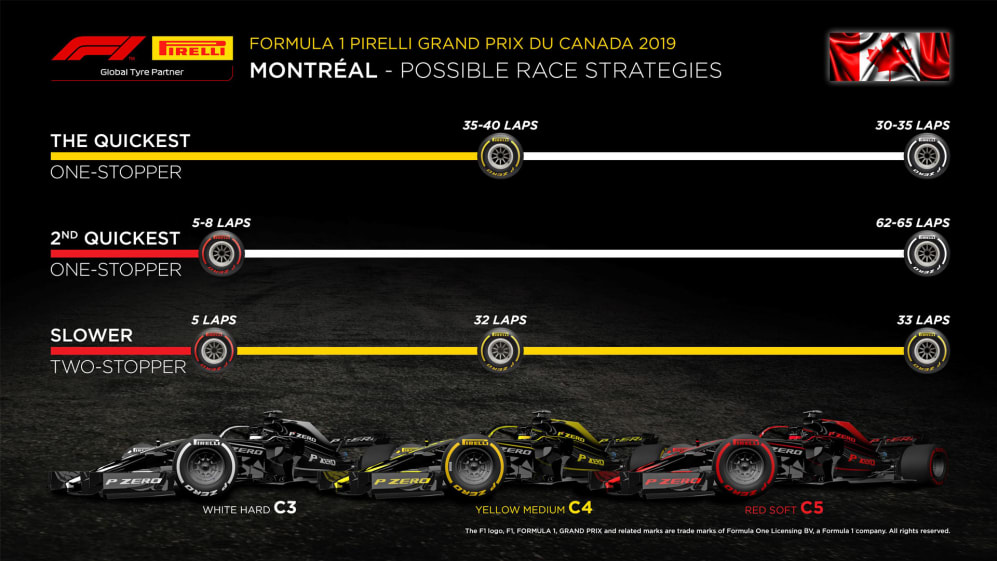 The battle for lower points
Strategic opportunities and a tight midfield mean most teams are eyeing a top 10 finish
And with such different strategies at play, the fight for the final point-paying positions will be an open one, with the quicker cars at a tyre disadvantage.
Renault and McLaren have both impressed so far this weekend, but they will start on softs while the likes of Toro Rosso and Haas can opt for the medium or even hard compound. Of those two teams, Haas looked quicker and had one driver reach Q3, but Kevin Magnussen couldn't take part due to his heavy crash at the final corner.
A chassis change means Magnussen will start from the pit lane, with Haas deciding it would be more competitive having a free choice of tyres than taking a five-place gearbox penalty and still needing to start on the softs.
On a circuit where overtaking is possible courtesy of the long straights – and aided by the greater DRS effect this year – and where the number of impacts with the walls so far this weekend suggests the Safety Car could well make an appearance, Magnussen will still think points are not out of the question.