Feature
What To Watch For in the French GP: Potential fireworks at the front, and Tsunoda on a charge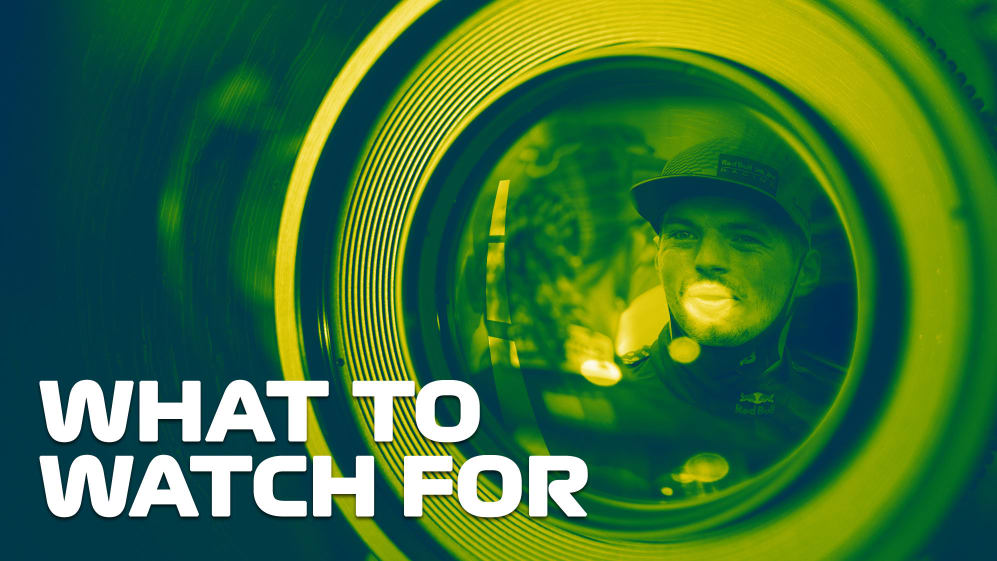 From another unexpected pole position to pressure increasing between title rivals, and from a rookie with a point to prove to tyre challenges once again, we pick out five key things to look out for in Sunday's race at the Circuit Paul Ricard…
1. The first stint between the title rivals
Hamilton hopes to overcome Red Bull's race pace advantage
Paul Ricard has been a Mercedes stronghold since it returned to the calendar in 2018, with Lewis Hamilton leading all but one lap in the two races held so far (Kimi Raikkonen preventing the clean sweep). So it was somewhat of a surprise to see Red Bull take control this weekend.
Championship leaders Red Bull looked quickest throughout Friday practice, both in qualifying and race trim, and after a strong FP3 they converted that into pole position courtesy of Verstappen, with Hamilton happy with the lap that secured him second on the grid – a quarter of a second adrift.
READ MORE: Gap to Red Bull in French GP qualifying 'a lot bigger than we hoped' says Hamilton
But Hamilton made an interesting comment after the session, stating he was much happier with his car than he had been on Friday, when he estimated Red Bull had an advantage of 0.2/0.3s on high fuel. The Briton is hoping his starting position will allow him to stay in contention, and the first stint will tell us everything.
If Verstappen still has the pace advantage from Friday, then he should be able to put Hamilton out of DRS range and build a buffer over the Mercedes. If Hamilton's made the gains he predicts, though, he'll be able to stick within a few seconds of Verstappen and threaten at the pit stop phase. Of course, that assumes he won't get ahead of Verstappen at the start in a potentially slower car…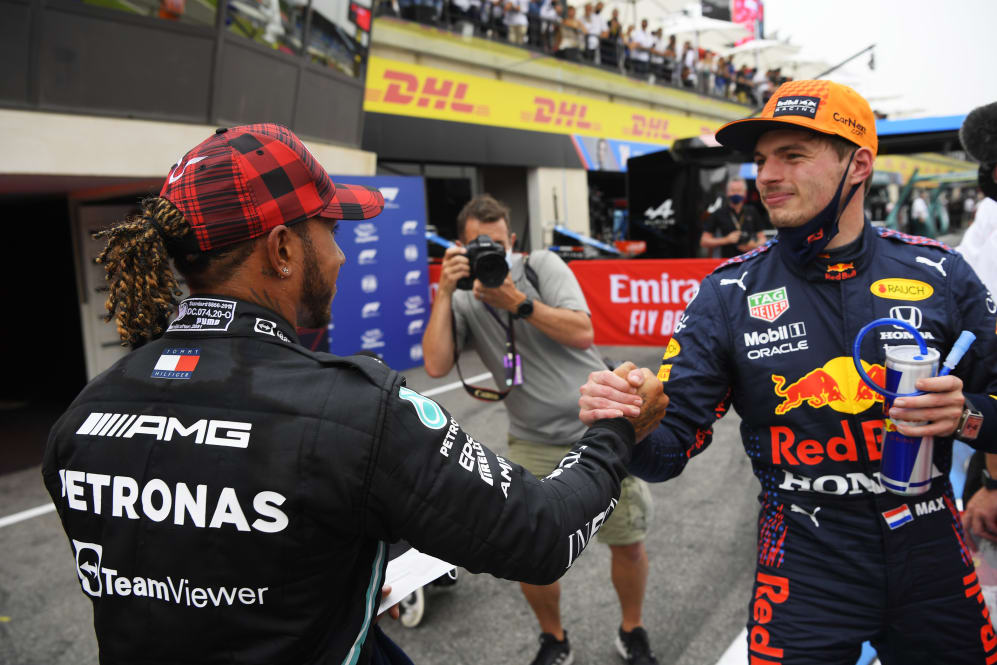 2. Sainz leading the midfield fight
The Spaniard has shown potential but not always results
It feels odd to say after seeing Carlos Sainz finish second in Monaco, but the Ferrari driver hasn't been fully satisfied with how the last few races have gone. Sainz was a threat for pole position in both Monaco and Baku, and on both occasions his chances were ended by red flags in Q3. Then in the race in Azerbaijan he slid up an escape road and ended up limited to eighth place.
READ MORE: Leclerc relieved to avoid qualifying 'disaster' in French GP, as Sainz is delighted with P5
Although Ferrari are not as competitive over one lap this weekend as they were in those races, Sainz has still been impressive throughout practice, and followed that through into qualifying where he secured the best-of-the-rest spot of fifth on the grid behind the Red Bull and Mercedes drivers.
From there, he has a shot of leading home an extremely tight pack that also features Pierre Gasly, team mate Charles Leclerc and the McLaren and Alpine cars. Ferrari had the upper hand on Saturday but it tends to be McLaren who come on stronger in the race, so if it's not the home favourite Gasly that Sainz is having to hold off, then it could be his former team.
And as we saw two years, those fights can get tasty in the closing stages…
3. Track limits
Lap times were deleted in qualifying
When we come to a circuit such as Paul Ricard – with low kerbs and plenty of run-off areas – the temptation for drivers is to try and take as many liberties as they can with corner exits.
At Turn 2, the limit has been enforced by a number of sausage kerbs on the exit of the corner that have proven a little controversial at times. On Friday, Valtteri Bottas ran wide and damaged his car to the tune of tens of thousands of pounds (according to Mercedes' sporting director Ron Meadows) and then Max Verstappen broke his front wing doing similar. But FIA Race Director Michael Masi was unmoved... and neither were the kerbs.
READ MORE: Ricciardo pleased with 'smooth' run to P10 grid slot in France, as Norris survives Q2 fuel scare
Come Saturday, the focus was more on Turn 6, where Masi was enforcing track limits strictly and deleting any lap time if a driver went over the white line with all four wheels. That hurt Pierre Gasly at one stage, as he lost his first timed efforts in both Q2 and Q3, but the Frenchman says he's happy as long as the limits are applied consistently.
That will come under more scrutiny in a race, because Turn 6 is followed by a slightly left-hand kink and then a DRS zone into the chicane, marking the best overtaking opportunity on the track. A following driver using a bit too much road to get a run on the car ahead could have more than just a lap time deleted, but for each individual infraction it's set to be two deleted times before a penalty on the third occasion.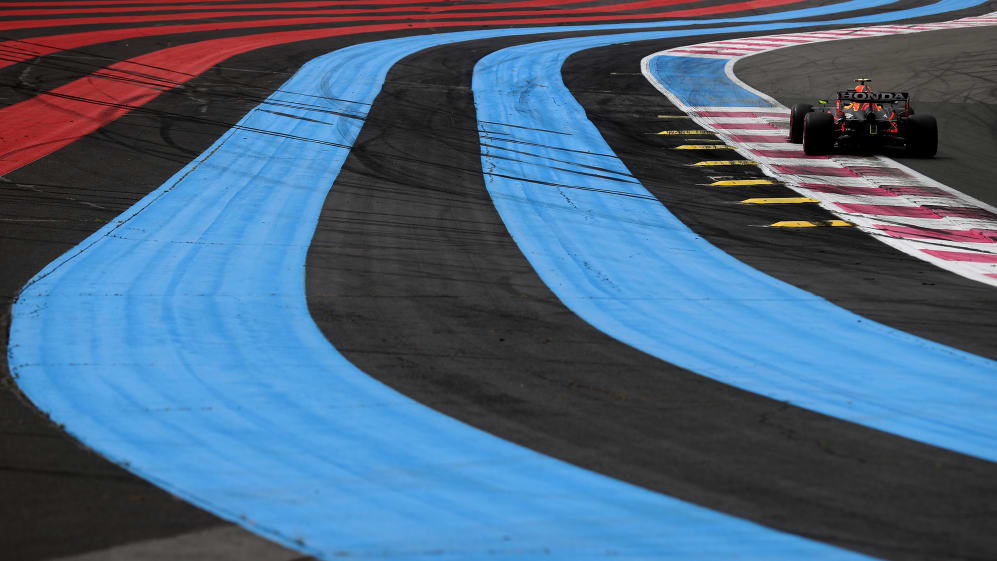 4. Tsunoda making up for Saturday
The Japanese rookie crashed early in Q1
Yuki Tsunoda has had a really inconsistent season, with some stunning performances being followed by difficult ones. In fact, on some occasions he's managed to wrap it all up into one session, such as in Baku qualifying, where he got himself into the top eight only to crash on his final run.
Saturday at Paul Ricard was one of the more difficult weekends, following his points at the last race, with just one corner of competitive running in qualifying before he spun exiting Turn 1 and hit the barrier. Unable to get the car back into gear, he will start from 20th on the grid.
READ MORE: Tsunoda explains what happened with early Q1 spin that leaves him on the back row for the French GP
But Pierre Gasly showed how quick the car is by securing a spot on the third row, and therein lies the encouragement for Tsunoda. AlphaTauri remain competitive – just about in the mix with Ferrari and McLaren – and he's got the car to come through the latter part of the field.
He's also shown some great racecraft at times, as well as making a few understandable errors in race trim, so keep an eye on which Tsunoda we get.
5. Tyre issues of one form or another
Higher pressures make temperatures more difficult to control
While nobody is predicting a repeat of the tyre issues we saw at the Azerbaijan Grand Prix two weeks ago, the fallout from those incidents could have a real impact on this weekend's race.
In response to the blowouts suffered by Max Verstappen and Lance Stroll, a Technical Directive has been distributed by the FIA that defines how teams are expected to prepare and run their tyres in order to remain within Pirelli's operating parameters when out on track. And at the same time, Pirelli have increased the minimum pressures to make their tyres more robust.
READ MORE: Isola, Verstappen, Stroll and more – What all the key figures had to say on the Pirelli tyre investigation after Baku blowouts
The knock-on effect of the higher pressures is that there is a smaller contact patch with the track, resulting in less grip. That smaller contact patch then receives even more concentrated energy than if it was spread over a bigger surface area, increasing temperatures.
All we ever see is how teams are performing relative to each other from a tyre perspective, but they will all have found things a bit tougher at Paul Ricard so far, and keeping temperatures – and therefore performance – under control will be a an even tougher challenge across the 53 laps.