What tyres will the teams and drivers have for the 2021 Azerbaijan Grand Prix?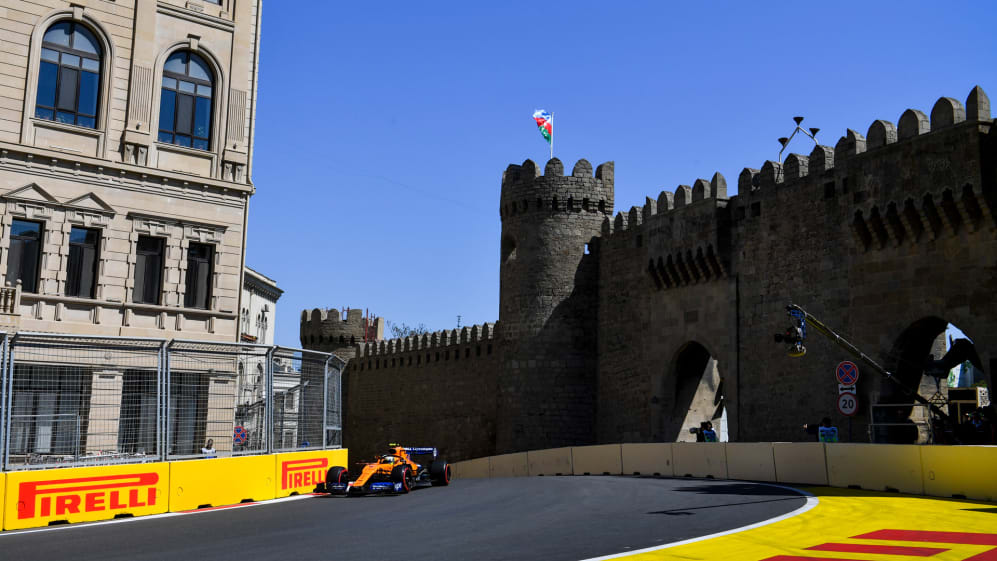 This weekend's Azerbaijan Grand Prix will be a testing, high-speed battle through the Baku streets – and Pirelli have announced which tyre compounds they will bring to the race weekend. The tyre suppliers have also announced the F2 allocations for this weekend.
Baku has played host to some thrilling contests, with Nico Rosberg taking victory when the city hosted the European GP in 2016 and Daniel Ricciardo winning here in the dramatic Azerbaijan Grand Prix in 2017, over Valtteri Bottas and Lance Stroll – before colliding with then-team mate Max Verstappen here in 2018.
READ MORE: Flexi wings, Ferrari on form, and a quirky Baku record – 5 fascinating Azerbaijan GP storylines
Unlike in 2019, this year's Azerbaijan GP will see the drivers use the softest tyres in Pirelli's F1 range: C3 (hard) tyres, C4 (medium) tyres and C5 (soft) tyres. This is one step softer than the last Azerbaijan race and the same allocation as Monaco.
Pirelli's head of F1 and car racing Mario Isola explained: "The reason for this nomination is that the hard wasn't used at all in the Baku race in 2019, whereas the medium was used extensively. By re-aligning the nominations, we hope to see all three compounds playing an important role and leading to some different strategies."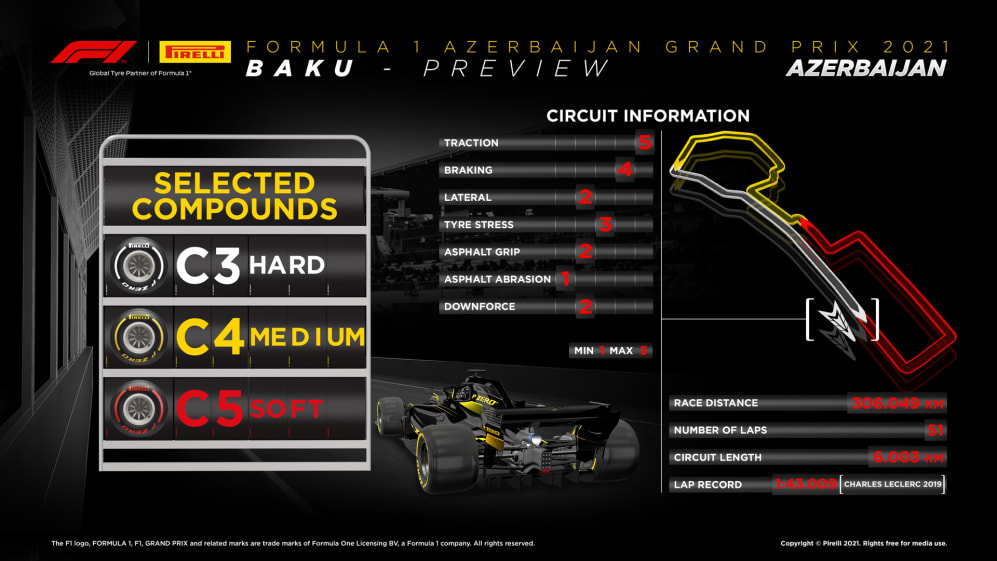 Formula 2 returns this weekend for its third round of the season, using 18-inch tyres. Pirelli's yellow-striped medium and purple-striped supersoft tyres have been selected, marking the first time mediums have been used this season in F2.
F2: Pourchaire becomes youngest ever series winner with dominant Monaco Feature Race performance
"In Formula 2, there's a step between the compounds, just as was the case at the opening round in Bahrain," added Isola. "This creates a bigger differential between the tyres, and again leads to some entertaining racing and tactics, on a challenging circuit that's renowned for being a place where anything can happen."
Ferrari tested Formula 1's 18-inch tyres that are destined for use in 2022, with two days of wet-tyre testing at Paul Ricard last week. Charles Leclerc and Carlos Sainz tested 18-inch intermediate compounds in the morning and switched to full wets on May 25-26 in place of Mercedes, who were originally scheduled to do the test.