Feature
Why is it called Formula 1 – and 12 other questions about the championship's origins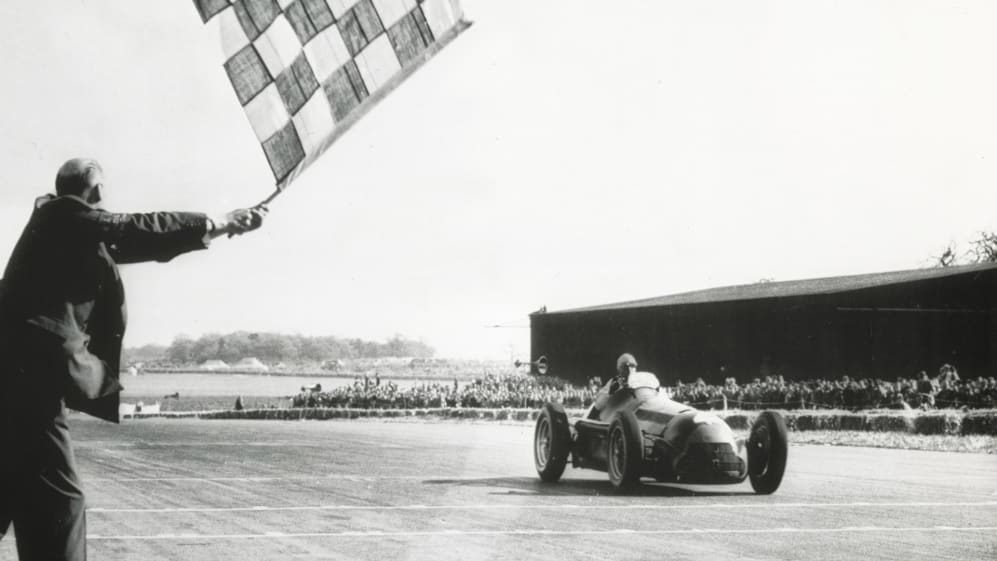 On the 70th anniversary of the first official Formula 1 World Championship race, F1 Hall of Fame journalist David Tremayne explains the origins of Formula 1 as we know it. Where did the name 'Formula 1' come from, was there motorsport before it and who took part in the first race at Silverstone? Read on to find out...
What did international motorsport look like before the official F1 World Championship was inaugurated? Had there been anything like it before?
Yes, there had been something like it. The Association Internationale des Automobile Clubs Reconnus (AIACR) was the sport's governing body and between 1931 and 1939 it hosted the European Championship, which was a World Championship in all but name.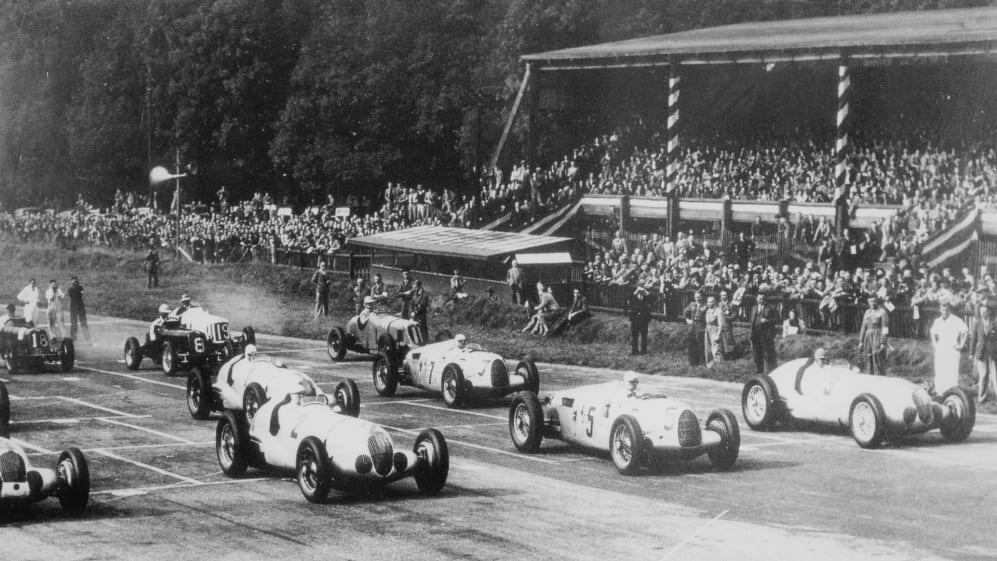 An arcane scoring system awarded four points to those who completed more than 75% of a Grand Prix, sliding up to seven for those completing 25% or less, so the driver with the lowest score was the winner.
Champions included Tazio Nuvolari, Rudolf Caracciola and Bernd Rosemeyer, while the dominant teams were Alfa Romeo, Mercedes and Auto Union. The championship ended with the outbreak of World War 2 in 1939.
READ MORE: Hall of Fame - the World Champions
So how did F1 come to be? When was it invented, and by whom?
In 1946 the Commission Sportive Internationale (CSI), the sporting arm of the AIACR, took the first steps to rebuild motor racing after the war. It replaced 80-year-old president Chevalier Rene de Knyff with Augustin Perouse, who initiated discussions on a new Grand Prix formula.
Around the same time, the cumbersome AIACR title was superseded by the slicker Federation Internationale de l'Automobile (FIA) we know today.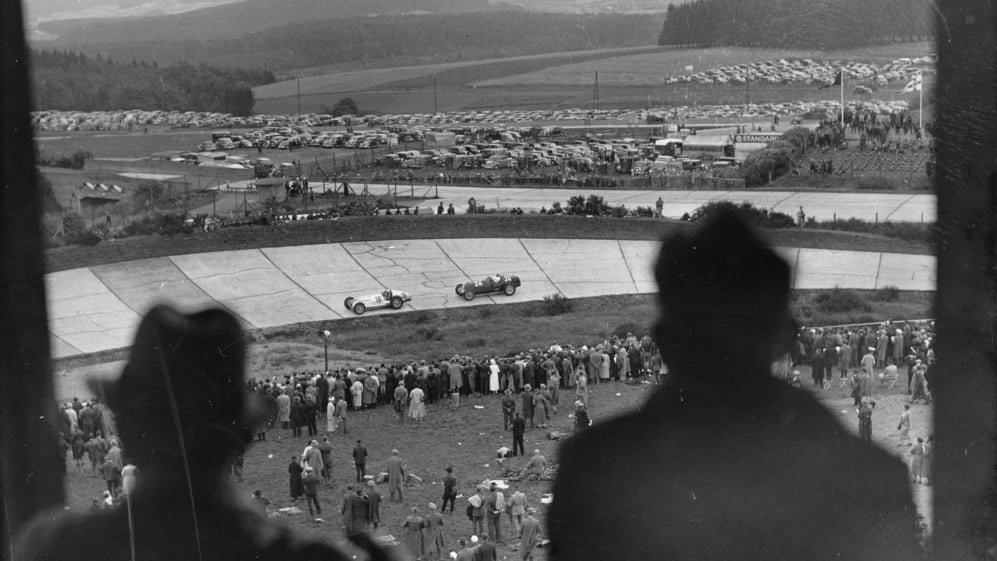 No one is absolutely sure who first had the idea of an official Formula One World Championship, but the credit is generally given to the Marquis Antonio Brivio-Sforza, who had been elected to represent Italy at the FIA in 1946. He was a passionate racing man from Milan, a former bobsleigh gold medallist and Grand Prix racer who scored third place podiums at Monaco in 1935 and Nurburgring in 1936.
In 1949 it was confirmed that the FIA Formula One World Championship would be inaugurated for 1950, with a World Champion elected at the end of the season.
PODCAST: Listen to Martin Brundle discuss the best cars he's driven from every decade of F1
Was it always going to be called Formula 1? And why 'Formula' anyway?
Initially, when the concept of the new racing category was voted through by the CSI in 1946, it was felt that the expression 'formula' best summarised a racing division, and it was called Formula Internationale, but some thought it had also been given the name Formula A.
In the end it was decided that Formula 1 was the more apposite title and that it would immediately be recognised for what it was, the premier formula.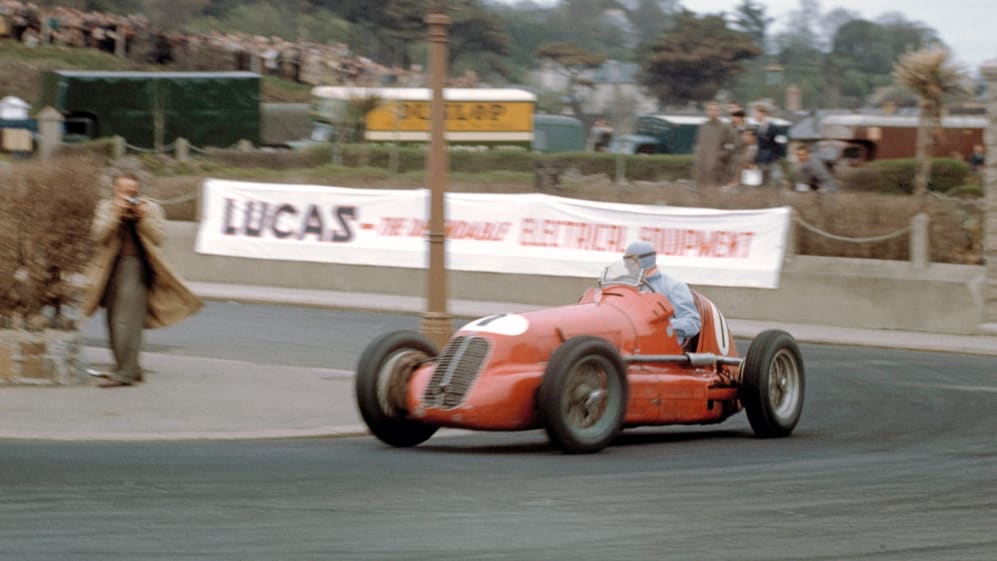 What were the original rules?
From 1947 the rules formally catered for cars with either 4.5-litre normally aspirated engines, as in pre-war years, or 1.5-litre supercharged engines from the old voiturette class (which was effectively a pre-war Formula 2).
This had worked well, so when the rules for the World Championship were formalised, the same capacity options were specified for 1950 through to 1953.
What form did the championship take?
For the first championship, there would be seven rounds: Britain, Monaco, America, Switzerland, Belgium, France and Italy.
The American round was the famed Indianapolis 500, which would be included up until 1960 as a political ploy designed to give the series a suitably international flavour. In practice there was virtually zero crossover of drivers; that would not happen until Jack Brabham took his Cooper to Indy in 1961 and triggered the 'European' wave that would transform racing on the famous oval.
READ MORE: F1's 'one-win wonders' - how many do you remember?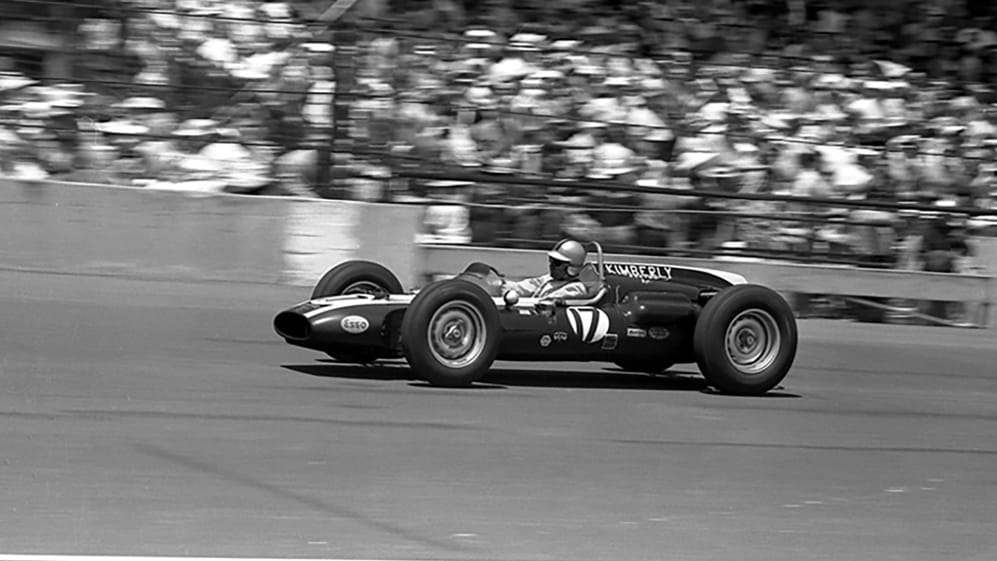 There was only one championship, for drivers (the championship for constructors was not added until 1958), for which points would be awarded on the basis of eight for a win, six for second place, four for third, three for fourth and two for fifth, with an extra point awarded for fastest lap.
Were a lot of manufacturers interested?
Alfa Romeo had taken a sabbatical in 1949 following the deaths of star drivers Jean-Pierre Wimille, Achille Varzi and Count Carlo Trossi but returned with a vengeance with four of their highly successful pre-war based Alfetta 158s, which now developed more than 400 bhp from their supercharged straight-eight engines.
READ MORE: Under the bodywork of the Alfa Romeo 'Alfetta' – 70 years after it won the first ever F1 race
Sadly, Britain's Great White Hope, the ambitious BRM V16, was not yet raceworthy, but when Consalvo Sanesi sustained an arm injury on the Mille Miglia, Alfa Romeo tipped their hat in respect to the host nation by offering their fourth car for the opening race at Silverstone to home hero Reg Parnell.
For the first race there were also five Talbot Lagos, six Maseratis, four ERAs and two Altas, adding up to a 21-car field.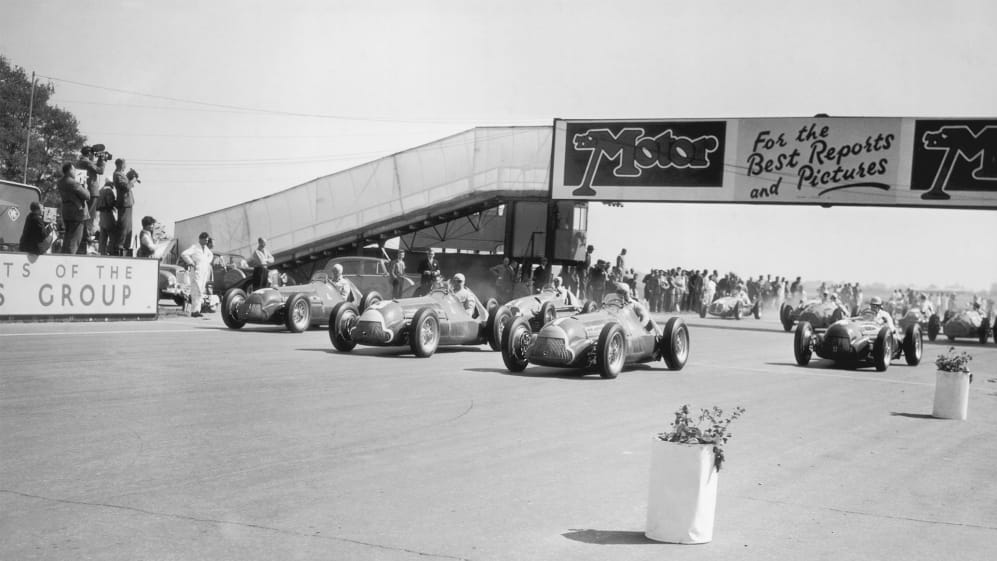 What, so no Ferrari?
Ironically, given the team's pride in the longevity of their presence in the World Championship, Enzo Ferrari did not bother to send any cars to that first race. He feared his 1.5-litre V12 125s would be uncompetitive with the Alfas, and was in the midst of a transition to a normally aspirated 4.5 litre V12 powerplant with which his cars would trounce Alfa in the following year's race…
READ MORE: F1.com readers choose the most influential person in F1
Was there big enthusiasm for the new championship?
Yes, and no. Many of the teams had been racing long before their efforts received such official recognition, but there was general satisfaction that things were being put on a much more organised footing after years in which myriad 'Grands Prix' were held without having true gravitas.
Was there big prize money on offer?
No! Based on calculations taken from figures available for Grands Prix in 1961, it's likely that the overall prize fund would not have exceeded £1000 (approx. $1300), with around £350 ($455) going to the winner.
READ MORE: We're streaming the 2003 British Grand Prix – here's why you should watch
Why was Silverstone chosen as the first round?
No specific reason was given for the choice, though Earl Howe had been elected as the British representative at the FIA at the same time as Brivio. Silverstone had opened as an airfield in 1943 and the first racing steps had been taken there by 1947.
Then they had very successfully run British Grands Prix in 1948 and 1949 (won by the Maseratis of Luigi Villoresi and Toulo de Graffenried respectively), so clearly the RAC and the British Racing Drivers Club knew what was required to stage such events.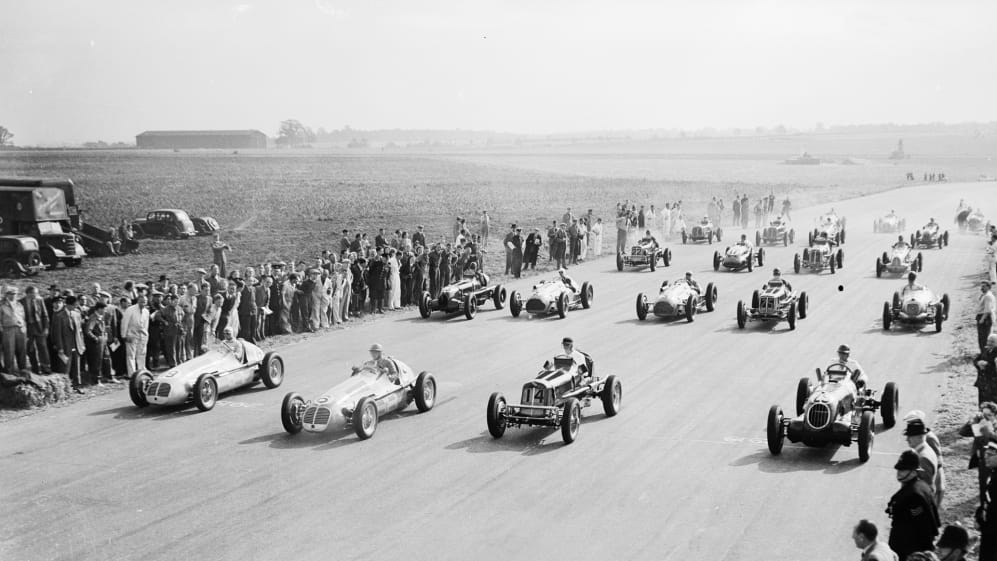 Was it obvious that F1 would be a success?
In Britain, certainly. The first running of the International Trophy race at Silverstone in August 1949 had attracted a mammoth crowd of 100,000, so much was expected when the British Grand Prix – also given the honorary title of Grand Prix d'Europe – kicked off the first official World Championship.
What sort of reception did that first race enjoy?
Saturday, May 13th, 1950 was an historic day on two counts. On a sporting level it marked the staging of the first official World Championship Grand Prix. On a national level it marked the first time a reigning monarch had attended the race, creating the moniker 'Royal Silverstone'.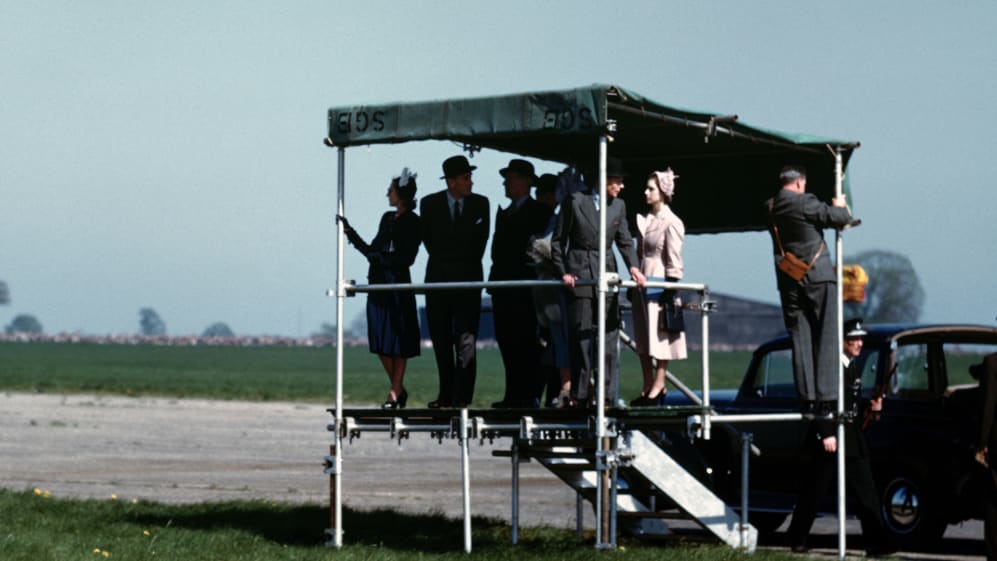 HM King George VI and Queen Elizabeth were accompanied by HRH Princess Margaret and the Earl and Countess Mountbatten, with the royal entourage watching on as Giuseppe Farina headed an Alfa Romeo 1-2-3.
Later that year Farina would be crowned the first world champion after a thrilling showdown at the final race in Monza. Formula 1 as we know it was underway, and the rest is history…