Feature
We're streaming the 2003 British Grand Prix – here's why you should watch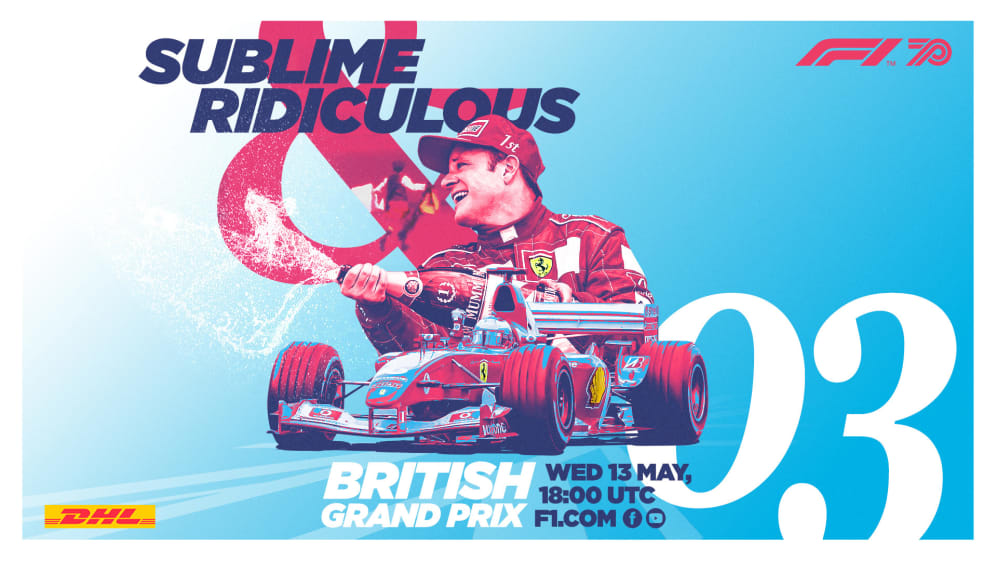 We asked you, the F1 fans, to vote for the British Grand Prix you wanted us to stream to celebrate Formula 1's 70th birthday on Wednesday, May 13. You voted in your thousands for the fabulous victory of Ferrari's Rubens Barrichello at the 2003 race. Here's why you voted for it – and why you should tune in.
Slightly unfairly for Rubens Barrichello, the defining image from arguably the greatest of the Brazilian's 11 Grand Prix victories is a priest in an orange skirt running down the Hangar Straight at Silverstone, reminding the drivers whizzing past him at 170mph that they ought to read their Bibles.
A shame that, because as you'll see, Barrichello's drive at the 2003 British Grand Prix was a corker…
F1 REWIND: Watch Raikkonen's brilliant 2018 US Grand Prix win in full
How they stood before the race
The British Grand Prix was the 11th race out of 16 in the 2003 season, with the championship fight still tightly poised between leader Michael Schumacher on four wins, McLaren's Kimi Raikkonen on one, and the two Williams of Ralf Schumacher and Juan Pablo Montoya on two and one wins respectively. The younger Schumacher brother, meanwhile, was on a run of winning the previous two Grands Prix when F1 arrived in Northamptonshire.
Barrichello was fifth, having come in for some stick after some underwhelming recent performances, particularly in Canada and the last race in France, where he'd finished a lap down on the leader.
Standings before the 2003 British Grand Prix
| Position | Driver | Team | Points |
| --- | --- | --- | --- |
| 1 | Michael Schumacher | Ferrari | 64 |
| 2 | Kimi Raikkonen | McLaren | 56 |
| 3 | Ralf Schumacher | Williams | 53 |
| 4 | Juan Pablo Montoya | Williams | 47 |
| 5 | Rubens Barrichello | Ferrari | 39 |
| 6 | Fernando Alonso | Renault | 39 |
READ MORE: 9 F1-themed activities to keep you busy during lockdown
The background
After qualifying just eighth at Magny-Cours last time out, Barrichello was brilliant at Silverstone, claiming pole from Renault's Jarno Trulli and McLaren's Raikkonen – while Barrichello's confidence was further boosted by his all-conquering team mate Michael Schumacher (hunting down his sixth title at this point, remember) going off at Abbey, and ending up just P5, behind his brother in the Williams.
"This year, the situation is tougher and we have occasionally started a bit further back on the track," said Barrichello ahead of the race. "So for me, Silverstone represents the chance to do it just right." How right he was…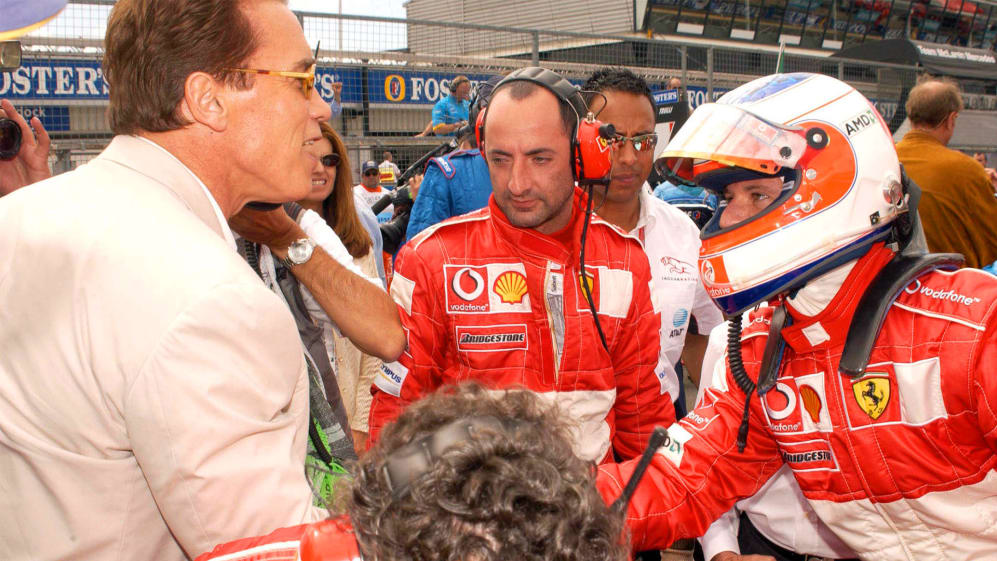 Four key moments
1. The start – Trulli won the psychological battle at the start, holding back on his way around to the grid so that Barrichello's Michelins cooled, and meaning that the Brazilian was slow away when the lights went out, dropping to third behind Trulli and Raikkonen.
2. A track invasion wreaks havoc – Blasting through the fast sweep of Chapel on Lap 12, the drivers stared in disbelief as Roman Catholic priest Neil Horan darted towards them holding a sign saying 'Read the Bible. The Bible is always right'. Horan was rugby tackled by a brave marshal, while the Safety Car was called out.
With the pit window close at hand, the majority of the field took the priest's intervention as a sign that they should pit, meaning that the 'second' drivers of several of the top teams – including Ferrari's Michael Schumacher, Renault's Fernando Alonso and Williams' Juan Pablo Montoya – had to wait in line behind their team mates, dropping them well down the order, with Schumacher rejoining in P14.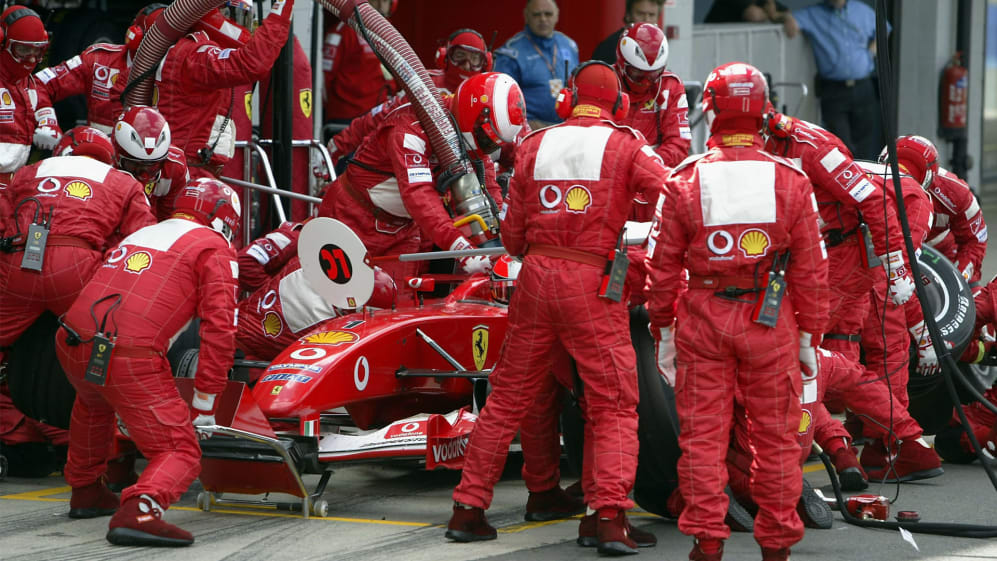 3. Barrichello and Raikkonen on the move – With the two Toyotas of Cristiano da Matta and Olivier Panis having opted not to pit, that pair led after the track invasion debacle, with David Coulthard behind (another non pitter, having had to come in on Lap 6 for a headrest change) then Trulli and Raikkonen, while Barrichello was down in P8.
From there, though, Barrichello and Raikkonen hacked their way through the order to the head of the field, both driving brilliantly and making some incisive overtakes until, on Lap 41 Barrichello forced a Raikkonen error at Bridge to claim the lead.
LISTEN: Rubens Barrichello on being pranked by Senna and almost signing for McLaren
4. Barrichello checks out – After claiming P1 with 18 laps to go, Barrichello was never headed, crossing the line after 60 laps of action five seconds to the good over Juan Pablo Montoya.
The Colombian had got past Raikkonen after a second error from the Finn, this time at Stowe corner, saw him slip to third, where he eventually finished. Meanwhile, a fantastic recovery from Michael Schumacher enabled him to climb back to fourth by the race end.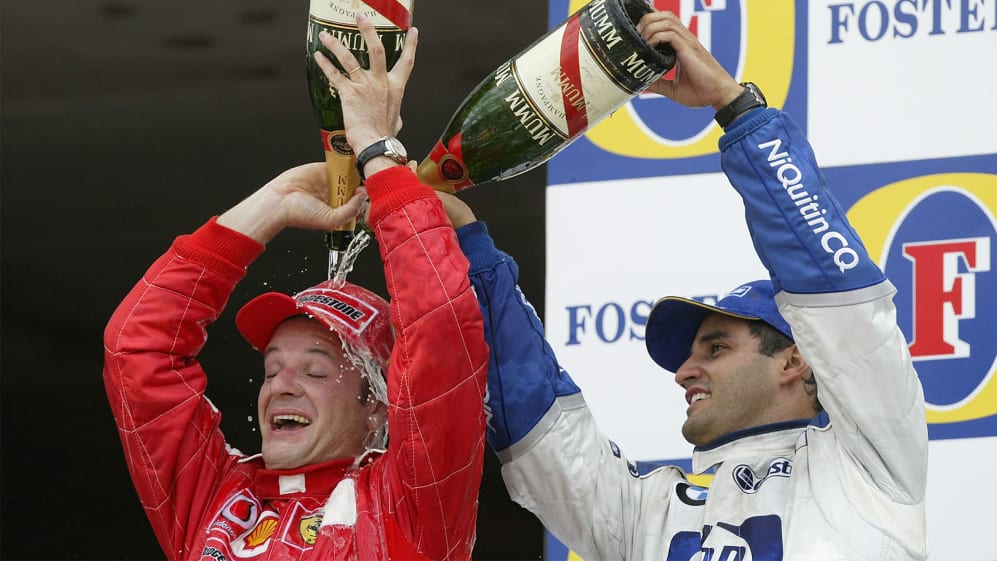 The headlines
Barrichello silences his critics – Having been lambasted in the press in the weeks leading up to the British Grand Prix, Barrichello delivered the perfect response at Silverstone. "I came in for a lot of criticism after Canada and France, and I feel this performance answers my critics," he said.
"I always leave my emotions behind when I get into the race car, but it is impossible for me not to want to cry when I hear the Brazilian anthem on the podium. It makes me think of my family and my father who sold his car so I could start racing. Your last win is always your best and this once certainly ranks highly."
Horan in the clink – For invading the track, Neil Horan was charged with aggravated trespassing at Northampton Magistrates Court and eventually jailed for two months, after claiming that he'd taken an open gate at Silverstone to be a sign from God.
A year later, Horan would invade the track during the marathon event at the 2004 Athens Olympics, tackling Brazilian runner Vanderlei de Lima.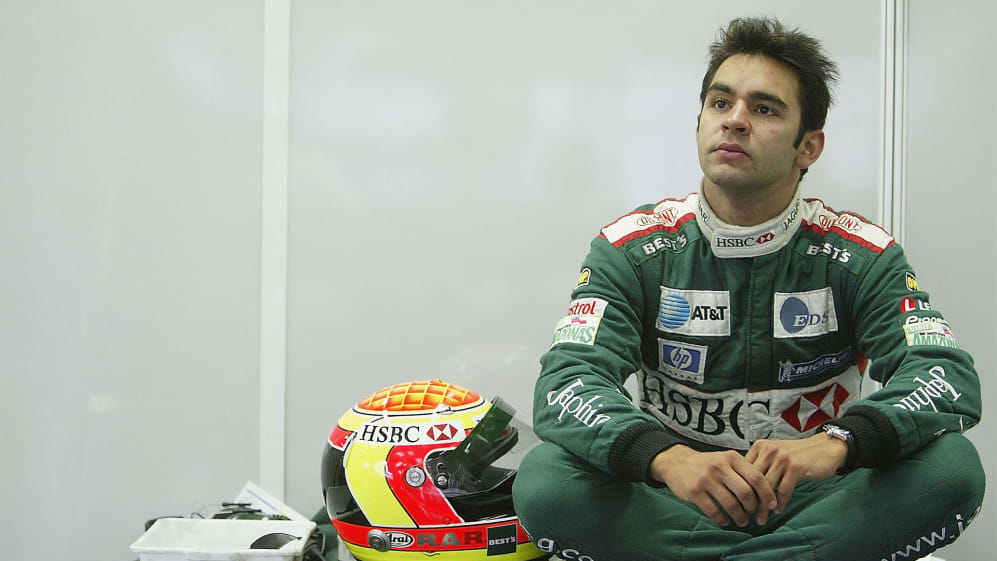 Pizzonia out at Jaguar – After retiring from the race on Lap 33 with engine trouble, there was more bad news for Jaguar's Antonio Pizzonia, who was dropped by the team after a string of lacklustre performances.
He was replaced by Minardi driver Justin Wilson for the rest of the year alongside Mark Webber, with Danish driver Nicolas Kiesa slotting in at Minardi.
How to watch
Raise up the bunting and tune in for the 2003 British Grand Prix on Wednesday, May 13, on the day F1 celebrates 70 years since the first World Championship Grand Prix at Silverstone.
We'll be streaming the race at 1800 UTC (1900 BST) on F1.com, Facebook and YouTube.