Opinion
Why stats alone don't do Fernando Alonso's career justice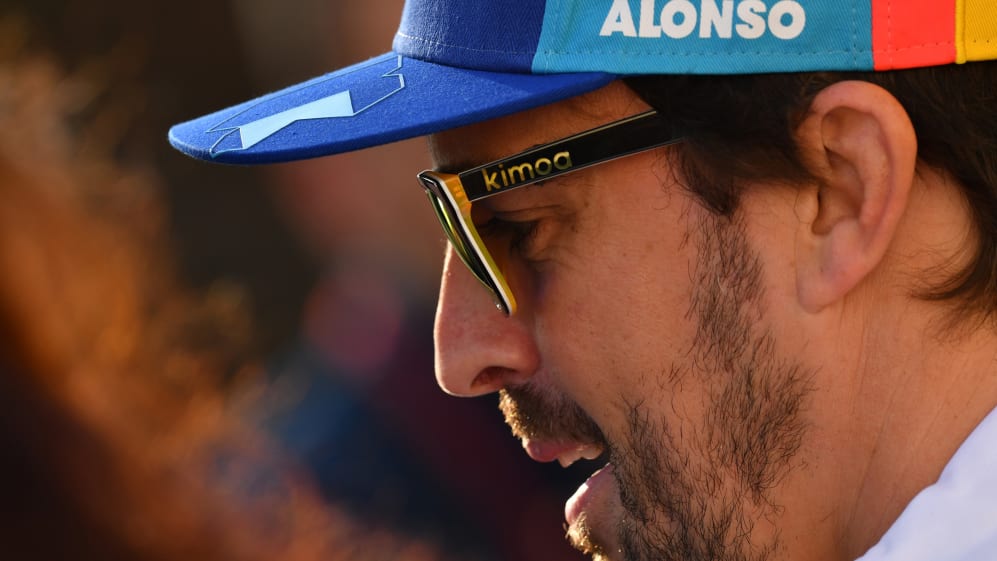 For me, the real moment when we began to see just how good Fernando Alonso was came in the closing laps of the 2005 San Marino Grand Prix at Imola, where the young man from Oviedo really won his spurs.
Back then you got one set of tyres for the whole race. Ferrari had Bridgestones, Renault, naturally, Michelins. The Bridgestones weren't great at reaching temperature in qualifying, but their race pace was excellent, and from 13th on the grid on Ferrari's home ground Michael Schumacher came scything through until, on the 51st lap, he came up behind Alonso. The Spaniard was leading, following the early demise of Kimi Raikkonen's McLaren. And it seemed only a matter of time before Schumacher, who jumped from 10th to third after the early round of refuelling stops, and then to second after the next, and was now right on Alonso's tail, overtook.
But over the remaining 11 laps, Fernando drove the perfect defensive race, resisting the intense pressure from the greatest driver of the era. Far from cracking, he finished two-tenths ahead, and let the Ferrari driver know that there was a new kid in town, and that he, too, was a sharpshooter. From that day onwards, Michael knew that he had competition.
What he couldn't know was that he was now racing on even terms with his Nemesis, the man who would ensure that he never won another title.
Schumacher was impressed. "He didn't make a single mistake," he said.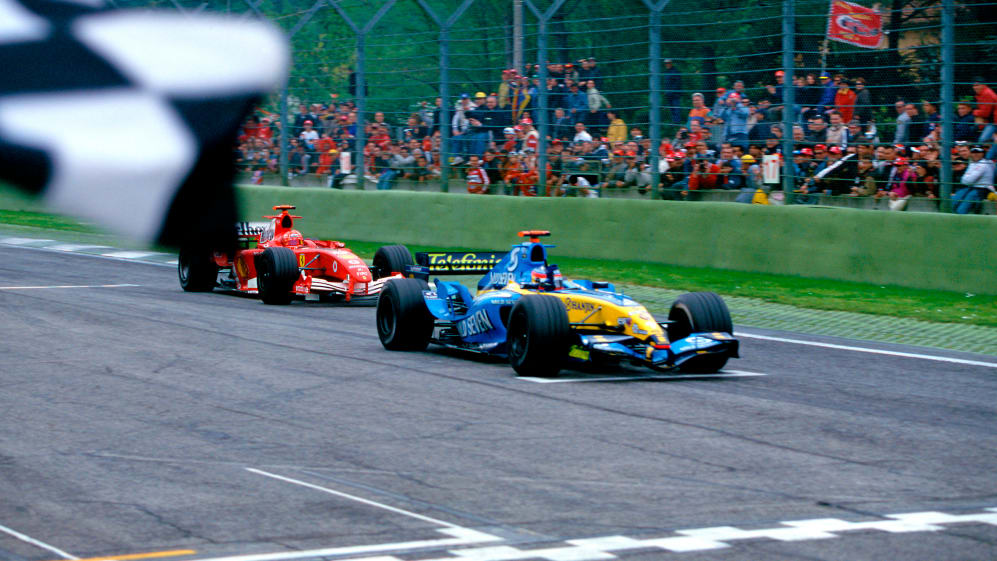 Those in the know had always rated the Spaniard. Back in Melbourne in 2001, when he, Juan Pablo Montoya and Kimi Raikkonen made their F1 debuts for Minardi, BMW Williams and Sauber respectively, Alonso had not long since won for the sole time in F3000, at Spa.
But Montoya and Raikkonen garnered the headlines. They were in competitive cars, and in the shadow of the Colombian's flamboyance and the Finn's icy calmness, Alonso's effort in Paul Stoddart's European Minardi, 30kg overweight and with an aged Cosworth V10 that was 160bhp down on its rivals, went almost unnoticed. But there was nothing lacking in the 19-year-old driver's polished performance. He had one spin, and a small mistake in the last sector of his fastest lap in qualifying cost him half a second and a place ahead of the troubled Benetton-Renaults on the grid. But it nearly wasn't a perfect debut…
"We could not test the car before Australia," Fernando revealed this year in Abu Dhabi. "The team were bankrupt, so Paul Stoddart came in at the last moment and flew the car to Australia. I remember going out in FP1 and there was a queue of cars at the end of the pit lane, because there was still a red light, and I nearly crashed with them because I could not find the neutral button. That was not the perfect start!"
But, overall, team manager Rupert Manwaring was hugely impressed.
"He's cool and calm," he reported, "and he is really intelligent. He's absolutely a top driver of the future, no question, one of those who are naturally gifted. What he achieves doesn't appear to demand too much effort. Half his brain is left over to do the thinking, while the rest is doing the driving extremely well."
"Of all the rookies," Jenson Button said, "he impressed me the most."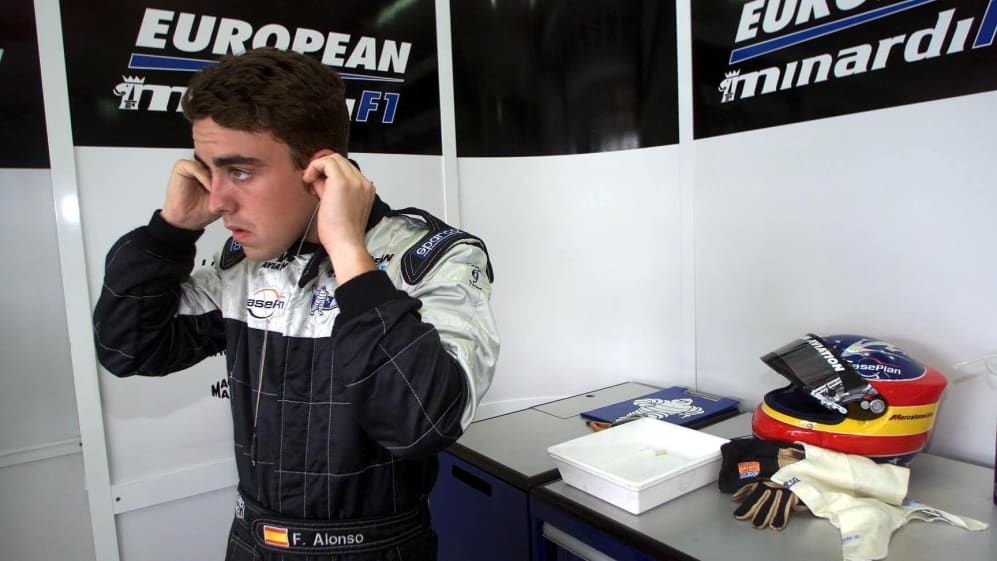 Incredibly, like Esteban Ocon today, Alonso then had to sit out 2002 as Benetton-Renault had contracted drivers Button and Giancarlo Fisichella, but he was back for 2003 in Button's place, and there the legend truly began, with a brilliant second to Schumacher's more powerful Ferrari in front of his countrymen in Barcelona, then that first victory in Hungary. By 2005, Renault were a definite contender, thanks to him.
That year, victories in Malaysia, Bahrain, San Marino, Europe, France, Germany and China secured him his first title. Others, in Bahrain, Australia, Spain, Monaco, Britain, Canada and Japan, his second in 2006.
With Schumacher retiring, it seemed that the road was clear to multiple crowns. In retrospect, it's incredible to think that the apogee of his career came 12 years ago…
His switch to McLaren in 2007 was heavily compromised by the arrival of Lewis Hamilton, who embarrassingly beat him overall on countback as they both lost out at the 11th hour to Kimi Raikkonen and Ferrari. That season yielded another four wins, in Malaysia, Monaco, Europe and Italy, but was soured by the manner in which he chose to fight, threatening to report his own team to the FIA during an affair that became known as 'Spygate'. And perhaps that was where it all began to go wrong, as it forced him back to Renault, and the scandal that was the 2008 Singapore Grand Prix. Yet regardless of the manner in which he won there, his triumph next time out in Suzuka was pure Alonso.
Like 2004, 2009 was a barren year, but he won his first race with Ferrari in Bahrain in 2010, then again in Germany, Italy, Singapore and Korea. But the failure to win the title in Abu Dhabi reportedly left him in tears for an hour in the Ferrari hospitality unit.
2011 saw only one win, at Silverstone, followed by three in 2012, in Malaysia, Valencia and Germany. The final two successes came in China and Spain in 2013.
Leaving Ferrari at the end of a hopeless 2014 season was understandable, perhaps, given the failures to be competitive and win titles that the world had expected when the talents of one of the greatest drivers in history and one of the greatest teams were combined.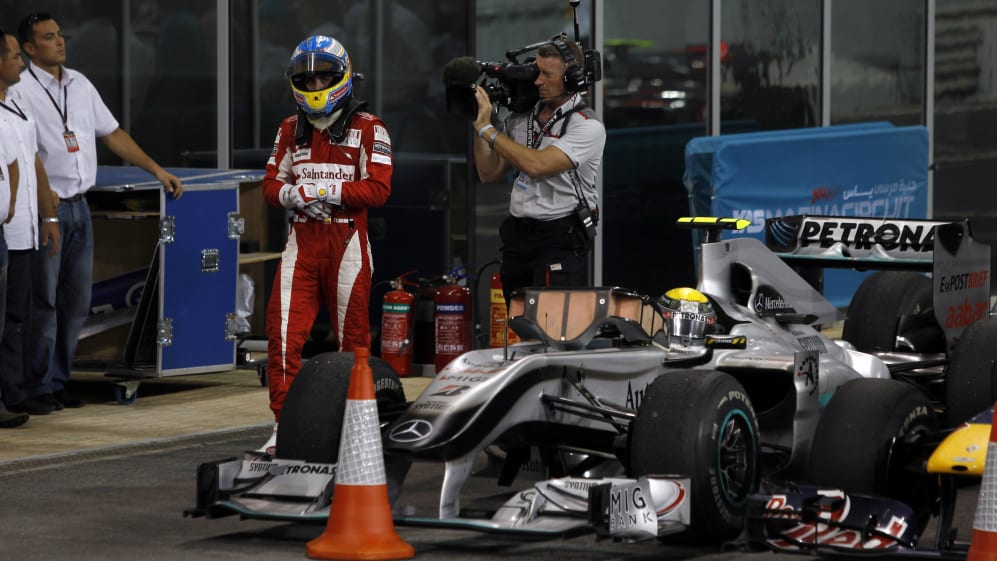 The failure to win the title in 2010 hit both Fernando and Ferrari very hard indeed, and quite probably undermined each party's belief in the other, to the point where a souring relationship, allied to changing management styles, ultimately led to a parting at the end of 2014 said to have been triggered not by Ferrari, but by Alonso himself, in the belief that Mercedes or Red Bull would come knocking on his door for 2015. Neither did, and suffice it to say that what happened at McLaren in 2007 was not forgotten in many quarters. Which made it all the more ironic that he was forced by circumstances to go back to that very team, as a prodigal son. He needed a seat, they needed a topline driver. Unquestionably, as it began to sink, the Woking team got the better side of that deal.
Looking back, it is an astonishing and terrible fact that Alonso was unable to add to his statistics of 32 victories, 22 pole positions and 23 fastest laps in his final five years of F1. He did not win another race after his triumph at home on May 12 2013. In that time, Hamilton has won 52 races. By simple maths, had Alonso been in a decent car and repeated his pre-2013 success rate he could have won another 30. Except that, in fighting against Hamilton, he would certainly have on occasion deprived the Briton of some of his successes. After all, Vettel has won 13 races since joining Ferrari, and probably lost another six or even.
So Fernando Alonso's story ends (or perhaps pauses) as one of brilliant promise only partly fulfilled, of frustration, of a fearsome, uncompromising warrior whose methods of dealing with teams and whose decision making often planted the seeds of his own career's destruction. Unquestionably, he could have been racing far better equipment in his final years had he taken better decisions.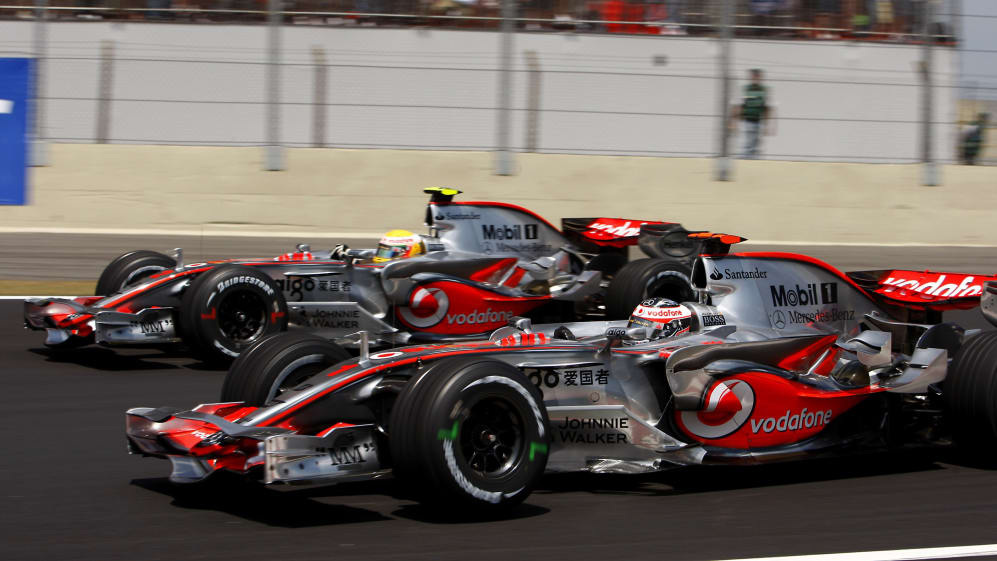 We should all lament the departure of a great and spectacular champion who raced cleanly and would still have so much to offer in a competitive car, and we should also celebrate the high points of his greatness.
This was, after all, the man who had overtaken the great Schumacher twice at Suzuka in 2005, once at 130R and once in the first corner, both times going around the outside. Any topline driver will tell you that being 'buffalo girled' is the most embarrassing experience in racing.
This, too, was the man who eventually toppled Schumacher, who kept Hamilton honest all through 2007 and at times beat him fair and square, whose mastery in a competitive car was balanced by his brilliance in taking lesser cars to victory. None of the Ferraris he had after 2010 was up to much, yet sheer class and racecraft saw him walk the 2011 British Grand Prix, keep his head in the rain in Malaysia in 2012 despite serious pressure from Sergio Perez's Sauber, and win later that year in Valencia, a victory he rates as his best triumph of all. And don't forget that he helmed his uncompetitive McLaren-Renault to seventh place in Baku this year despite all the damage it suffered early in the race.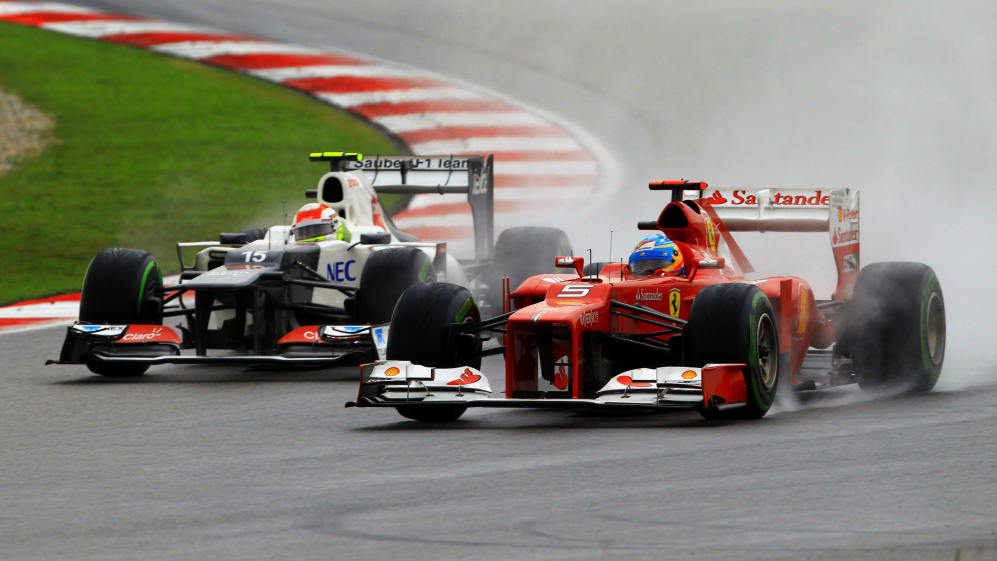 Sharing memories of his 18 years in F1 in Abu Dhabi, he could not resist responding jokingly, "The season with Lewis, 2007!" before adding: "I don't know, I think more than races or memories or victories, the best thing I have from the F1 time is the people that I worked with, the people that I shared half of my life with. I'm 37 and I raced here 18 years. It's half of my life with a lot of talented engineers, designers, mechanics, you guys, the media, everyone. We shared a lot of days over the seasons and I think that's the best thing that I will always remember about Formula 1. How you approached these kind of races, the philosophy behind a Grand Prix, the preparation, and the discipline in all areas of the team. Now, racing in other disciplines, you realise that Formula 1 is a step higher and it's just trying to find perfection in everything, every weekend, every two weeks, all around the world. This was probably the best memories I will get from here."
Asked to name the driver he regarded as his greatest rival, he said that if he had to choose it would maybe be Schumacher – "but just for emotional reasons, not for any technical aspects."
Lewis said that he would miss him, just as Fernando's sport would miss him too, and that their respect for one another was now higher than ever. And with good reason.
Notwithstanding the brilliance with which Hamilton and Mercedes fought back in the latter half of 2017 and 2018, there are many who believe that with the sort of uber-competitive Ferrari that Sebastian Vettel had last year and this in his hands, Fernando Alonso would never have fluffed either of those championships.