Williams say F1 test delay is 'embarrassing'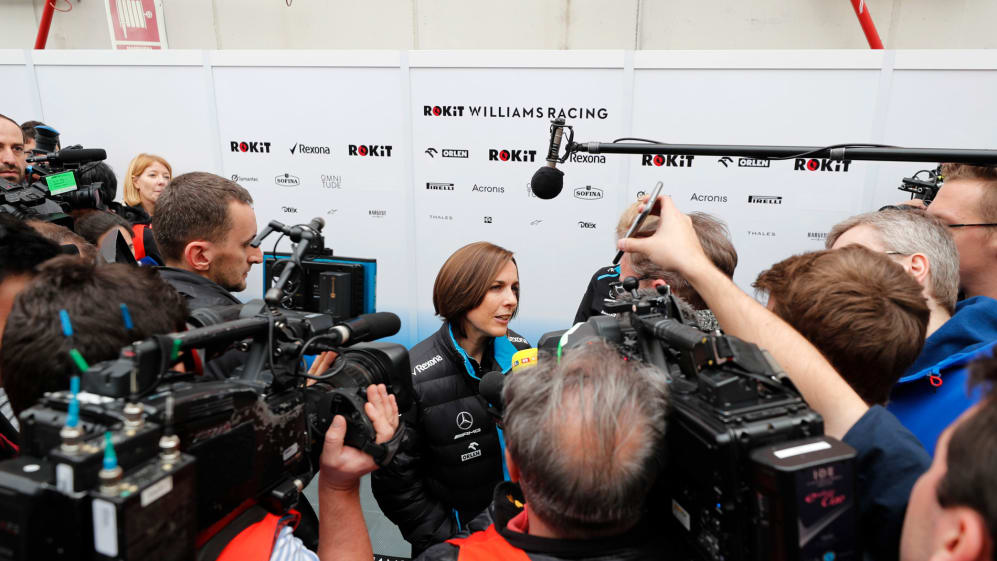 "I'm not going to go into any detail." That was Williams Deputy Team Principal Claire Williams' stance when asked to explain why her team found themselves in the "embarrassing" position of failing to get on track until halfway through the penultimate day of the opening pre-season test.
That's tended to be Williams' approach since she took over the reigns. Airing dirty laundry, as she put it, is not their style.
"It became apparent quite late on that we weren't going to firstly make the shakedown and then subsequent to that, not make the first day," she admitted. "We thought we could get everything that we needed to together in order to make Tuesday, and then parts just weren't coming through as we hoped they would, and in the time that we hoped that they would.
"So it transpires that we didn't make it until today. But I am not going to go into any detail as to why that happened. I don't think that it's appropriate to discuss the ins and outs of what went wrong. Completing that inquest anyway has not happened at Grove yet.
"We're clearly aware of some of the issues, but it's too early in the day to start discussing them in any detail and probably something that we wouldn't do anyway. We need to resolve what went wrong or analyse what went wrong, and then to resolve it so that this doesn't happen again at Williams."
Williams is the third most successful team in F1 history when it comes to race victories but has endured a dark time of late, finishing bottom of the constructors' championship last term. The team expect better and it's for that reason that Williams wanted to apologise.
"It's embarrassing not bringing a race car to a circuit when everyone else has managed to do that, particularly a team like ours that has managed to bring a race car to testing for the past 40-odd years," she said.
"So we can only apologise. I would apologise to our fans, I would apologise to all the people that have had the pressure really dialled up on them at Grove over the past few days to get everything ready, just to get us to this point today, and mostly to George [Russell] and Robert [Kubica], who were looking forward to a car on Monday so that they could prepare and have the most amount of time possible to prepare ahead of the season. But they have been fantastic in this, they have been very understanding and very supportive."
More parts are set to arrive this evening, which means the team are focusing on shaking down the car and completing the tests they would have ordinarily done on Saturday's filming day today before turning their attention to their aerodynamic programme on Thursday.
Lawrence Barretto [Senior Writer, F1.com] says…
There was a round of applause and a genuine sense of relief in the Williams garage when the FW42, with George Russell at the wheel, was pushed out of the garage, taken off the trolley and then fired up ready for its first ever lap.
This was the culmination of months of hard work, including the team pulling in long shifts in the days leading up to the test, to get the car ready. It is not the fault of those at the coalface that there were delays – and the fact a car was put together is testament to their commitment.
The mountain they now face is steep, particularly with early estimations suggesting the car is two seconds slower than their rivals and there are just five full days of testing still to go. Catching up won't be easy – Ferrari have already hit the 400-lap barrier and are flying towards the 500 mark.
Internally, an inquest is underway to find out exactly what has gone on. Claire Williams was asked if the position of Technical Director Paddy Lowe – who did not speak to the media as planned on Wednesday - was in doubt, to which she replied: "I've read a lot of speculation about his position. Right now all I am focussed on and the team should be focussed on is making sure the car is in the right place."
It'll be interesting to see how the situation unfolds, but for now, it's all about keeping the car out on track to gather valuable data and give them some hope when the season starts next month.