Feature
Hamilton was frustrated with Mercedes' late pitstop call in Turkey – but what would have happened if he'd stayed out?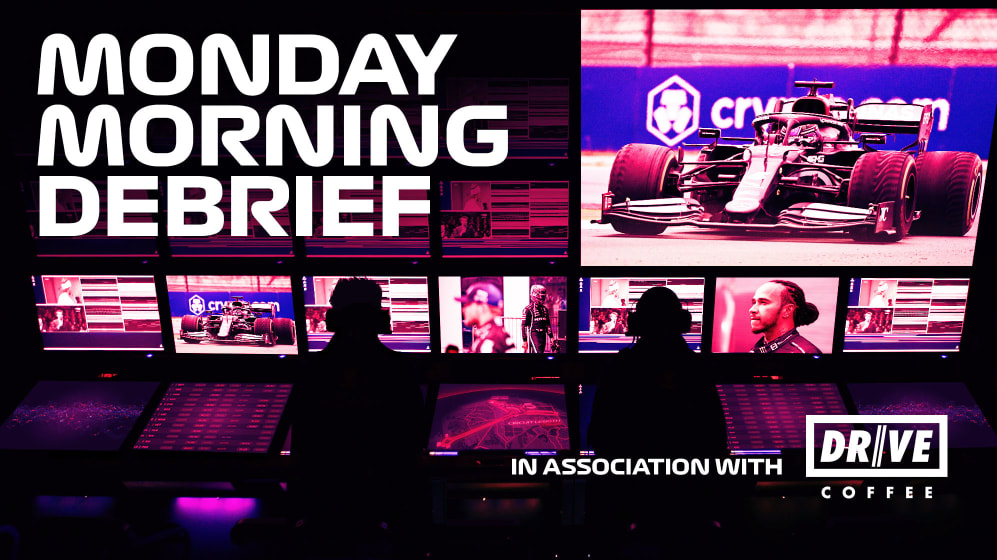 As Lewis Hamilton rejoined after his late-race pitstop he was distraught to realise he'd lost two positions and was now fifth. He'd wanted to stay out on his worn inters, felt he could have done the full race distance without a stop - as 10th place Esteban Ocon did in his Alpine.
But Mercedes insisted he stop this time, having nine laps earlier accepted his staying out when requested to come in. Hamilton was convinced his team had called it wrong. You may have heard him insist over the radio, "I told you. We should have stayed out."
But what Hamilton couldn't know in that moment, with just eight laps to go, was what the team's race simulation tools were telling them – and the state of his right-rear intermediate tyre.
READ MORE: Bottas relieved to win with 'one of the best races I've ever had' after dominant display in Turkey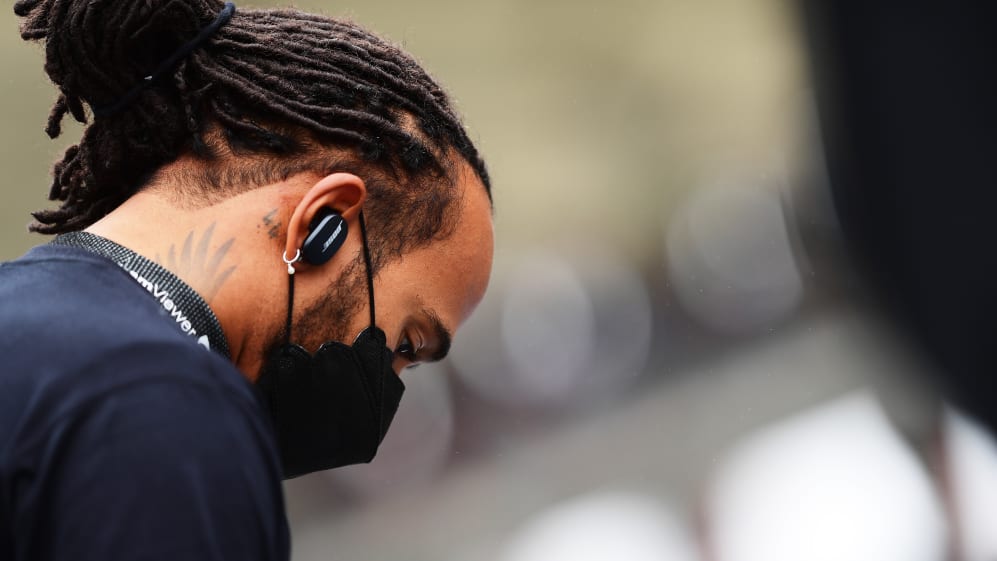 While Valtteri Bottas delivered a faultless performance from pole to victory, keeping Max Verstappen's Red Bull at bay throughout, the race of the other Mercedes car was necessarily more complex given Hamilton's 10-place grid drop for taking a new internal combustion engine.
The intermediate tyres everyone had started on had worn their grooves away after about 15 of the race's 58 laps but still had plenty of life in them after that. Because there were no puddles, merely a uniformly damp surface, the grooves weren't needed to disperse the water and so long as there was still a few millimetres of tread gauge the tyres would remain warm and grippy.
The pre-race likelihood was that at some point the drizzle would stop and the track would become dry enough for slicks. That moment never came, as even after the rain stopped with about 20 laps to go a dry line only ever formed on part of the track. Red Bull brought Verstappen in on Lap 36 for fresh inters, triggering most of the field into following them in, including leader Bottas. But not Charles Leclerc's Ferrari (which was now leading) or Hamilton (in fourth).
READ MORE: Turkish GP Facts & Stats - Championship lead changes hands for 4th time in 6 races
Leclerc began to wonder if he might not win the race by staying out. Although a new set of intermediates was potentially around 2s per lap faster than a worn set, they had to be treated very carefully for the first four/five laps so as not to induce spectacular rear graining. As such, the likes of Bottas and Verstappen were not initially able to lap significantly faster than Leclerc and Hamilton. So for a brief window in time it looked like the non-stop option was viable.
But there was no way of knowing from the pits just how worn the used rubber was. The first warning the teams get is when they see the temperatures suddenly drop and remain there. With no gauge left on the tread, the tyre is running down to the construction beneath and becomes useless. Shortly thereafter it can be expected to fail.
Leclerc's rears were the first to surrender and after a few lock up moments, he was caught and passed by Bottas. The gamble had failed, Ferrari brought him in and he rejoined fourth just ahead of Sergio Perez, promoting Hamilton to third. This was Lap 47.
READ MORE: Leclerc says no regrets after late stop rules out Ferrari podium
On Lap 41 Mercedes had called Hamilton in but he'd insisted then on staying out. The team was quite relaxed about allowing him to do so, as he looked likely to be finishing third if the tyres could hold out – and if it did somehow become dry enough for slicks towards the end, he might even be in contention for the win.
As Mercedes' Andrew Shovlin explained, "If it transitions to dry, Lewis is suddenly back in the fight for a win because he's made a whole load of race time back by not having to do the extra stop. And, can he actually get to the end on the intermediate and by doing that banking that P3?"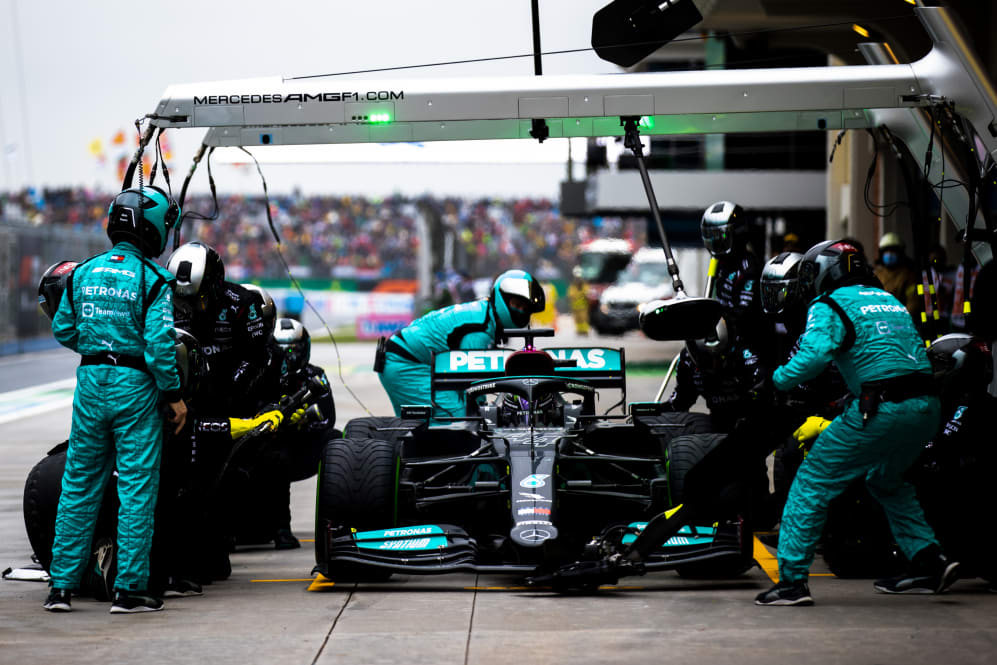 But by the time Leclerc's rubber had died, Mercedes was already seeing some worrying signs. The temperatures of Hamilton's rears had dropped and bottomed out and meanwhile the earlier stoppers, having nursed their new tyres through the delicate stage, were now upping the pace. "It started to become clear to us that it was never going to be right for the slicks and our strategy tools were showing that we'd get beaten by Perez and Leclerc anyway if we stayed out," continued Shovlin.
Had Hamilton pitted on Lap 41 he'd likely have finished third. Had he ignored the call to come in on Lap 50 he may have suffered a tyre failure (the right-rear was down to the canvas and Pirelli's Mario Isola didn't believe it would have made the remaining eight laps) and would certainly have been passed by Perez and Leclerc anyway.
It was clear to the Mercedes pit wall earlier than to Hamilton that the staying out gamble had already bust. He was now in a strategic no-man's land – and it might potentially have got worse if he'd not pitted when he did, because if he'd pitted just a lap later he'd have rejoined behind Pierre Gasly, who was lapping up to 2s faster than Hamilton.
READ MORE: 'I should have trusted my gut' – Hamilton reveals why he was left frustrated by Mercedes strategy in Turkish GP
"We'd started to see a bit of a drop-off with Lewis anyway," says Shovlin, "and on the [race-sim] planners, suddenly we were seeing that those places we would lose by doing the stop we were going to lose anyway on track - and there was even a risk from further behind if he'd really dropped off the curve. So it was really just a case of cutting our losses, not getting too greedy."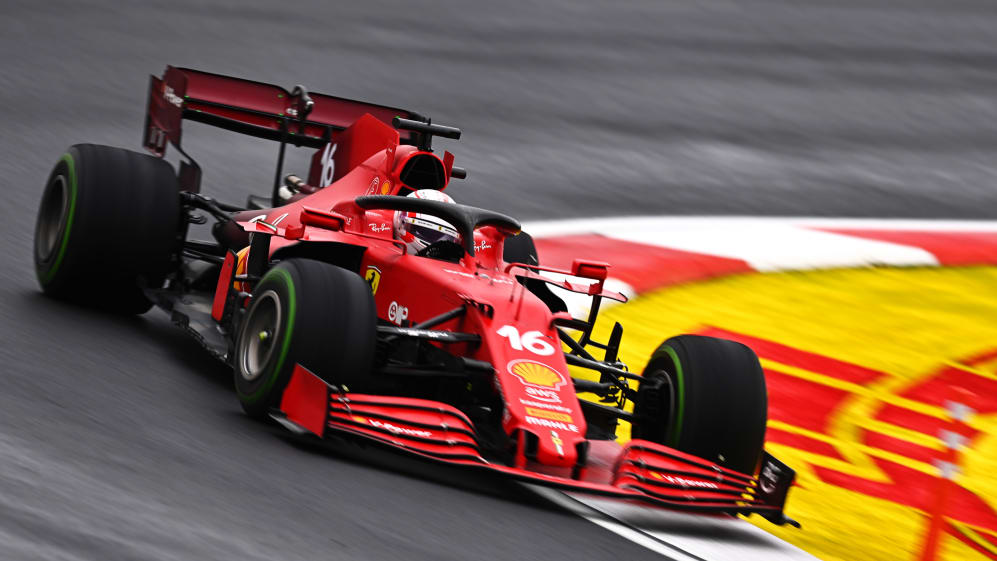 Even Ocon's non-stop run to 10th showed the problem Mercedes potentially faced. He was passed by Lance Stroll with five laps to go. In those remaining five laps he lost 17s to the Aston Martin man. "That's how quickly you fall off," says Shovlin, "and that's what's in our mind. That's where it goes wrong."
These are high-jeopardy calls in the context of the fight for the world championship. A gamble was taken, it didn't work, further damage was limited by taking action. Once the emotion of losing those places had faded, Hamilton could see the logic behind the call.
"In a championship battle there's a point where you've got to stop taking risks and cut your losses," summarised Shovlin, "and although those decisions are difficult to do you've got to be strong and you've got to take them."
RACE HIGHLIGHTS: Relive all the Turkish GP action as Bottas takes first win in over a year