Wolff planning to 'nudge' Hamilton on talks over new Mercedes contract soon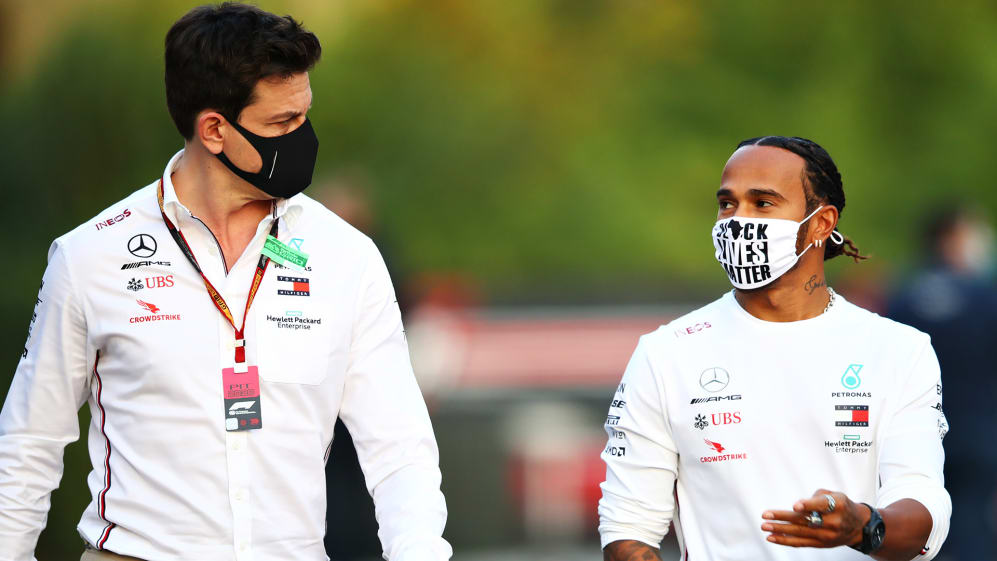 Lewis Hamilton's current contract was a long-running saga that was only resolved just weeks before pre-season testing began – and even then was only for one more year. His Mercedes boss Toto Wolff has no intention of letting it run that long next time around, and says he plans to nudge Hamilton on the subject soon.
Ahead of the Portuguese Grand Prix weekend, seven-time world champion Hamilton said his decision to volunteer to do tyre testing – which is something he not usually the first in line to do – showed how seriously he plans on being in Formula 1 next year.
READ MORE: 'You know you can go to the absolute limit' – Verstappen and Hamilton on trusting each other to race hard but fair
When those comments were put to Wolff, the Silver Arrows boss said he was encouraged by what Hamilton said and is hopeful the partnership will continue into what would be a 10th season.
"We have talked about it before and it's good to see [he's said] it out in public," said Wolff. "Like I've always said, there's no reason why the marriage shouldn't continue."
He added: "We learned our lesson [with the last contract] that we wouldn't leave it until the Christmas holidays. That was definitely taking it too far.
It's about time to give it a little nudge and start to speak and this is what we are going to do soon
"I think we are in a very good place and our relationship is growing stronger every year. It's about time to give it a little nudge and start to speak and this is what we are going to do soon."
If Hamilton stays, there has been plenty of chatter surrounding the second seat at Mercedes, with many believing it is a straight fight between the incumbent Valtteri Bottas and Mercedes junior George Russell, who impressed when he stood in for Hamilton at last year's Sakhir Grand Prix.
READ MORE: Hamilton explains why he got jumped at Safety Car restart - and how he fought back to win in Portimao
When asked what it come down to in deciding between the two, assuming Hamilton re-signs, Wolff said: "I hope one day that I wake up and it becomes clear.
"I think we need to look into the season and how the next races unfold and then it is a judgement call I believe. Not a very scientific response but I haven't got any at the moment."
Wolff will get another chance to assess both drivers when the Spanish Grand Prix – round four of the 23-race calendar – takes place at the Circuit de Barcelona-Catalunya this weekend.