'You know you can go to the absolute limit' – Verstappen and Hamilton on trusting each other to race hard but fair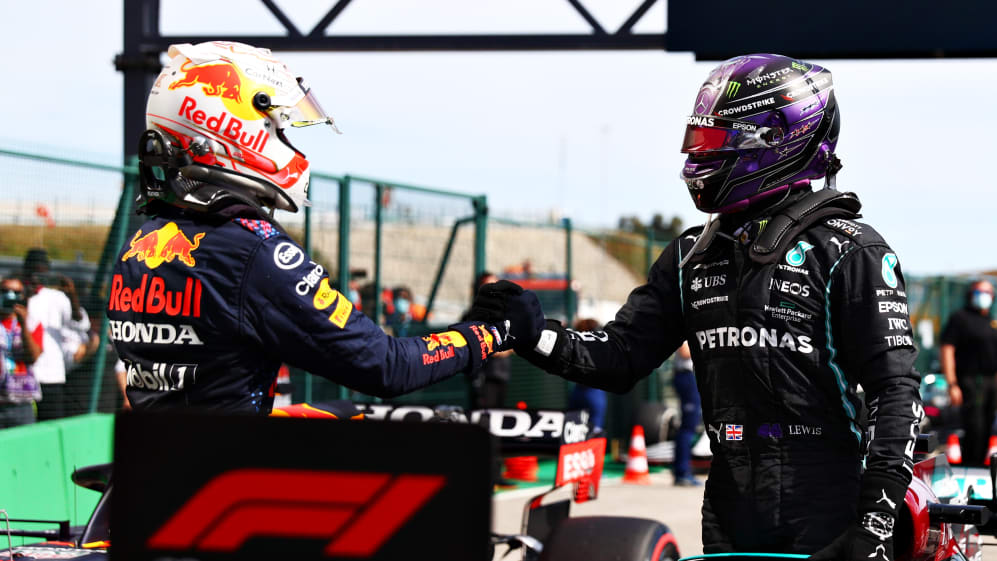 Lewis Hamilton and Max Verstappen say they trust each other enough to race hard as they give Formula 1 its closest and most entertaining inter-team driver rivalry in close to a decade.
Verstappen passed Hamilton after the Safety Car restart in Portugal, but then lost the place later in the race, with the Mercedes driver going on to win the Grand Prix and extend his championship lead over Verstappen to eight points.
READ MORE: Ferrari drivers Sainz and Leclerc reveal what they've learned from each other after the first 3 rounds
It came after tight battles in Bahrain – where Verstappen passed Hamilton for the lead – only to have to give it back for exceeding track limits, and Imola, where Verstappen bullishly passed Hamilton at the start before going on to take victory.
"Yeah, it's been really cool, especially when you race a driver, when you know that you can go to the absolute limit, I guess you can trust each other to just race super-hard," said Verstappen of going wheel-to-wheel with Hamilton.
"I think that's always really nice because you can see the in the three races…it's been really close to each other but predictable. Lewis has never had something like 'oh, we're going to crash' or something. I always have full trust in Lewis that we all give each other enough space."
READ MORE: Jolyon Palmer: Why the re-start in Portugal exposed a recent weakness in Hamilton's otherwise impressive approach
Hamilton, who came out on top in their latest battle to secure his 97th career victory, echoed Verstappen's sentiments.
"Yeah, I just second that," he said. "I think it is naturally down to respect and I think both very, very hard but fair and I think that's what makes great racing and great racing drivers and I think we will continue to keep it clean and keep it on the edge but I don't think either of us has a plan to get any closer than we have been."
They won't have to wait long to renew their rivalry, with the Spanish Grand Prix at the oft-used Circuit de Barcelona-Catalunya taking place this weekend.