Wolff says he thought qualifying DSQ news was a 'joke' as Hamilton was stripped of P1 in Brazil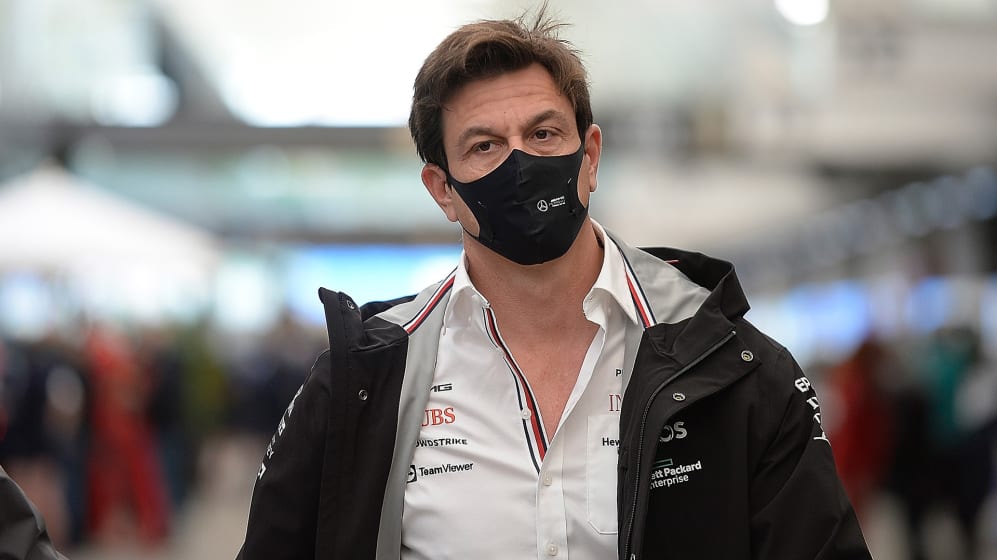 Mercedes Team Principal Toto Wolff said neither he nor Lewis Hamilton could believe that they had been disqualified from qualifying in Brazil as he gave his take on the penalty that sent his championship contender to the back of the grid for Saturday's Sprint.
Hamilton's Mercedes was found to have had a DRS technical infringement after the Briton was fastest in Friday qualifying, and after lengthy deliberations from the stewards, he was finally disqualified on Saturday before the F1 Sprint.
READ MORE: Bottas wins F1 Sprint to claim pole for Sao Paulo GP as Hamilton fights back from last to P5
Asked how Hamilton responded to the decision, Wolff said: "I spent a lot of time with him. Disbelief. Disbelief [as to] how things went, with a certain respect for the stewards' difficulty in that situation because it's certainly not easy ruling on such a topic where it's about a world championship, and they need to look at the specific situation and maybe not at the big picture.
"But to be honest until late this afternoon, we believed that it was OK, because the wing was damaged, one side was OK, the middle was OK; the right-side was not OK. That means we actually had a performance disadvantage and we thought that in consideration of all these aspects, the FIA would say there was damage and therefore we weren't in breach of the regulations.
"They also said there was nothing that happened with intent from our side.
"Then we are reading 'disqualified', which honestly, I couldn't believe – I thought Ron Meadows [Mercedes Sporting Director] was making a joke when I saw the WhatsApp. So, strange things happen, but you have to take it on the chin and the last 60 minutes of motor racing from Valtteri and from Lewis brought all the enjoyment back with all the frustrations that happened before," he added, after the Sprint.
The Sprint brought the smile back to Wolff's face as Bottas won out over Red Bull's Max Verstappen with a blistering launch off the line while, from 20th on the grid, Hamilton put on a stunning display to finish fifth and qualify 10th for the Sao Paulo Grand Prix after his five-place grid penalty is applied.
When Hamilton crossed the line, Wolff offered a statement of defiance (above) – with a short expletive thrown in too. After the sprint, he clarified his radio message.
"I obviously didn't mean it towards any of the regulations," explained Wolff. "It's a general mindset that we have that sometimes when there is hardship, you need to build up resilience and that was meant by saying '**** them all'. The point is that yesterday the car was being tested, and today two hours before the race, we got the information that we were disqualified, and that is – how can I say – in a way, sad."
READ MORE: Verstappen explains why he lost out to Bottas at the start of the Sprint – and gives his take on €50,000 fine
Mercedes will not be appealing the disqualification but Wolff still offered his frank opinion on the penalty itself, adding that he expected his team to have been ordered to change the rear wing rather than take a sporting penalty.
"We failed successive consecutive tests by the tiniest of margins, and in the past that would have meant 'fix it'," he said. "We've seen it with the Red Bull rear wing last weekend, we have had many bargeboards, things, failures that were being put back because the FIA has our cut drawings, they had the wings, we wanted to leave the wing with them so they could cut it in a thousand pieces.
"If the stewards decide, you have to take it on the chin and it goes both ways," he concluded.
HIGHLIGHTS: Miss the F1 Sprint? Catch up on all the action from the 24-lap dash at Interlagos