Wolff says Mercedes need to 'condition and calibrate' Russell to avoid repeat of Rosberg vs Hamilton rift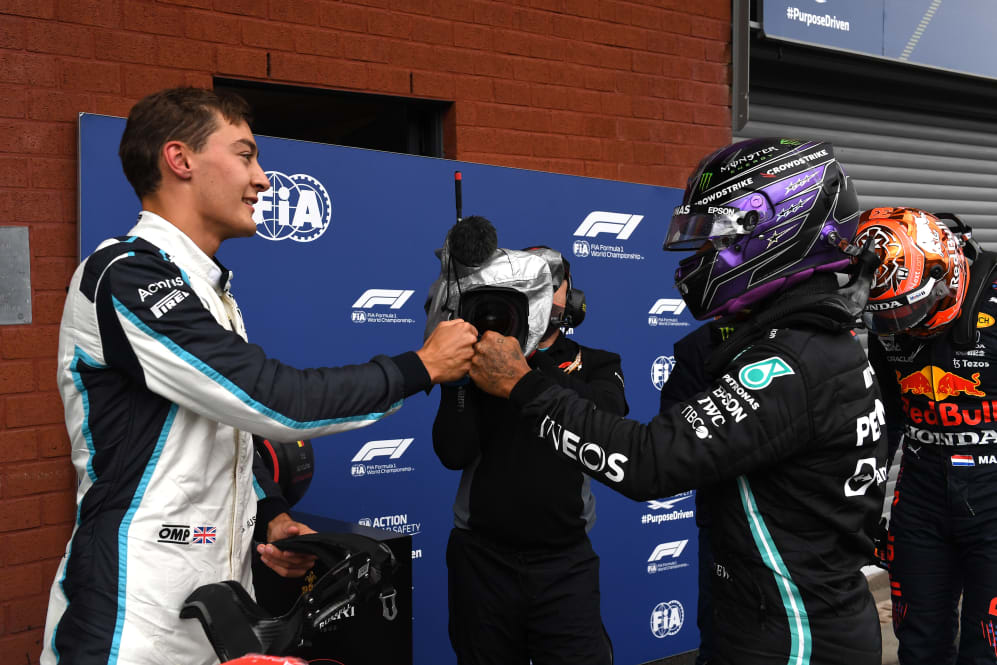 George Russell hasn't yet joined Mercedes, but talk of a heated rivalry between him and Lewis Hamilton has already begun – with Team Principal Toto Wolff anxious to avoid a repeat of what turned out to be a tumultuous relationship between Nico Rosberg and Hamilton when they were team mates.
Hamilton and Rosberg's rivalry erupted when the Briton moved from McLaren to Mercedes in 2013, with such flashpoints as their 2014 Belgian GP, 2016 Spanish GP, and 2016 Austrian GP collisions leading to tense times at the Silver Arrows. With Russell joining Mercedes from Williams in 2022, and the 23-year-old surely eager to win at his new team, how will Wolff handle the intra-team dynamic and stop it souring?
WATCH: All the key moments as the fierce Hamilton vs Rosberg rivalry unfolded
"He's [Russell has] proven that he deserves to have a seat in a top car and now we need to get him properly adjusted into the Mercedes situation… there's a lot more pressure, he's having an unbelievable team mate with the biggest records and there it's important that you condition him and you calibrate him in the right way," said Wolff.
"We've seen situations in the past where they've failed; Lewis was part of one where I think the team didn't quite understand how it could potentially go. and I think we're maybe a little bit better prepared for that situation but nevertheless, he has all the ambition to be a future world champion and so has Lewis, to add another one, so it's about calibration."
But the team boss added that he's not going to quash Russell's ambition to win titles with Mercedes, rather, he wants to work with the youngster to help him realise those ambitions while also making sure the relationship with Hamilton stays amicable.
READ MORE: Hamilton expecting Russell to 'bring the heat' as he backs Briton to energise Mercedes
"I think you have to respect also the other guy's perspective, and ambition," said Wolff. "We are not going to put a driver in the car who is not going to have the ambition to do as good as possible to kick his team mate as hard as he can, win races and championships early too, and that's clear.
"So I can put myself into his perspective, so I'm trying to discuss with him what that means for the team dynamic, what it could mean, how we need to keep the momentum in the team. And he's very intelligent, he gets that."
As for Mercedes' targets from 2022, a season that sees a new era of F1 dawn with new cars and a potentially changed order, Wolff revealed what those would be – and insisted Russell would get equal treatment to Hamilton when he joins.
WATCH: Jolyon Palmer explains how the 2022 car will 'spice up' Formula 1 racing
"I think we would be satisfied if we would be in the top three in terms of the car package competing for victories," he said.
"That's always our ambition, that we are right there over the long term, this is the winning recipe, and if we have a car that we can develop if we are able to go for the championship, then absolutely, he has the same car that has Lewis, he has the pace, in qualifying he is very, very fast, and I'm sure it's going to be fine," concluded the Team Principal.