Working with Ricciardo will make me a better driver, says Norris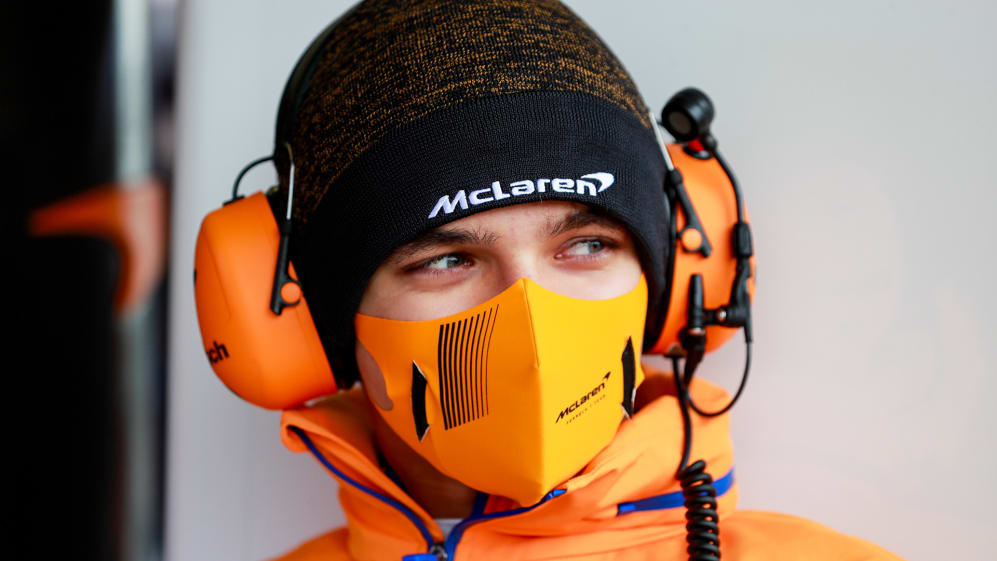 Having one of the strongest drivers on the grid as your team mate could be intimidating, but Lando Norris is taking the positives from Daniel Ricciardo's arrival at McLaren and believes the seven-time Grand Prix winner can help him become a better driver.
The Briton had a great partnership with team mate Carlos Sainz, but the bromance came to an end when the Spaniard took a drive with Ferrari this season, paving the way for Ricciardo to hop over to Woking from Renault.
"Absolutely, I only see it [Ricciardo's arrival] really as a positive," said Norris. "He can win races, he can score podiums, he's good in probably every single area. So [it will be good] for me to learn that little bit more from a different driver, get to know someone who has a different approach on things and not get into the same habits from one particular driver.
WATCH: McLaren new boy Ricciardo says team 'firing on all cylinders' after shakedown of 2021 car
"To switch it up and get to know someone different, learn how he approaches his races and his whole mindset of Formula 1 is also going to be very interesting. So it's good for me. I can learn from him, but it's also going to be a different way of working with him compared to how I worked with Carlos in terms of helping the team out and working together as just team-mates, rather than the way I used to work with things with Carlos."
Norris had something of a breakthrough season last year, scoring his maiden podium in the opening race of the season and almost breaking the 100-point barrier with his final tally one point shy of being double that he achieved in his rookie campaign the year before.
He was pleased with his performance last season, but sets himself high standards and knows that there is plenty more he can do to be better.
"I do my best," he said. "The people who know that more than anyone are the people that I work with. So my engineers, the managers, whoever… they know the effort, the time spent and basically what I'm good enough in and what I'm not good enough in.
"Sometimes it's difficult for other people to know, whether it's people watching on TV – it's easy to pick up different perspectives or things that you think someone isn't doing well enough in, when you don't always know the reason.
READ MORE: Will the McLaren march continue? 5 takeaways from their 2021 season launch
"Last year, I was very happy with how I did. There were things for me to improve, but on the whole, it was a much better season compared to season one. There were certain parts of the season which were particularly good, one of them was the last race for instance.
"I'm happy but I know I have things to work on, things to improve and that is certainly going to help me and motivate me to keep improving and also working alongside Daniel will help me become a better driver too."