Zhou says he 'was struggling all that way through' French Grand Prix before being hit by technical issue
Zhou Guanyu was left reflecting on an afternoon to forget in France after another technical problem saw him bow out of the race at Paul Ricard prematurely, while Valtteri Bottas also struggled with ongoing issues.
Zhou started the race in 16th, but a poor getaway dropped him down the field, and matters weren't helped by a collision with Haas's Mick Schumacher for which he received a five-second penalty. Running at the back of the field, he ended up bowing out on Lap 47 at the side of the track, though Zhou was classified in 16th.
READ MORE: 6 Winners and 5 Losers from the French Grand Prix – Which drivers shone at a sunny Circuit Paul Ricard?
"Obviously, I had a technical issue – [we are] still investigating," said Zhou after the race. "It was actually coming 15 laps to the end; I had to some switch changes to make sure I wasn't losing so much power. So, we have to investigate, obviously I just came back from the race car.
"Apart from that, the race just never went our way, I was struggling all that way through, so not a day to remember. But having another back-to-back race means a whole new weekend of opportunities to get competitive again and put ourselves back where we belong."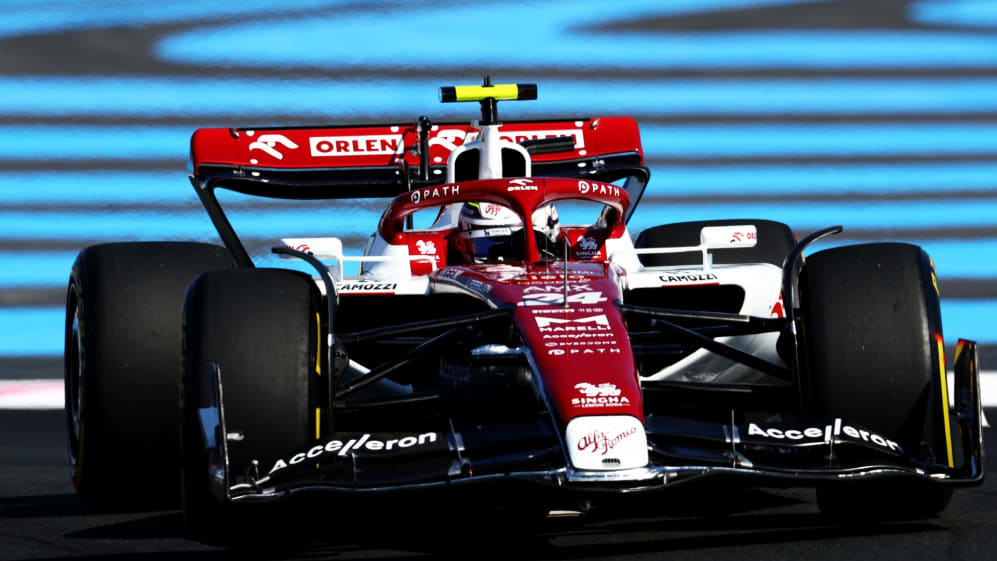 Zhou also gave his take on that Turn 11 collision with Haas driver Schumacher just after the Safety Car for Charles Leclerc's crash.
"From my side, I defended on the inside in Turn 11, and he was trying to go on the outside and I guess at one point the corner just became very small for me," said Zhou.
READ MORE: Norris takes a 'lot of positives' from France despite Alpine edging ahead of McLaren in the championship
"I tried to keep turning, but it's difficult to judge for both of us. In fact, it compromised both of our races. Unfortunately it happened, so I just need to move forward. Unfortunately, that happens in racing."
Bottas did not fare much better in France, with the Finn finishing in 14th and enduring a poor start to the race despite clutch changes made by Alfa Romeo. Furthermore, he said he had "nothing to show" for his efforts at Paul Ricard.
"It felt like it was a not a clutch issue; I just hit wheelspin immediately at the start so need to investigate why," he said of his poor getaway on Lap 1.
MONDAY MORNING DEBRIEF: How Leclerc's crash caused a domino effect that shaped Sainz's charge in France
"It was a really long race and it felt like a lot of sweat with nothing to show for it. Of course, you can learn something from every race, so that must be what we take away from this weekend. We dropped a lot of places at the start and that made it very difficult for us; our race pace was not as good as we expected, even though the car improved a lot on medium tyres.
"Hopefully, some updates we will have in Budapest will help us; we know the team is working really hard on it. To keep in the fight with the cars ahead of us in the constructors' championship, we need to find some extra performance, but I am confident we can do it as a team."